Inflation in the US moves the foundations of savings - Inflación en USA mueve los cimientos del ahorro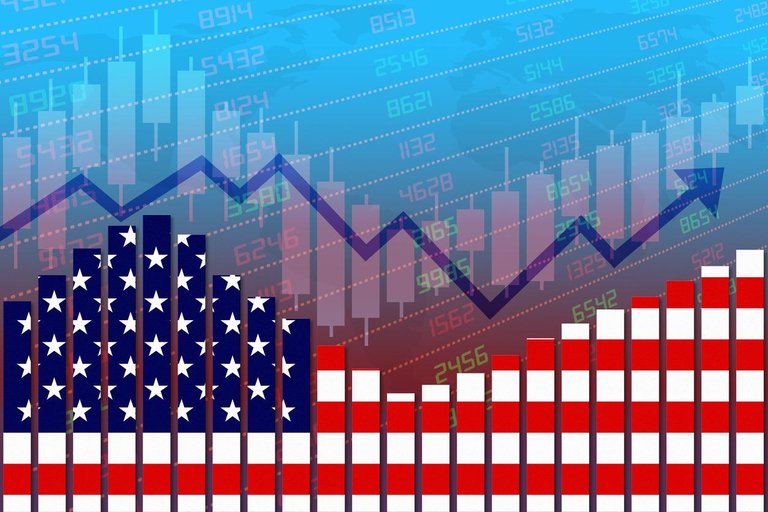 Honestly, I don't remember an economic period in my country where there was no inflation, except for that experiment in the 90s where the so-called convertibility scheme or 1 to 1 was created, that is, a peso is worth a dollar. It was a curious and captivating experience that lasted a decade and when it exploded it showed its flaws in the most terrible way, becoming the worst crisis in Argentine economic history.
Before and after that failed plan, inflation was the primary characteristic in all the governments that have fallen to us, at times a little more controlled and at others, like the current one, with an inflationary spiral that is difficult to stop.
Due to this scourge, we Argentines have fallen in love with the dollar, because it was always something that maintained the purchasing power of our salary, most of those who have or had a salary with some savings capacity ran out to buy dollars before the inflation consumed him. The latest news of a whopping 8.3% year-on-year inflation rate in the US is a blow to that long-standing habit.
Due to the successive crises and the lack of adherence of our politicians to the rules established by our constitution, on several occasions our savings have been confiscated in different ways, the most pathetic occurred precisely at the end of the convertibility plan where those of us who had savings in bank accounts in dollars, we were compulsively pesified at a capricious and harmful value. On other occasions, it was time deposits and savings accounts. That is why Argentines do not believe in banks and in the intangibility of their deposits, they prefer the "mattress" a euphemism that defines the way to preserve savings outside conventional financial systems such as banks, stocks or safe deposit boxes.
There is no exact figure for the number of dollars that Argentines keep outside the local financial system, it is speculated that the figure is enormous, so much so that it would be enough to pay all the external debt and promote sustained growth with great advances in construction works. infrastructure and productive investment. The fault that this ugly custom is not common people but politicians who poisoned and killed everyone's confidence.
Until now, the dollar was the refuge of the majority, but it turns out that a considerable inflationary period has also begun in the country of the North, reasons, probably several, although the festival of gift checks during the pandemic probably has a highly significant incidence. It reminds me of what happens here, free money is given to many people with the excuse of alleviating the problems of poverty and indigence, as several renowned economists say, free does not exist, someone always pays.
The depreciation of the dollar no longer means fully preserving the value of our savings, many are beginning to doubt, and perhaps that is why cryptocurrencies are also being adopted in great strides in my country, perhaps not so good news is that the majority of my compatriots prefer stablecoins that preserve the dollar parity.
Now we look daily at the news of inflation in our country and out of the corner of our eyes at that of the United States, "to make matters worse, the swollen tooth," my grandmother would say.

Sinceramente no recuerdo un período económico en mi país donde no hubiera inflación, salvo aquel experimento de los años 90 donde se creó el llamado esquema de convertibilidad o 1 a 1, es decir un peso vale un dólar. Fue una experiencia curiosa y atrapante que duró una década y que cuando explotó demostró sus fallas de la manera más terrible, devino en la peor crisis de la historia económica argentina.
Antes y después de ese fallido plan la inflación fue la característica primordial en todos los gobiernos que nos ha tocado en suerte, en algunos momentos un poco más controlada y en otros, como el actual, con una espiral inflacionaria difícil de detener.
Debido a ese flagelo, los argentinos nos hemos enamorado del dólar, porque siempre fue algo que mantuvo el poder adquisitivo de nuestro salario, la mayoría de los que tienen o tuvieron un sueldo con alguna capacidad de ahorro salían corriendo a comprar dólares, antes que la inflación lo consumiera. Las últimas noticias sobre un enorme índice del 8,3% de inflación interanual en Estados Unidos son un duro golpe para esa arraigada costumbre.
Debido a las sucesivas crisis y al poco apego de nuestros políticos a las reglas establecidas por nuestra constitución, en varias oportunidades nos han confiscado los ahorros de diferentes maneras, la más patética ocurrió justamente a la salida del plan de convertibilidad donde los que teníamos ahorros en cuentas bancarias en dólares, se nos pesificó compulsivamente a un valor caprichoso y dañino. En otras oportunidades fueron los depósitos a plazo fijo y las cuentas de ahorro. Por ello los argentinos no creen en los bancos y en la intangibilidad de sus depósitos, prefieren el "colchón" un eufemismo que define la forma de preservar los ahorros por fuera de los sistemas financieros convencionales como bancos, acciones o cajas de seguridad.
No existe una cifra exacta de la cantidad de dólares que los argentinos guardamos por fuera del sistema financiero local, se especula con que la cifra es enorme, tanto que alcanzaría para pagar toda la deuda externa e impulsar un crecimiento sostenido con grandes avances en obras de infraestructura e inversión productiva. La culpa de que esa fea costumbre no es de las personas comunes sino de los políticos que envenenaron y mataron la confianza de todos.
Hasta ahora el dólar era el refugio de la mayoría, pero resulta que también ha comenzado un período inflacionario de consideración en el país de Norte, motivos, probablemente varios, aunque el festival de cheques regalados durante la pandemia probablemente tenga una incidencia altamente significativa. Me hace recordar lo que ocurre aquí, se les da dinero gratis a muchísimas personas con la excusa de aliviar los problemas de pobreza e indigencia, como dicen varios economistas de renombre, gratis no existe, siempre alguien paga.
La depreciación del dólar ya no significa preservar totalmente el valor de nuestros ahorros, muchos están comenzando a dudar y quizás por ello es que también las criptomonedas están siendo adoptadas a grandes pasos en mi país, una noticia quizás no tan buena es que la mayoría de mis compatriotas prefieren las stablecoins que preservan la paridad dólar.
Ahora miramos a diario las noticias de la inflación en nuestro país y de reojo la de Estados Unidos, "para mayor desgracia, la muela hinchada", diría mi abuela.
---
Las fotografías son de mi propiedad excepto las que menciono la fuente.
The photographs are my property except those mentioned by the source.
Héctor Gugliermo
@hosgug
Posted Using LeoFinance Beta
---
---