La decadencia del fútbol argentino (ESP - ENG)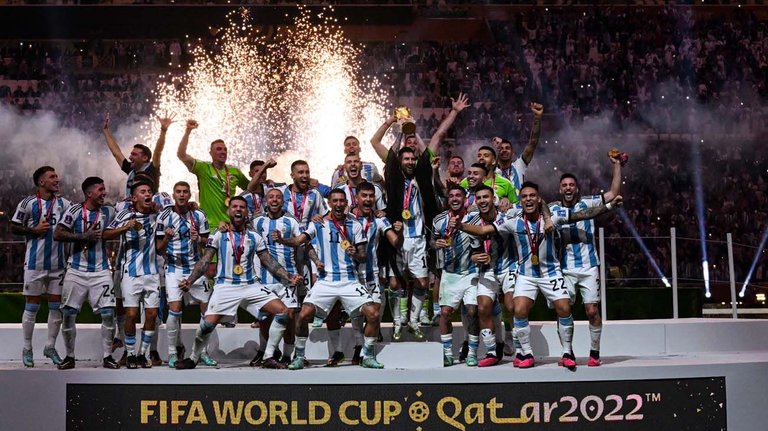 Parece fuera de lugar hablar de decadencia cuando la selección nacional acaba de ganar su tercer campeonato mundial en Qatar, sin embargo no debería sorprender que este tan popular deporte donde todo se mueve alrededor del dinero, la liga y los clubes que la integren estén sufriendo el enorme deterioro que sucede en la economía local, sería un verdadero milagro tener una liga plena de proyectos y dinero disponible cuando el resto de la economía se cae a pedazos.
Los clubes, aun los más poderosos como Boca Juniors, River Plate, Independiente de Avellaneda lo están sufriendo casi tanto como los equipos más modestos y es totalmente comprensible.
Europa y ahora también otras ligas poderosas de Asia y los Estados Unidos se llevan a las jóvenes promesas que siguen surgiendo de la cantera local, el caso de Messi es un emblemático ejemplo de ello, se fue siendo apenas un niño de 12 años de edad. Eso que fue una excepción en aquel momento, hoy se ha convertido en algo cotidiano y muchas figuras jóvenes, inclusive algunos que aun no han debutado en primera división, crecen y se forman en los mejores clubes del mundo, recibiendo una cantidad de dinero casi pornográfica, una palabra que quizás no debiera utilizar aquí pero que lo hago solo pretendiendo graficar con mucho énfasis al asunto.
Mientras tanto aquí quedan los que no dan la talla y los parámetros que la gran cantidad de reclutadores buscan entre nuestros jóvenes jugadores, si queda alguno es solo por suerte o porque todavía no explotó su potencial y pasó por el ya no tan fino tamiz de los clubes poderosos de otras partes del mundo.
Los resultados están a la vista y son palpables dentro del país, los torneos tienen una calidad técnica de baja a mala y la mayoría de los equipos utilizan jugadores juveniles con edad de tercera división o veteranos gastados y lesionados que vuelven para quemar sus últimos cartuchos y hacer algo más de dinero.
Lo único rescatable de esta sangría es que ahora estos torneos son más parejos, bueno, salvo por el VAR que continúa haciendo estragos en muchas oportunidades pero eso es algo que ahora no entra en el tema.
Cualquier equipo le puede ganar a cualquier otro y es muy raro un encuentro que termine con muchos goles, el fútbol espectáculo y los jugadores exquisitos que solíamos tener en sus primeros años como profesionales ya no se los encuentra con facilidad. Gracias a que los clubes europeos todavía no habían aceitado su maquinaria de recolección, pudimos disfrutar durante algún tiempo a Maradona, a Riquelme, a Aimar y muchos otros que desarrollaron todo su potencial en el país y luego fueron tentados por el dinero en grandes cantidades de los poderosos.
En el caso de mi equipo recuerdo algunos jugadores de gran calidad que pasaron por nuestro club y que disfrutamos algún tiempo: Guillermo Barros Schelotto, Guglielminpietro y el "pampa" Sosa que luego triunfaron en el mundo. Creo que solo por casualidad pudimos tenerlos en nuestro modesto equipo, muy raro que no fueran comprados primero por los grandes de aquí, pensándolo bien Barros Schelotto si se fue de Gimnasia a Boca antes de dar su paso al exterior. Allí hizo una enorme dupla con Palermo, otro jugador que supo disfrutar Estudiantes de la Plata antes de que el club de la rivera se lo arrancara a fuerza de billetes. Schelotto y Palermo le dieron a Boca Juniors enormes satisfacciones de la mano del entrenador Carlos Bianchi con quien ganaron todo lo que se propusieron dando a Boca la mejor década que se recuerde, quizás el logro más recordado sea la final de la copa intercontinental que se jugó en Tokio contra el poderosísimo Real Madrid que tenía entre sus figuras al extraordinario goleador Raúl, Figo, Roberto Carlos e Iker Casillas.
Recuerdo ese día como si fuera hoy, iba en mi automóvil desde casa hasta el centro de la ciudad donde tenía mis oficinas y escuchaba el partido por la radio, por la diferencia horaria con Japón eran poco más de las 7 AM. Mientras estacionaba el automóvil en un estacionamiento subterráneo ubicado a dos cuadras de la oficina, llegó el primer gol de Boca, Palermo fue su autor; apagué el motor y subí las escaleras que daban a la Av. Leandro N. Alem, una enorme vía de varios carriles, esperando el semáforo peatonal escucho bocinas y gritos, segundo gol de Boca y segundo en la cosecha personal de Palermo. Nadie lo podía creer, seguramente las casas de apuestas estaban sufriendo un duro golpe. El partido finalizó 2 a 1 y Boca trajo para sus vitrinas su segunda copa intercontinental, un par de años después conseguiría su tercera.
Me fui un poco de tema pero en realidad no tengo mucho más para decir, la Argentina sufre en estos momentos una enorme escasez de dólares y por supuesto el fútbol no puede ser ajeno a es enorme problema.
La cantera de jugadores continúa sacando talentos, pero se van tan jóvenes al exterior que ningún equipo, ni siquiera los más poderosos del país los pueden retener.
Por suerte para nosotros la mayoría mantiene ese sentido de patria que cuando son convocados a la selección aceptan de buena gana y es por ello que solo en ese nivel seguimos siendo competitivos, al menos una alegría entre tanta decepción.
---
The decline of Argentine soccer
It seems out of place to talk about decline when the national team has just won its third world championship in Qatar, however, it should come as no surprise that in this hugely popular sport where everything revolves around money, the league and the clubs in it are suffering from the enormous deterioration that happens in the local economy, it would be a true miracle to have a league full of projects and money available when the rest of the economy is falling apart.
The clubs, even the most powerful ones like Boca Juniors, River Plate, and Independiente de Avellaneda are suffering almost as much as the more modest teams and it is completely understandable.
Europe and now also other powerful leagues in Asia and the United States take the young promises that continue to emerge from the local quarry, the case of Messi is an emblematic example of this, he left as a 12-year-old boy. What was an exception at that time, today has become something every day and many young figures, including some who have not yet debuted in the first division, grow up and train in the best clubs in the world, receiving an almost pornographic amount of money. , a word that perhaps I should not use here but that I do only intend to graphically emphasize the matter.
Meanwhile, here are those who do not meet the standards and parameters that a large number of recruiters seek among our young players, if there are any left, it is only by luck or because their potential has not yet been exploited and has passed through the not-so-fine sieve of the powerful clubs from other parts of the world.
The results are visible and palpable within the country, the tournaments have a low to poor technical quality and most teams use third-division-aged youth players or worn-out and injured veterans who come back to burn their last cartridges and make some more money.
The only salvageable thing about this bleeding is that now these tournaments are more even, well, except for the VAR that continues to wreak havoc on many occasions but that is something that is not part of the topic now.
Any team can beat any other and a match that ends with many goals is very rare. Spectacle football and the exquisite players that we used to have in their early years as professionals are no longer easily found. Thanks to the fact that the European clubs had not yet oiled up their collection machinery, we were able to enjoy a while of Maradona, Riquelme, Aimar, and many others who developed their full potential in the country and were later tempted by money in large amounts of the powerful ones.
In the case of my team, I remember some high-quality players who came through our club and who we enjoyed for some time: Guillermo Barros Schelotto, Guglielminpietro and the "pampa" Sosa who later triumphed in the world. I think that it was only by chance that we were able to have them in our modest team, very rare that they were not bought first by the greats here, on second thought Barros Schelotto if he went from Gimnasia to Boca before making his way abroad. There he made a huge duo with Palermo, another player who knew how to enjoy Estudiantes de la Plata before the riverside club ripped him off with tickets. Schelotto and Palermo gave Boca Juniors enormous satisfaction at the hands of coach Carlos Bianchi with whom they won everything they set out to give Boca the best decade in memory, perhaps the most remembered achievement is the final of the intercontinental cup that was played in Tokyo against the powerful Real Madrid that included among its stars the extraordinary goalscorer Raúl, Figo, Roberto Carlos, and Iker Casillas.
I remember that day as if it were today, I was driving from home to the city center where I had my offices and I was listening to the game on the radio, due to the time difference with Japan it was just over 7 AM. While I was parking the car in an underground parking lot located two blocks from the office, Boca's first goal came, Palermo was its author; I turned off the engine and went up the stairs that led to Av. Leandro N. Alem, a huge multi-lane road, waiting for the pedestrian traffic light I hear horns and shouts, Boca's second goal and second in Palermo's personal harvest. Nobody could believe it, surely the bookmakers were suffering a blow. The match ended 2-1 and Boca brought their second intercontinental cup to their showcases, a couple of years later they would get their third.
I went a bit off-topic but in reality, I don't have much more to say, Argentina currently suffers from a huge shortage of dollars and of course football cannot be oblivious to this enormous problem.
The player pool continues to draw talent, but they go abroad so young that no team, not even the most powerful in the country, can retain them.
Luckily for us, most of them maintain that sense of homeland that they willingly accept when they are called up to the national team and that is why only at that level do we continue to be competitive, at least one joy among so many disappointments.
---
---
---