Old Trafford Se Convirtió En El Teatro De Las Pesadillas Para El Barcelona / Old Trafford Becomes The Theater Of Nightmares For Barcelona [ESP-ENG]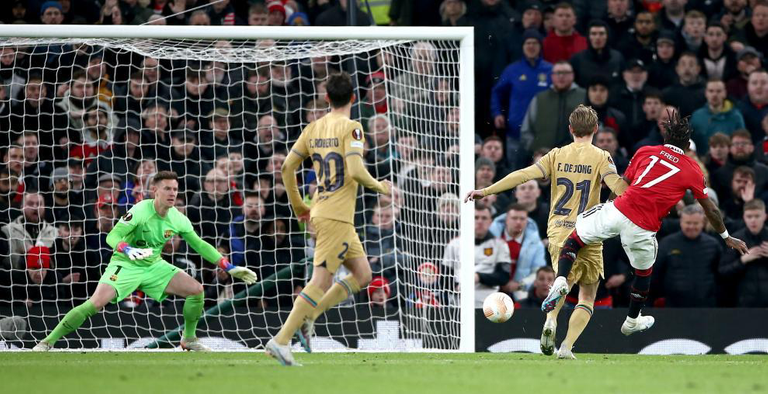 Fuente
¡Buenas noches Hivers!
Hoy los fanáticos del fútbol vivimos una noche apasionante en la que el Manchester United venció al FC Barcelona en el teatro de los sueños para eliminarlos y acceder a la siguiente ronda de la UEFA Europa League. Los de Ten Hag comenzaron perdiendo el encuentro tras un primer tiempo muy bueno del Barcelona, pero eso no fue suficiente para detener la marea diabólica del Manchester para así dejar a los de Xavi sin competencias europeas y apuntando solo a los torneos locales. En las próximas líneas les estaré dejando mis sensaciones sobre este grandioso partido que nos regalaron ambos equipo.
El Barca y el United, los dos conjuntos llegaban a esta llave de Knockout de la UEFA Europa League en muy buena forma. Los culés por un lado liderando la liga española, sacando unos importantes 8 puntos de diferencia al Real Madrid y plantados en semis de Copa del Rey. Por otro lado, el United que tras un inicio tambaleante por Premier League, tuvo en su entrenador, Erik Ten Hag, el líder necesario para cambiar el rumbo hacia mejores resultados tanto en Liga, como en FA Cup y Carabao Cup donde hay que mencionar, disputarán la final ante el Newcastle el próximo domingo, con el primer trofeo en juego.
Para este encuentro Xavi no podía contar con la presencia de Gavi y Pedri en la mitad de la cancha, jugadores que en mi opinión están siendo los dos mejores del Barcelona en lo que va de temporada, no solo por su aporte desde la creación de juego, sino también por el sacrificio de ambos a la hora de la recuperación de la pelota y por la muy buena cuota goleadora que ambos están entregando en la presente campaña. A eso sumarle la baja de Dembele, que hasta su lesión estaba siendo el jugador más desequilibrante del equipo y un indiscutible en el once de Xavi Hernández. El Barca salió a la cancha con el siguiente once: Ter Stegen en el arco; Koundé, Araujo, Christensen y Balde en la defensa; Busquets, Frenkie De Jong, Kessie y Sergi Roberto en el centro del campo; y en la delantera Robert Lewandowski con Raphinha en el costado derecho para dar amplitud y cortar del centro hacia el medio para inquietar con su buen remate de media distancia.
Good evening Hivers!
Today we soccer fans experienced an exciting night as Manchester United defeated FC Barcelona in the theater of dreams to eliminate them and reach the next round of the UEFA Europa League. Ten Hag's team started losing the game after a very good first half from Barcelona, but that was not enough to stop the diabolical tide of Manchester to leave Xavi's team without European competitions and aiming only at local tournaments. In the next lines I will be giving you my feelings about this great match that both teams gave us.
Barca and United, the two teams arrived at this UEFA Europa League knockout round in very good shape. On the one hand, the Culés were leading the Spanish league, 8 points ahead of Real Madrid and in the semis of the Copa del Rey. On the other hand, United, who after a shaky start in the Premier League, had in their coach, Erik Ten Hag, the necessary leader to change the course towards better results both in the league and in the FA Cup and Carabao Cup, where they will play the final against Newcastle next Sunday, with the first trophy at stake.
For this match Xavi could not count on the presence of Gavi and Pedri in the midfield, players who in my opinion are being the two best of Barcelona so far this season, not only for their contribution from the creation of play, but also for the sacrifice of both when it comes to recovering the ball and for the very good scoring quota that both are delivering in the current campaign. Add to that the absence of Dembele, who until his injury was being the most unbalanced player of the team and an indisputable in Xavi Hernandez's eleven. Barca took the field with the following eleven: Ter Stegen in goal; Koundé, Araujo, Christensen and Balde in defense; Busquets, Frenkie De Jong, Kessie and Sergi Roberto in midfield; and up front Robert Lewandowski with Raphinha on the right flank to give width and cut from the center to the middle to worry with his good mid-range shot.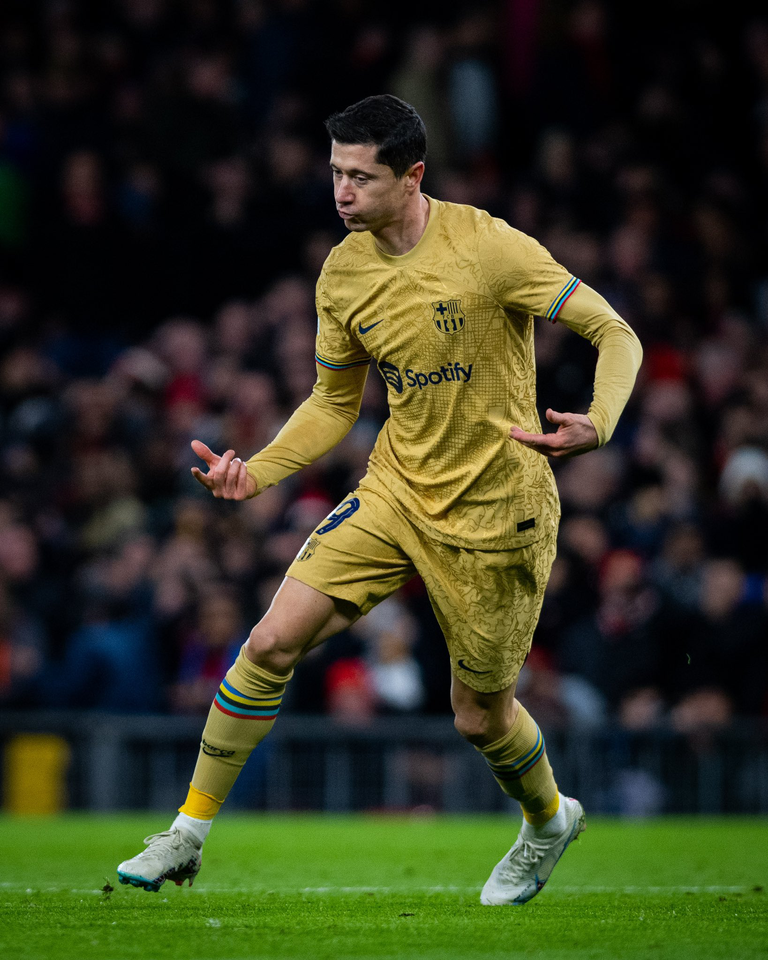 Fuente
Por su parte, Ten Hag puso esta vez su once de gala, sacando por supuesto a Ericksen que está lesionado desde hace rato, cuando recibió una dura entrada en el partido ante el Reading en la FA Cup. Con ésto el once quedaba de la siguiente manera: De Gea; Wan-Bissaka, Varane, Lisandro Martínez y Shaw en la defensa; Casemiro y Fred compartiendo doble pivote, por delante de ellos una línea de tres con Rashford por un costado y Bruno Fernandes por el otro, y Sancho detrás del delantero Neerlandés Weghorst.
El Barcelona jugó muy bien en la primera parte, controlando los hilos del encuentro, recuperando el balón en campo rival y manejando bien la pelota con Busquets y Frenkie. Bruno Fernandes tuvo una ocasión clarísima nomás iniciar el partido, pero la garantía alemana, Marc André Ter Stegen, negaría el adelanto de los de casa en la pizarra. A partir de ese momento los culés se plantaron en campo rival para intentar doblegar a la sólida defensa del United. A los 18' minutos, tras un penal ingenuo cometido por Bruno Fernandes a Balde, Robert Lewandowski pondría con suspenso, el primer tanto en el marcador para afrontar el partido con un poco más de sobriedad y poner la presión en los Red Devils. En el final de la primera parte, llegaría una jugada clave no aprovechada por el FC Barcelona. De Gea tuvo una salida en falso con los pies tras una buena presión de los culés, pero entre Sergi Roberto y Kessie no pudieron concretar el 0-2 tras una doble barrida del siempre fundamental, Carlos Henrique Casemiro.
En el complemento, justo al comienzo, llegaría un golpe directo al mentón del Barcelona. Kessie no pudo controlar bien el balón en propio campo y terminó regalando el balón para Sancho, éste vió a Bruno con espacio y el portugués, metió un muy buen pase para la llegada en cortada hacia el medio de Fred, apareciendo como centro delantero y marcar el tanto del empate con su pierna menos hábil. Tras la igualdad, el United dominó y tomó las riendas del partido, Casemiro se hizo inmenso en el centro del campo, recuperaban la pelota mucho más adelante y el Barca no encontraba respuestas para detener la marea roja ante un Teatro de los Sueños que se hacía cada vez más ensordecedor a medida que pasaba el cotejo. Al minuto 73' tras una serie de rebotes, el balón le quedaría a Antony que había ingresado al comienzo de la segunda parte por Weghorst, y colocó un certero remate con el interior del pie para vencer a Ter Stegen y poner el tanto definitivo en el marcador.
For his part, Ten Hag put out his first-choice eleven this time, of course taking out Ericksen who has been injured for a long time, when he received a hard tackle in the match against Reading in the FA Cup. With this the eleven was as follows: De Gea; Wan-Bissaka, Varane, Lisandro Martinez and Shaw in defense; Casemiro and Fred sharing double pivot, in front of them a line of three with Rashford on one side and Bruno Fernandes on the other, and Sancho behind the Dutch striker Weghorst.
Barcelona played very well in the first half, controlling the game, winning the ball back in the opponent's half and handling the ball well with Busquets and Frenkie. Bruno Fernandes had a very clear chance right at the start of the match, but the German guarantee, Marc André Ter Stegen, denied the home team the lead on the scoreboard. From that moment on, the Culés were in the opponent's half to try to break down United's solid defense. After 18 minutes, following a naive penalty given by Bruno Fernandes to Balde, Robert Lewandowski put the first goal on the scoreboard with suspense to face the match with a little more sobriety and put the pressure on the Red Devils. At the end of the first half, FC Barcelona did not take advantage of a key play. De Gea had a false start with his feet after a good pressure from the Culés, but Sergi Roberto and Kessie could not make it 0-2 after a double sweep of the always fundamental Carlos Henrique Casemiro.
In the second half, right at the start, a direct blow to Barcelona's chin arrived. Kessie could not control the ball well in his own half and ended up giving the ball to Sancho, who saw Bruno with space and the Portuguese, put a very good pass for the arrival in cut to the middle of Fred, appearing as a center forward and scoring the equalizer with his less skilled leg. After the equalizer, United dominated and took control of the match, Casemiro was immense in the center of the field, they recovered the ball much further forward and Barca could not find answers to stop the red tide in front of a Theater of Dreams that became more and more deafening as the match went on. In the 73rd minute, after a series of rebounds, the ball fell to Antony, who had been brought on at the start of the second half in place of Weghorst, and he placed an accurate shot with the inside of his foot to beat Ter Stegen and put the definitive goal on the scoreboard.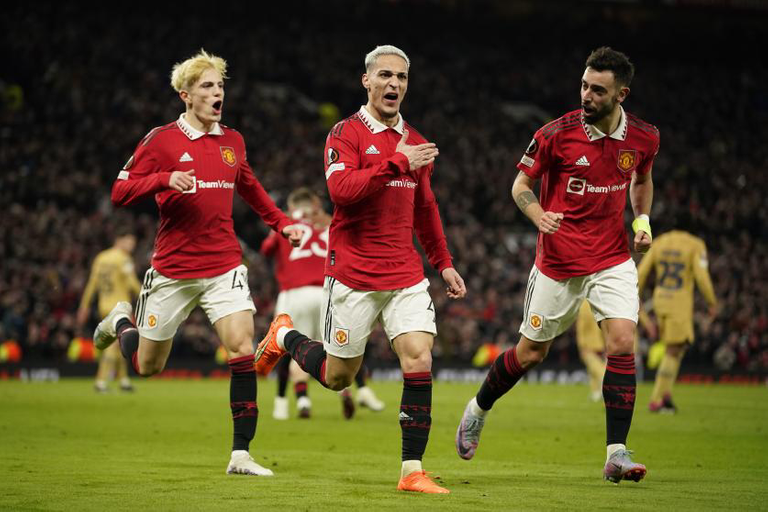 Fuente
Conclusiones Finales - Final Conclusions
Barcelona
Otra vez los jugadores no dieron un paso al frente ante una situación adversa en Europa. Me pareció demasiado llamativo como este equipo se nubla cuando juega competencias europeas, el factor mental les pasó factura una vez más. No ví un líder en el equipo que agarrara el balón y que fuera hacia adelante con empuje, no hubo respuestas cuando las papas quemaban. Es increíble como después de gastar tanto dinero en Verano, trayendo a Lewandowski, Koundé, Raphinha, Kessie, Christensen. Renovando a elementos importantes como Araujo, Gavi entre otros, todavía así no puedan avanzar en Europa y que ahora solo tengan que aspirar a los torneos domésticos. La verdad, lamentable.
Manchester United
Siendo sinceros, pensé que Ten Hag no llegaba a Diciembre después del ajetreado inicio de temporada. Pero vaya que acomodó el equipo, hoy dió una masterclass metiendo a Antony desde el inicio del complemento por Weghorst. Casemiro fue el mejor del partido, se comió la mitad de la cancha, y la verdad es que no sorprende, es un verdadero Crack. Éstos sí son los jugadores que van hacia a delante cuando la situación se pone difícil. El liderazgo de Varane en la zaga central, la manera en la que Lisandro Martínez dominó a Lewandowski, siendo mucho más pequeño que el y por supuesto menos corpulento, me pareció sublime.
Ésto fue todo por hoy. El United dejó en el camino al Barcelona que ahora se deberá enfocar en las competiciones locales para lograr sacar algo positivo en esta temporada.
Muchas Gracias por acompañarme. ¡Nos vemos en la próxima!
Barcelona
Once again the players failed to step up to the plate in the face of an adverse situation in Europe. I found it too striking how this team gets clouded when playing European competitions, the mental factor took its toll on them once again. I didn't see a leader in the team to grab the ball and go forward with drive, there were no answers when the chips were down. It's unbelievable how after spending so much money in the Summer, bringing in Lewandowski, Koundé, Raphinha, Kessie, Christensen. Renewing important elements such as Araujo, Gavi among others, they still can't advance in Europe and now they only have to aspire to domestic tournaments. The truth is pitiful.
Manchester United
To be honest, I thought Ten Hag didn't make it to December after the hectic start to the season. But boy did he settle the team, today he gave a masterclass by putting Antony in from the start of the second half for Weghorst. Casemiro was the best of the match, he ate up the middle of the field, and the truth is that it is not surprising, he is a true Crack. These are the players who go forward when the situation gets difficult. Varane's leadership in the central backline, the way Lisandro Martinez dominated Lewandowski, being much smaller than him and of course less corpulent, seemed sublime to me.
That was all for today. United left Barcelona on the road and now they will have to focus on the local competitions to get something positive out of this season.
Thank you very much for joining me, see you next time!
El texto fue traducido con Deepl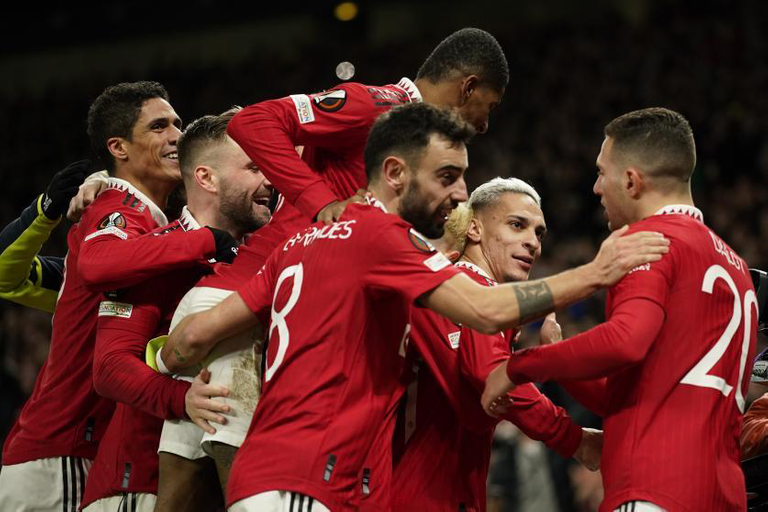 Fuente
---
---