Expect the Best Prepare For the Worst
I think the title of the post sums up it all for us. If you see, the crypto market is struggling for some months now.
Who would haved expected exchange like FTX could also collapse. This is another thing that tells us anything can happen in the crypto apace.
But at the same time it's important to note the scale of fraud and mismanagement with FTX is unprecedented.
If you are someone invested in crypto, you are in for a wild ride. As crypto is something which are very volatile in nature. Just as you expect the greenish spikes, you should also be looking at those red lines as well.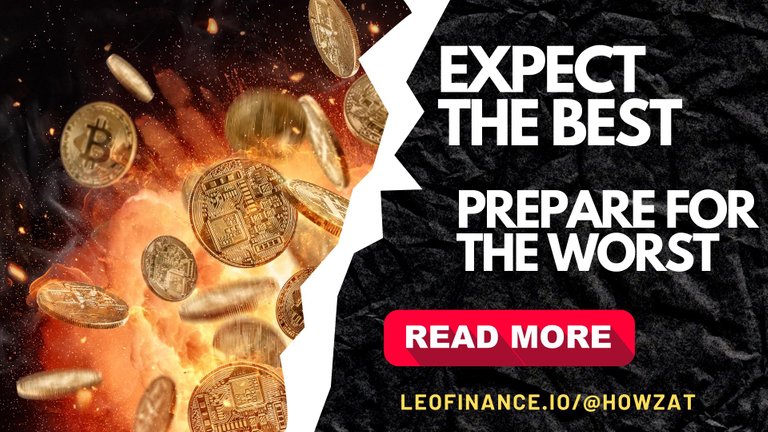 Canva
In other words, you need to be tolerable to it.
It's extremely nonsense to think of dumping all your money into crypto without a real understanding of it. This is very irresponsible behavior. You can't just look at the market in one direction.
Why Invest in the First Place?
If you want to invest in crypto, just take a step back and ask yourself why you are investing in cryptocurrency in the first place.
May experts recommend keeping a crypto holding at less than 5% of your total portfolio.
You should have other financial basis covered before investing in crypto.
Setting Clear Goals
With any investment, you should set clear goals and only put in what you are okay with losing.
Experts recommend sticking to a long term investment plan rather than approaching crypto with a hope of getting rich quickly.
Don't Fall into Hype
We have now a bunch of crypto markets out there in the market. It could sometimes get very confusing who is who and what's what, specially when you have a bunch of people pumping it or being very zealous about it.
This is why tuning out the noise and educating yourself on crypto are very important when investing in crypto.
Don't let the hype of certain crypto investment result in the Fear of Missing Out, FOMO.
---
---
Follow: @howzat
www.twitter.com/itshowzat
Discord: howzat#8307
Posted Using LeoFinance Beta
Posted Using LeoFinance Beta
---
---