Monomad Challenge-Da Nang city under black and white pictures

Hi guys!
How are you today? Did you have a nice weekend?
Different from every other day, today I want to share with you black and white photos of me, taking a corner of Da Nang city, the city where I live and have been for the past 11 years.
Talking about black and white photos, people often think only of monotony and settling. But no, it also shows the depth of the soul, something fanciful and magical that can make people get caught up in it without a way out, shows strong emotions, gives a deep insight to the viewer. In addition, black and white photos also give us a new message, a different perspective on artwork.
These are pictures I took at different times. Like these fireworks photos, they were taken by me on the occasion of the international fireworks festival held every 2 years in Da Nang. However, in the past 2 years, due to the Covid pandemic, all festival activities both domestically and internationally have been delayed and canceled. Therefore, not only me but also all of us hope that the epidemic will end soon so that everything will return to normal as before, so that tourism here in particular and all countries in the world, in general, can be restored back, and we can all enjoy our best days again.
Naturally, we always know fireworks with colorful colors, they are like flowers blooming in the night sky, but when they become a black and white color, they do not lose their original beauty, but also exude a strangely attractive mystery.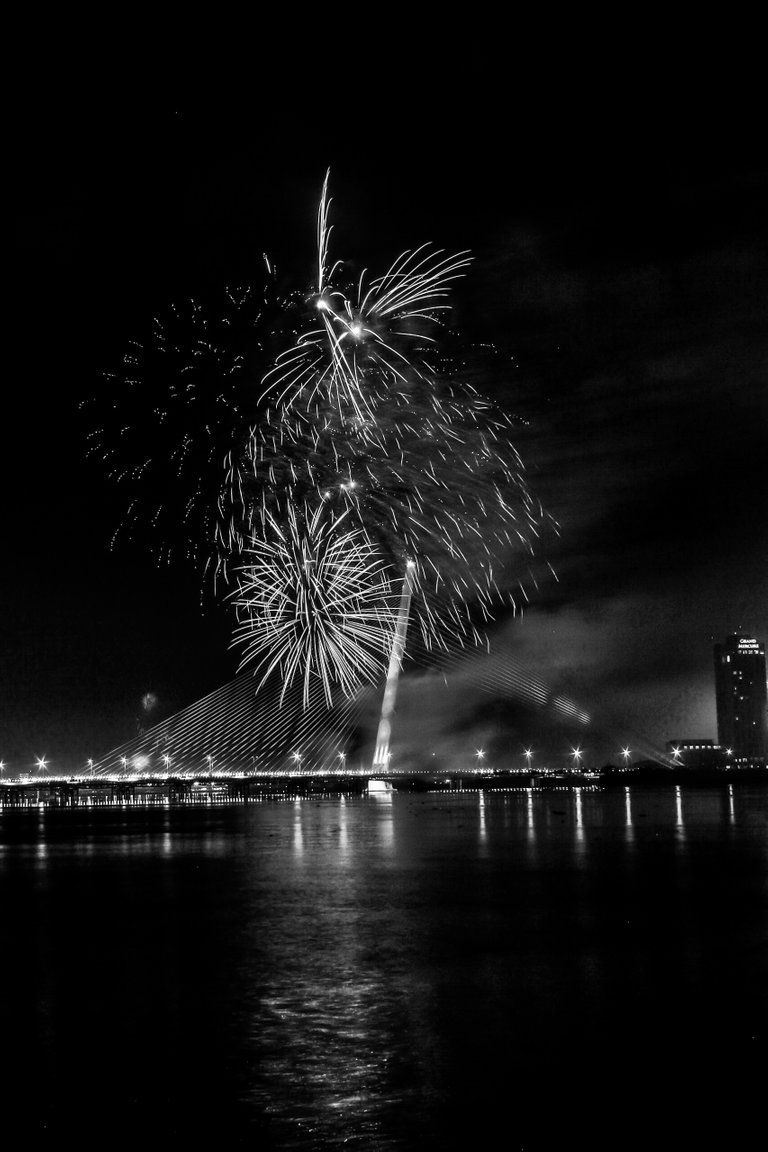 The next photo is two high-rise buildings next to each other, it is the administrative building of Da Nang city and the Novotel hotel. These 2 buildings are considered as symbols of the city, when accidentally located next to each other, they have enhanced the unique character of this livable city.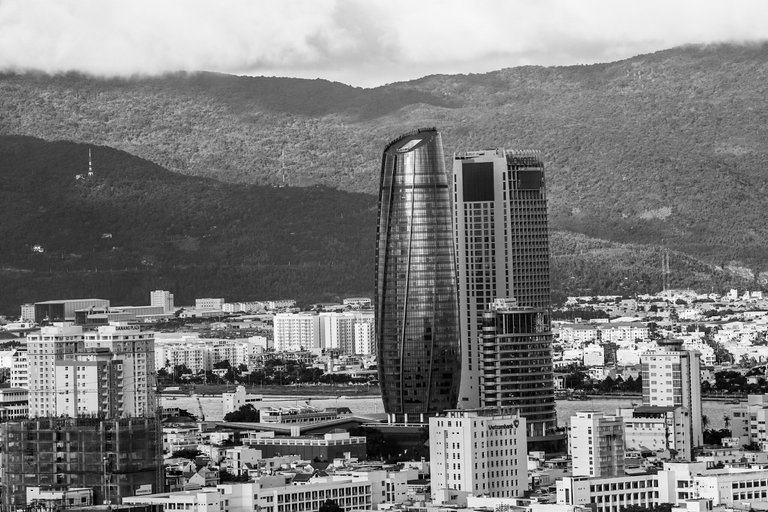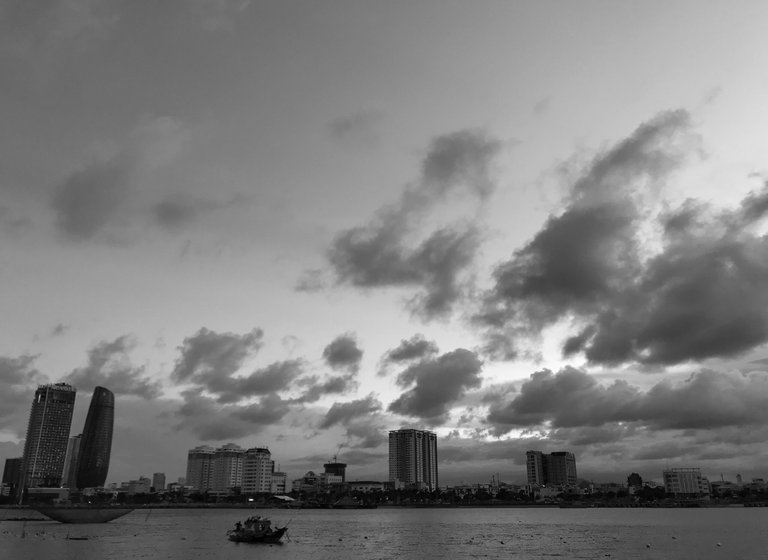 These are photos of a corner of the city at night. Under the fanciful shimmering lights, with only 2 monochrome colors, it feels like our life slows down, no hustle and bustle, it brings us back to the old days, makes the emotions in people calm down.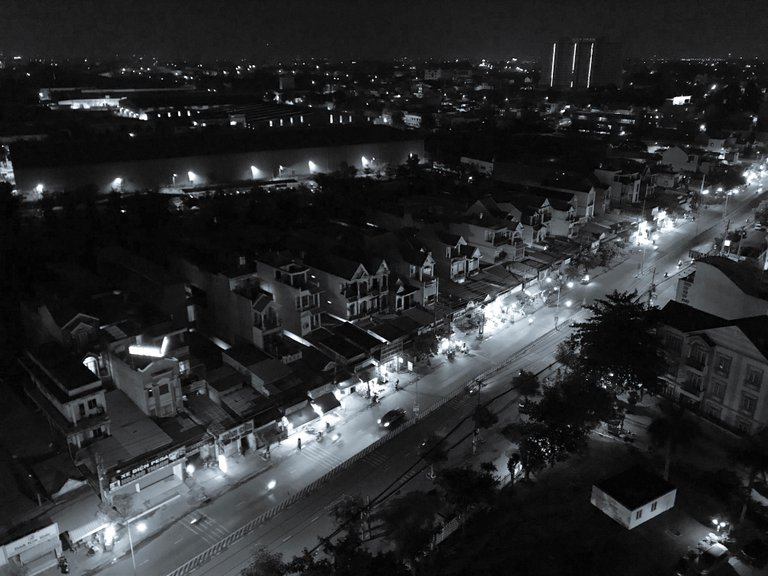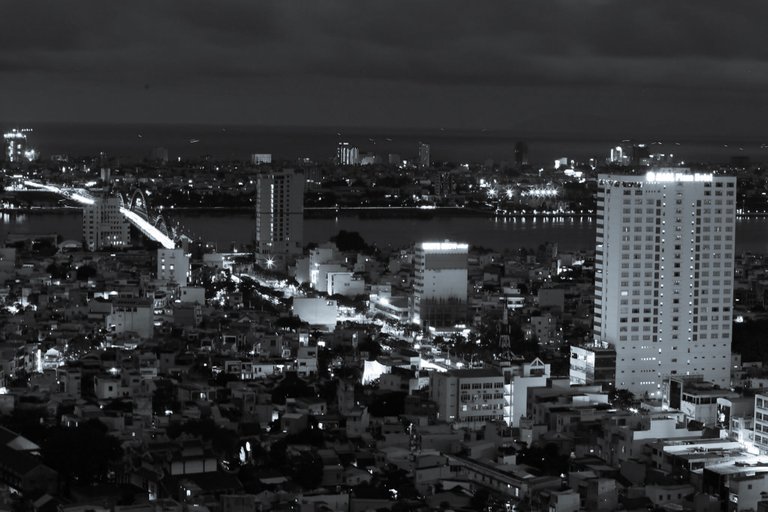 This is the Thuan Phuoc bridge taken from many different angles, it is a bridge ​long​ 1,850m, and is a tree ​bridge​ hanging hammock rope ​longest​ Vietnam connects the two banks of Da Nang Bay. This is an extremely beautiful place to watch the sunset and a place for you to take great "virtual life" photos.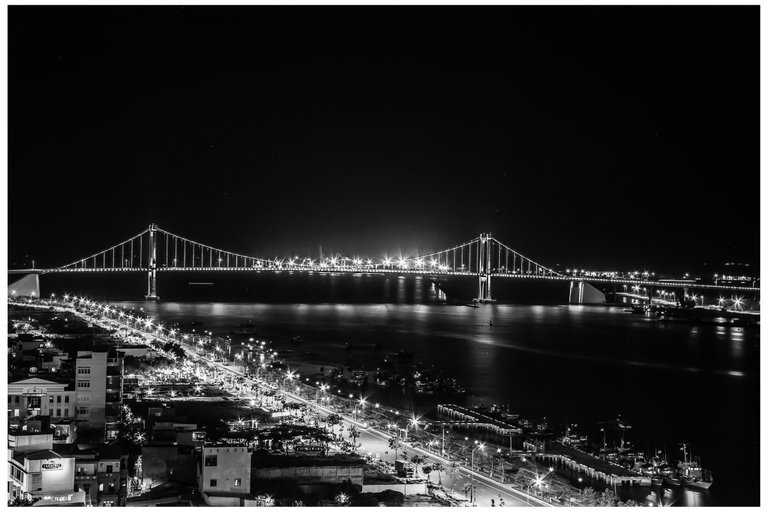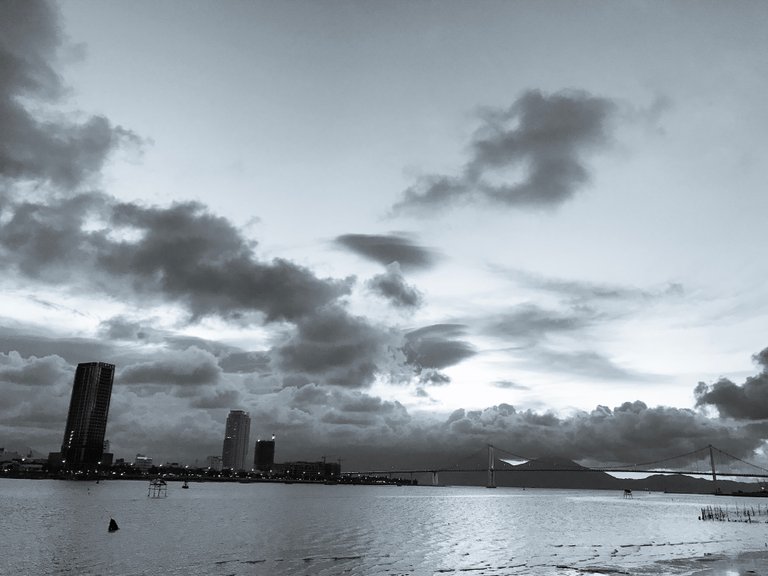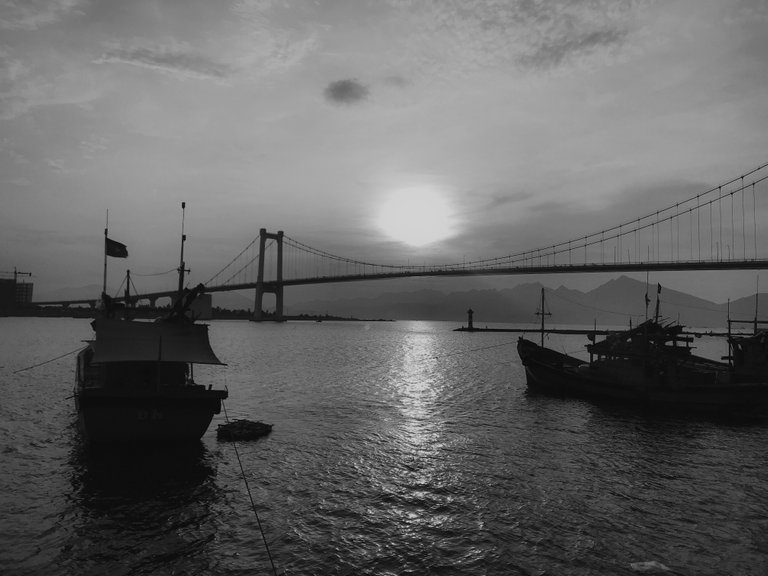 This is another corner of Da Nang, it is little known because it is far from residential areas. But this is a great chill place for the afternoon and evening because it is quite quiet here. After work, on beautiful days, and a few of my friends often come here to enjoy the scenery, enjoy t he wind, drink a few cans of beer, and share stories. After a tiring day of work, it's great to have a place to relax together like this, isn't it?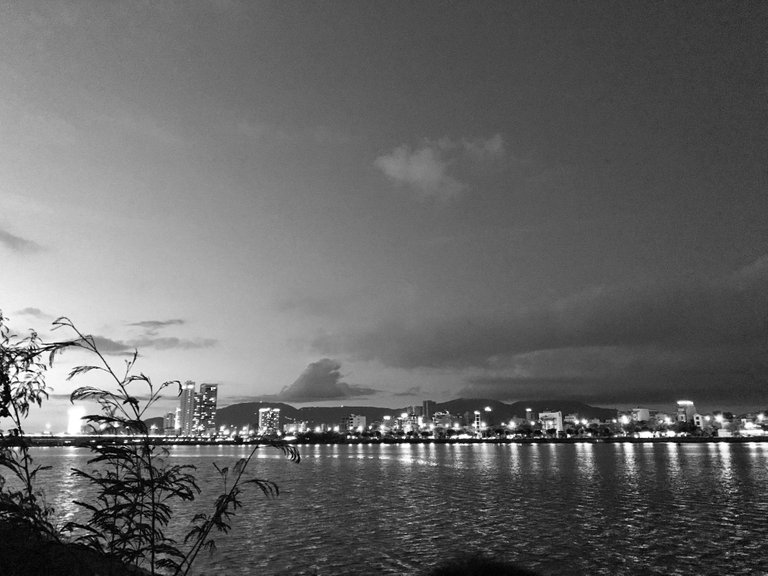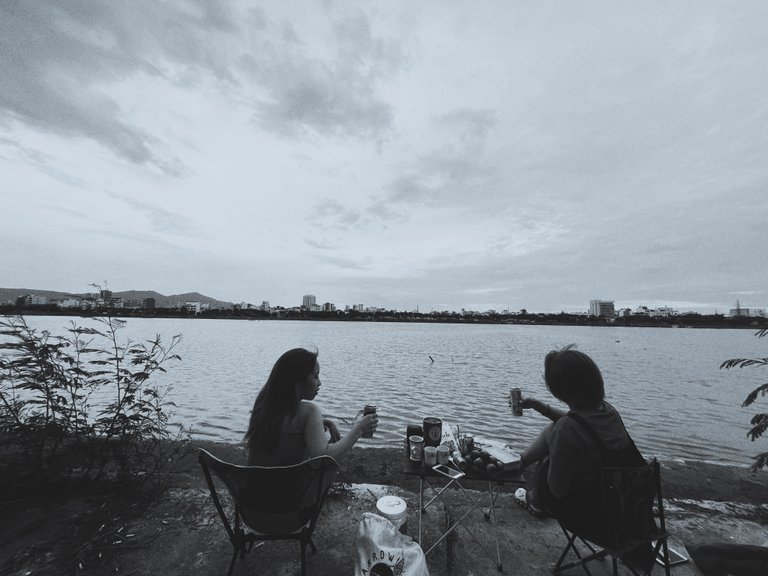 The last photo is the one on my way home from work. It was taken during the outbreak of the epidemic in Da Nang, and the amount of traffic was quite low because people were limited to going out when it was not necessary. Only people who work at the company's office like us have to go to the street. And it suddenly gave me a feeling of sadness, a busy, bustling city, the traffic is so crowded that the traffic jams when it's rush hour are gone. Everything makes people slow down, think more about the existing life around us.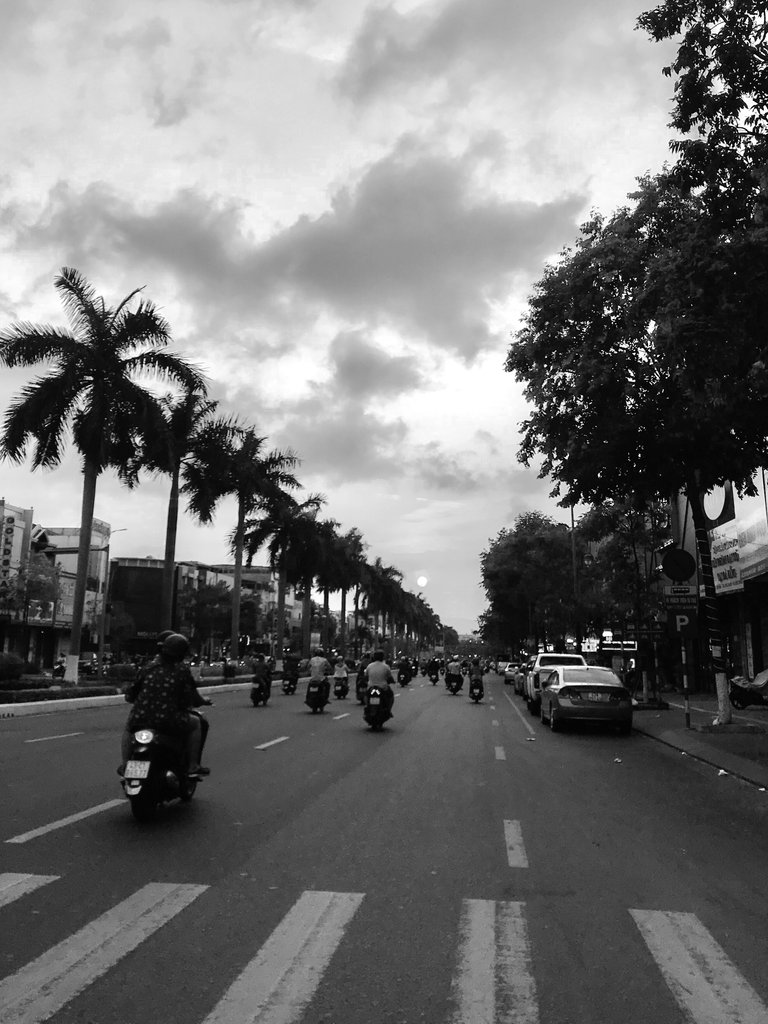 All the different paintings create a colorful life, and although it only exists in black and white, it does not lose its inherent beauty but enhances the mysterious beauty deep inside, giving us a feeling of nostalgia for the old days, special emotions that color photographs cannot bring.
"This is my entry for the #monomad challenge" on November 29th, run by @monochromes.
Thanks for following my post, this is my first time trying to convert it to black and white, it's not perfect, but I hope you guys like it.
Thank you and see you!
---
---