Ligue 1 - Playday 35 - Latest results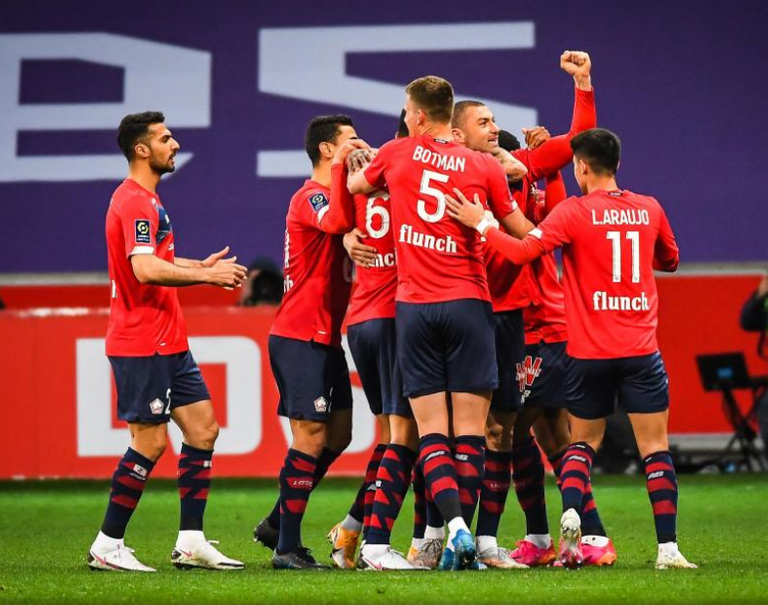 Results:
Ligue 1 - Playday 35
Lille 2 - 0 Nice
You can see Lille players are happy on the pic and well they can be !
Another win with 2 very nice goals, 3 games to go and they own their destiny.
PSG is 1 point behind only and any result other than a victory could be fatal.
Next game against Lens won't be a piece of cake for sure.
Paris-SG 2 - 1 Lens
4th win in a row and PSG needed it, Lille is not losing points on the road, title race is still on guys !
One goal and one assist from Neymar, PSG will need him at his best to end their season properly.
Monaco 2 - 3 Lyon
One word: "TENSE" haha.
Monaco was fighting for the title and Lyon for the last UCL spot, a defeat would end their dreams.
And it's finally Lyon after an epic game who snatched the victory. They scored twice playing 10vs11 players.
Game ended in a real fight between players with the referee sending off 4 players ! 2 from each team.
I told you it was tense :)
Marseille 1 - 1 Strasbourg
Not a good point for Marseille trying to steal the 5th spot from Lens.
But still better than nothing as they almost got before Benedetto scored the equalizer at the 86th minute.
Strasbourg on the other side can be happy to get 1 point to escape a bit further from relegation zone.
Montpellier 1 - 2 Saint-Étienne
Someone is going to feel some relief after this convincing win from Saint-Étienne.
Very bad start with a goal against them (6'), they could turn the game upside down and snatch the win.
Ligue 2 is now far away from them.
Bordeaux 1 - 0 Rennes
Rennes had a chance to go up to the 5th spot, playing against Bordeaux in a disastrous form.
But Nzonzi decided to book himself a red card at the very beginning (8'), honestly it looked more like clumsiness than anything else but well... it was too much for Rennes and a single goal from Bordeaux few minutes after was enough to claim the victory.
Dijon 1 - 5 Metz
After 7 games without a win, Metz ended this awful form against Dijon... which are already relegated but still digging.
Nîmes 2 - 2 Reims
Nîmes almost got those 3 points which would have helped a lot to fight against relegation but Reims could get the draw after a late goal (82').
Doesn't seem good for them, 19th and 2 point behind Nantes.
Lorient 2 - 0 Angers
Second win in a row for Lorient, those guys are escaping from relegation !
An early red card for Angers helped quite a bit too.
Brest 1 - 4 Nantes
Definitely a great game and a great result for Nantes, taking the 18th spot.
They still have a chance to avoid relegation play-off but 4 points is quite a lot to catch-up with.
Next games on Tuesday 4th May:
Champions League - Semi final - Second Leg
Manchester City - Paris-SG
Next Ligue 1 games on Friday 7th May:
Ligue 1 - Playday 36
Lens - Lille
Rennes - Paris-SG
Reims - Monaco
Lyon - Lorient
Saint-Étienne - Marseille
Strasbourg - Montpellier
Nice - Brest
Nantes - Bordeaux
Metz - Nîmes
Angers - Dijon
---
---