LEO&HODL Contest Week 6 - Focus: LeoDEX
As you know, LeoFinance&HODL contest is designed to raise awareness on the Leo products that we are using. So far we talked about LeoBridges, LeoThreads LPUD, LeoGlossary, and Leo.voter. This week we are going to talk about LeoDEX and its effects on Hive Layer 2 and the LeoFinance ecosystem until Saturday!
Contest Week 1 -> LeoThreads 📝
Contest Week 2 -> LeoBridges 🌉
Contest Week 3 -> LPUD 🦁
Contest Week 4 -> LeoGlossary 📖
Contest Week 5 -> Leo.Voter ⬆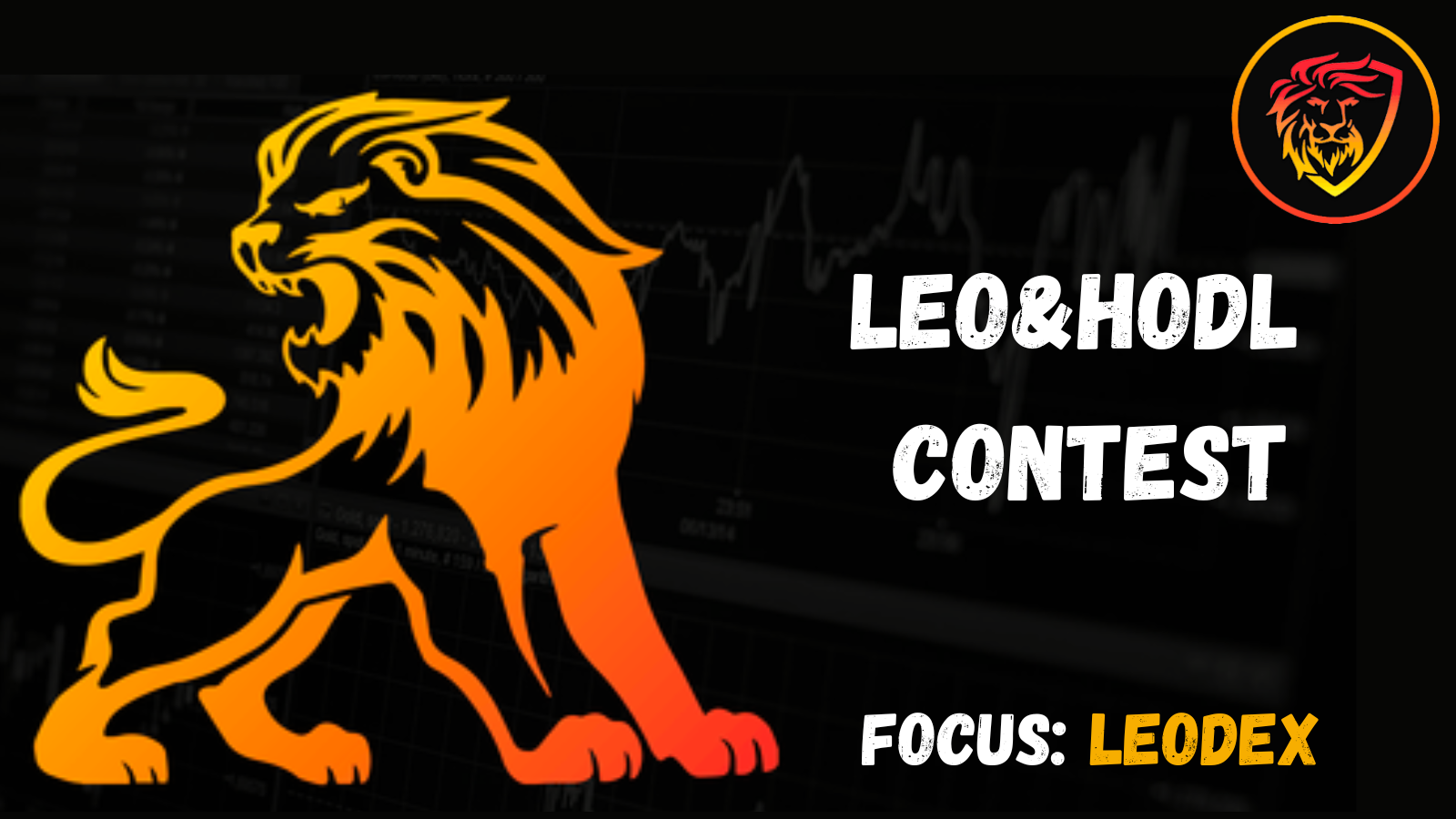 The focus of the last week was Leo.Voter and its contributions to our ecosystem. We clearly saw that this voter account plays an important role in the Leo ecosystem. You can delegate your HP and get rewarded with LEO token daily. Besides, the account incentivizes Hivers post on LeoFinance frontend that generates ad revenue for LEO!
This week, (until October 8, 00:00 PDT), we are going to make a post and LeoThreads about the LeoDEX and its utility! There are several aspects of LeoDEX that make it unique. Let's see what sides will be emphasized by our authors 😉
The Weekly Focus (till October 8) -> LeoDEX!
Have you ever tried LeoDEX. It is a decentralized exchange where you can deposit and withdraw Hive besides trading Hive tokens. The DEX is commonly used as people can see the rich list of a token and the withdrawal fee is pretty low!
More will be highlighted by the authors 🔥
In this weekly focus, we will discuss the effects of leo.voter and your experience with it if there is.
What are the benefits of LoeDEX to the Hive Layer 2 ecosystem?
Why should people withdraw Hive by using LeoDEX?
What is the best part of LeoDEX that everyone should know?
How can new lions benefit from it?
Also, you can talk about:
Your previous experience with LeoDEX (Withdrawal, trade, checking rich list etc.)
Compare LeoDEX with Hive-Engine!
Discuss the pros and cons of LeoDEX for an Hiver!

The Tasks of The LPUD Contest - Week 6
This week we discuss about a voter account and there will be no specific task on it. As in general, our aim is to reach more people and reward the contribution of our growing content creators' group.
Join the Discord of LeoFinance (Leo Discord) & HODL Community (HODL Discord).
Submit your entry on HODL Discord Channel -> leo-hodl-contest-submission
Create LeoThreads (at least 3 LeoThreads and do not forget to share the link in your submission) and explain the reasons why you use this Leo Product / the benefits of them etc.
Use hashtags #hodlcontest #leocontest #contest to be eligible.
Use at least 3 leoglossary links (Leo Glossary by TaskMaster) in your post.
Make a LeoGlossary post on LeoFinance and the title of your post needs to have "LEO&HODL Contest" (e.g., Leo.Voter Experience and LEO&HODL Contest)
Delegate 100 Hive Power or 100 LEO Power to @hodlcommunity to get 90% curation rewards daily.
Optional (Bonus): Invite 3 friends of yours by tagging in your post (e.g., hey @vlemon, you should join the contest)
We always welcome How-to post for newbies or you can talk about the working mechanisms of voter accounts with a bunch of examples and experience.
Note: You can have maximum of 2 entries per week.

Final Notes:
When your content is ready, you will submit the link on HODL Discord channel named leo-hodl-contest-submission. The entries will be reviewed until Saturdays and the winners will be declared on Hodl Community Leo post.
You can check an example submission.
Total 175 LEO will be shared among Top 3. ( 100 / 50 / 25).
Each proper submission will be rewarded via upvotes.
Guidelines and visuals are very well appreciated.

Check available LEO Tasks by @leo.tasks
Follow the updates on LeoFinance ecosystem on @leogrowth account!
Check liquidity of LeoDEX on LeoDex Wallet
Check Leo Products + CUB projects on @leofinance and get 90% daily liquid payment for your HIVE and LEO for your delegations to @hodlcommunity.
Posted Using LeoFinance Beta
---
---