NFT Market Race Among Crypto Exchanges
Non-Fungible Tokens are one of the hottest products of blockchain thanks to their secure and ownership-based nature. For many people, NFTs are the previews of future life of human beings that every single thing in real life will have an equivalent in digital world. At that point, NFTs are seen as the key of ownership though it is restricted to digital arts or in-game assets so far.
The potential of these products may go beyond the crypto exchanges, developers and policy-makers because of their unique nature. While they can be obtained from platforms/markets/ Open bazaars like Opensea, Curate, Atomichub (WAX), NFTShowroom (HIVE), the tyrants of crypto ecosystem, a.k.a. crypto exchanges, took steps to compete against the other service providers. IMHO, this occasion has pros and cons in the long run.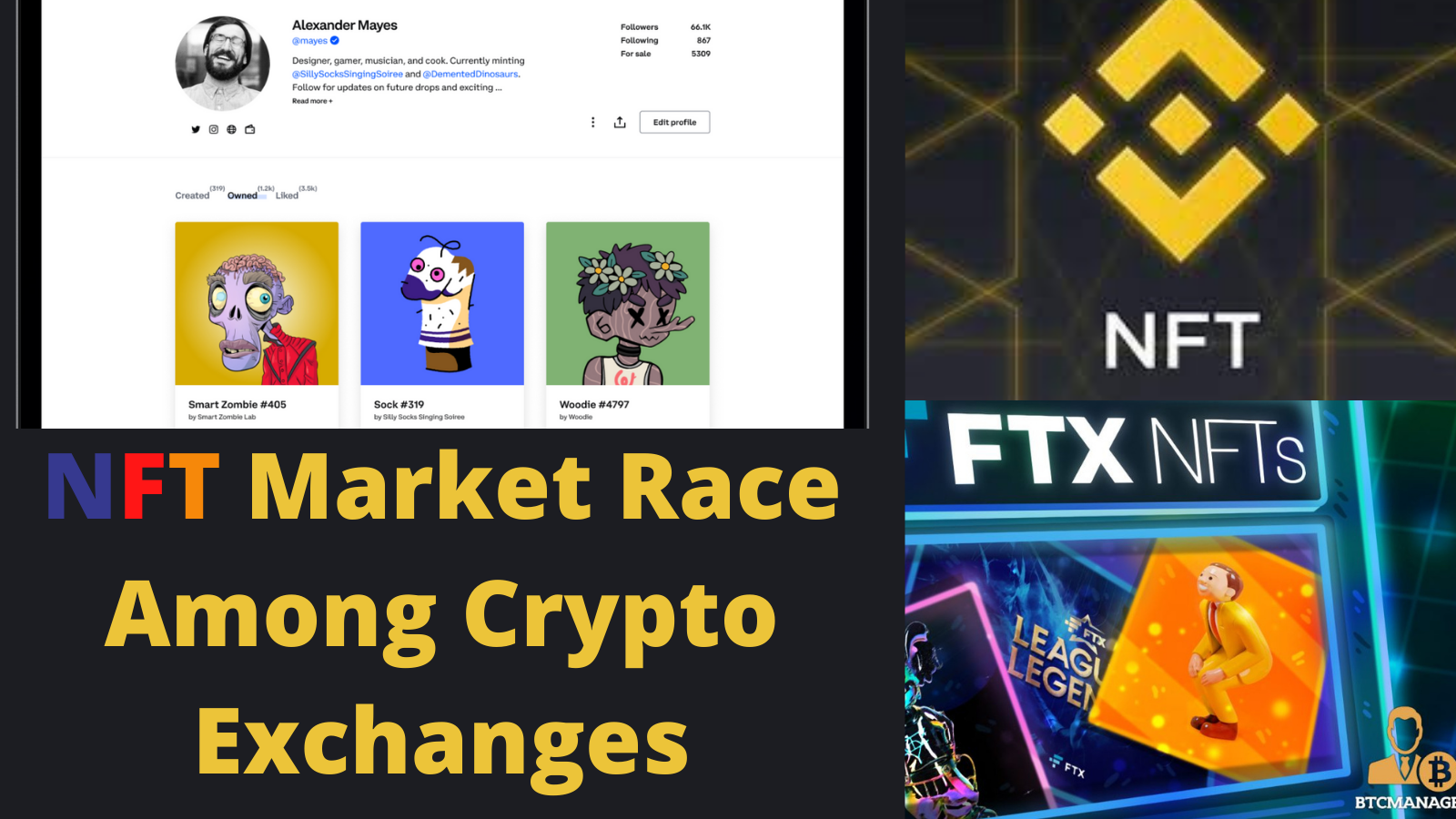 Binance NFT Market
In June 2021, Binance declared the upcoming Binance NFT market to the users. In the market, the NFTs are traded for ETH, BNB and BUSD. For now, the focus is on limited editions of talented artist to be sold for cryptocurrencies. Besides, there is a gamining section where users can buy the promo or initial offerings in advance. Though the user interface looks basic, we may have to use it quite often for NFTs of the games on Binance Smart Chain. I'm pretty sure that the games items are going to be on this section if they operate on BSC.
FTX NFT Market - SOLANA-based NFTs
FTX exchange did not choose to stay outside of the circle and a step is taken by collaborating with Solana nft projects. As there is no viral Smart Chain for FTX to deploy NFTs on it, it is going to be a prestige for several blockchains to have partnership with FTX to show the piece of art on FTX market. I assume that FLOW, SOL, Avalanche, Polygon (L2) and some other popular blockchains will be given a part on the NFT market.
Will we see BSC over there?
Okay...Okay, I'm joking 🙃
Coinbase NFT Market
I think it is the most interesting news that I have received for a couple of weeks. Coinbase, interestingly, sacrificed its prestige as the one of most trustworthy and snob exchange and took part in the race. However, as Coinbase is regulation-friendly to great extent, the NFT artists, NFTs and Taxation can be the major concern for the upcoming market. If I had a chance to be listed on one of these NFT market, I would go for Coinbase as an NFT artist due to the professional and popular public image of the exchange.
Coinbase = 💲💲💲 🤑
Beyond Liquidity, Trying to Host the Future
While there are millions of dollar having been paid for some popular NFT collections, the ideology of the exchanges does not solely consist of attracting the liquidity. Taking the digitization of assets into consideration, the major NFT market race among concern of these service providers is to have a God-like authority on the direction of crypto trends to be able to manipulate it for their sake. For the short term, their involvement will be a strong narrative for NFT furry to keep on but the monopoly of the exchanges is likely to bother many people as the time passes.
For NFT artist and NFT-based games like #Splinterlands (also for NFTShowroom in Hive), it would be great to have a strategic partnership with popular exchanges that are going to launch their NFT markets. The new trend among crypto exchanges will be launching their NFT markets with a simple UX and a website 🤦‍♂️ Though they may lack in creativity, there is going to be an immense competition and there will be many opportunities for those who contribute to NFT sub-ecosystem with piece of art or NFTs will use cases.
Note: I hope @splinterlands marketing team is in contact with the exchanges over the NFT listing on their NFT markets for the future. A simple step taken with a less-popular exchange with NFT market may be proceeded by one of the leading counterparties. While there is a solid product, active players and massive engagement, it is not a forlorn hope...
Posted Using LeoFinance Beta
---
---