HIVE returned the gains from the pump, that is ok and we should be used to it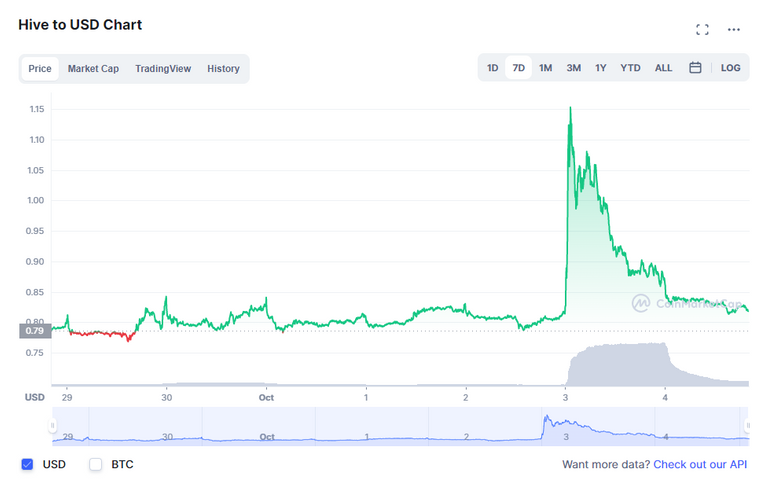 I am not going to pretend I know why this is such a recurrent behavior of this specific blockchain. Whenever we have an unexpected, sudden, and big pump it is followed by a dramatic dump. Nevertheless, HIVE is still up around 400% this year, so not bad.
Our market capitalization is at almost 333 million USD, which kinda surprises me. Hive is not only a social network platform but also a decentralized digital identity platform and a DeFi platform. Even though Hive has so many use cases, we are still below 1 billion dollars of market cap, while some meme coins are in the multi-billion dollar bracket.
If we were to reach 1 billion dollars in market cap HIVE would be above $2.50 (with the current supply). The inflation, baked into this blockchain, would be a reason why it does not go up, but it fails to explain why/how it drops so fast after any pump.
HIVE is not liquid, that is known, HP takes weeks to be powered down, delegations take 5 days to be withdrawn, dollars saved take 3 days to be withdrawn, that all explain the low liquidity, but to me not how it drops too fast and so dramatically.
On the flip side, since it lacks liquidity, I don't feel tempted to power down and sell at each pump, even though the chances of a dump right after are high (historically). If I happen to need money and need to sell my HIVE for it, I would have to plan it, since it would happen over the course of 13 weeks. But I hope that I won't need and I can hold in our way into 1 billion MCap, 10 billion, 20, or beyond... We can dream...
Or use your preferred signing tool to vote me:
---
---