Creating a Phone Holder [ESP-ENG]
❣️❣️❣️❣️❣️❣️
Creando un Sujetador de Teléfono
Creating a Phone Holder
❣️❣️❣️❣️❣️❣️
---
Estos días han sido un poco turbulentos para mí, he estado un poco indispuesta, sin ánimos de nada, solo queriendo estar acostada, que duro es esto, sentirse asi, y tener que pasar por esto sola, es más duro, aguantar todo este malestar, esperando que se me pase, para luego salir como si nada, ¿les ha pasado?
Bueno, como dicen por allí, toca aguantar y seguir, que más, me tome este finde para descansar un poco, pero también aproveche un momento en que tenía un poco más de fuerza, y me puse a improvisar, esto era algo que quería hacer desde hace un tiempo, pero no lo había intentado, les hablo de un Sujetador de Teléfono, hecho en casa, con materiales reciclables.
ENGLISH VERSION
These days have been a bit turbulent for me, I've been a bit unwell, not in the mood for anything, just wanting to lie down, how hard it is to feel like this, and having to go through this alone, it's even harder to put up with all this discomfort, waiting for it to pass, and then go out as if nothing had happened, has it happened to you?
Well, as they say over there, it's time to hold on and carry on, what else, I took this weekend to rest a bit, but I also took advantage of a moment when I had a bit more strength, and I started to improvise, this was something I wanted to do for a while, but I hadn't tried it, I'm talking about a homemade Telephone Holder, made with recyclable materials.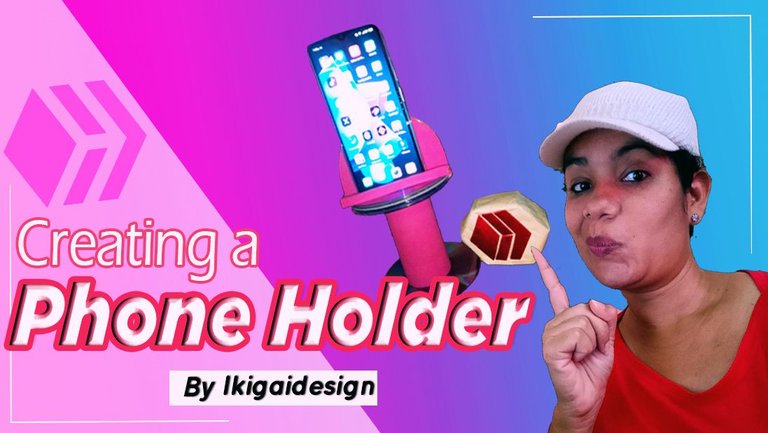 ---
❣️❣️❣️❣️❣️❣️
---
Me puse a buscar videos tutoriales, por YouTube, y encontré una idea muy creativa, con CDs, recordé que tengo unos cuantos y bueno, siempre he pensado en darles uso, con tantas cosas que se pueden crear y diseñar con ellos, esto me pareció muy original y fácil de realizar.
Los materiales a utilizar, fueron los siguientes:
CDs
Foami Rosado
Tijeras
Lápiz
Silicon
Tijeras
Rollo de Papel
ENGLISH VERSION
I started looking for video tutorials on YouTube, and I found a very creative idea, with CDs, I remembered that I have a few and well, I have always thought about using them, with so many things that can be created and designed with them, this seemed very original and easy to do.
The materials to use were the following:
CDs
Pink Foami
Scissors
Pencil
Silicon
Scissors
Paper Roll
Procedimiento:
Lo primero que hice fue tomar el rollo de papel y forrarlo con el foami rosado, una vez hecho esto, tome dos CDs, y lo pegue por ambos lados del rollo, esta será la base de este sujetador.
ENGLISH VERSION
Procedure:
The first thing I did was to take the paper roll and line it with the pink foami, once this was done, take two CDs, and glue it on both sides of the roll, this will be the base of this fastener.
Seguidamente, tome otro CDs, y lo corte un poco más allá de la mitad, también lo forre con el foami rosado, este sería colocado en la parte superior de la base, donde colocaríamos nuestro teléfono, para sostenerse.
ENGLISH VERSION
Next, take another CD, and cut it a little further down the middle, also lining it with the pink foami, this would be placed on top of the base, where we would place our phone, to hold it.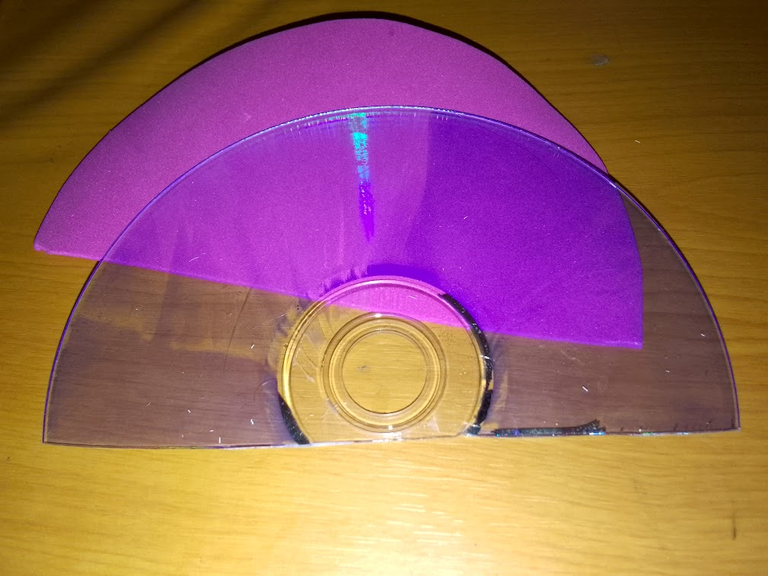 Ya con esto, solo me quedo colocarle una parte donde el teléfono se pueda mantener estable, sostenible, asi que tome otros CDs, cortándolos aún más pequeños, pegándolos todos en conjunto, pero también tome dos paletas, y se la puse encima, para hacerlo un poco más alto, para asegurar bien, por el peso del teléfono.
ENGLISH VERSION
With that, I just had to put a part where the phone could be stable, sustainable, so I took other CDs, cut them even smaller, glued them all together, but I also took two pallets, and put them on top, to make it a bit higher, to secure it well, because of the weight of the phone.

---
❣️❣️❣️❣️❣️❣️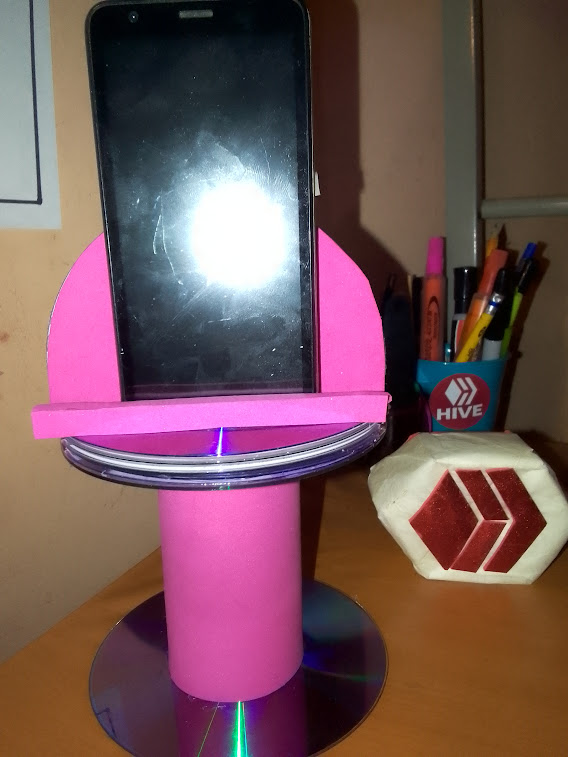 ---
Esto fue improvisando un poco, para colocar mi teléfono, cuando vaya a grabar videos, claro más adelante pienso comprarme uno, solo que en estos momentos hay otras prioridades, y debo enfocarme en ellas, los meses pasan, y este año, ha sido muy fuerte, en todos los sentidos, sinceramente ya quiero que termine, pero bueno, no es el año, es uno, las cosas que se nos presenta, que se nos escapa de las manos, y toca lidiar con todo ello.
Pues bien mis amigos creativos, esto fue mi momento para relajarme y distraerme un poco, me gusto el resultado final, para algo me servirá, no creen, bueno igual aquí se los dejo, por si se animan a inventar uno.😄
ENGLISH VERSION
This was improvising a little, to place my phone, when I go to record videos, of course later I plan to buy one, but right now there are other priorities, and I must focus on them, the months go by, and this year, has been very strong, in every way, I sincerely want it to end, but well, it is not the year, it is one, the things that comes our way, that escapes from our hands, and we have to deal with it all.
Well my creative friends, this was my moment to relax and distract myself a little, I liked the final result, it will be useful for something, don't you think, well anyway, here you have it, in case you dare to invent one, see you next time.
---

❣️❣️❣️❣️❣️❣️
❣️❣️❣️❣️❣️❣️
Nos vemos en la próxima, a seguir creando,
y creyendo en uno mismo, un paso a la vez.
See you next time, keep creating, and keep believing in yourself,
one step at a time.
---
| RECURSO / RESOURCE | FUENTE / SOURCE |
| --- | --- |
| Imágenes / Pictures: | Fotos Telefono Tecno Pop 7 |
| Translation/Traducción: | DeepL Traductor |
| Edition/Edición : | Cover and banner with Photoshop /Portada y banner con Photoshop |
---

---
---