Viviendo o Sobreviviendo el día a día [ESP-ENG]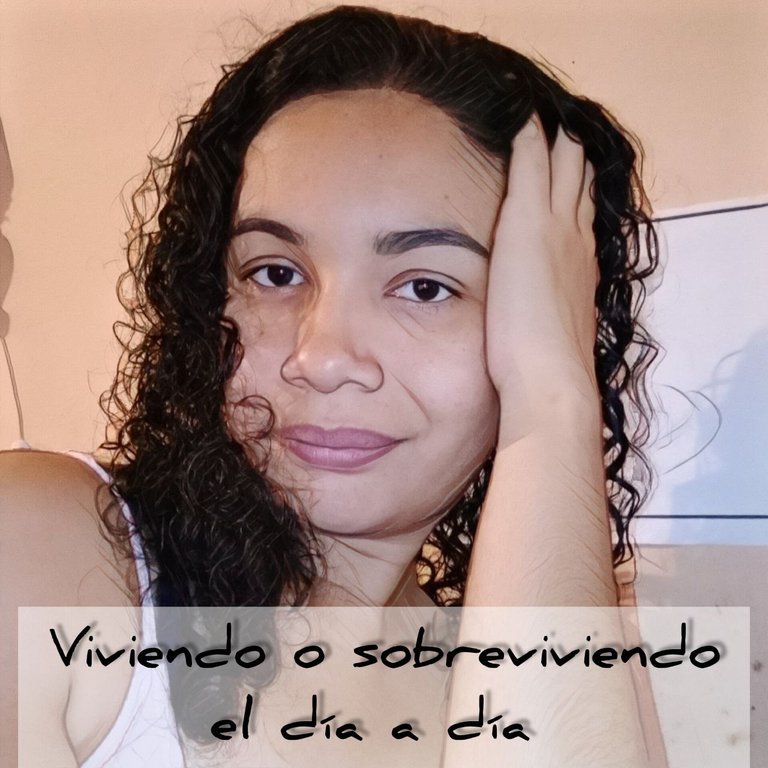 ---
El mundo gira y gira, y tú sigues allí, con tus pensamientos que te agobian, te abruman, tu mente te traiciona, estás cansada, agotada, harta, molesta, con todo lo que sucede, y esa bendita frase, que te persigue, Si no es una cosa es Otra.
Te levantas pensando, que voy a hacer hoy, como será este día, quieres alejarte de la realidad, escapar de ella, vivir en un mundo diferente, tener incluso una vida diferente, poder cambiar todo lo que sucede a tu alrededor, como si fuera tan fácil ¿verdad?, solo presionar un botón y reiniciar todo, ojalá fuere asi de simple, pero la vida es más compleja que todo esto.
Todos tenemos problemas, todos vivimos situaciones diferentes, todos queremos salir de este tormento, de esta crisis, ansiedad, miedo, estrés, tristeza, dolor, apartar todo esto de nuestras vidas, de nuestro existir, y que nada nos agobie.
Pero qué complicado es vivir, en este mundo, lleno de caos, enfermedades, con tantos problemas, es como si el mundo se estuviera acabando ya, y tú solo piensas, bueno ya que se acabe, que tanto, asi dejamos de sufrir tanto.
Te sientes cansada, agotada, ya no quieres seguir intentándolo, y eso que tú estás sana, entre comillas, pero que hay de esas personas que está peor que tú, que sufren y padecen, con tanto dolor encima, tú te quejas, pero no miras lo que tienes en realidad a tu alrededor, sea mucho o poco, sigues aquí, estás viva, estás activa, puedes moverte y mantenerte por ti misma, sin depender de los demás.
Qué difícil es para aquellos que no pueden solos, pero sobre todo depender de los demás, para moverte, caminar, comer, andar, existir, solo piensas hasta cuando este sufrimiento, esta tortura, esta agonía, porque no solo sufre la persona enferma, sino los que la rodean, los que están allí con ella acompañándola, en su dolor, en su sufrimiento.
Como quisiera cambiar todo, regresar el tiempo, volver atrás, pero no se puede, el pasado, pasado está, solo tenemos el presente, el futuro y ya, toca afrontarlo, vivirlo, aguantarlo, que más.
Días de incertidumbre, de espera, de angustia, esto es lo que ha sido, y si como dije, si no es una cosa es otra, pero siempre surge algo, es como si no hubiera un momento de paz, de calma, de tranquilidad, siempre hay algo.
Hay tantas cosas que pasan por tu mente, pero no sabes qué hacer con ellas, hay momentos en los que desearías meterte en una burbuja, y no saber de nada ni de nadie.
Solo dejaré estas líneas hasta aquí, hay mucho más que decir, pero seguiremos viviendo o sobreviviendo en este mundo, hasta que la vida misma, nos los permita.
Un paso a la vez, un día a la vez...
---
ENGLISH VERSION
The world spins and spins, and you are still there, with your thoughts that overwhelm you, your mind betrays you, you are tired, exhausted, fed up, annoyed, with everything that happens, and that blessed phrase, that haunts you, If it's not one thing it's another.
You wake up thinking, what am I going to do today, what is this day going to be like, you want to get away from reality, escape from it, live in a different world, even have a different life, be able to change everything that happens around you, as if it were that easy right, just press a button and reset everything, I wish it were that simple, but life is more complex than all this.
We all have problems, we all live different situations, we all want to get out of this torment, this crisis, anxiety, fear, stress, sadness, pain, to remove all this from our lives, from our existence, and that nothing overwhelms us.
But how complicated it is to live, in this world, full of chaos, illnesses, with so many problems, it is as if the world is coming to an end, and you just think, well, let it come to an end, so that we stop suffering so much.
You feel tired, exhausted, you don't want to keep trying, and you are healthy, in inverted commas, but what about those people who are worse than you, who suffer and suffer, with so much pain on top, you complain, but you don't look at what you really have around you, be it a lot or a little, you are still here, you are alive, you are active, you can move and support yourself, without depending on others.
How difficult it is for those who can't do it alone, but above all to depend on others, to move, to walk, to eat, to walk, to exist, you just think until when this suffering, this torture, this agony, because not only the sick person suffers, but also those around him, those who are there with him, accompanying him, in his pain, in his suffering.
How I would like to change everything, to turn back time, to go back, but it is not possible, the past is past, we only have the present, the future and now, we have to face it, live it, endure it, what else.
Days of uncertainty, of waiting, of anguish, this is what it has been, and as I said, if it is not one thing it is another, but something always comes up, it is as if there is not a moment of peace, of calm, of tranquillity, there is always something.
There are so many things that go through your mind, but you don't know what to do with them, there are moments when you wish you could get into a bubble, and not know about anything or anyone.
I will only leave these lines until here, there is much more to say, but we will continue to live or survive in this world, as long as life itself, allows us to do so.
One step at a time, one day at a time...
---
| RECURSO / RESOURCE | FUENTE / SOURCE |
| --- | --- |
| Imágenes / Pictures: | Fotos teléfono Tecno Pop 7 |
| Translation/Traducción: | DeepL Traductor |

---
---