[ESP | EN] El mejor ataque, es una excelente defensa | The best attack is a great defense | SHARE YOUR BATTLE | Gloridax Soldier |
Background del vídeo por GamOl en Pexels editado por mí con Filmora 9, las imágenes le pertenecen a @splinterlands
¡Saludos chicos! Bienvenidos una vez más a mi blog, el día de hoy me uno a la iniciativa de @splinterlands llamada SHARE YOUR BATTLE Weekly Challenge! GLORIDAX SOLDIER, la cual consiste en compartir una pelea semanal con una carta que te colocan como reto.
Hello guys! Welcome back to my blog! today I'm joining the @splinterlands initiative called SHARE YOUR BATTLE Weekly Challenge! GLORIDAX SOLDIER, which consists of sharing a weekly fight with a card that they put to you as a challenge.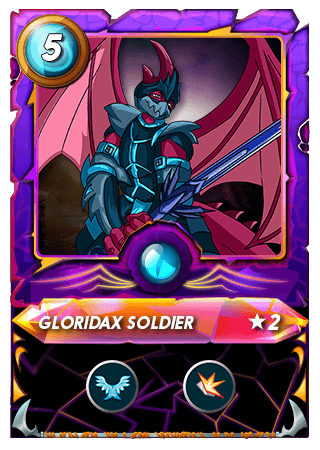 El reto de esta semana era compartir una batalla utilizando la carta Gloridax Soldier del Splinter de Dragón dentro de tu composición; debo admitir que lo subestimé un poco, ya que al verlo por primera vez, dije que sería algo débil como para ser un tanque en una composición cualquiera, porque no posee muchos puntos de vida ni un daño tan elevado, sin embargo, sus habilidades de Fly y Shield lo vuelven increíble en la Frontlane.
This week's challenge was to share a battle using the card Gloridax Soldier from the Dragon Splinter within your composition; I must admit that I underestimated him a little bit, because when I first saw him, I said that he would be a bit weak to be a tank in any composition, because he doesn't have a lot of life points or a lot of damage, however, his Fly and Shield skills make him incredible in the Frontlane.

El Enemigo | The Enemy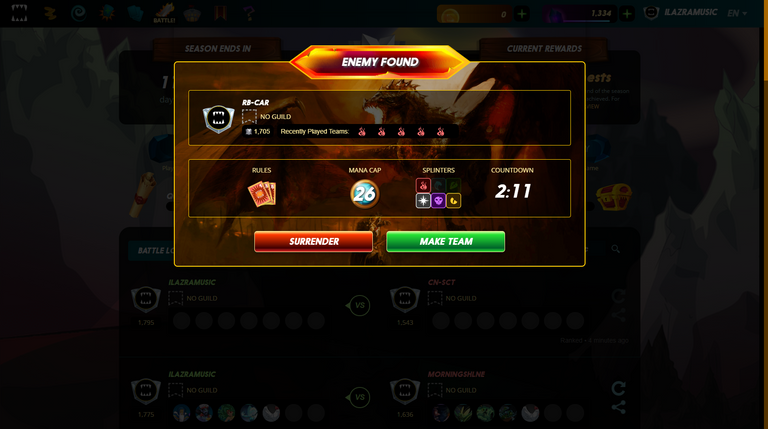 El enemigo que me tocaba estaba en misión de Splinter de Fuego o simplemente es su Splinter más fuerte; esto significaba que me tocaría en contra un ejército bastante fuerte con respecto al daño físico.
Decidí crear una estrategia muy defensiva, por lo que decidí combinar mi Splinter de Dragón con el Splinter de Vida, ya que poseo bastantes cartas buenas dentro de dicho Splinter además del hecho de usar al Gloridax Soldier como buena frontlane.
The enemy that was me was on a mission of Fire Splinter or simply his strongest Splinter; this meant that I would be up against an army that was quite strong in terms of physical damage.

I decided to create a very defensive strategy, so I decided to combine my Dragon Splinter with the Life Splinter, as I have quite a few good cards within the Splinter besides using the Gloridax Soldier as a good frontlane.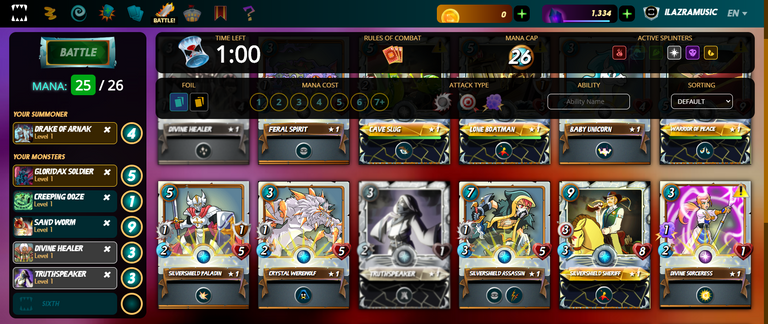 La estrategia que decidí utilizar era una estrategia de Aguante y Backlane, es decir, de asegurar que la frontlane aguante todo el daño, mientras planeaba hacerle un gran daño a mi enemigo de atrás hacia adelante, es decir, derrotarle los monstruos de la backlane primero y así sucesivamente hasta llegar al tanque.
The strategy I decided to use was a strategy of holding and backlane, that is, making sure that the backlane would take all the damage, while planning to do a lot of damage to my enemy from back to front, that is, defeating the backlane monsters first and so on until I got to the tank.

La Composición | The Composition
Para la composición de mi equipo, utilicé las siguientes cartas:
For the composition of my team, I used the following cards: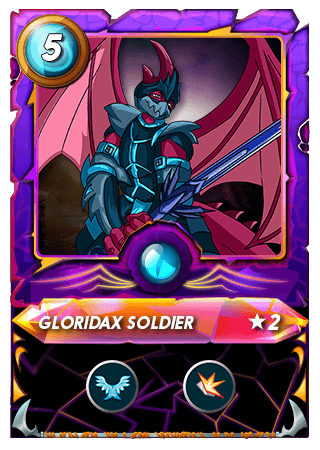 Por supuesto, nada como una frontlane sólida como la que nos ofrece el Gloridax Soldier, actualmente yo lo tengo en nivel 2, así que posee 1 punto de Daño Físico, 2 puntos de Velocidad, 1 punto de Armadura y 4 puntos de Vida, además de sus habílidades de Fly y Shield, lo cual lo vuelven una máquina de esquivar y reduce el daño físico a la mitad.
Of course, nothing like a solid frontlane like the one offered by the Gloridax Soldier, actually I have it at level 2, so it has 1 point of physical damage, 2 points of speed, <1 point of armor and 4 points of life, in addition to its abilities to fly and shield, which makes it a dodge machine and reduces physical damage by half.
---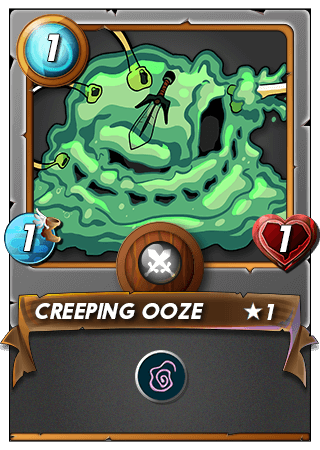 Una carta que casi todo el mundo suele utilizar en las divisiones bajas (Bronce, Plata y hasta Oro), ya que tiene la habilidad Slow, que le reduce 1 punto de Velocidad a todos los monstruos enemigos; ideal para hacer que los enemigos tengan más chance de fallar sus ataques contra la frontlane. Además de ello, lo utilicé en la segunda posición para que sirviera como un pequeño tanque en caso de que el Gloridax Soldier cayera en combate, así podríamos aguantar un poco más para que la próxima carta llegara a primera posición.
A card that almost everyone uses in low divisions (Bronze, Silver, and even Gold), as it has the Slow skill, which reduces the speed of all enemy monsters by 1 point, ideal for making enemies more likely to miss their attacks against the frontlane. On top of that, I used it in the second position to serve as a small tank in case the Gloridax Soldier fell in combat, so we could hold on a little longer for the next card to reach the first position.
---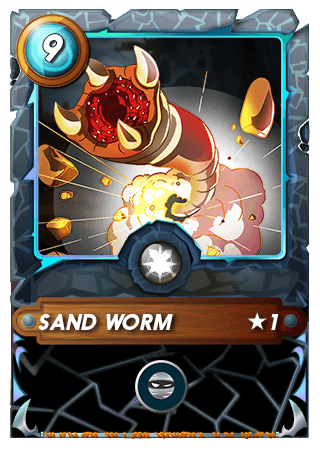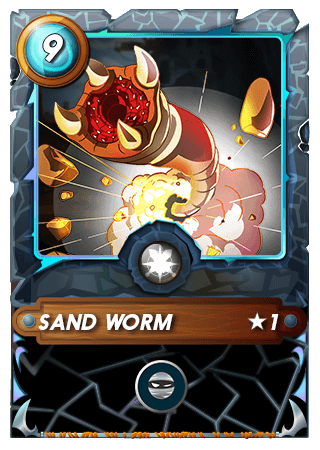 La pieza clave de mi estrategia; esta carta es de las mejores recompensas que he recibido durante mi retorno a @splinterlands, ya que, a pesar de costar 9 puntos de maná, hace 5 puntos de daño físico y tiene la habilidad Sneak, lo cual lo hace golpear la backlane en lugar de la frontlane. Lo coloqué en tercera posición para que no tuviera el riesgo de recibir daño ni por la frontlane ni por la backlane, cosa que le permitiría ir demoliendo el equipo enemigo en cada turno mientras el Gloridax Soldier aguantaba.
The master piece of my strategy; this card is one of the best rewards I've received during my return to @splinterlands, because despite costing 9 mana points to use it, it does 5 points of physical damage and has the Sneak skill, which makes it hit the backlane instead of the frontlane. I placed him in third position so that he would not risk damage from either the frontlane or the backlane, which would allow him to demolish the enemy team each turn while the Gloridax Soldier held on.
---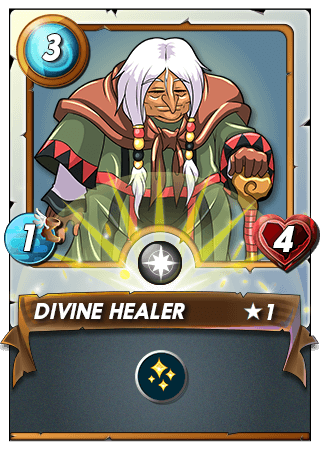 Esta es otra de las piezas clave de mi estrategia; la «Mamá Coco» (nombre adjudicado por su semejanza con la abuela Coco de la película de Pixar) es una curadora increíble, ayuda muchísimo a mantener viva la frontlane, la coloqué en cuarta posición para no arriesgarla a recibir directamente el daño de alguna habilidad Snipe y poder aguantar algunos turnos sin recibir daño por la backlane debido a alguna habilidad Sneak enemiga.
This is another master piece of my strategy; the "Mama Coco" (name given because of her resemblance to Grandma Coco from the Pixar movie) is an amazing healer, she helps a lot to keep the frontlane alive, I put her in fourth position so she doesn't risk getting directly damaged by any of the enemy's Sneak or Snipe skills.
---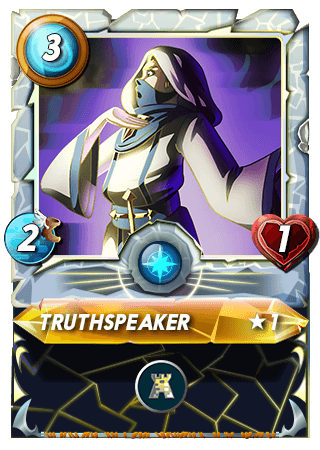 Como mi estrategia se basaba en una defensa sólida, necesitaba la mayor cantidad de armadura posible, por eso decidí utilizar la carta Truthspeaker, ya que posee la habilidad Protect, lo que le otorga 2 puntos de Armadura a todo el equipo. Esto, combinado con el Summoner que elegí, fue la estrategia perfecta para contrarrestar todo el daño físico que recibiría con la estrategia de mi rival.
As my strategy was based on a solid defense, I needed as much armor as possible, so I decided to use the Truthspeaker card, as it has the Protect skill, which gives 2 armor points to the whole team. This, combined with the Summoner I chose, was the perfect strategy to counteract all the physical damage I would receive from my opponent's strategy.

El Summoner seleccionado | The choosen Summoner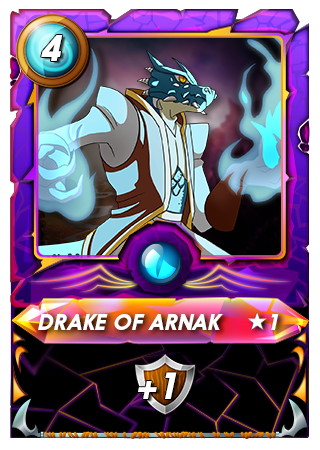 Propiedad de @splinterlands
Utilicé el Drake Of Arnak; me parece un summoner increíble ya que le puede otorgar armadura a todo su equipo, lo que lo vuelve increíble para contrarrestar estrategias demasiado ofensivas. Y en este caso, fue perfecto el mezclar su buff de Armadura con la habilidad Protect de la Truthspeaker, ya que en total, mi equipo recibiría 3 puntos de armadura en total, simplemente excelente para aguantar la mayor cantidad de turnos posibles mientras mi Sand Worm se encargaba del trabajo.
I used the Drake of Arnak; I think it's an incredible summoner as it can give armor to your whole team, which makes it incredible to counteract any offensive strategies. In this case, it was perfect to mix his armor buff with the Truthspeaker Protect skill, because my whole team would receive 3 armor points in total, just excellent for holding as many turns as possible while my Sand Worm did the job.

La Batalla | The Battle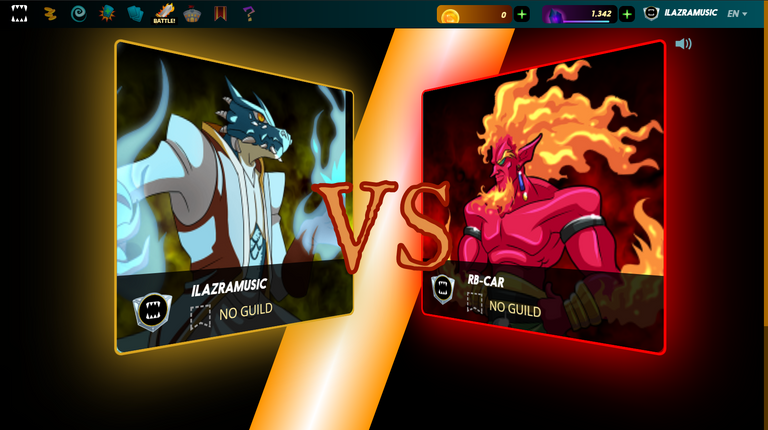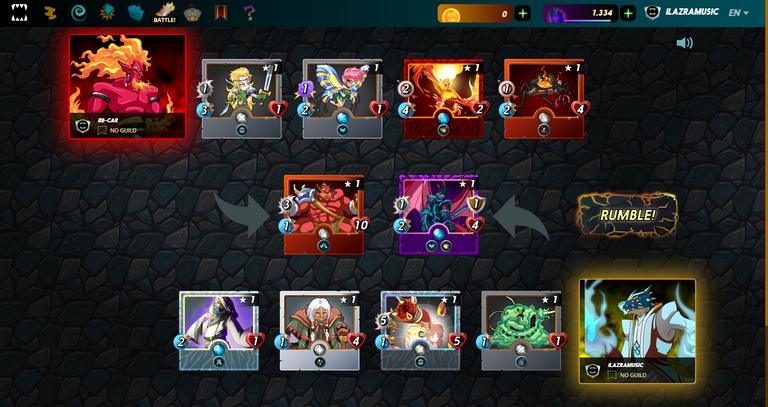 Como pensé, mi enemigo utilizó el Summoner Malric Inferno, lo que le daría 1 punto de daño físico a todas sus cartas; su frontlane era preocupante, ya que el Molten Ogre es un monstruo de temer, ni siquiera puedes recibir esa carta como recompensa, ya que es una carta Promo; únicamente puedes obtenerla comprándola en la tienda.
Su estrategia estaba llena de daño por todas partes, tenía un montruo con Sneak, un monstruo con Snipe y un monstruo con Blast, lo que puede hacer que el daño rebote hacia los monstruos cercanos al monstruo que recibe el primer hit.
Mi estrategia de armadura fue perfecta para poder resistir esa cantidad de daño mientras mi Sand Worm iba exterminando todo el equipo enemigo.
As I thought, my enemy used the Summoner Malric Inferno, which would give him 1 point of physical damage to all his cards; his frontlane was worrisome, since the Molten Ogre is a monster to fear, you can't even get that card as a reward, since it is a Promo card; you can only get it by buying it at the store.

His strategy was full of damage everywhere, he had a monster with Sneak, a monster with Snipe, and a monster with Blast, which can make the damage bounce back to the monsters near the monster that gets the first hit.

My armor strategy was perfect to be able to resist that amount of damage while my Sand Worm was wiping out all the enemy team.

El Resultado | The Result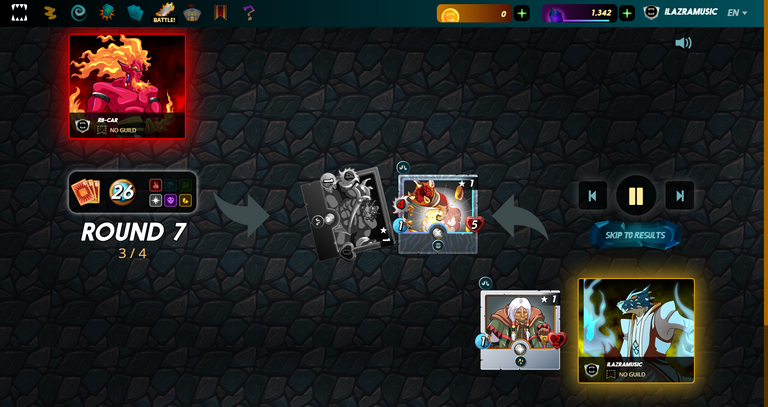 Fue una batalla legendaria, hubo muchas bajas en ambos equipos y lamentablemente, mi Gloridax Soldier no sobrevivió, sin embargo, hizo un trabajo excelente aguantando la frontlante, esquivando muchas veces, siendo curado por Mamá Coco y demás para que el Sand Worm llegara hasta el final y pudiera darle el golpe final al Molten Ogre y otorgarme la victoria.
Me siento increíblemente feliz con el resultado y como lección, no volveré a menospreciar una carta, sin importar si se ve débil, porque uno nunca sabe cuando puedes llevarte una sorpresa que te voltee el resultado de una batalla.
It was a legendary battle, there were many casualties on both teams and unfortunately, my Gloridax Soldier didn't survive, however, he did an excellent job of holding the frontlane, dodging many times, being healed by Mama Coco and so on so that the Sand Worm could go all the way and give the final blow to the Molten Ogre and give me the victory.

I'm really happy with the battle result and as a lesson, I'll never underestimate a card again, no matter how weak it looks, because you never know when you might get a surprise that will turn the result of a battle around.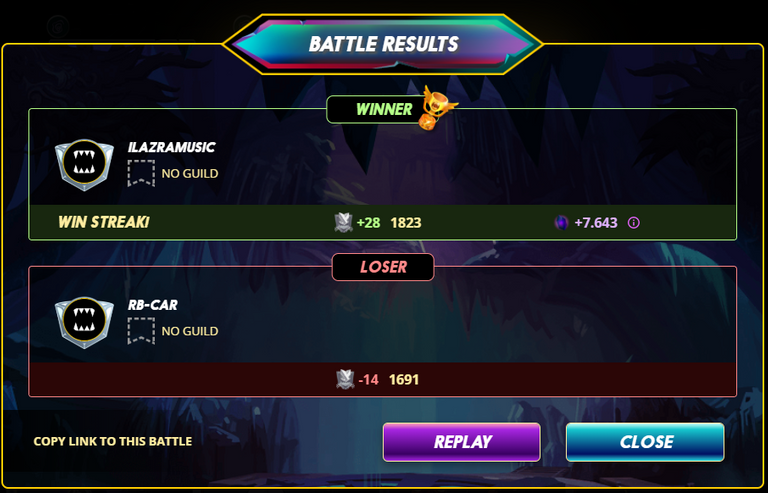 Puedes ver mi batalla en el siguiente enlace: Ilazramusic vs RB-CAR | Splinterlands Battle y ver cómo se llevó a cabo turno por turno.

Todas las imágenes utilizadas en este post son screenshots tomados por mí y las imágenes de todas las cartas le perteneces a @splinterlands; si quieres saber cómo utilizar el código para insertar las cartas en tus post, haz click en el siguiente enlace: Splinterlands Card Images by Level.
All the images used in this post are screenshots taken by me and the images of all the cards belong to @splinterlands; if you want to know how to use the code to insert the cards in your posts, click on the following link: Splinterlands Card Images by Level.

¡Gracias por leerme! | Thanks for reading me!

---
---