[ESP | EN] La curación de contenido en HIVE | The content curation on HIVE | #HiveBasics Initiative |
---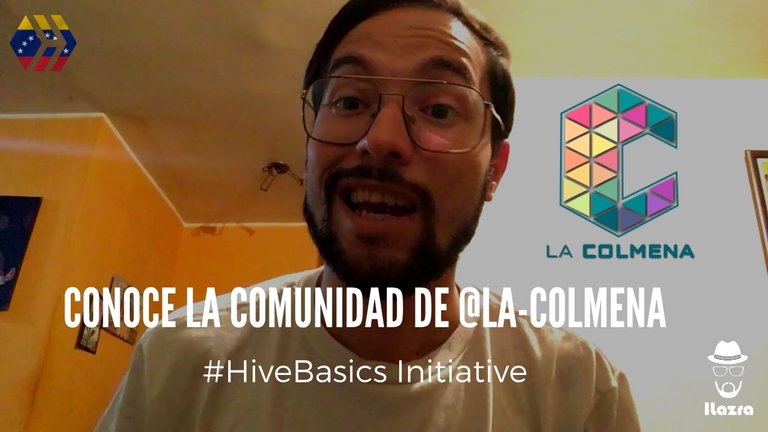 ¡Saludos, chicos! Bienvenidos a mi blog una vez más, el día de hoy les traigo un post donde explicaré dos cosas particulares:
¿Cómo funciona la curación en HIVE, cuáles son las reglas, el posteo y el límite de votación?

La comunidad de @la-colmena donde estamos trabajando para enseñar la teoría a los nuevos curadores de la plataforma.
En el vídeo que ven arriba el cual fue posteado en @threespeak, encontrarán toda la información sobre la comunidad de @la-colmena y en este post, la información sobre la curación, así que, comencemos.
Hello, guys! Welcome to my blog once again, today I bring you a post where I'll explain two particular things:

How does the content curation work in HIVE, what are the rules, the posting and the voting limit?

The community of @la-colmena where we're working to teach the theory to the new curators of the platform.

In the video you see above which was posted in @threespeak, you will find all the information about the @threespeak community and in this post, the information about the content curation, so, let's start.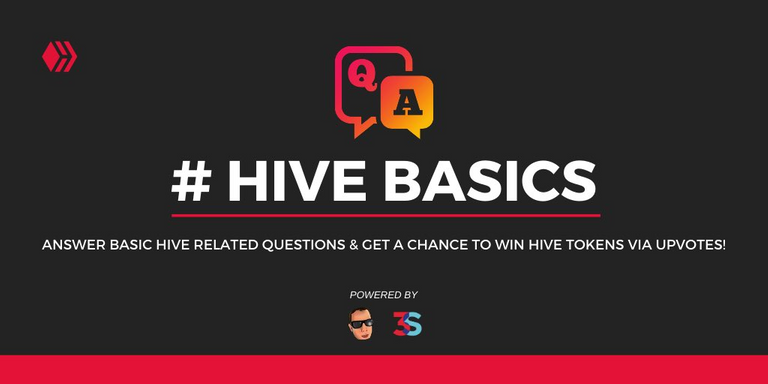 Póster Oficial de la iniciativa de @theycallmedan | Official Poster of @theycallmedan initiative

¿Qué es la curación de contenido? | What's the content curation?
Como ya sabemos, la plataforma de HIVE es una Red Social de Blogueo, entonces, estamos de cara a un paradigma de creación-consumo de contenido donde los grandes creadores vienen y nos traen sus vivencias, su talento, sus opiniones, etc, y los consumidores (curadores) —los cuales pueden ser usuarios normales o de bajo HIVE POWER (planktonks o peces pequeños) o usuarios más poderosos con mucho HIVE POWER (ballenas)— se encargan de valorar estas publicaciones y generar entonces un ciclo de recompensas que nos lleva a obtener las ganancias que generamos ya sea creando o curando contenido.
Entonces, en resumidas palabras, la curación de contenido es el acto de consumir y valorar una publicación porque a nuestro juicio, la información presentada en la misma es importante, es entretenida o es de aporte para el crecimiento de la comunidad.
As we already know, the HIVE platform is a Social Network of Blogging, so, we are facing a paradigm of creation-consumption of content where the great creators come and bring us their experiences, their talent, their opinions, etc, and consumers (curators) —who can be either normal or low HIVE POWER users (planktonks or small fish) or more powerful users with much HIVE POWER (whales)— are in charge of valuing these posts and then generating a cycle of rewards that leads us to obtain the profits we generate either by creating or curing content.

So, in short, the content curation is the act of consuming and valuing a post because in our opinion, the information presented in it is important, it's entertaining or it's a contribution to the growth of the community.

¿Todos podemos ser curadores? | Everyone can be a content curator?
Sí, y de hecho, no solo podemos, sino que DEBEMOS ser curadores en algún punto de nuestra travesía en la plataforma; esto es motivado a que, como cualquier red social, necesitamos interactuar con otros creadores o con nuestro público para poder atraer más reacciones hacia nuestras publicaciones, y a su vez, otros creadores deben interactuar contigo por la misma razón.
Yes, and in fact, not only can we, but we MUST be curators at some point in our journey on the platform; this is motivated by the fact that, like any social network, we need to interact with other creators or with our audience in order to attract more reactions to our publications, and in turn, other creators must interact with you for the same reason.

¿Obtengo alguna recompensa por curar contenido? | Do I get any rewards for curing content?
¡Por supuesto! Los curadores no se encargan de valorar el contenido encontrado en la plataforma sin recibir nada a cambio, pues existe un sistema de recompensas que te otorga HIVE POWER por curar contenido de otras personas. Por supuesto, todo tiene un procedimiento:
El tiempo que tardes en votar: Esto es un factor bastante determinante de cuánto HP vas a recibir, pues si votas antes de que lo hagan las ballenas (generalmente ellos tardan 5-10 minutos en votar después que está posteado), su voto te otorgará una buena recompensa en Hive Power.

La cantidad de Hive Power que tengas: Mientras más HP tengas, más recompensas de curación vas a recibir, esto por el hecho de incentivar a los que tengan más inversión dentro de la plataforma a mantenerse activos como curadores para recibir su ROI (Return Of Investment o Retorno de Inversión).
Of course! The curators do not give value to the content found on the platform without receiving anything in return, as there is a reward system that gives you HIVE POWER for curing other people's content. But wait, everything has a procedure:

The time it takes you to vote: This is a pretty big factor in how much HP you're going to get, because if you vote before the whales do (they usually take 5-10 minutes to vote after it's posted), their vote will give you a good reward in HIVE POWER.

The amount of Hive Power you have: The more HP you have, the more curation rewards you will receive, this happen because of the incentive for those with more investment within the platform to stay active as curators to receive a ROI (Return Of Investment).

¿Existe un límite para curar contenido? | There's a limit to curate content?
Si, y está basado en cuánto Poder de Voto tengas; ¿a qué me refiero con esto? Simple, todos los usuarios tenemos una especie de «energía» que se utiliza para sacarle el mayor provecho a las recompensas de curación.
Para ver tu Poder de Voto actual, basta con dirigirte a la página https://hiveblocks.com/@TUNOMBREDEUSUARIO y reemplazar TUNOMBREDEUSUARIO con tu usuario de hive, por ejemplo, iré a mi página de hiveblocks (https://hiveblocks.com/@ilazramusic).
Al entrar, puedo ver algo como esto:
Yeah, and it's based on how much Voting Power you have; what do I mean with this? Simple, all users have a kind of "energy" that is used to obtain the most possible of the curation rewards.

To see your current Voting Power, just go to https://hiveblocks.com/@YOURUSERNAME and replace YOURUSERNAME with your hive user, for example, I'll go to my hiveblocks page (https://hiveblocks.com/@ilazramusic).

When I log in, I can see something like this: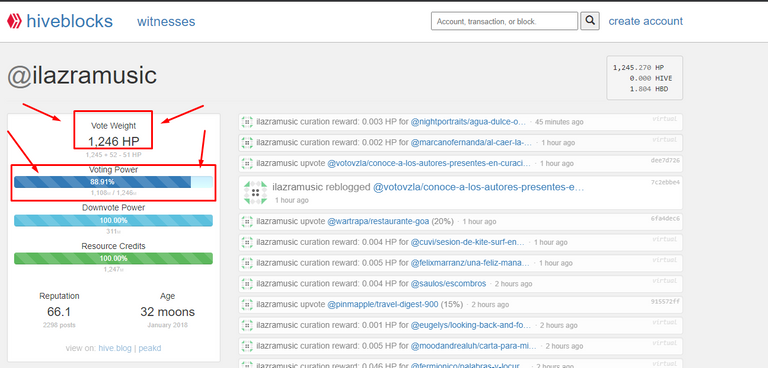 El número que ven arriba donde dice Vote Weight es el HIVE POWER que tienen actualmente, la primera barra (azul oscuro) es su barra de Poder de Voto, esta mostrará el porcentaje de Poder que les queda; para recibir la mayor cantidad de recompensas posibles, necesitas mantener tu Poder de Voto por encima de 80%.
Cada voto que otorgamos manualmente con el 100% de nuestro HP nos quita un 2% de nuestro Poder de Voto y este se recarga cada cierto tiempo.
Llega un punto, en el que ya nuestros votos pueden ser realizados con un % de peso diferente al 100%, esto para preservar nuestro Poder de Voto de la manera más óptima, pero ocurre cuando ya tenemos más de 500 de HIVE POWER.
The number you see above where it says Vote Weight is the HIVE POWER you currently have, the first bar (dark blue) is your Voting Power bar, this will show the percentage of Power you have left; to receive the most rewards possible, you need to keep your Voting Power above 80%.

Every vote we manually cast with the 100% of our HP takes away a 2% of our Voting Power and it is recharged from time to time.

There comes a time, in which our votes can be made with a % of weight different from 100%, this to preserve our Voting Power in the most optimal way, but it happens when we already have more than 500 of HIVE POWER.

Proyectos de Curación | Curation Projects
Existen muchísimos proyectos de curación en la plataforma, estos se encargan de votar contenido de diferente índole para apoyar a los creadores y motivarlos a mantener la adopción de la Blockchain para monetizar sus pasiones, entre los que yo conozco están:
Para contenido hispano
Para contenido bilingüe o netamente en inglés
@minnowsupport: Esta es la cuenta curadora de la comunidad de PAL (Peace, Abundance & Liberty), el trabajo que realizan es increíble y utilizan la cuenta de @msp-curation con los curadores tanto hispanos como anglosajones para buscar los mejores contenidos para valorarlos.

@ocd: Esta es la cuenta del proyecto OCD (Original Content Descentralized), se encargan de buscar contenido en la plataforma para ser curado por las cuentas @ocd y @ocdb, sin importar el tipo de contenido, ellos siempre aparecen si tu contenido es original y de calidad.

@c-squared: Este es un proyecto el cual es una sub-comunidad de @curie, se encargan de curar contenido de muchos lenguajes diferentes, ya que cuentan con curadores de muchos países.
Y de igual forma, existen muchas ballenas que pueden lograr ver tu contenido y otorgarte un voto de un peso bastante genial (entre 5-10$) como lo son: @rocky1, @appreciator, @theycallmedan, @darthknight, @blocktrades, @themarkymark, @upmewhale, etc.
There are a lot of content curation projects on the platform, these are in charge of voting different kinds of content to support the creators and motivate them to keep the adoption of the Blockchain to monetize their passions, among which I know are:

For Hispanic content

For bilingual or purely English content

@minnowsupport: This is the curation account of the PAL (Peace, Abundance & Liberty) community, the work they do is incredible and they use the @msp-curation account with both Hispanic and English-Speaking curators to find the best content to value.

@ocd: This is the account of the project OCD (Original Content Decentralized), they're in charge of looking for content in the platform to be cured by the @ocd and @ocdb accounts, no matter the type of content, they always appear if your content is original and has a great quality.

@c-squared: This is a project which is a sub-community of @curie, they cure content from many different languages, as they have curators from many countries.

And likewise, there are many whales that can manage to see your content and give you a vote of a pretty cool weight (between 5-10$) as they are: @rocky1, @appreciator, @theycallmedan, @darthknight, @blocktrades, @themarkymark, @upmewhale, etc.

¡Espero que hayas disfrutado de esta publicación! !Gracias por leerme!

---
▶️ 3Speak
---
---