A delicious avocado smoothie. [EN-ES]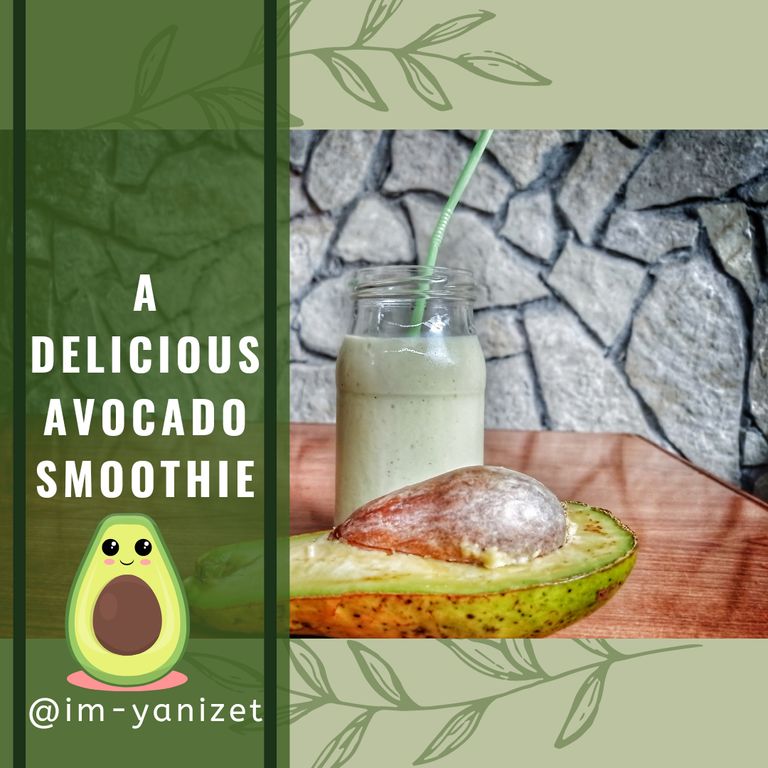 Hello! Imagine savoring a delicious and creamy avocado smoothie perfect for a hot day. This tasty green elixir is the epitome of freshness and health.
Not everyone dares to try it, since it is very rare to find it in coffee shops or in most homes, in fact the first time I heard about it I thought it was a little crazy, but to my surprise I not only liked it, but it is my favorite smoothie. Taking advantage of the hot weather and the fact that it is still avocado season, today I decided to prepare one for myself and another one for my brother, since my parents don't like it.
Ingredients: (For two people)
1/2 large ripe avocado.
1 cup powdered milk.
1/2 cup of sugar (or to taste, I prefer less).
1/2 teaspoon vanilla (optional, I did not use it).
1 cup and a half of ice.
500 ml of cold water.
Instructions:
I started by placing all the ingredients in a blender.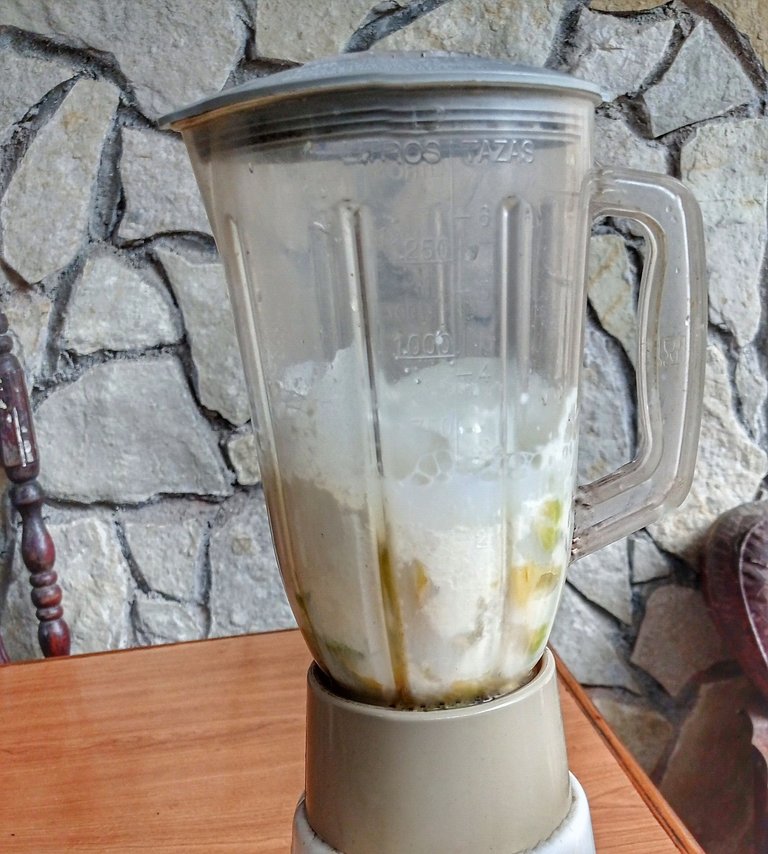 Blend on high speed until the mixture is smooth and creamy. If you prefer a thicker smoothie, you can add more milk or avocado. If it is too thick, you can add more milk until you reach the desired consistency.
Taste the smoothie and adjust the sweetness with more sugar if necessary.
If you like your smoothie extra cold, you can add some ice cubes to the blender and blend until completely crushed.
Pour your delicious avocado smoothie in a glass, I found this jar of mayonnaise and I loved it for the occasion, I also put a green straw that combined with it, and enjoy! If you want to try something different and satiating, dare to try it, it is also full of nutrients such as healthy fats, fiber and vitamins. It is an excellent snack option.
| | |
| --- | --- |
Versión en Español
¡Hola! Imagínense saborear un delicioso y cremoso batido de aguacate perfecto para un día caluroso. Este sabroso elixir verde es el epítome de frescura y salud.
No todos se atreven a probarlo, ya que es muy raro encontrarlo en las cafeterías o en la mayoría de las casas, de hecho la primera vez que escuché hablar del mismo me pareció algo descabellado, pero para mi sorpresa no solo fue de mi agrado, sino que es mi licuado favorito. Aprovechando el calor y que aún es temporada de aguacate, en el día de hoy me dispuse a prepararme uno para mi, y otro para mi hermano, ya a mis padres no le gusta.
Ingredientes: (Para dos personas)
1/2 aguacate maduro grande.
1 taza de leche en polvo.
1/2 taza de azúcar (o al gusto, prefiero menos)
1/2 cucharadita de vainilla (opcional, yo no la usé)
1 taza y media de hielo.
500 ml de agua fría.
Instrucciones:
Comencé colocando todos los ingredientes en una licuadora.
Licue a velocidad alta hasta que la mezcla esté suave y cremosa. Si prefieres un batido más espeso, puedes agregar más leche o aguacate. Si queda demasiado espesa, puedes agregar más leche hasta alcanzar la consistencia deseada.
Pruebe el batido y ajuste el dulzor con más azúcar si es necesario.
Si te gusta el batido extra frío, puedes agregar unos cubitos de hielo a la licuadora y licuar hasta que estén completamente triturados.
Vierte tu delicioso batido de aguacate en un vaso, yo me encontré este frasco que era de mayonesa y me encantó para la ocasión, además coloqué una pajilla verde que combinó con el mismo, ¡y a disfrutar! Si quieres probar algo diferente y saciante atrévete a probarlo, además también está repleto de nutrientes como grasas saludables, fibra y vitaminas. Es una excelente opción la merienda.
Source
All photos are taken and edited on Snapseed by me.
The cover was made on Canva.
Translator (https://hivetranslator.com) by @noakmilo.
---
---