Challenges of possessions
Genesis 33:1-9
And Jacob raised his eyes and looked, and behold, Esau was coming and with him 400 men. So he divided the children to Leah and to Rachel and to the two maids.
2 And he put the maids and their children in front, Leah and her children after them, and Rachel and Joseph last of all.
3 Then Jacob went over [the stream] before them and bowed himself to the ground seven times, until he came near to his brother.
4 But Esau ran to meet him, and embraced him and fell on his neck and kissed him, and they wept.
5 [Esau] looked up and saw the women and the children and said, Who are these with you? And [Jacob] replied, They are the children whom God has graciously given your servant.
6 Then the maids came near, they and their children, and they bowed themselves.
7 And Leah also with her children came near, and they bowed themselves. After them Joseph and Rachel came near, and they bowed themselves.
8 Esau said, What do you mean by all this company which I met? And he said, These are that I might find favor in the sight of my lord.
9 And Esau said, I have plenty, my brother; keep what you have for yourself.
It is good to own lots of property and possessions if righteously acquired, then one can live comfortably and be able to contribute well to advance God's kingdom. One would also be a blessing to so many people around. There will be community projects that need urgent attention like water and road projects.
The children go to very good schools and are provided with things that will not make them inferior to their peers. These are good as long as they do not take the place of God in our lives.
Property ownership has its worn challenges. Remember Lots wife: she looked back at all she had spent her whole life acquiring and became a pillar of salt. Lot and her daughters took nothing of their wealth along but in their new abode, God provided for them and kept them alive.
Jacob fled his father's house for fear that his deception would catch-up with him. God favoured him as he sojourned with his mother's relatives and he returned a large crowd with so much possession : wives, children, maids, cattle.
The reality of facing Esau his brother dawned on him and he was prepared to lose even half of his possessions if his brother would save his life. But he found favour before the Lord, and his brother was contented with all he had.
Do you know that managing wealth could be more challenging than managing poverty? We shall not be poor in Jesus name. Amen.
it is not how far you go but how well you have gone.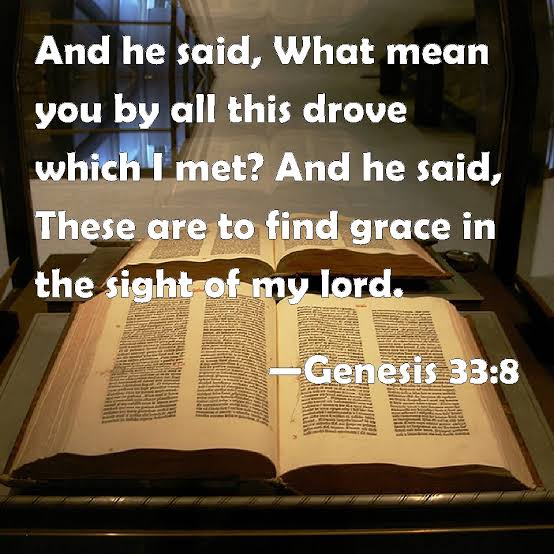 ---
---