[ENG-ESP] Centerpiece with cardboard tubes. / Centro de mesa con tubos de cartón.

Today I have the pleasure of presenting you a new creativity for this Christmas, in making a centerpiece, which for these dates we are always attracted by lights, colors and decorations. With just a few cardboard tubes or other materials that I use, let me tell you that I got a beautiful result, which will help me a lot when decorating my table.

Hoy tengo el gusto de presentarles una nueva creatividad para estas navidades, en hacer un centro de mesa, la cual para estas fechas siempre nos atraen las luces, los colores y los adornos. Con tan solo unos tubos de cartón u otros materiales que use, déjenme decirles que obtuve un bello resultado, la cual me favorecerá mucho a la hora de decorar mi mesa.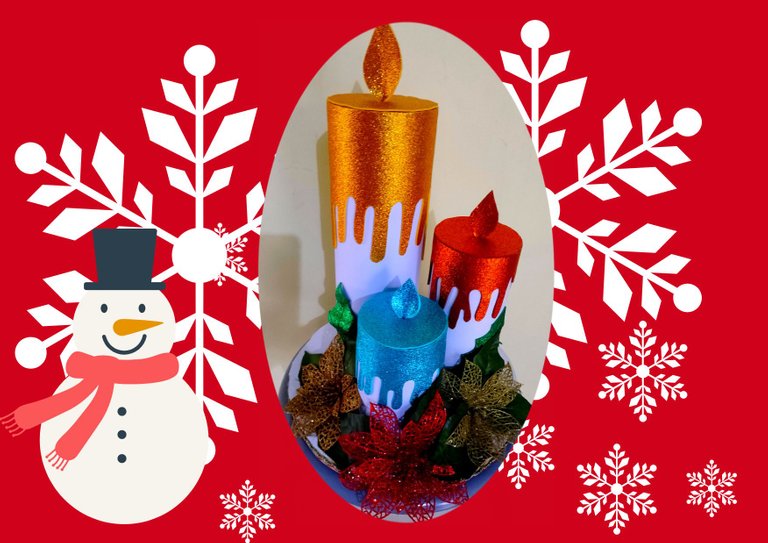 Materials:
√ Template.
√ 3 cardboard tubes.
√ White cardstock.
√ Frosted EVA foam (Christmas green, Gold, Blue, Bronze).
√ Silicone gun and bar.
√ Scissors, pencil.
√ Christmas flowers, decorative ribbon.

Materiales:
√ Plantilla.
√ 3 Tubos de cartón.
√ Cartulina blanca.
√ Goma Eva escarchado (Verde navidad, Dorado, Azul, Bronce).
√ Pistola de silicona y barra.
√ Tijera, lápiz.
√ Flores navideñas, cinta decorativa.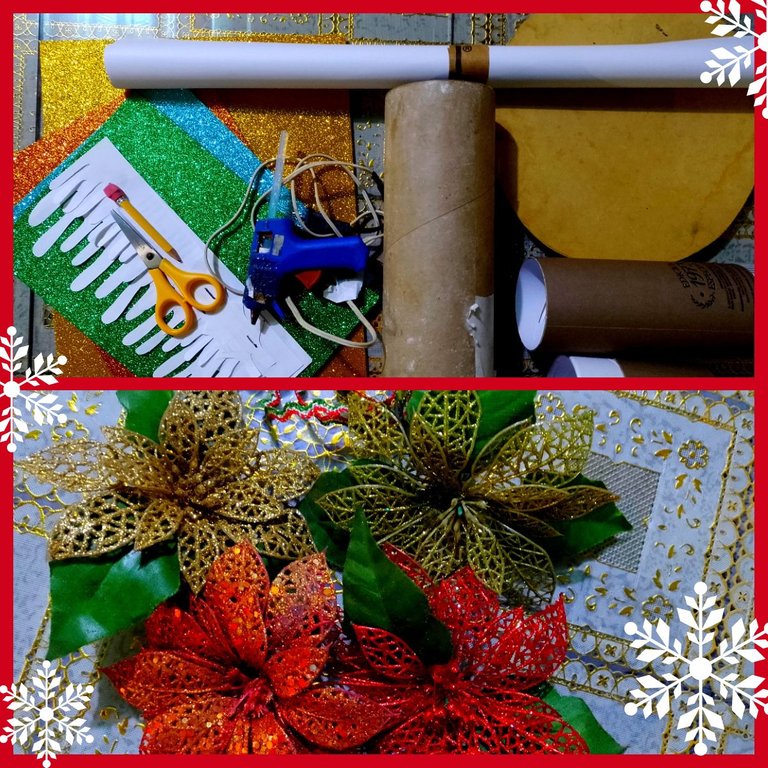 Step 1:
First I used the white cardboard to line the round base and then the 3 cardboard tubes.

Paso 1:
Primero utilicé la cartulina blanca para forrar la base redonda y luego los 3 tubos de cartón.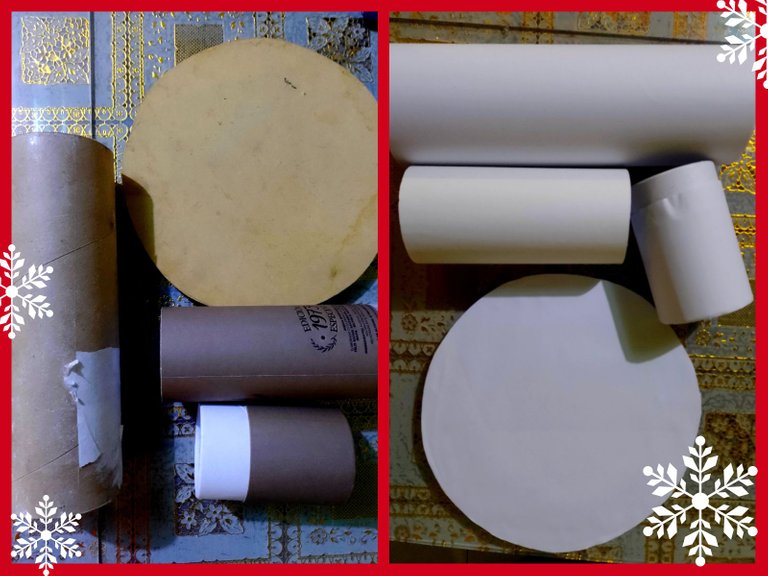 Step 2:
In. In this part, place each of the cardboard tubes in their respective colors of the frosted Eva foam, as well as placing the template, which is the sperm of each of the candles, plus its wick and cutout.

Paso 2:
En. esta parte, coloque cada uno de los tubos de cartón en sus colores respectivos de la Goma Eva escarchado, al igual colocando la plantilla, lo que viene siendo el esperma de cada una de las velas, más su mecha y recorte.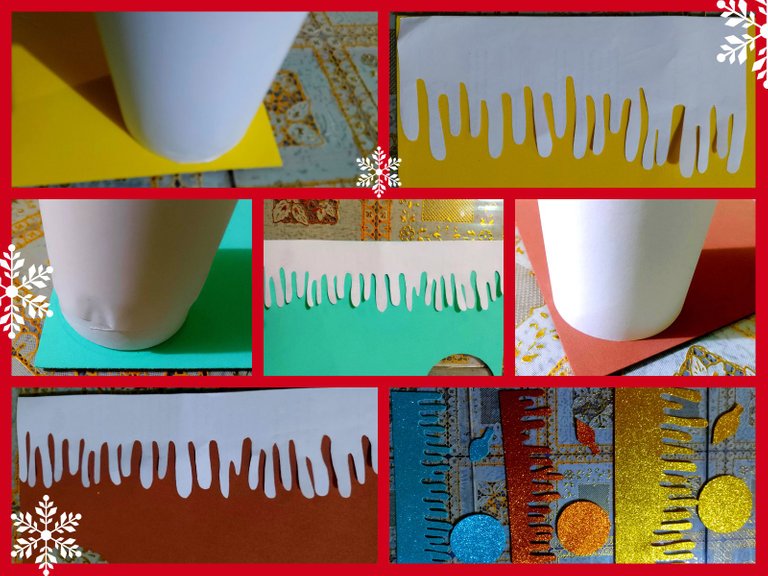 Step 3:
I proceeded to mark the leaves on the green Eva Foam and cut a total of 6 leaves. Then, with a hot knife, I made these details to each of the leaves, leaving it this way.

Paso 3:
Procedí a marcar las hojas en la Goma Eva verde y corte un total de 6 hojas. Luego, con un cuchillo caliente, le hice estos detalles a cada una de las hojas, quedando de esta manera.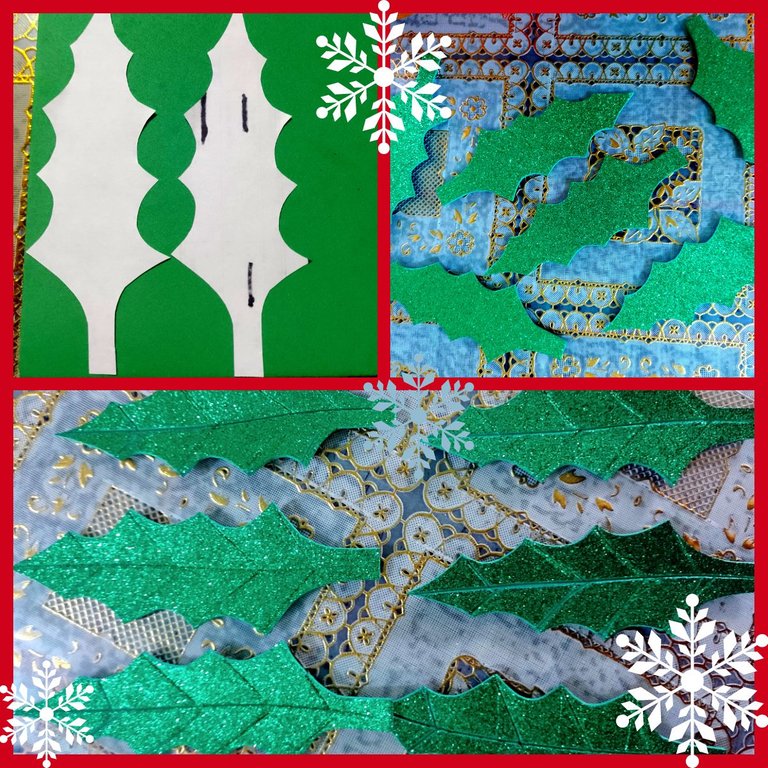 Step 4:
I glued the sperms of the candles on the corresponding cardboard, and on the bottom edge I glued the decorative tape, all the way around. Then I proceeded to introduce each of the wicks in the center part and glue each of the corresponding tubes, in order to form the candle.

Paso 4:
Le pegue los espermas de las velas en el cartón correspondientes, y en el orillo de la parte de abajo le pegue la cinta decorativa, por todo el alrededor. Luego procedí a introducir cada una de las mechas en la parte del centro y pegue en cada uno de los tubos correspondientes, para así formar la vela.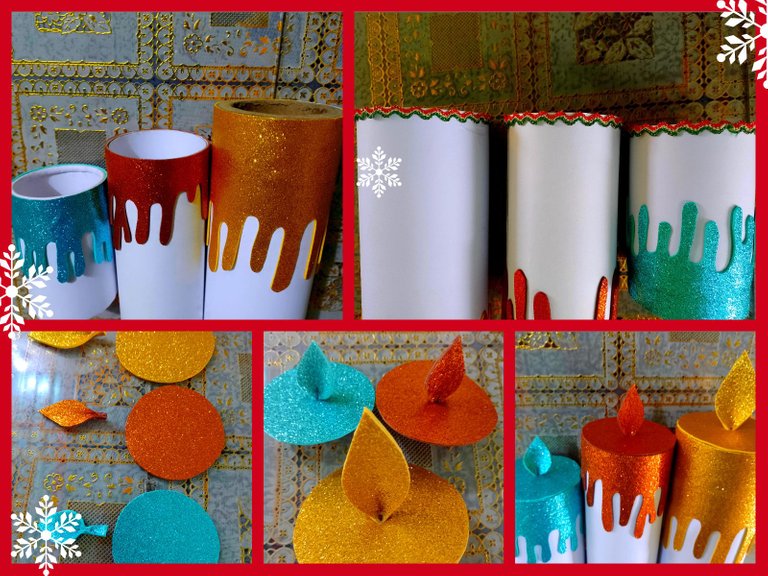 Step 5:
Stick the candles to the round base, so that they are staggered, to the base with the remaining decorative tape, stick it all around, then stick 3 leaves on the back and successively finish making the complete decoration, with your Christmas flowers, and so I conclude with the centerpiece.

Paso 5:
Pegue las velas a la base redonda, de manera que quedaran de forma escalonada, a la base con la cinta decorativa restante se la pegue por todo el alrededor, luego pegue 3 hojas por la parte de atrás y sucesivamente termine haciendo la decoración completa, con sus flores navideñas, y así concluyo con el centro de mesa.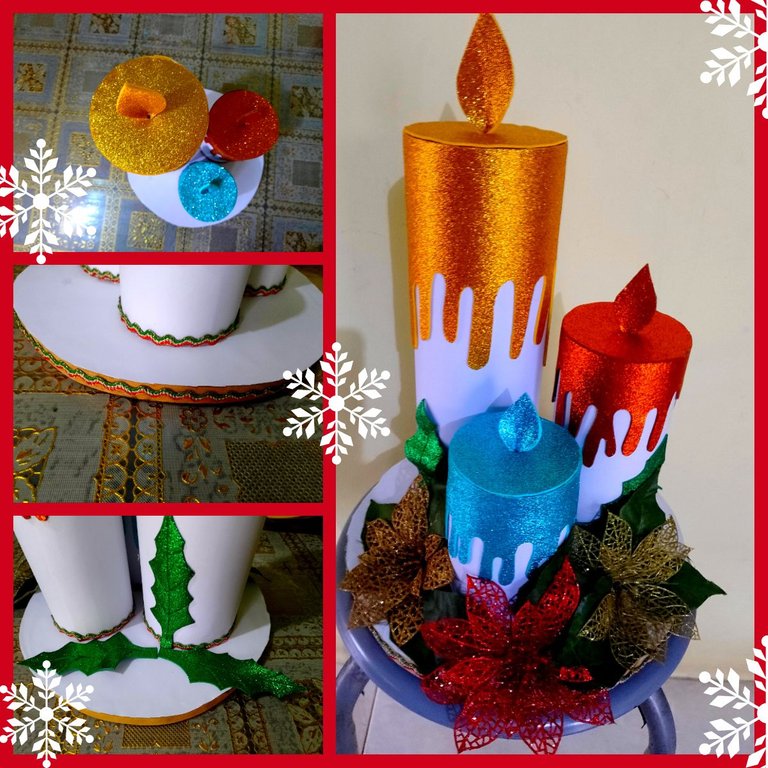 The photos were taken from a Canaima tablet.

Collage making program: Fotojet Link
Translated from google translator Link
Photo editing program: PhotoFiltre 7

Las fotos fueron tomadas desde una tablet Canaima.
Programa para hacer el collage: Fotojet Enlace
Traducido del traductor de Google Enlace
Programa para editar fotos: PhotoFiltre 7

I say goodbye until another opportunity.
Thanks for your support.

Me despido hasta otra oportunidad.
Gracias por su apoyo.

Copyright @imargasa. All rights reserved.

---
---