The Era Of The $4 Alpha Cards Is Over

Sorry, I've been MIA and I've very late to the punch on this one.
It's probably going to be a few more weeks until I'm very active again because I'm in the middle of moving from NYC to that Mexican beach where I will live almost completely on Splinterlands income because the digital asset dream is real kids.
Anyway, I had a minute and I wanted to touch on something I was highlighting back in August that took a bit of a detour but finally happened. Back then the bottom alpha cards had gone from $1 to $4 and I said based on market structure, once it breaks it's going to double.
Well, it broke. And today the lowest alpha common card is exactly double.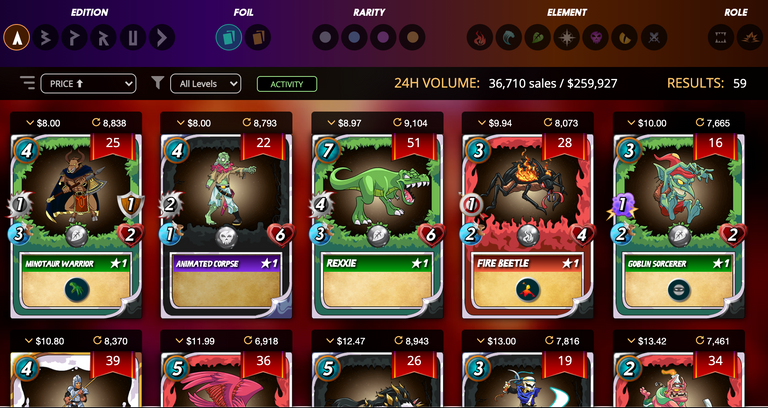 Of course none of this is magic. You could scroll through the inventory and see all the cliffs. You could also see that there were only a few sellers meaning no one else was in the mood to sell a $4, $5, $6 or even $7 alpha card. It was just a few relentless sellers that always need to be on the board with the lowest price and once they were out, Alphas would run quickly.
You can do this too. Just look through prices and you can tell what cards you should be buying to make quick 100% profits. See if you can spot the places where there are only a few holdouts waiting to go through their inventory between todays price and a much higher tomorrow price. You can make great money and it will teach you lessons about money and markets that can make you rich.
Well, see you in a few weeks from the beach.
PS: It's briefly on the back burner with everything I have going on but I'm still working on something that will allow some of you to share in my profits on Splinterlands and elsewhere.

Posted Using LeoFinance Beta
---
---