BAFFLED ON A FEAST - A HEAVENLY BIRTHDAY CELEBRATION FOR OUR LATE DEAR LOLA ♥
Hi, friends! Hello, Hivers! How are you all been doing? Last week was quite busy and barely had time to update, but of course not too busy that I don't have some family time.
Let's pretend it's still on October 25, Tuesday. I remember I woke up early in the morning to catch the sunrise but the weather's gloomy; perhaps the sun's shy to come out and just allowed the clouds to cover its rays. I walked the dogs, cleaned the house, and prepared the flowers and candles to be brought to the cemetery to visit our late grandma. We paid a visit not because All Soul's Day is approaching (though it's still some days away), but because it's her birthday. October 25 is our late Lola Crispina's birthday.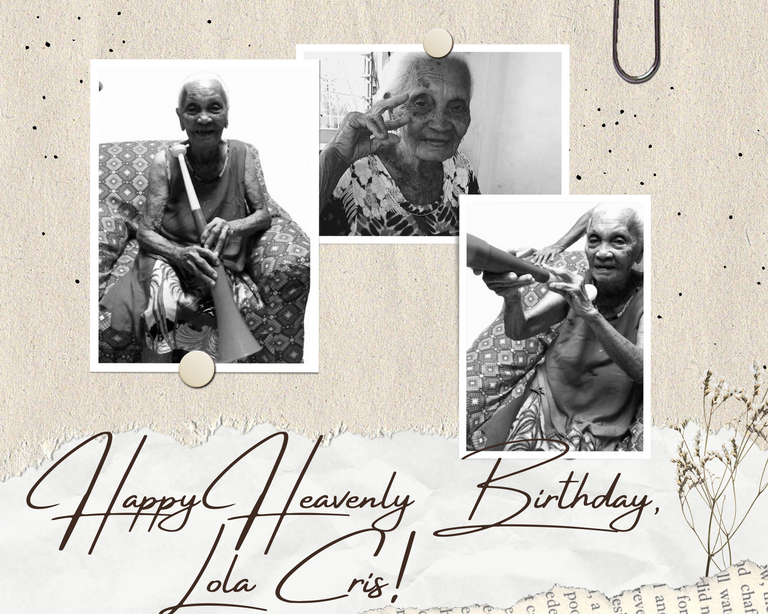 This is Lola Crispina, or Lola Cris as we called her. She joined our Creator last 2017 and if she had been with us until today, she would've turned 102 years old. We remember her today and miss her a little extra, especially on days like this. Our grandmothers are like the ones who stick the family together; losing her, things weren't the same anymore. There will always be the missing parts of us but we take comfort in knowing that she is in a better place now. As soon as we arrived at the cemetery, we offered the flowers, lit the candles, and prayed for her on her birthday. There's this simple poem I made for her; my original composition, which I already shared to other platform. https://hive.blog/philippines/@impreciousjanine/withered-flower-entry-to-surpassinggoogle-s-teardrop]
WITHERED FLOWER
.
.
Staring on an empty sheet thinking of how to start a poem for you
To someone so dear to me who is loved by many too
All the things came up to mind but what i know is i miss you
Your shiny white hair, your soft giggles, your wrinkled skin, you being mad when no one goes to the table to eat
Your loving caress, your crooked smile when we meet
Reminiscing the moments with you that are so sweet
If i only knew that it was your last day
Goodbye was the word I regreted I wasn't able to say
96 years and now you're gone
Today we mourn but the sun shines after the break of dawn
Just like a flower you blossomed and bloomed
You are now our angel we should not feel gloom
You've lived a beautiful life and maybe it's your time to go
Lola, thank you for everything and I love you more than you'll ever know
And now i'm staring on a withered flower
One thing I know is certain, that you'll be in our hearts until forever. .
.
MPJDLS ♥️
LUNCHTIME
After visiting Lola's tomb, we decided with the family to somehow celebrate the remembrance of her birthday over lunch. We went to the neighboring town to look for a place to eat. Then we found the newly re-opened restaurant in town, Juan's Seafood House by the Sea.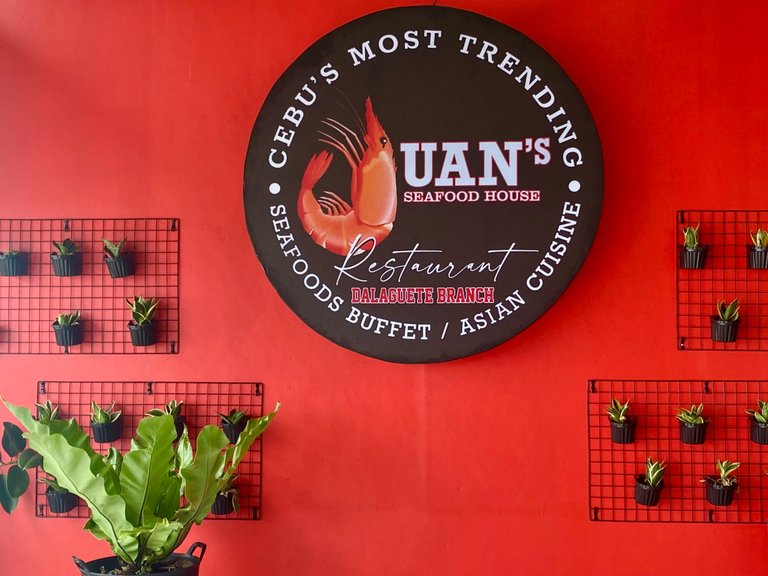 Below are the front views of the resto. It's still under renovation after Typhoon Odette's devastation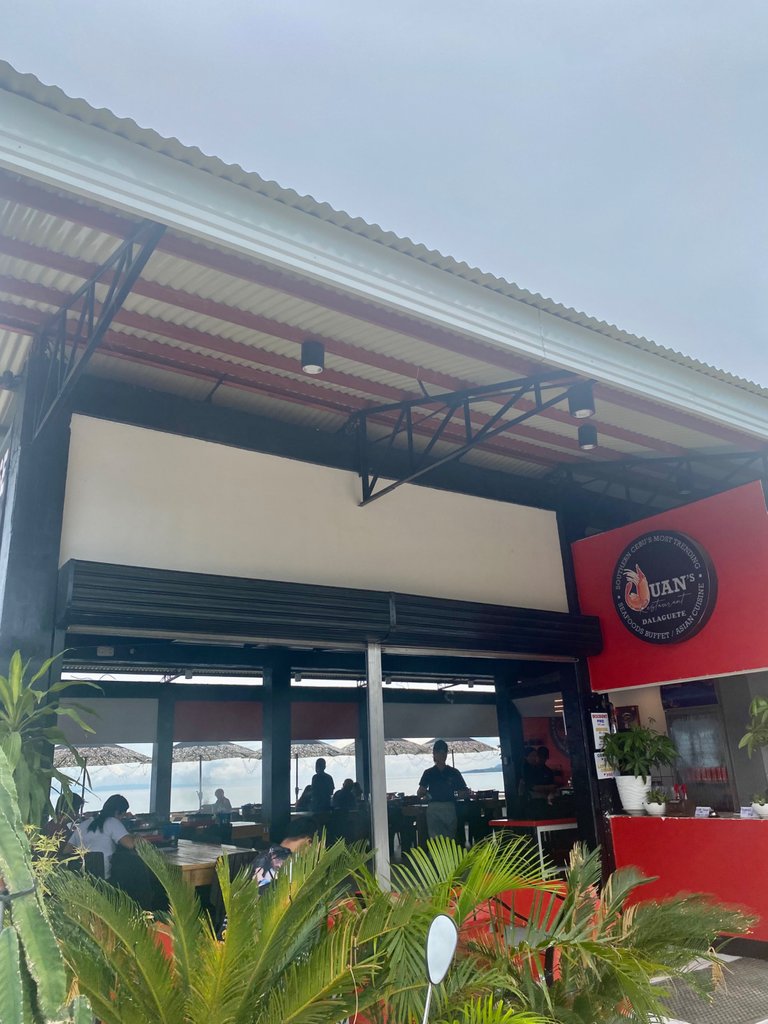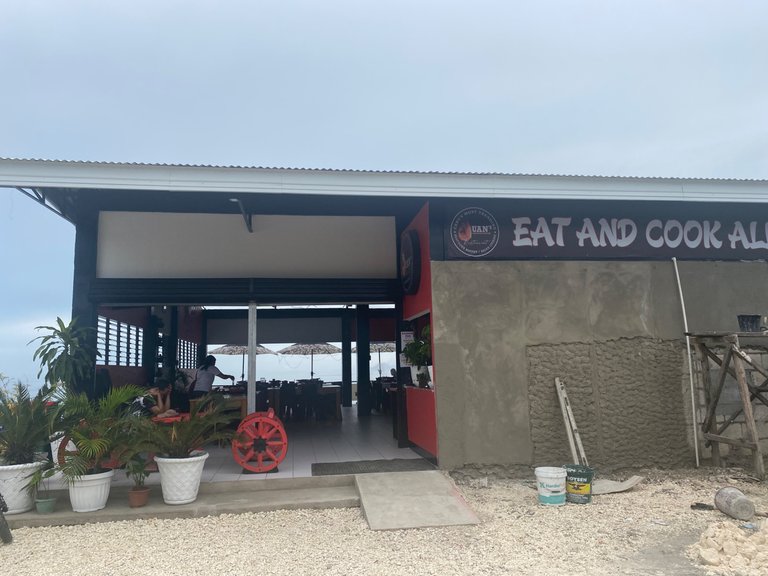 Juan's Seafood House by the Sea is a buffet restaurant serving a variety of seafood, meat dishes, desserts, and quenchers. Situated just along the highway, passers-by can easily locate this place in Dalaguete, Cebu. People from the neighboring areas or even tourists flock and dine here because of their quality service. Aside from the airy ambiance of the place, their restaurant is one of the go-to diners in town of the food enthusiasts and critics alike. This restaurant has become an avenue for celebrations, big or small, simple or grand, or just random eat-outs.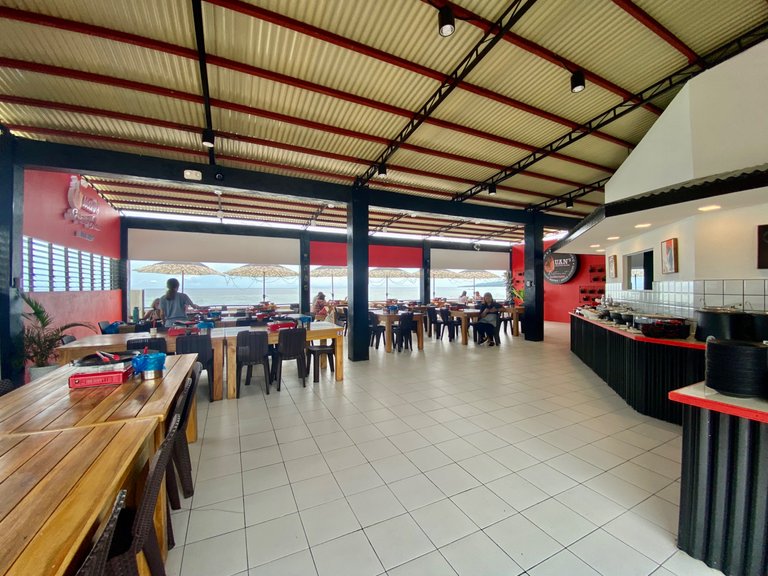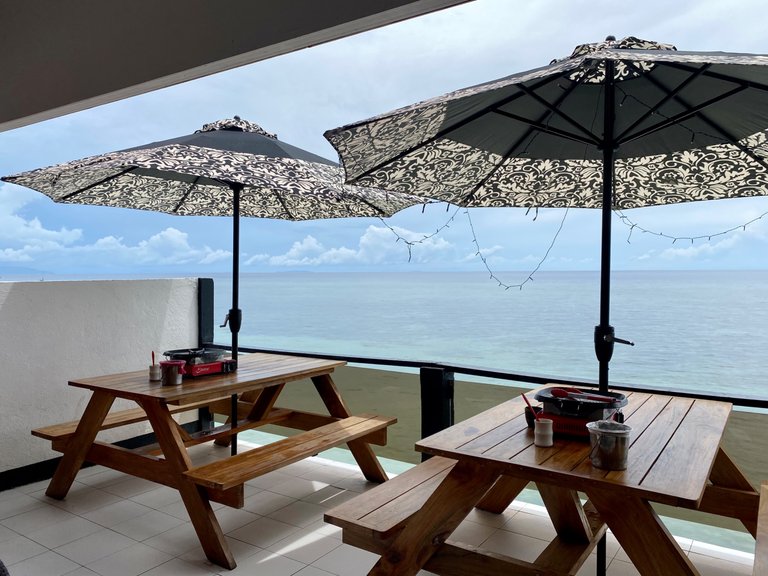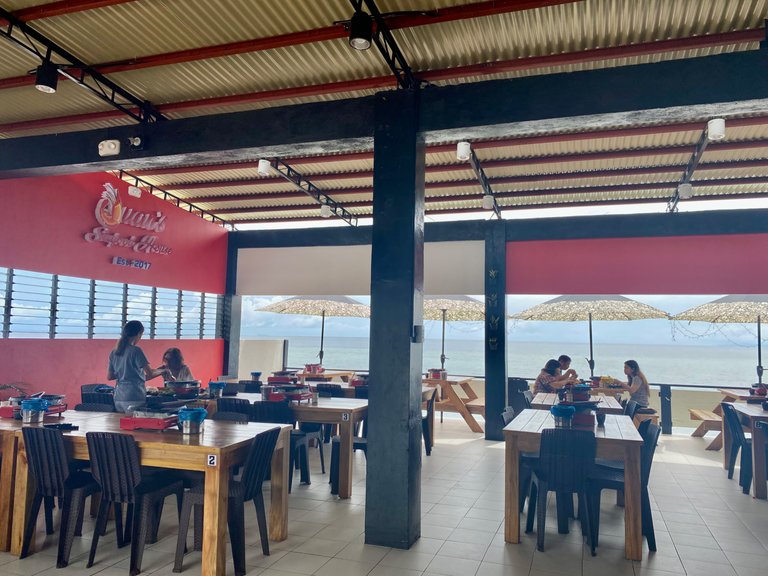 Look how spacious their restaurant is
Wanted to deluge on a buffet but on a budget? Worry not. With just Php 299.00 (5.14 USD) , you'll get to devour on a banquet of various Filipino, Italian, Japanese/ Korean cuisine dishes - all that and more. Dining here makes every penny worthy and you'll never come short of their food servings because you'll get to have it, wait for it, "limitless".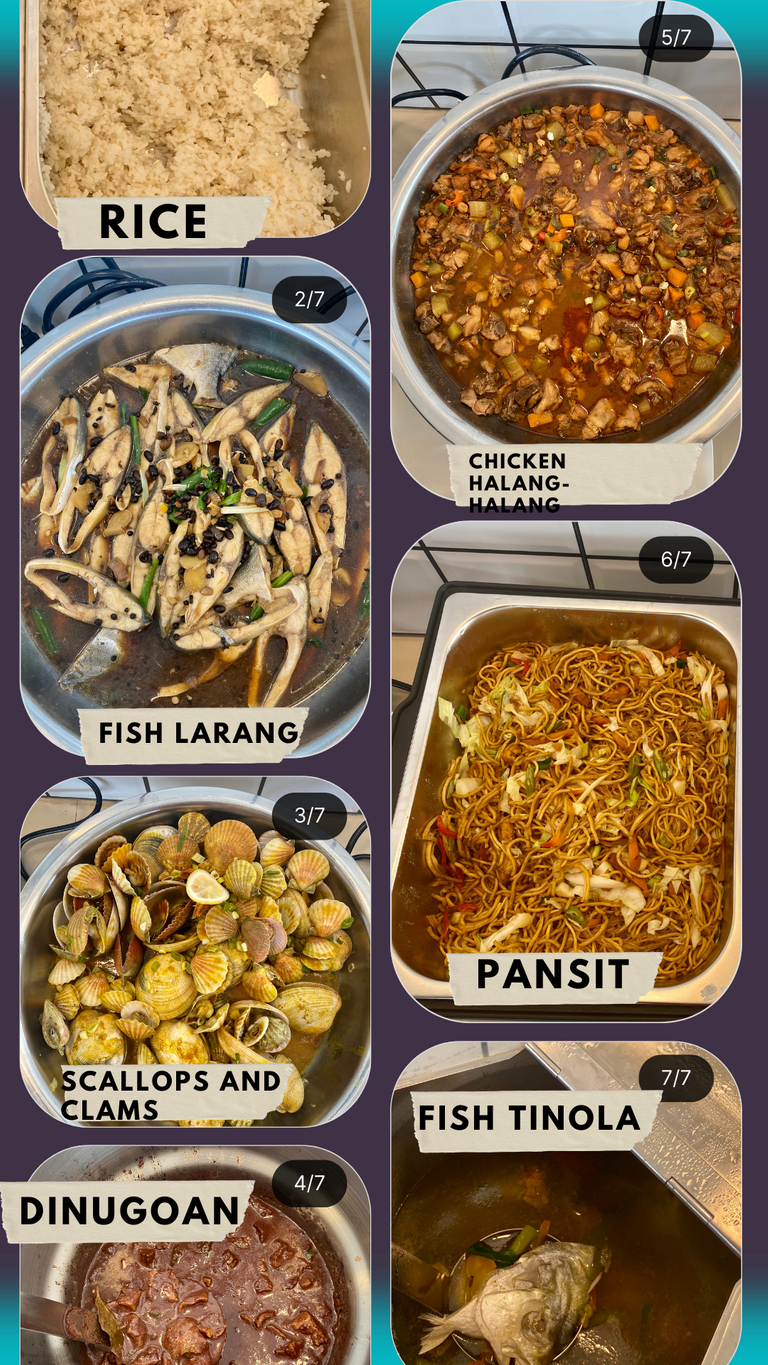 There cooked dishes when we went there. They vary everyday depending on the resto's menu of the day
All you can eat whatever is served on the table and consume until you're full. Just make sure you have consummed everything, else you'll be charged for Php 350.00 for leftovers. They also serve ala carte dishes but they only cater unlimited serving as of the mean time. If you also bring foods outside the restaurant, they charge you for Php 200.00.
This restaurant captured the hearts of the people, especially Filipinos, who take value and importance in food servings maybe because we inherit that trait from our ancestors. This trait I remember from our dear Lola Cris who gets cheesed off when we only eat a few or don't eat at all; our Lola Cris loves it when we enjoy and munch so much whatever has served. And without a second thought, we chose to dine and have our lunch here at Juan's Seafood Restaurant on her birthday where we expect to be baffled on a feast - just how she would love to.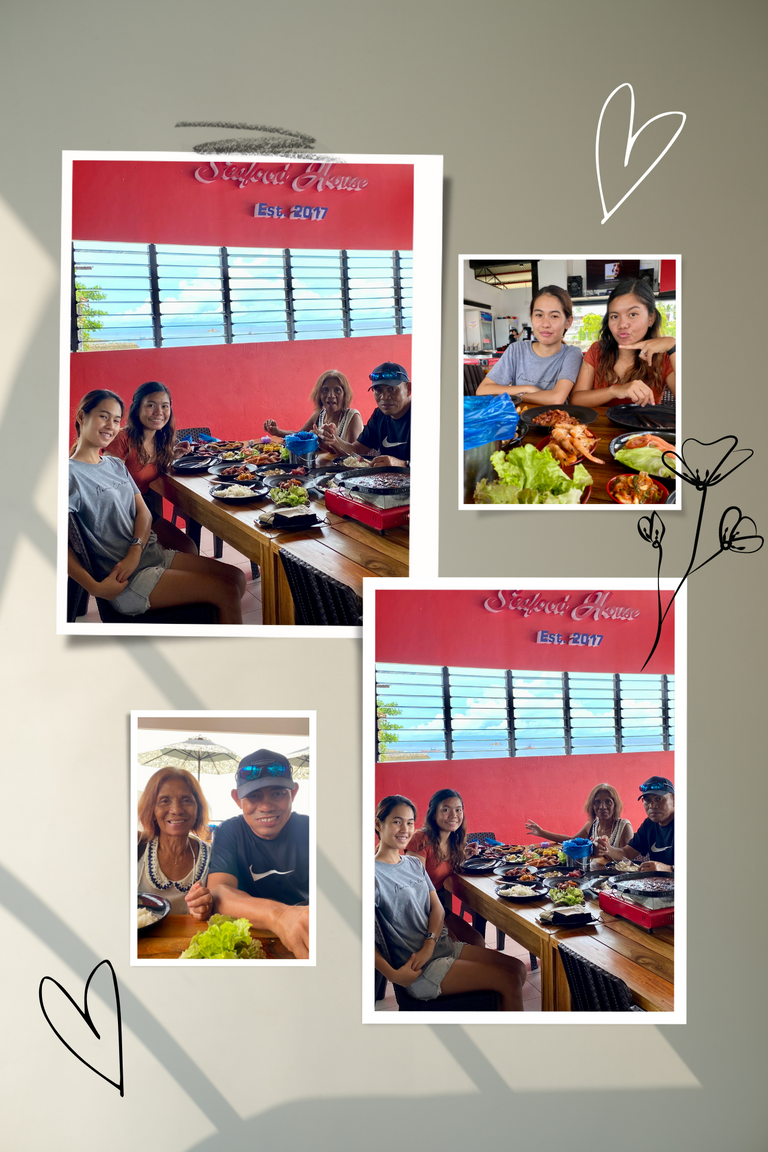 Together with me are my Mama, Papa, and my niece. My brother wasn't able to come because he had attended to important commitments needed for the job he will be applying for. As soon as we got there, we picked our table and started getting foods. I loved the idea that aside from all the cooked dishes served, we can also take delight in cooking on our own because this restaurant set-up mini-cooking utensils (e.g. butane set, pan, tong) in every table.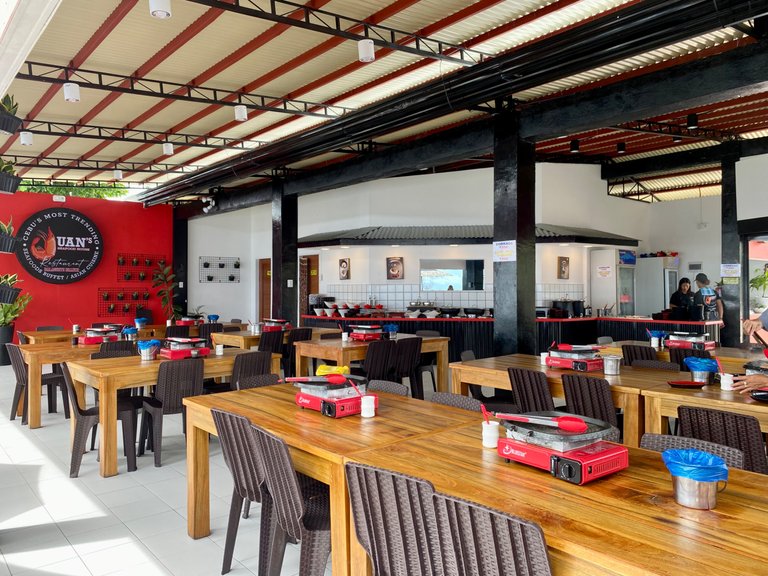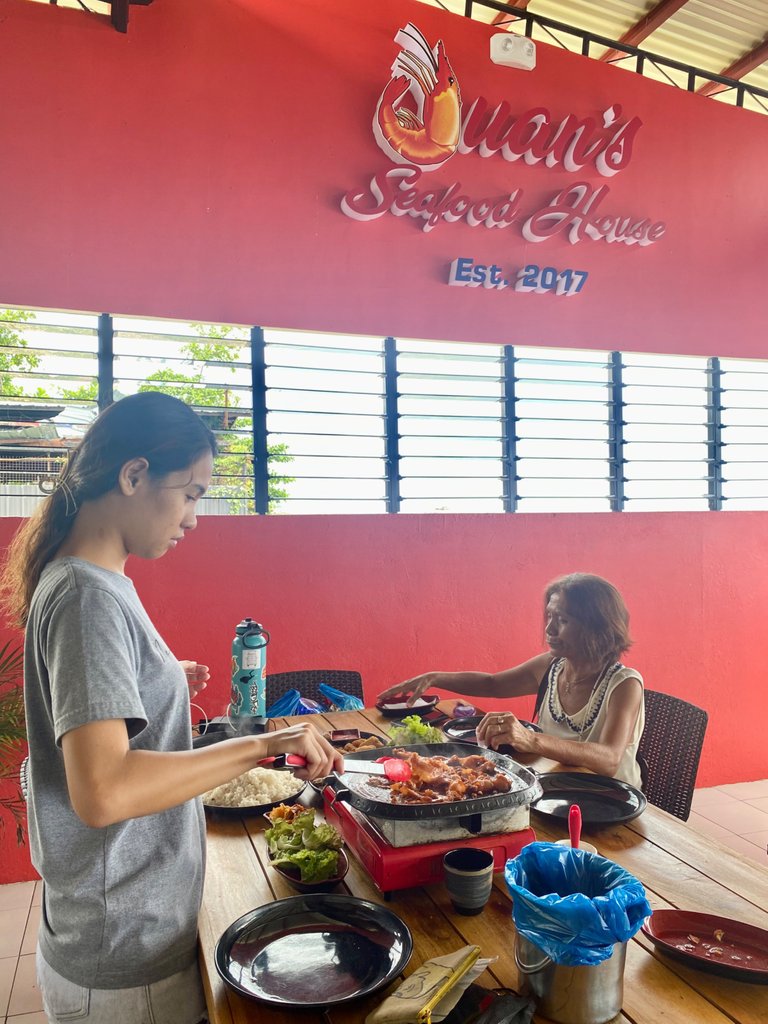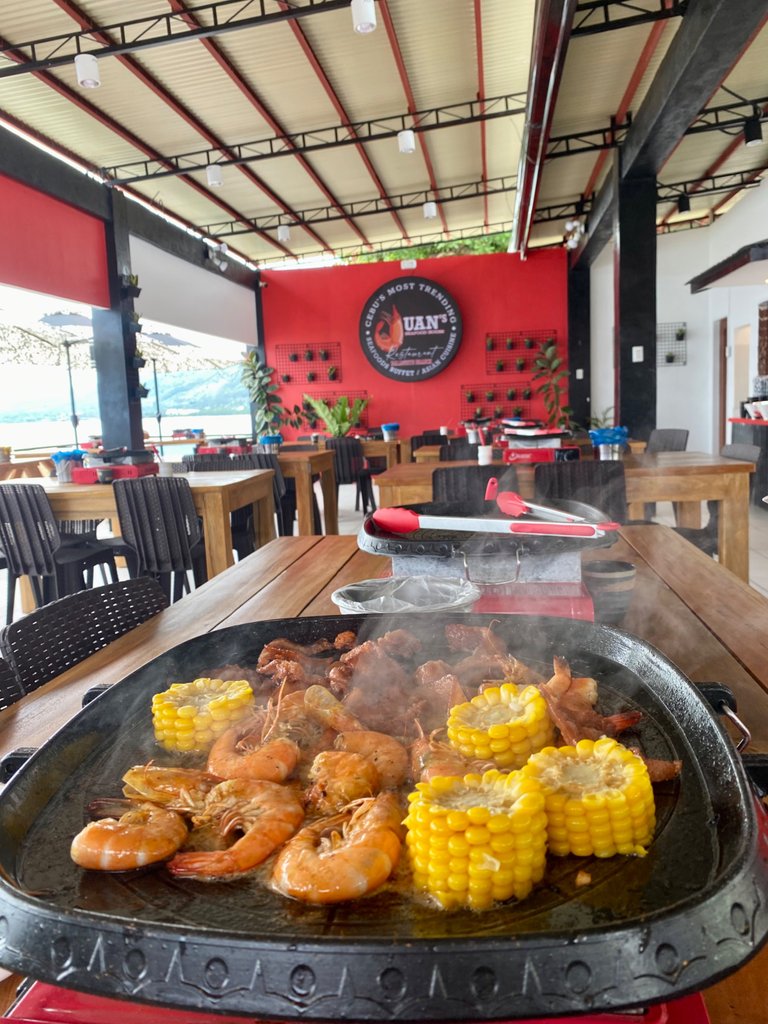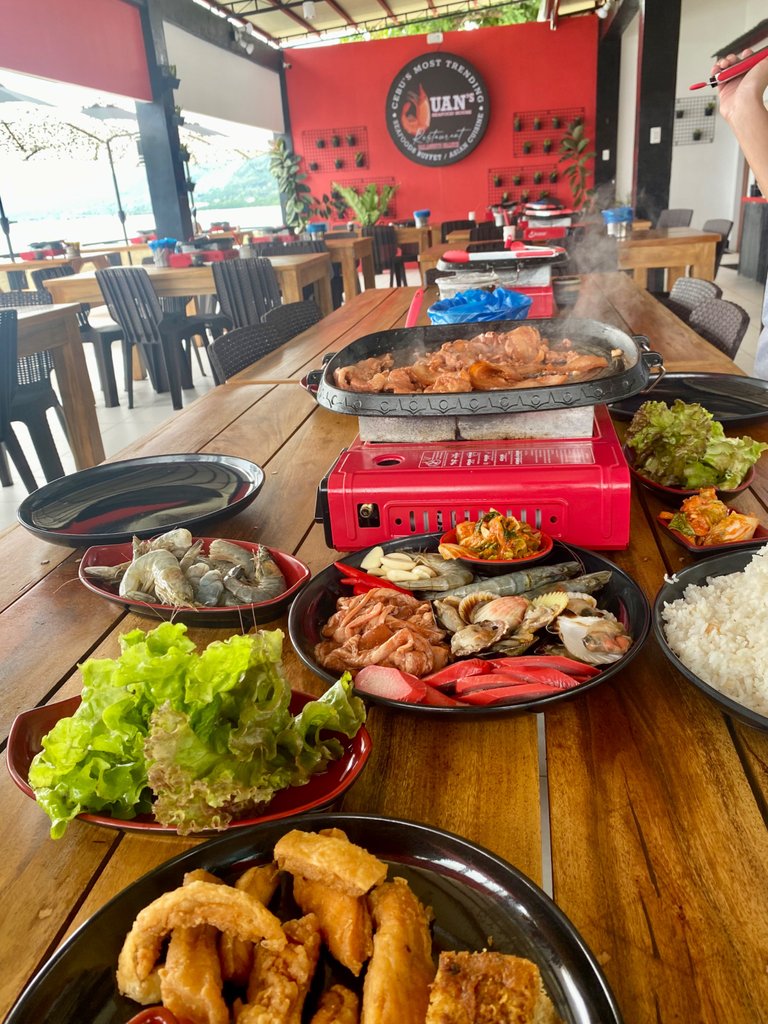 In their Samgyeopsal corner, the customers will be assisted by their staff in getting whichever they want. In our case, we had chosen everything 🙊. It's been a long time since we had Samgyeopsal so we didn't miss trying it here.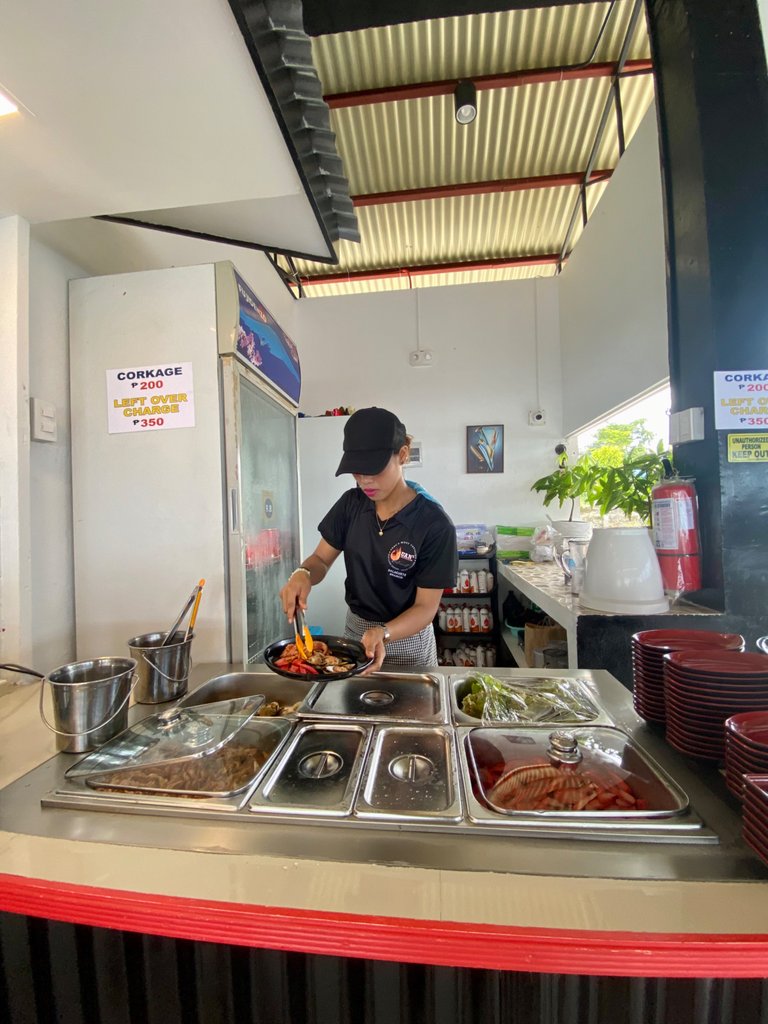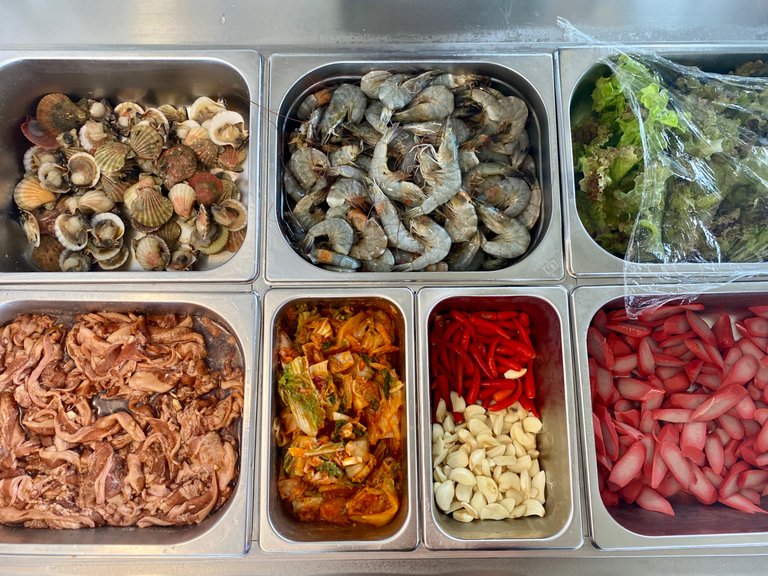 They also have sushi which I loved, fried salmon, spaghetti, salad, and vegetables, especially for those who are health conscious and prefer low-carb foods. They serve various kinds of dishes to choose from but also give their customers a balance of everything.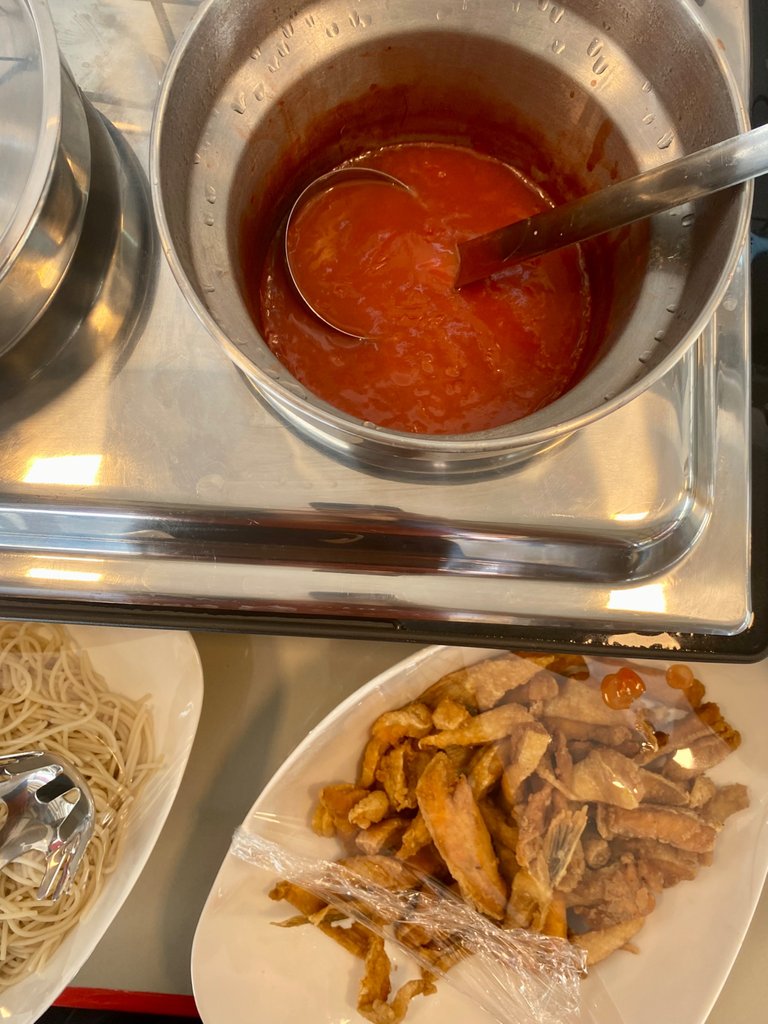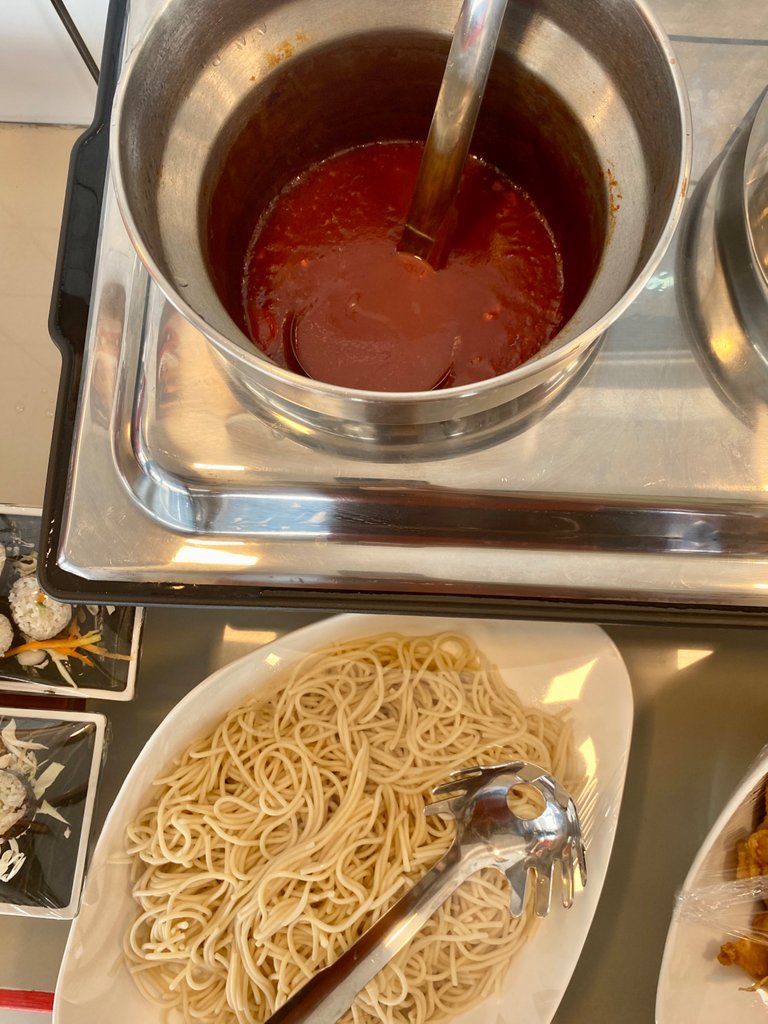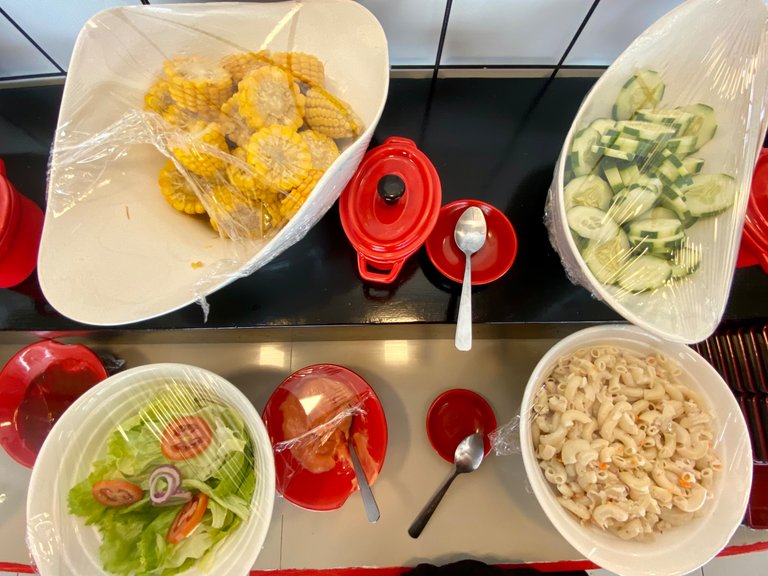 Aside from the foods, quenchers are also limitlessly served on the table. They served Gulaman Samalamig when we went there but we opted to order a pitcher of Four-Seasons Juice and a couple of beer for my Papa.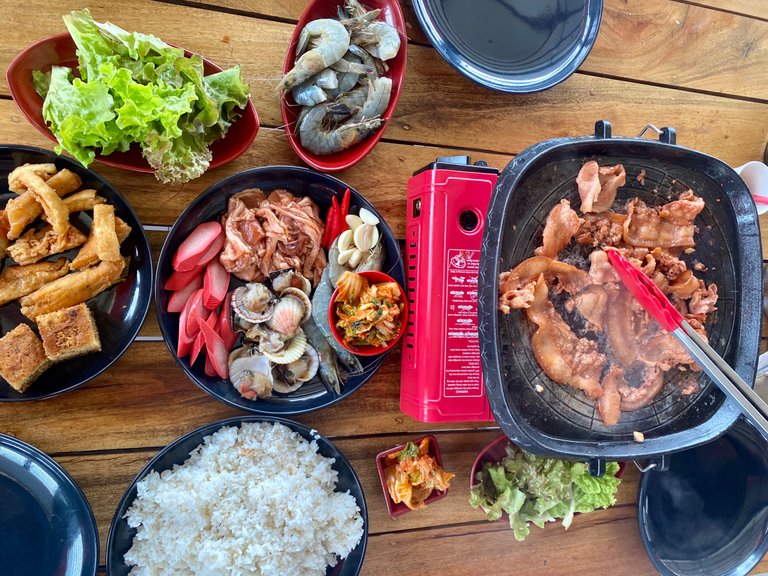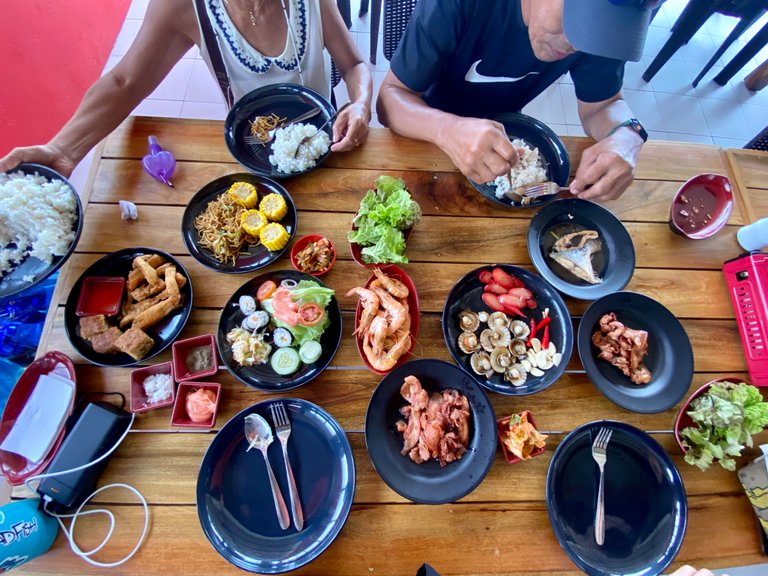 Chow's done, but there's more. In every birthdays, it had become mandatory to blow a candle on the cake. Luckily this restaurant almost has it all. I went back to the buffet table to get pieces of the banana cake and asked my niece to put the candle on top of it. We lit the candle and blew it off, with a prayer for our Lola Cris' soul be now at peace.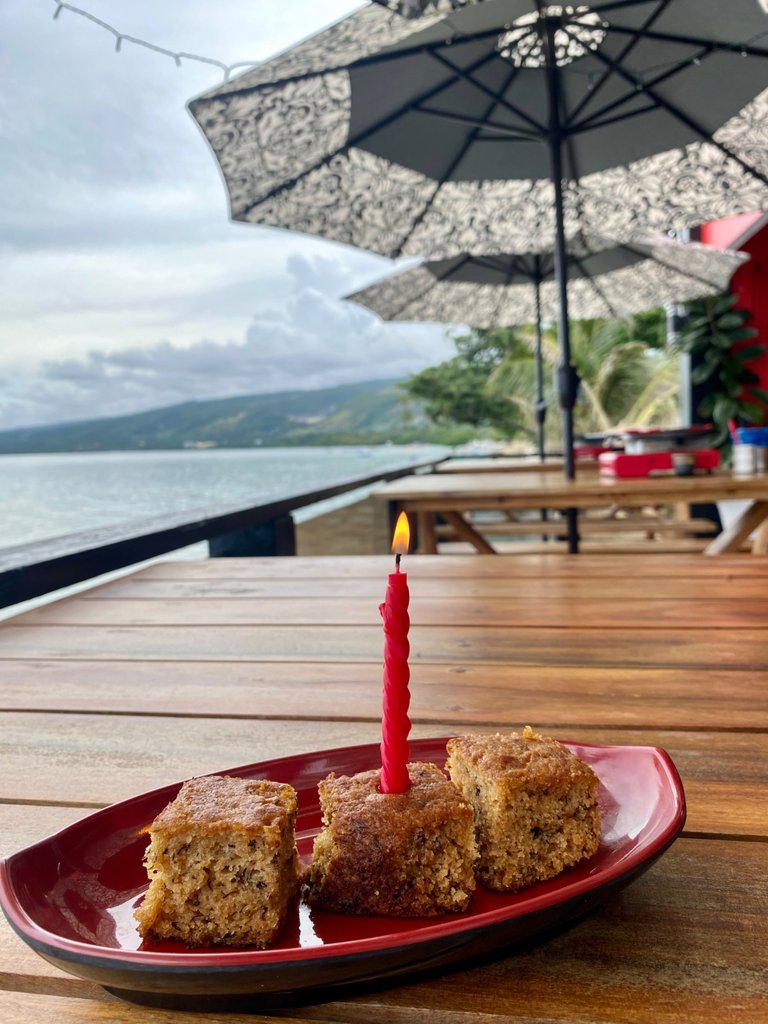 This All Soul's day, may we have the chance to visit and offer a candle, flower, or even just prayer for our departed loved ones. They may be gone physically, but their memories will live and remain in our hearts forever.
---
---