Adana Cinema Museum - Adana Sinema Müzesi [EN-TR]
Hello all, I realized that I haven't shared a travel post for a while. I guess travel has really bitten me and I can't stop traveling. The other day, my cousin and I went to visit two side by side museums in my city. One of them is the Adana Cinema Museum, which I will share with you now. I haven't visited many museums before and I've never visited a museum about cinema. Honestly, I was sure it would be a very interesting experience for me because I'm very curious about cinema. I love watching old Turkish movies and I expected that there would be a lot of them in the museum. But there was much more than I expected!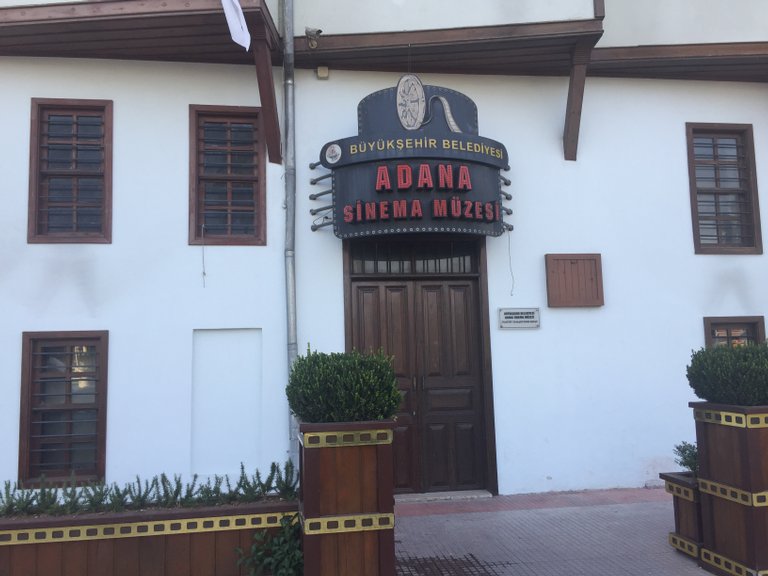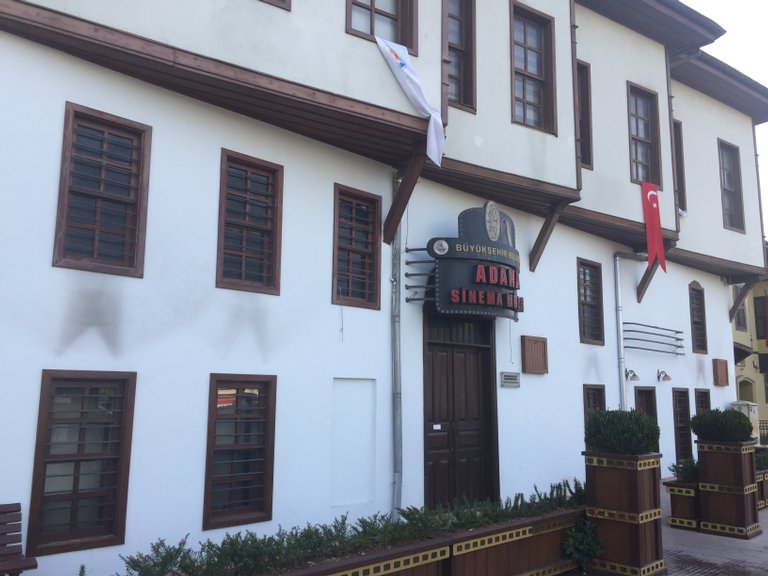 First of all, I would like to talk a little bit about the building. The building really makes you feel that there is something nostalgic inside, both with the old model windows and the wooden door. Also the fence at the entrance, which looks like a movie strip, adds a perfect atmosphere. At the entrance, an attendant told us that the price of admission was 2 Turkish liras. That's about 11 cents, which is very cheap. After what I saw, I wouldn't care if I paid 5 times that much.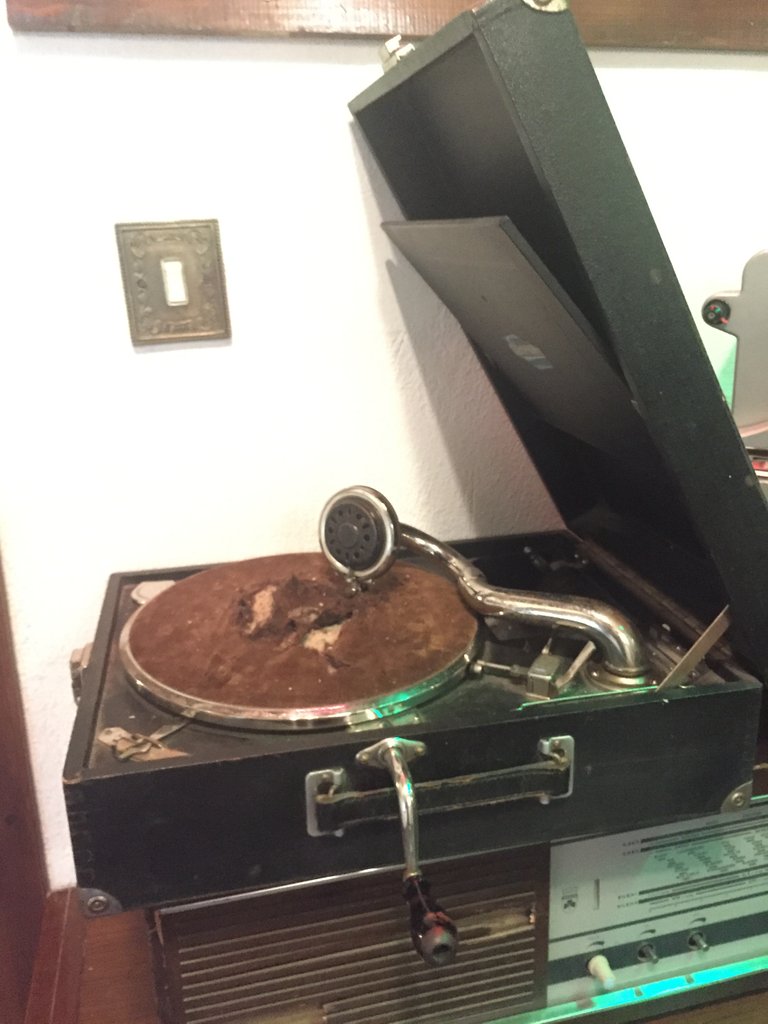 The museum has 2 floors and there are historical things everywhere. First I went around the whole building and then I started taking pictures. The first thing that caught my attention was this old record player. It was written underneath that it was 100 years old. I'm sorry I didn't get that part. I have no idea what happened in the middle of the record player. But someone did a lot of damage to it.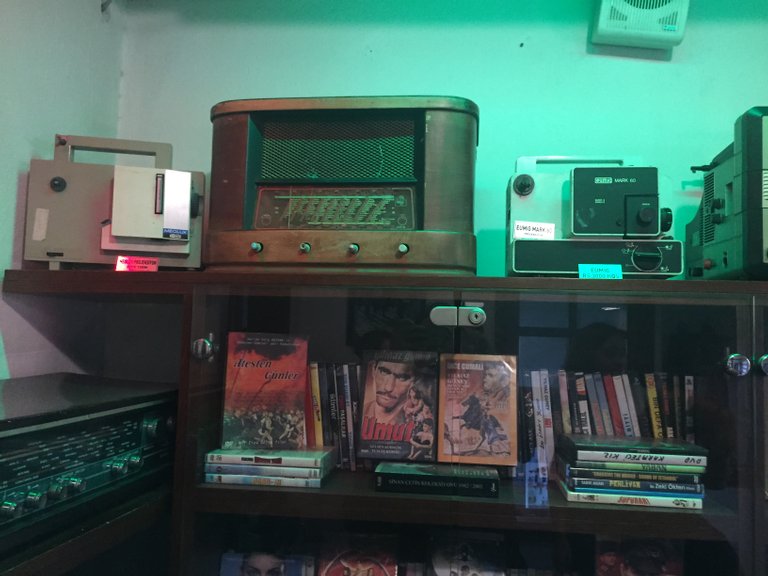 In the museum there are projectors from the old years and a lot of machines used for filming movies. I don't know for sure, but I think all these are at least 50 years old. They look so old! You can also see DVDs of old movies on the lower shelves. There are a lot of old DVDs and most of them are from before I was born hahaha.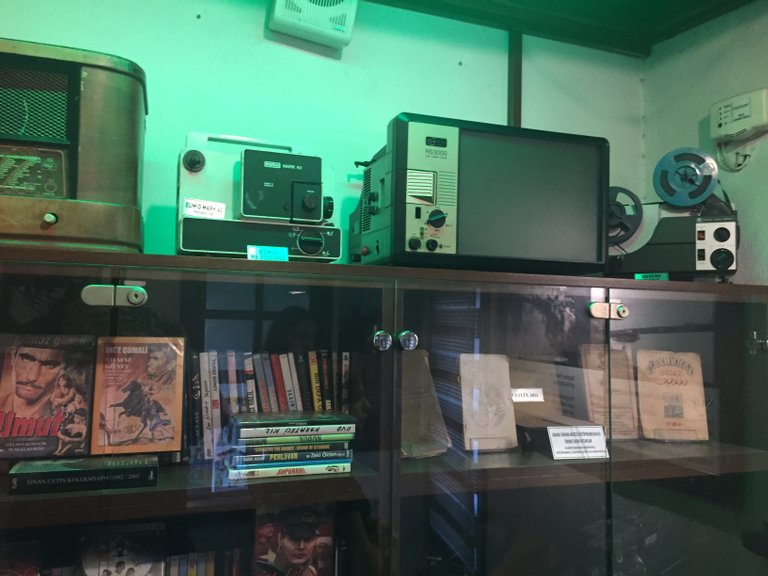 There are books from the past years here too. Since the writing on them is not in Turkish, I think they belong to the Ottoman period. I don't know what they are about, but since they are there, they are probably about cinema or movies 😅.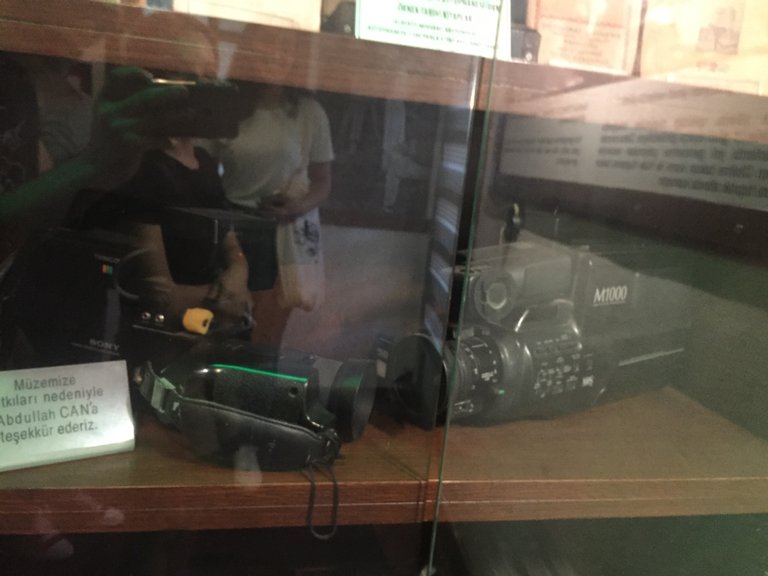 And here are some old cameras. @derangedvisions maybe you know how old these are man. I apologize for the reflection but I think it's not about my camera but about the glass. Because I took 4-5 photos and this was the best one.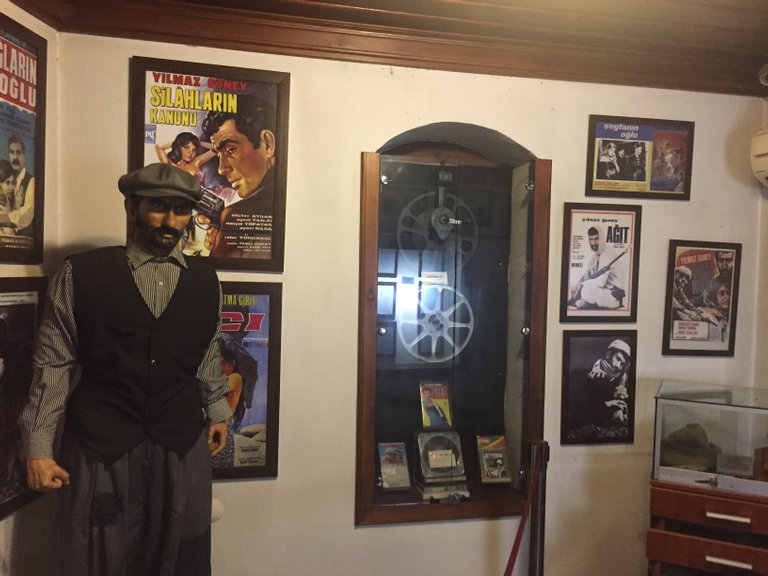 Yilmaz Güney is an important name for Turkish cinema. Especially the movies he scripted in the past are very famous. He even got an award if I remember correctly. For more information you can read here. Since he is from Adana, a room in the museum is dedicated to him. Inside the room there is a statue of him and many pictures of his movies.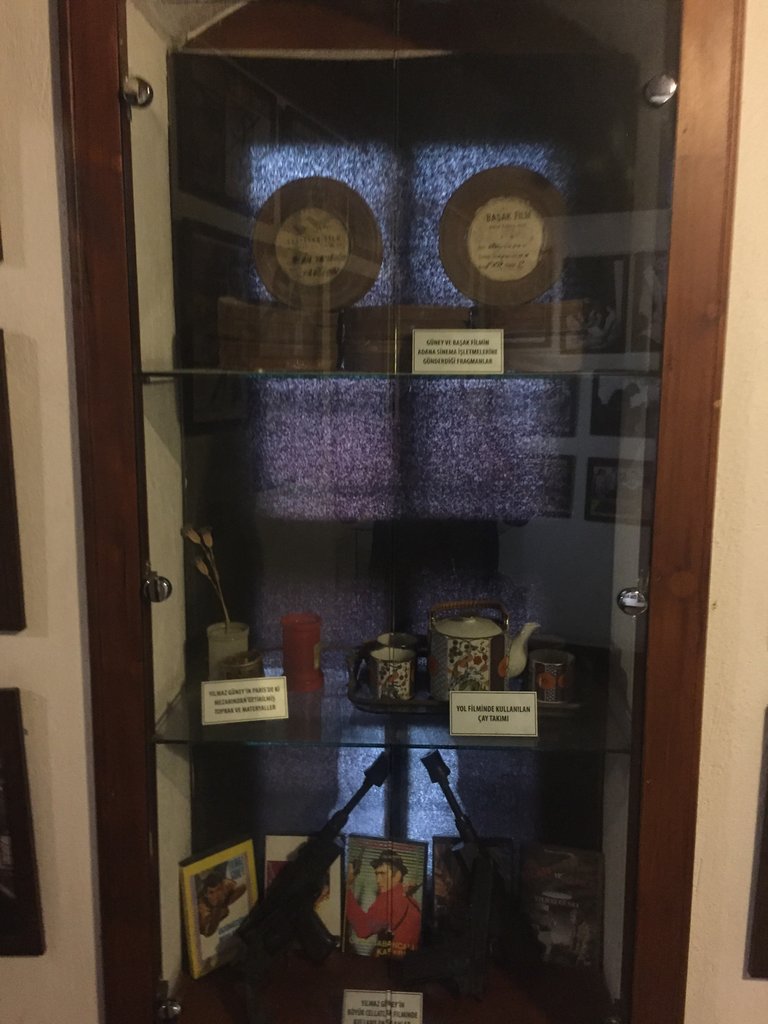 There are also some accessories that Yılmaz Güney used in his movies. The weapons look quite realistic. The two records at the top are trailers sent to Adana cinema companies according to the inscription below.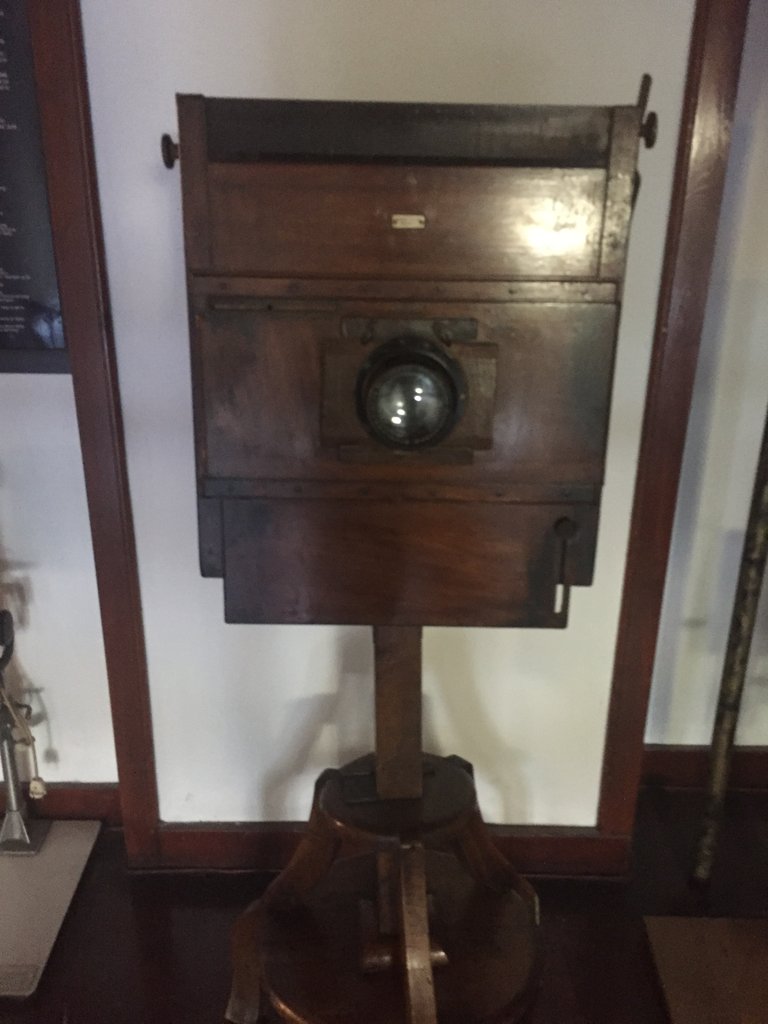 And here is the oldest machine I have ever seen used in filming. I really wonder how they shot movies with it. Or maybe it's a camera. I'm not sure about that 📷🎥.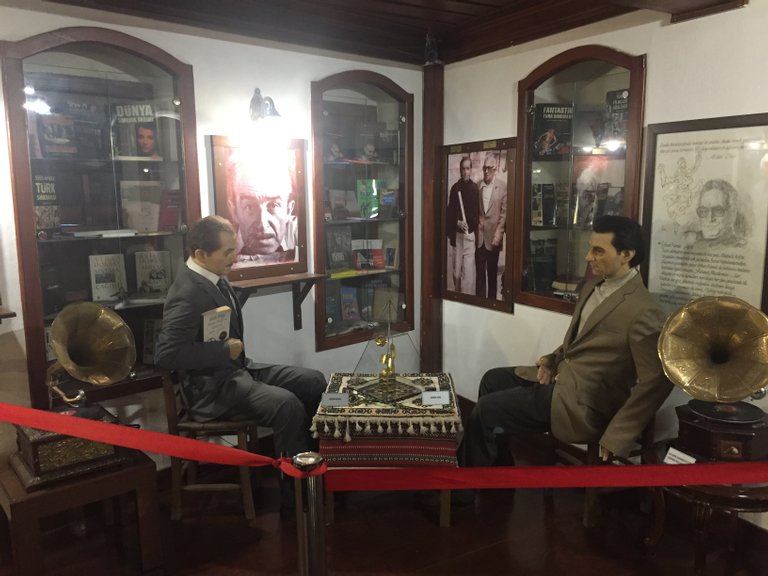 In another room there are figures of Abidin Dino (a Turkish painter) and Orhan Kemal (a Turkish writer). They seem to be talking quite passionately about the history of Turkish art. I don't want to interrupt their conversation 😂.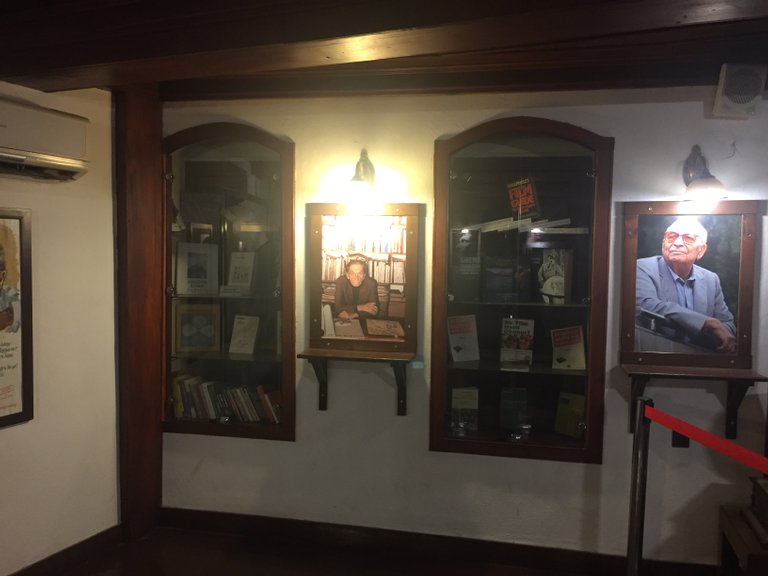 The one on the left is a photo of Abidin Dino and the one on the right must be Orhan Kemal, but I'm not sure. When I searched on the internet, I couldn't find out who the photo on the right belongs to. If anyone knows who it is, please write in the comments. I will vote that comment 100% up. Also, the books in between are really great books about the general history of cinema.

This photo shows the development of the movie industry in Adana from past to present. In 100 years it's pretty good. Moreover, we should not forget that there were 2 military coups during this period. It is mentioned that there were 6 cinemas in Adana in 2010, which I think is a decent number.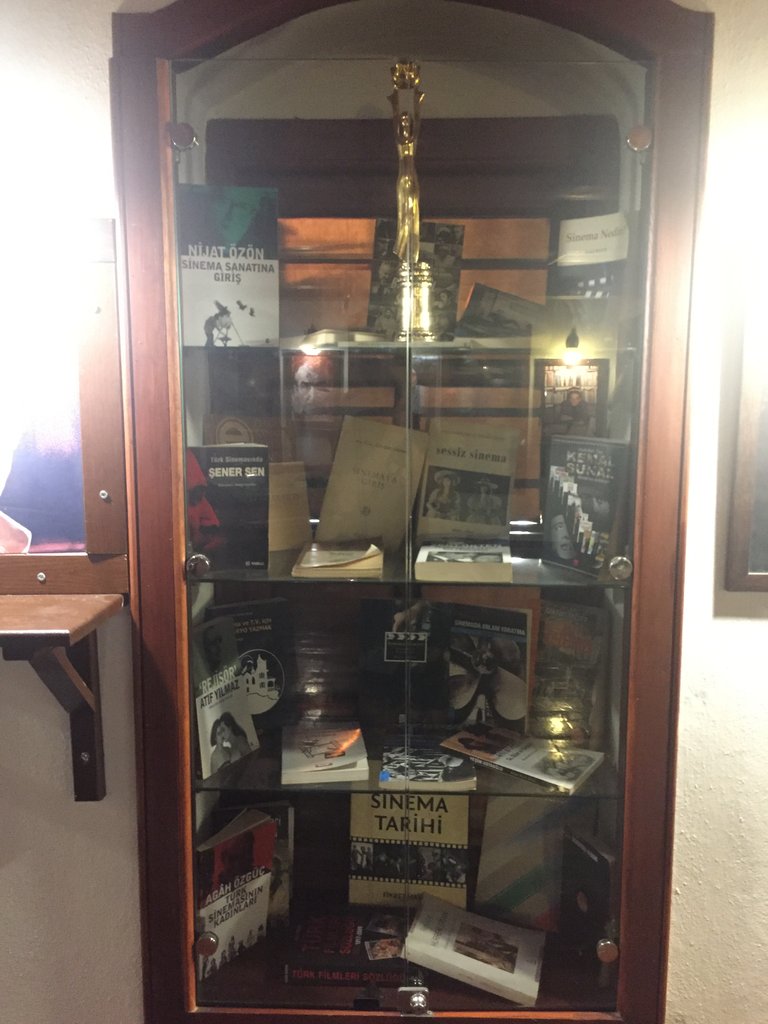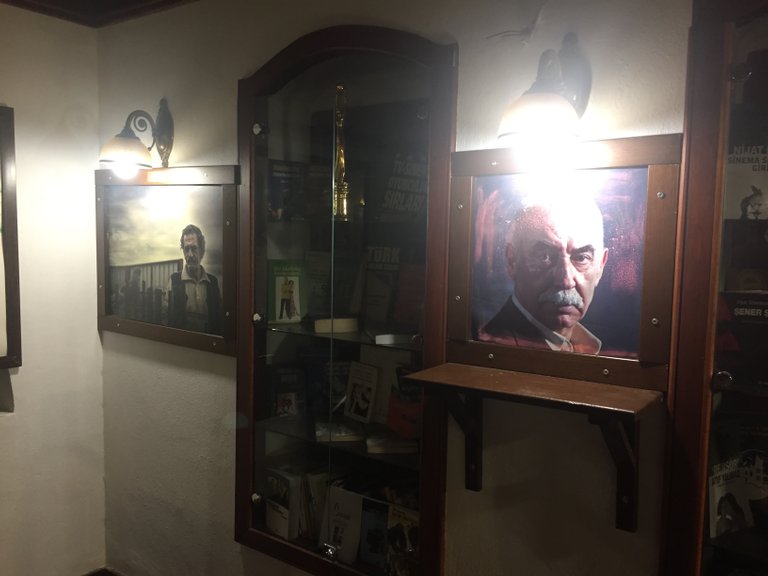 Photographs of famous Turkish cinema artists and books about cinema. Undoubtedly the best known of them all is Şener Şen. The man with the stern look on the right in the photo just above. I don't know how many movies he has in Turkish cinema, but when I watch a good movie in any industry, I usually see him among the actors.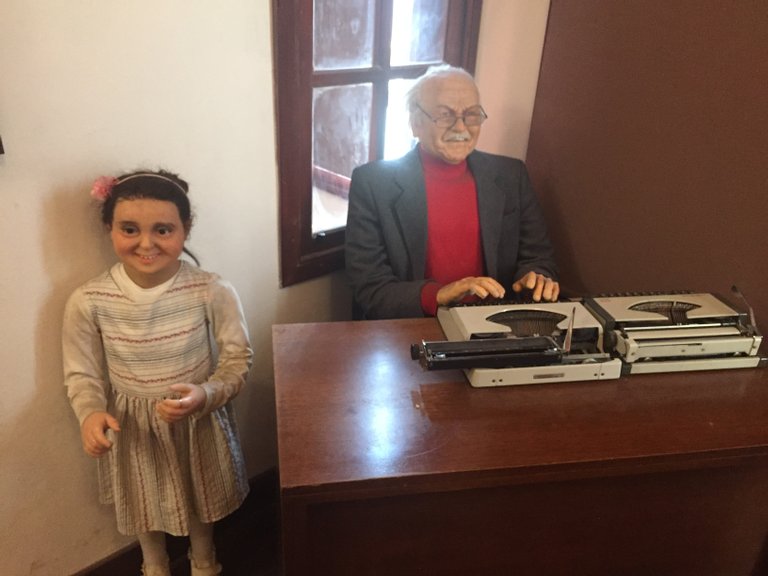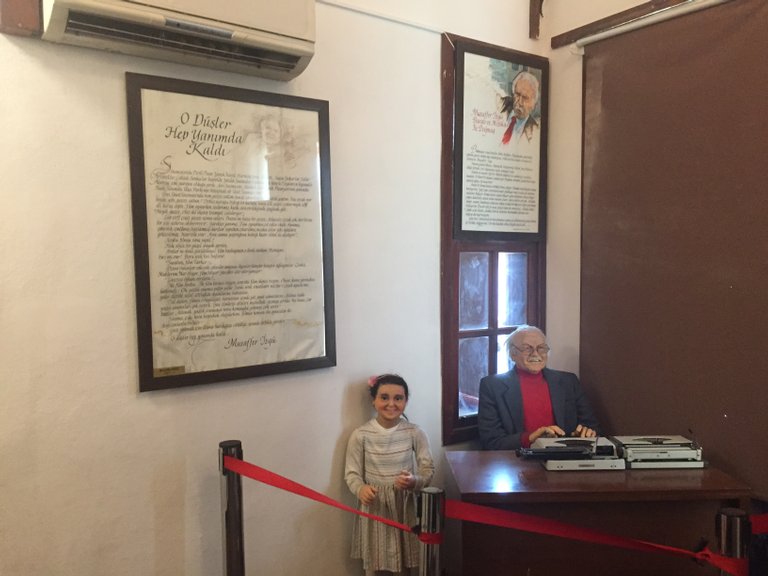 This is the figure of Muzaffer İzgü. It is very well made. When I first heard this name, I recognized it from somewhere. I did some research on the internet and this author is a children's book author whose books I read throughout my childhood. He had more than 100 books. You can find this information and more by clicking here. That's why there is a child figure next to him. Probably most Turkish people have read at least one book by this author in their childhood.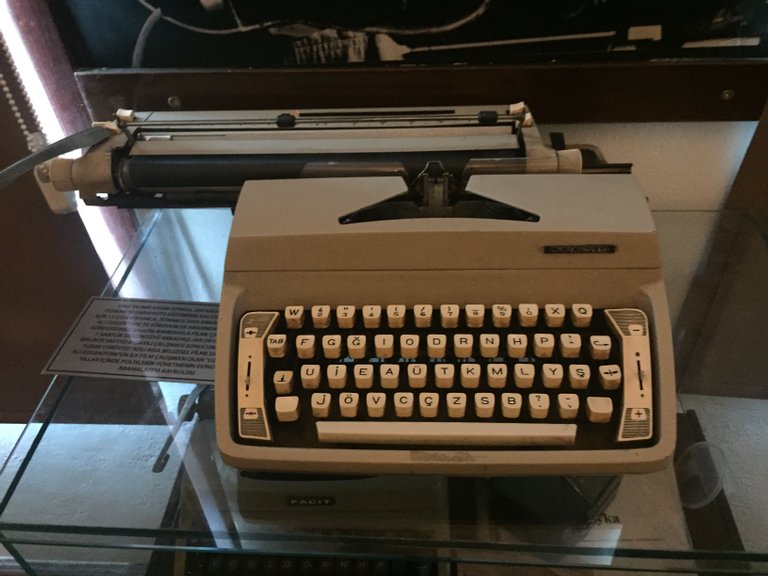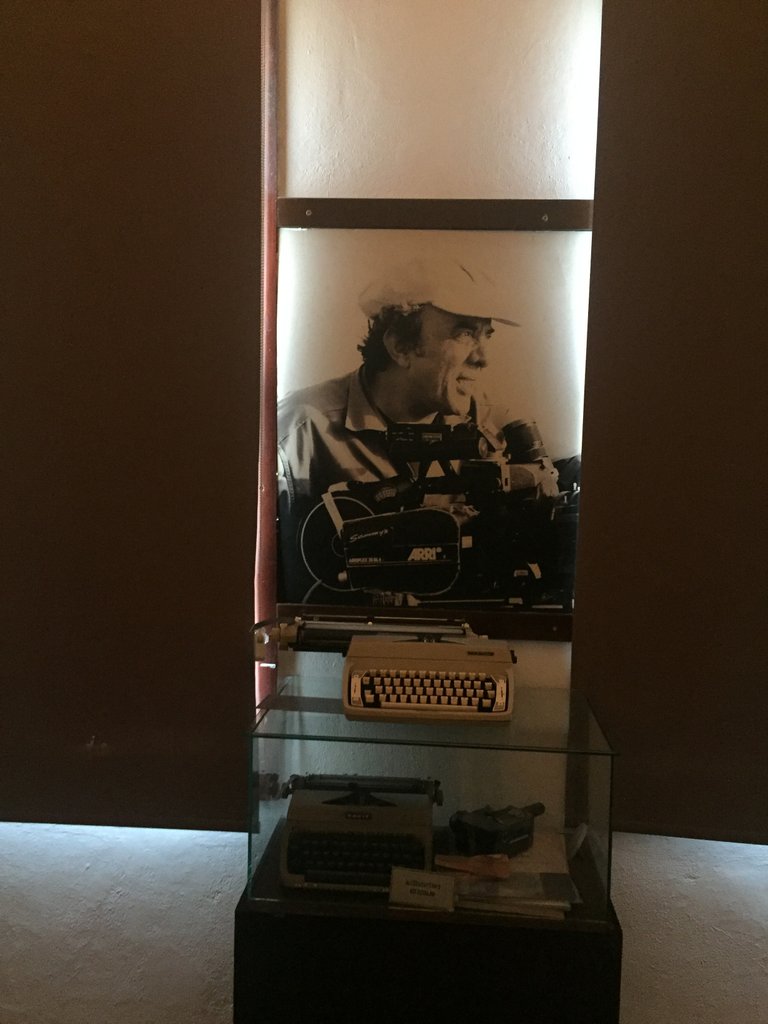 There are also many old typewriters in the museum. Some of them belong to former screenwriters and writers. The typewriter in the first photo belongs to İrfan Atasoy (actor, producer and screenwriter) and the typewriter in the other two photos belongs to Ali Özgentürk (screenwriter).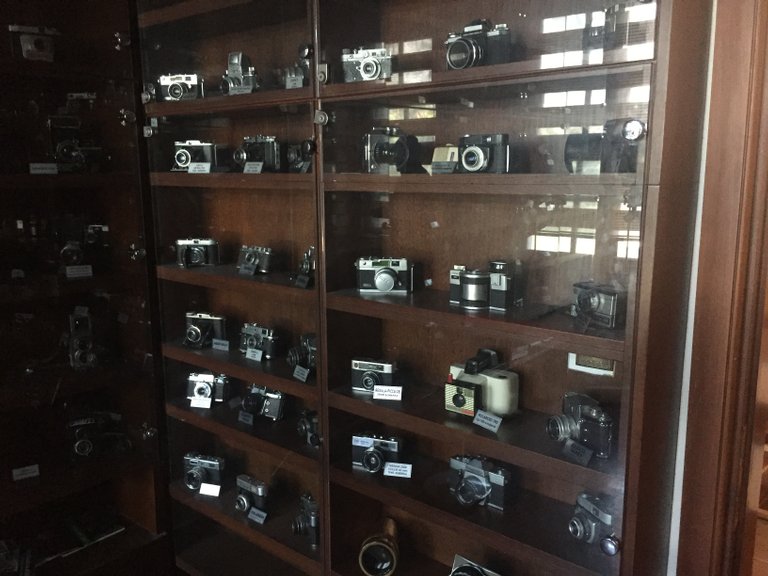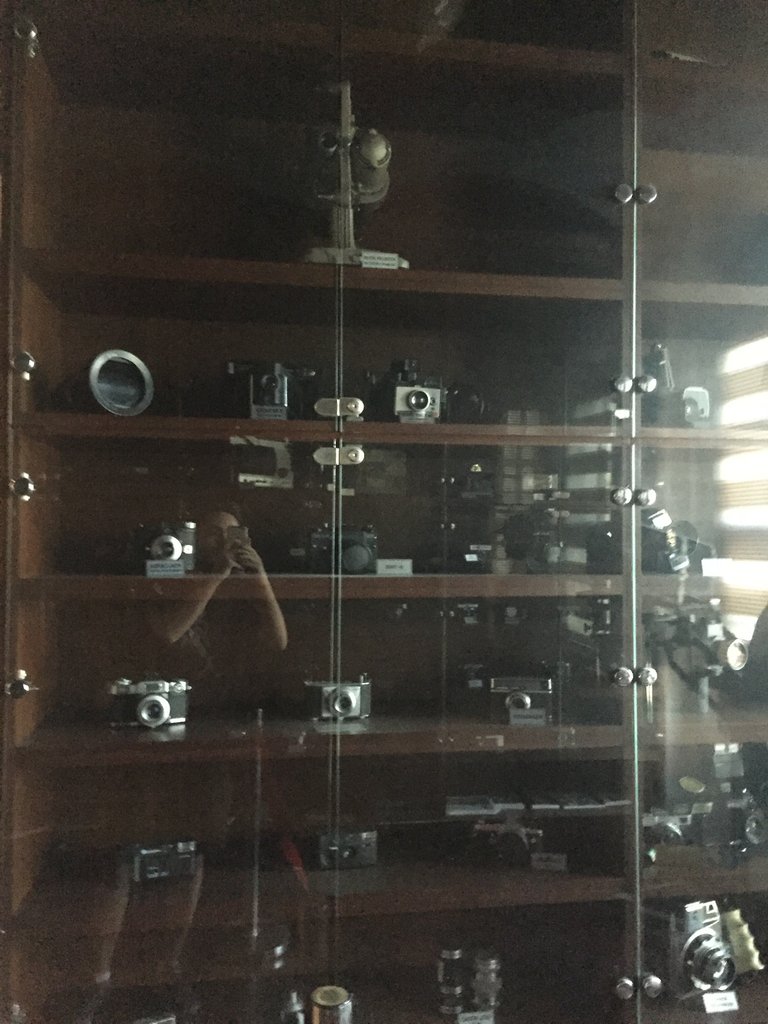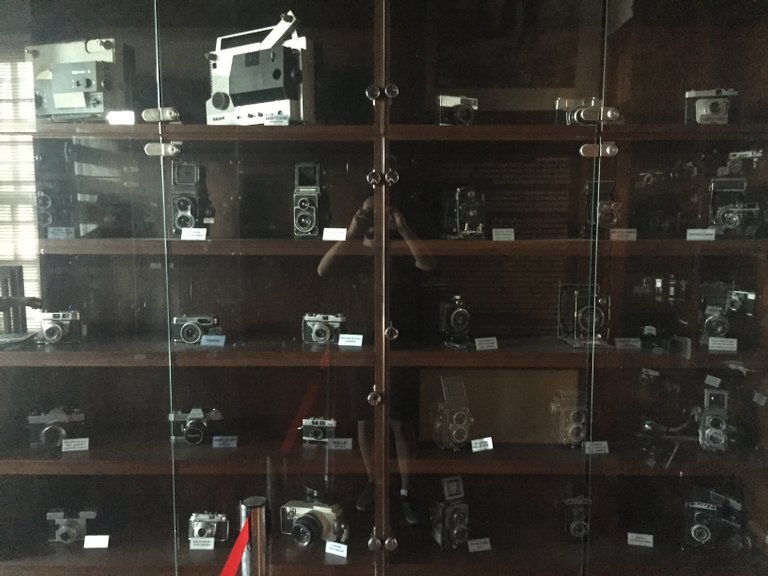 Sorry to tag you again but look at these cameras man @derangedvisions. This place must be heaven for you. There are countless cameras from many years past to present. Some of the cameras here I've never seen before.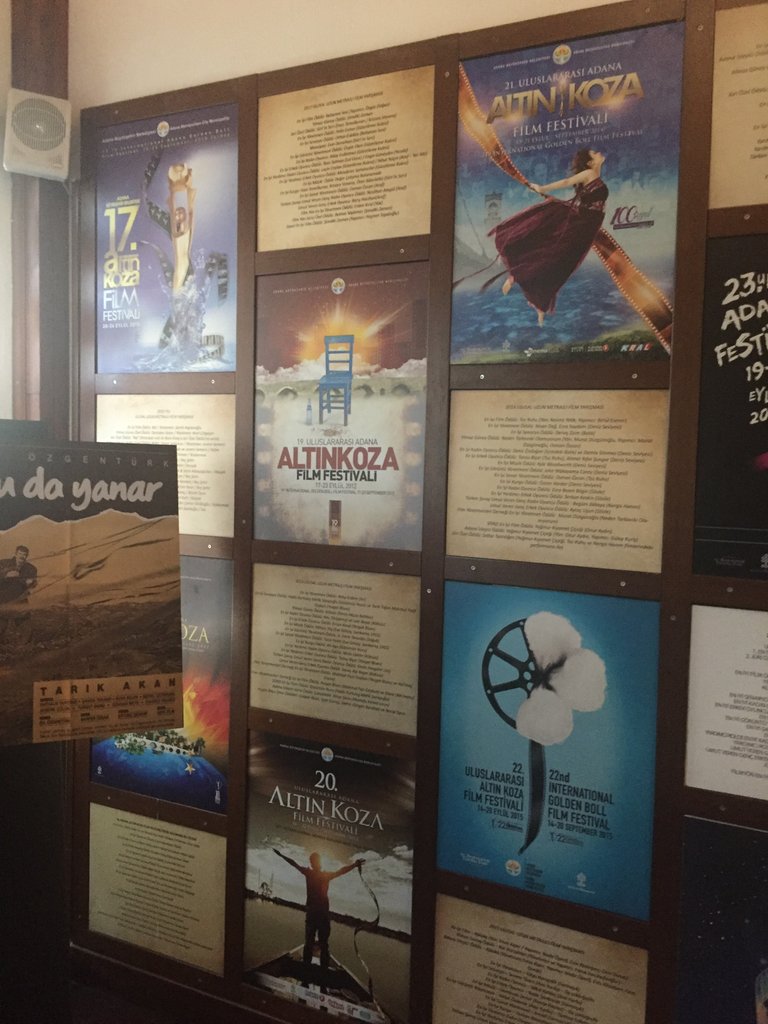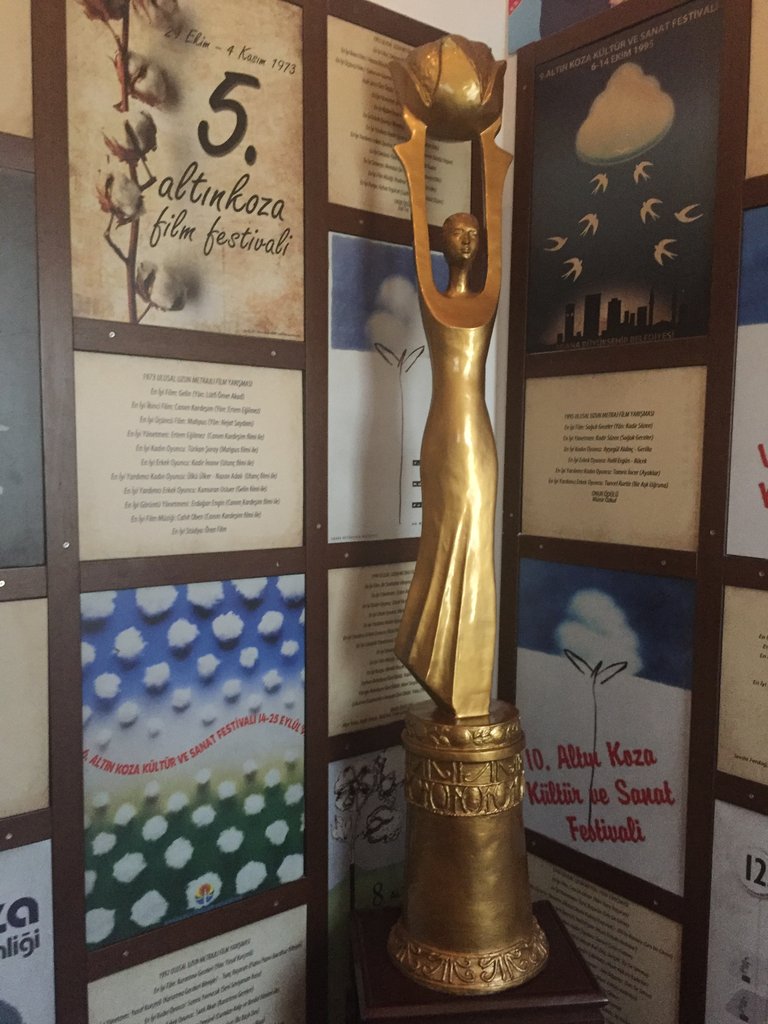 Adana Golden Cocoon Film Festival is held every year in Adana and awards are given to the films selected by the jury and the actors who played in that film. source
In the room reserved for this festival, there are promotional brochures for each year of the festival. There is also a model of the statue that is given as an award. I don't think they give something that big hahaha. I think this is a version of it enlarged several times.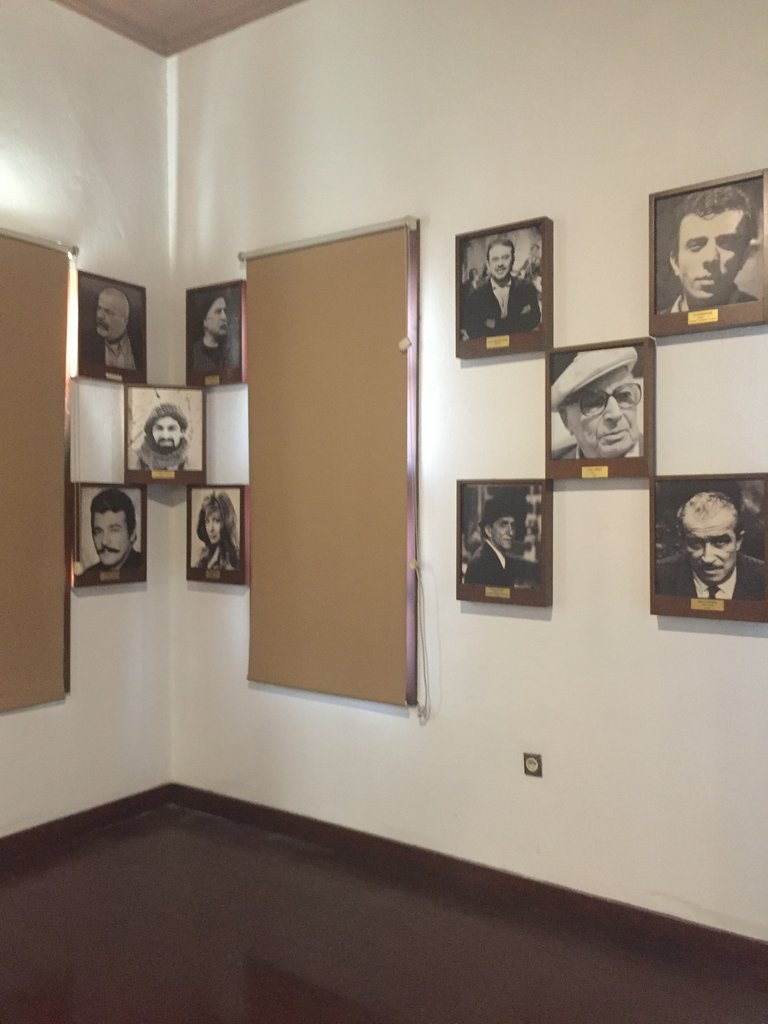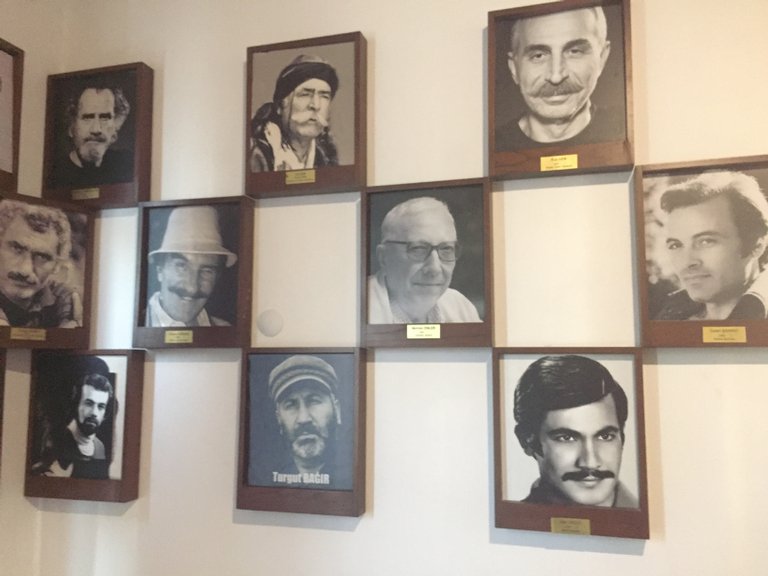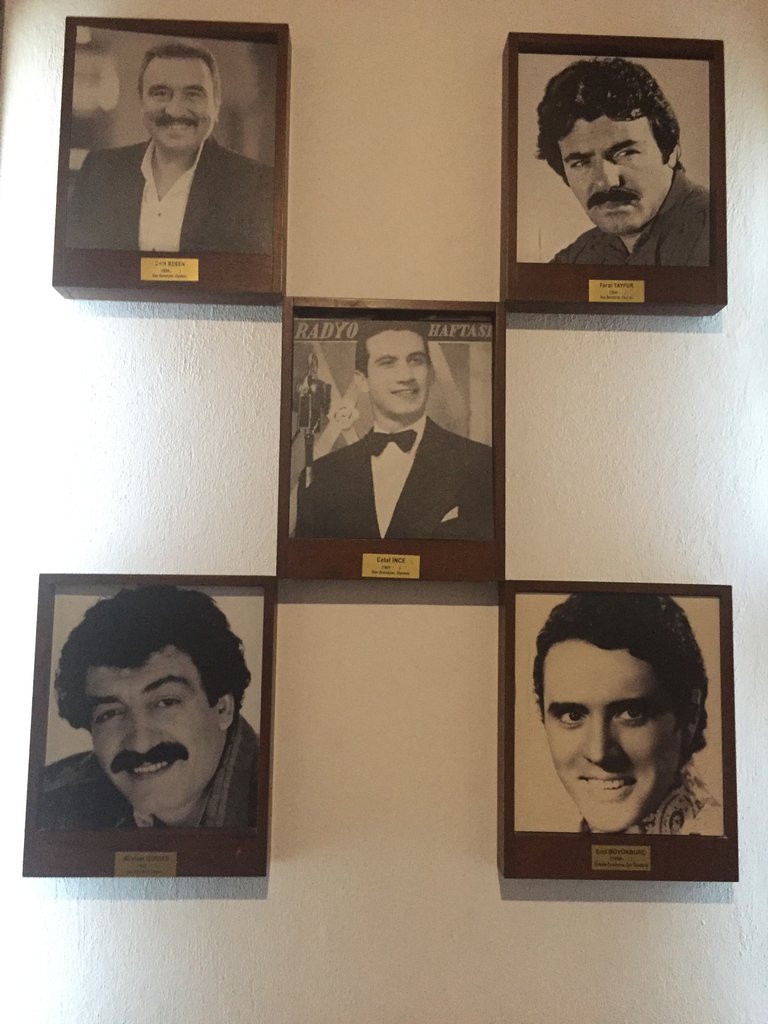 In the photos here you can see a lot of actors and artists who were born in Adana. I knew some of them were born in Adana but some of them were a surprise for me. For example, Kıvanç Tatlıtuğ. I forgot to take his photo, but there was a photo of him and many other actors.

Even where there is a fire hose, there are some great paintings. And this is from an old Turkish movie. Wait, you can see a photo of Kıvanç Tatlıtuğ on the left side of the photo. I didn't intend to take a picture of him, but he leaked into the photo.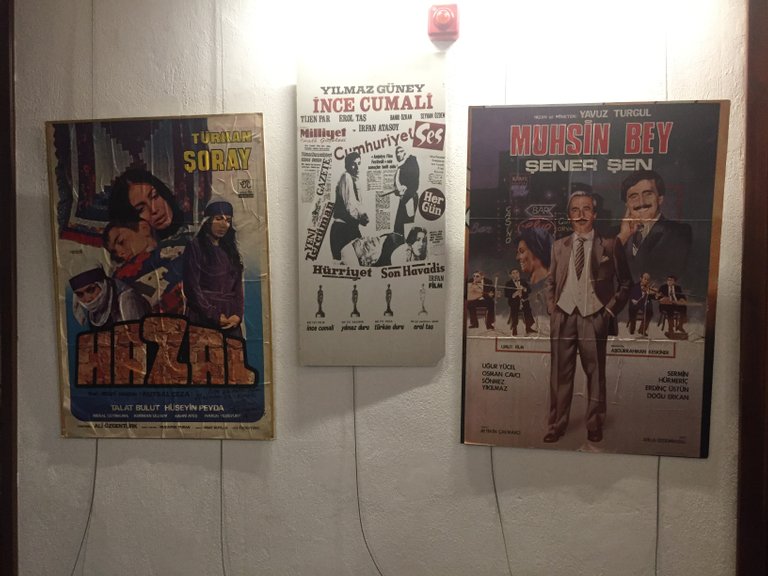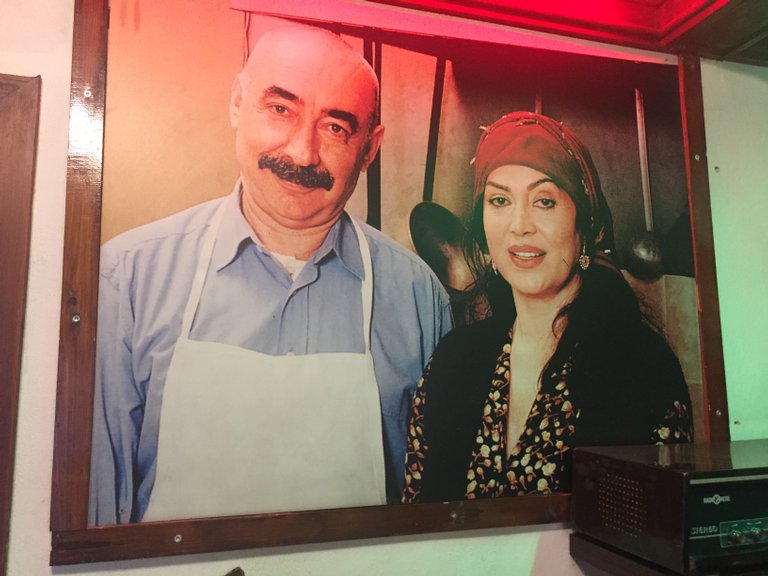 Some photos and posters of two of my favorite actors in Turkish cinema. I am sure everyone who has seen a few Turkish movies knows these actors. I have seen so many movies with both of them.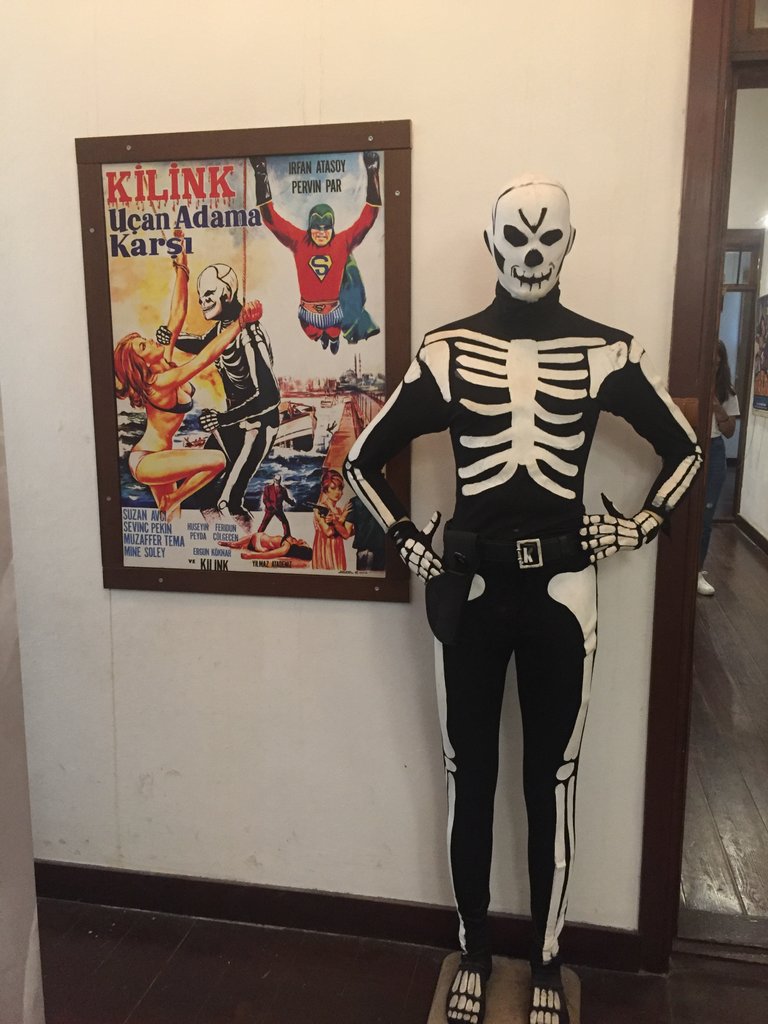 Did you know that there was a Turkish superhero movie? I didn't. There's a wax statue just to the left of the poster. It's really interesting, I think I'll try to watch the movie after I write this post. I wonder what is his special power 🤣.
Bonus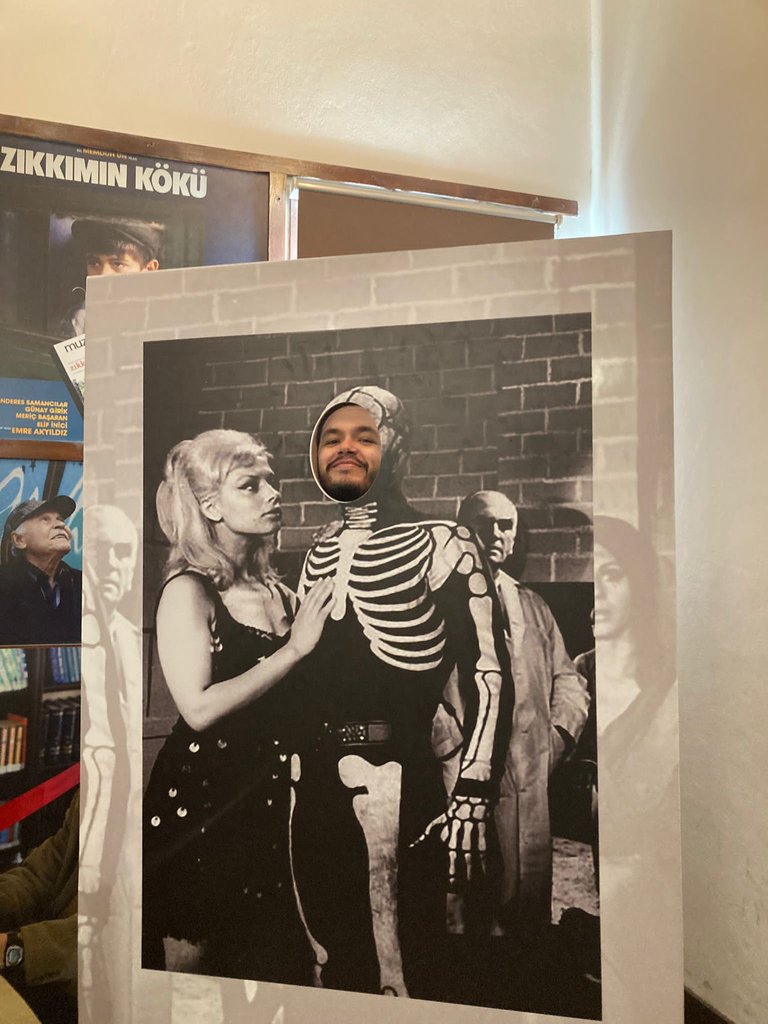 There was a place where I could take such a funny picture and I couldn't miss it. I was not tall enough so I looked very funny 🤣🤣.
---
Thank you very much for reading and I hope you liked it. It looks like I'm going to keep traveling, I'm already looking for places to visit. Who is your favorite actor? You can write about it in the comments. I would also like to know what you think about my post. Have a great day!
All photos were taken by me with my iPhone 6. Except the funny one. My cousin took that one.
---
TR
Hepinize merhaba, bir süredir gezi yazısı paylaşmadığımı farkettim. Sanırım gerçekten gezi beni ısırdı ve artık gezmeden duramıyorum. Geçen gün kuzenimle birlikte bulunduğum şehirdeki iki yan yana müzeyi gezmeye gittik. Bunlardan bir tanesi şimdi sizinle paylaşacağım Adana Sinema Müzesi. Daha önce çok fazla müze gezmedim ve sinemaya dair bir müzeyi hiç gezmedim. Açıkçası benim için oldukça ilginç bir deneyim olacağına emindim. Çünkü sinemaya oldukça meraklıyımdır. Eski Türk filmlerini izlemeyi severim ve müzede bunlardan çokça olacağını tahmin ediyordum. Ama beklediğimden çok daha fazlası vardı!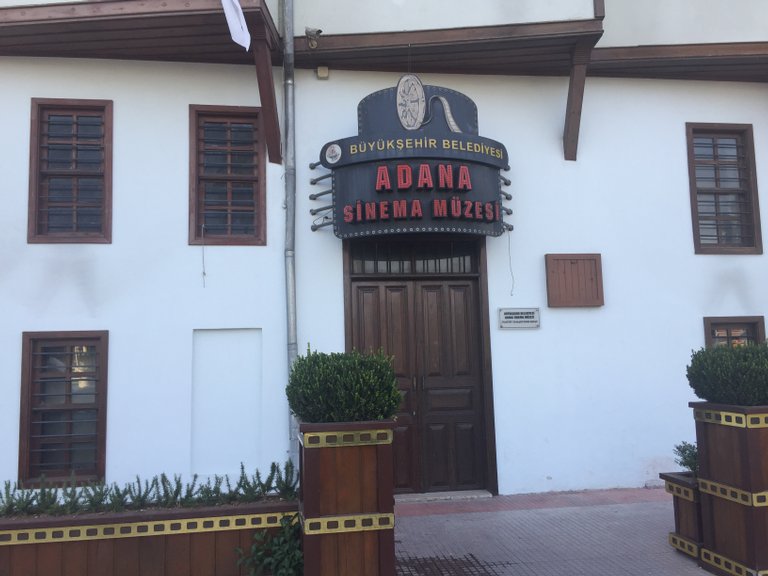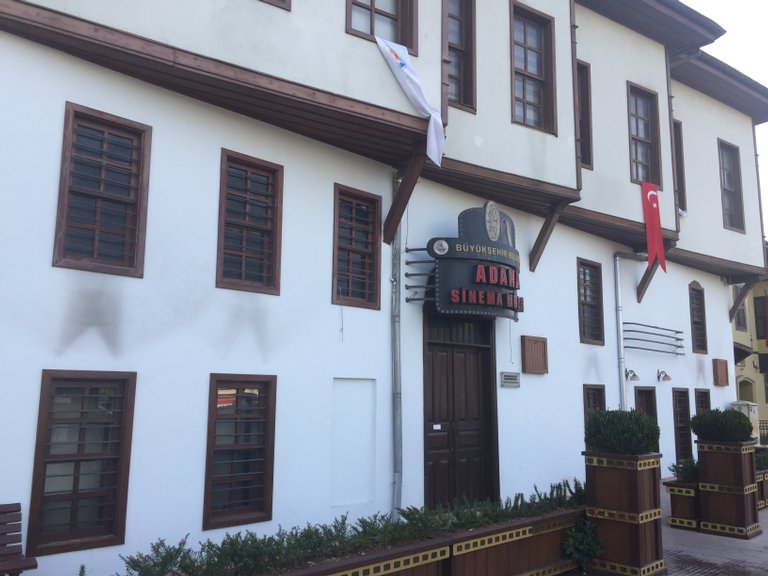 Öncelikle biraz binadan bahsetmek istiyorum. Müze gerçekten size içeride nostaljik şeyler olduğunu hissettiriyor, gerek eski model pencereleri gerek de ahşap kapısıyla. Ayrıca girişteki film şeridi gibi görünen çitler de mükemmel bir hava katıyor. İçeriye girişte bir görevli bize giriş ücretinin 2 TL olduğunu söyledi. Bu da yaklaşık 11 cent yapıyor ki bu da çok ucuz. Gördüğüm şeylerden sonra oraya bunun 5 katını versem bile umurumda olmazdı.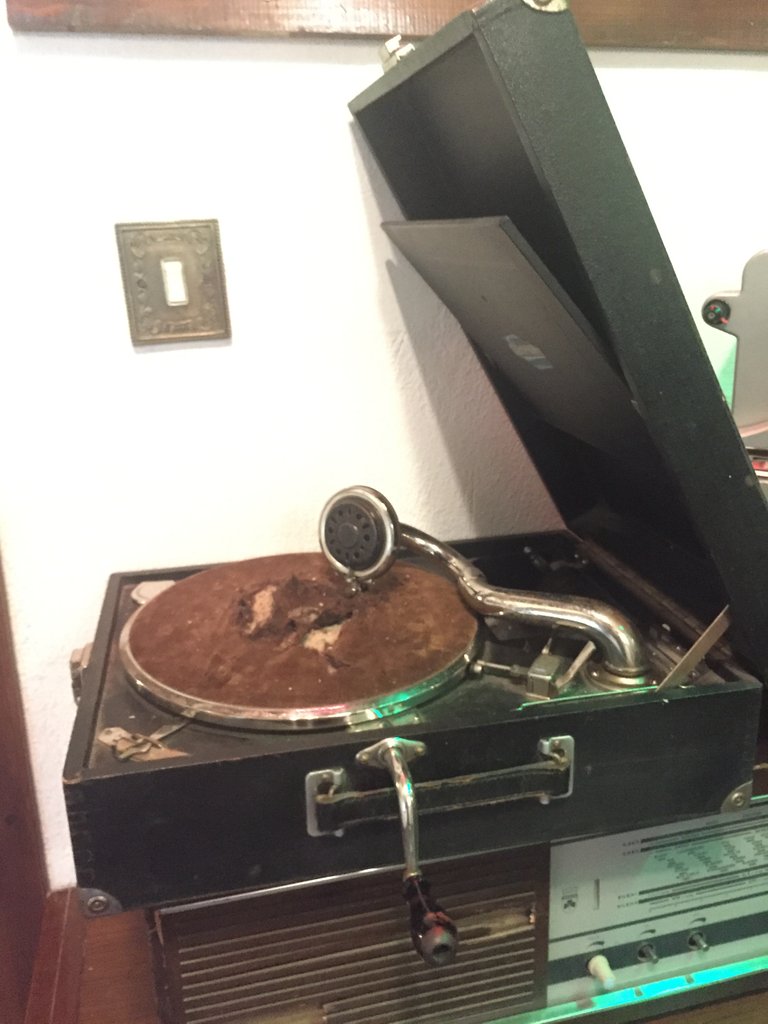 Bina 2 katlı ve her yerinde tarihe dair şeyler var. Ben önce bütün binayı gezdim arkasından fotoğraflarını çekmeye başladım. İlk dikkatimi çeken şey bu eski pikaptı. Altında 100 yıllık olduğu yazıyordu. O kısmı çekemediğim için üzgünüm. Pikapın ortasına ne olduğuna dair hiçbir fikrim yok. Ancak birileri ona büyük zarar vermiş.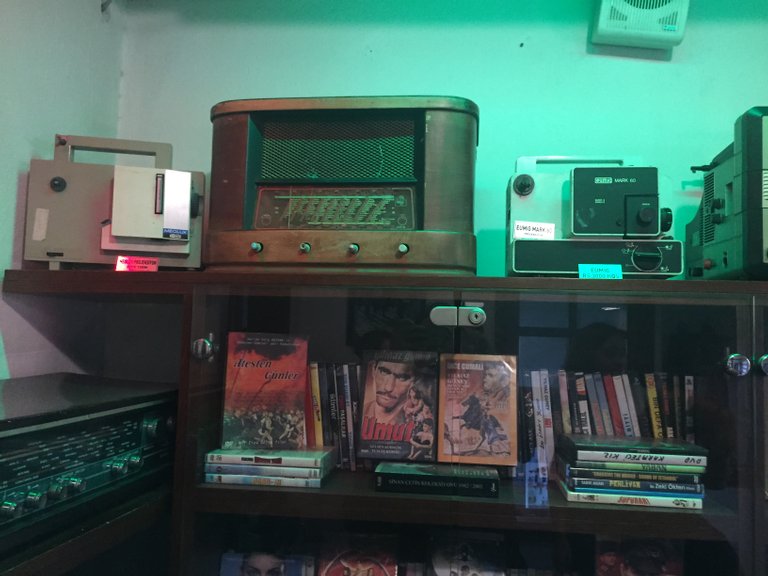 Müzede eski yıllara ait projeksiyon makineleri ve film çekimlerinde kullanılan bir sürü makine var. Net bir bilgim yok ama bütün bunların en az 50 yıllık olduğunu düşünüyorum. O kadar eski görünüyorlar ki! Alt raflarda da eski filmlere ait DVD'leri görebilirsiniz. Bir sürü eski DVD var ve birçoğu ben doğmadan öncesine ait hahaha.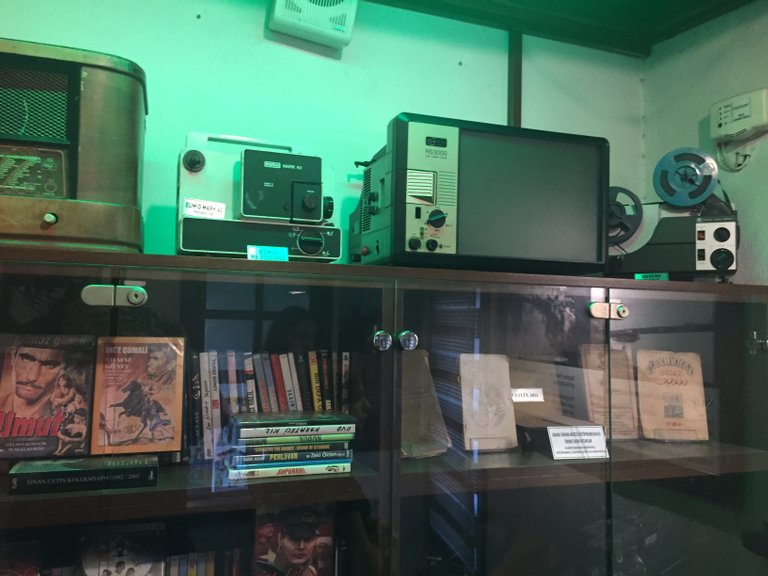 Burada da geçmiş yıllara ait kitaplar var. Üzerindeki yazılar Türkçe olmadığı için onların Osmanlı dönemine ait olduğunu düşünüyorum. Neye dair olduklarını bilmiyorum ama orada olduklarına göre muhtemelen sinemaya veya filmlere dairdir 😅.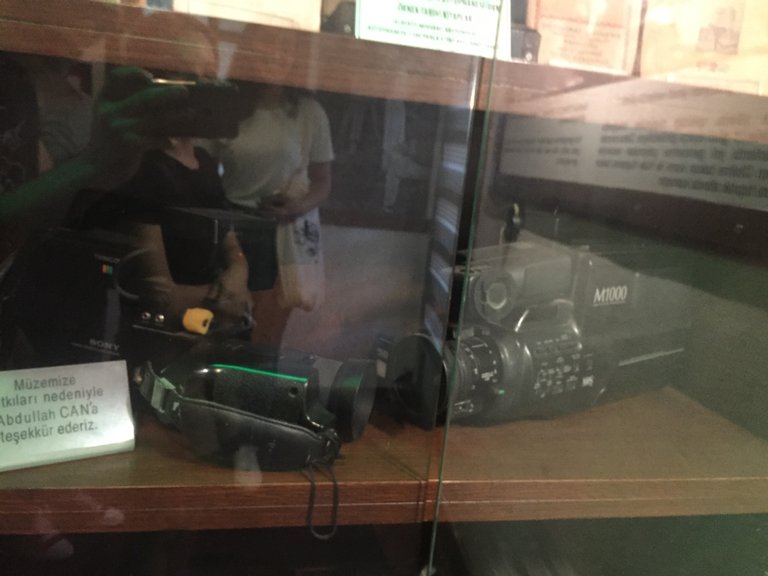 İşte burada da eski kameralar var. @derangedvisions belki bunların ne kadar eski olduğunu biliyorsundur dostum. Yansıma için özür dilerim ancak sanırım bu kameramla ilgili değil camlarla ilgili. Çünkü 4-5 tane fotoğraf çektim ve en iyisi buydu.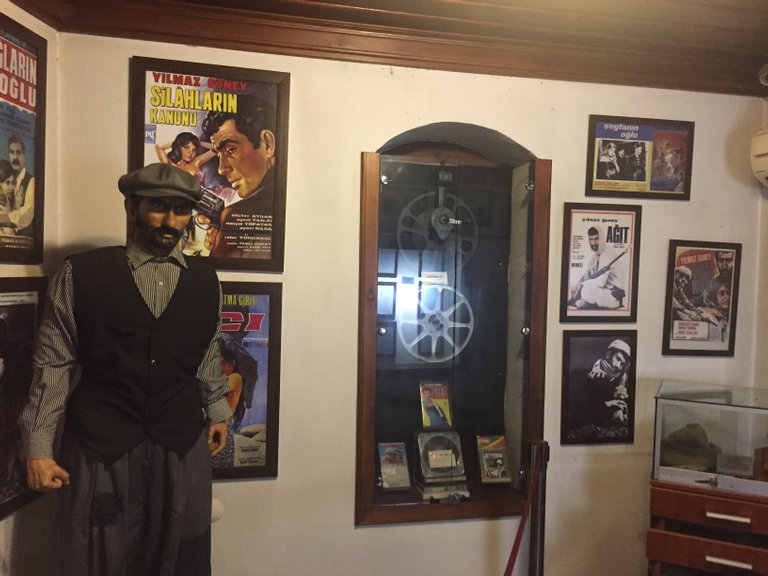 Yılmaz Güney Türk sineması için önemli bir isim. Özellikle geçmişte senaryosunu yazdığı filmler oldukça meşhurdur. Hatta yanlış hatırlamıyorsam bir ödülü de var. Daha fazla bilgi için burayı okuyabilirsiniz. Kendisi Adanalı olduğu için müzede bir oda ona ayrılmış durumda. Odanın içinde kendisine ait bir heykel ve filmlerine dair bir sürü tablo var.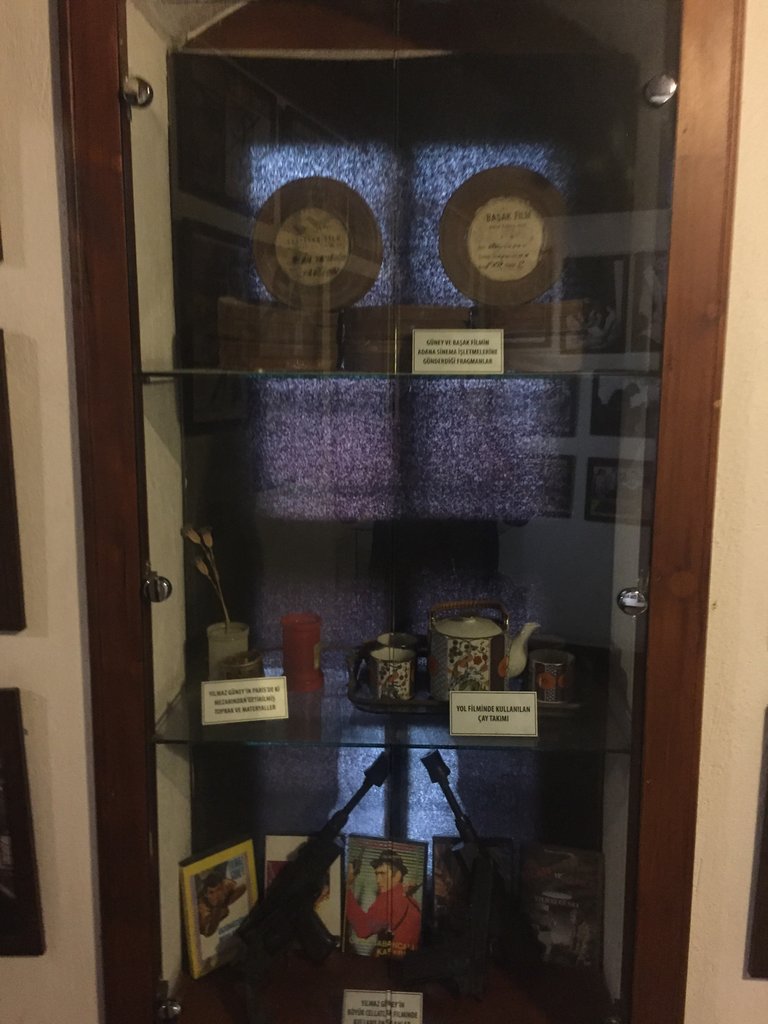 Burada da Yılmaz Güney'in filmlerinde kullandığı bazı aksesuarlar var. Silahlar oldukça gerçekçi görünüyor. En üstteki iki plak da altındaki yazıya göre Adana sinema işletmelerine gönderilmiş fragmanlar.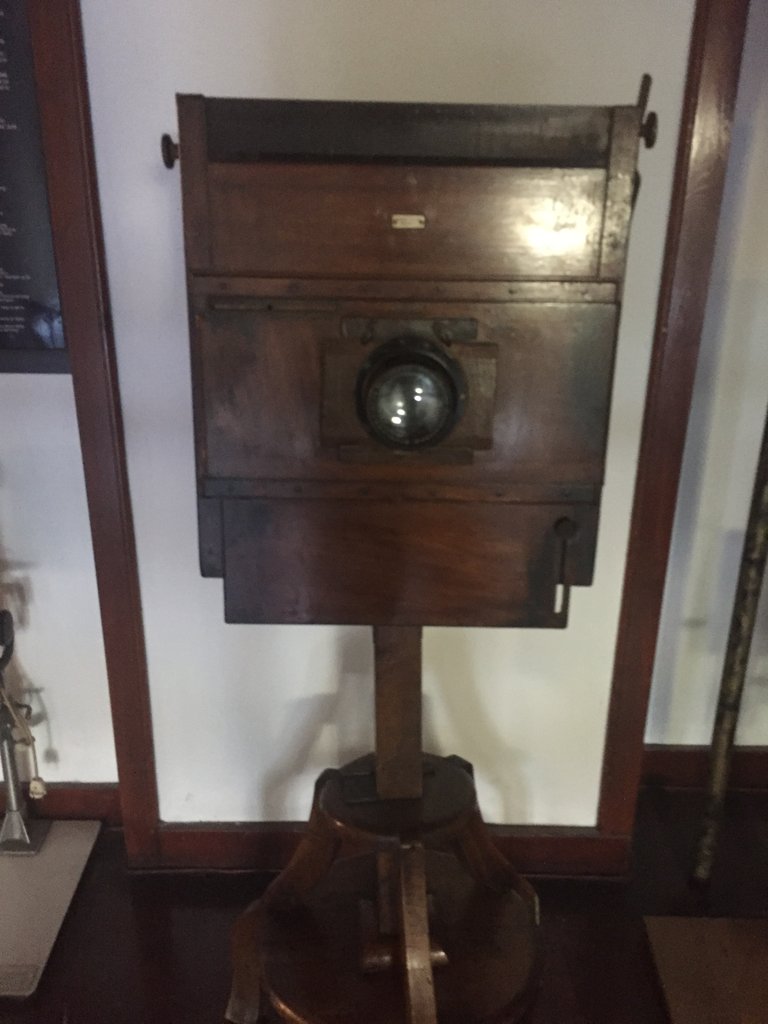 İşte burada da film çekiminde kullanılan gördüğüm en eski makine. Bununla nasıl filmler çektiklerini gerçekten merak ediyorum. Ya da belki fotoğraf makinesidir. Bundan emin değilim 📸🎥.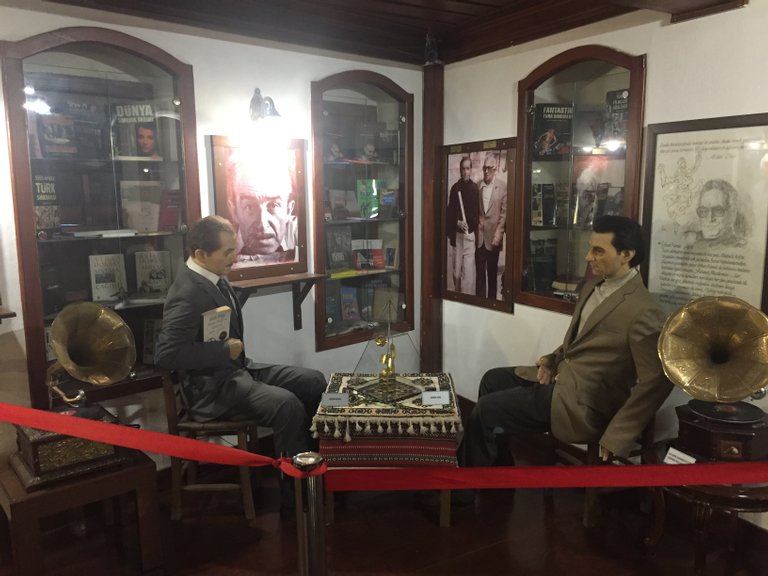 Başka bir odada Abidin Dino(bir Türk ressam) ve Orhan Kemal'in(Türk yazar) heykelleri var. Görünüşe göre oldukça hararetli bir şekilde Türk sanat tarihi hakkında konuşuyorlar. Sohbetlerini bölmek istemiyorum 😂.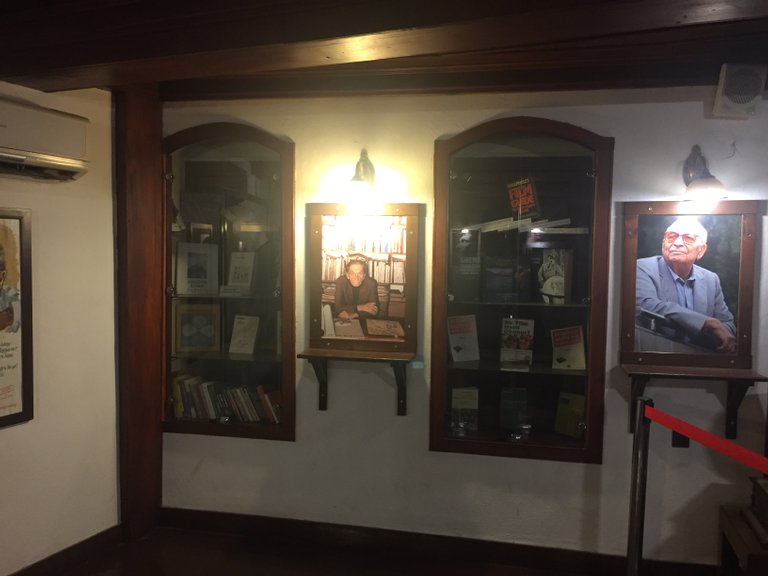 Soldaki Abidin Dino'nun fotoğrafı, sağdaki de Orhan Kemal olmalı ancak bundan emin değilim. İnternetten araştırdığımda da sağdaki fotoğrafın kime ait olduğunu bulamadım. Kim olduğunu bilen biri varsa yorumlara yazabilir. O yorumu %100 yukarı oylayacağım. Ayrıca aradaki kitaplar genel sinema tarihine dair gerçekten harika kitaplar.

Bu fotoğrafta geçmişten günümüze Adana'da sinema sektörünün gelişiminden bahsediliyor. 100 yıl içinde gelinen nokta oldukça iyi. Üstelik bu süreçte 2 tane askeri darbe yaşandığını unutmamak gerekiyor. En son 2010 yılında Adana'da 6 tane sinema olduğundan bahsedilmiş ki bu bence yeterli bir rakam.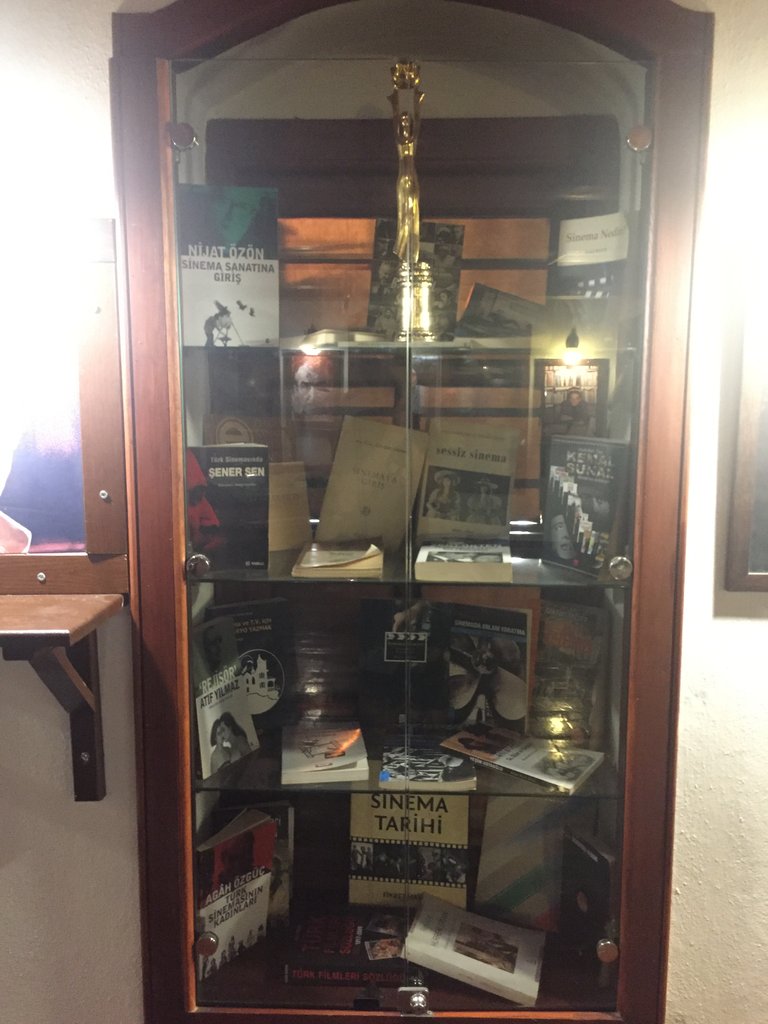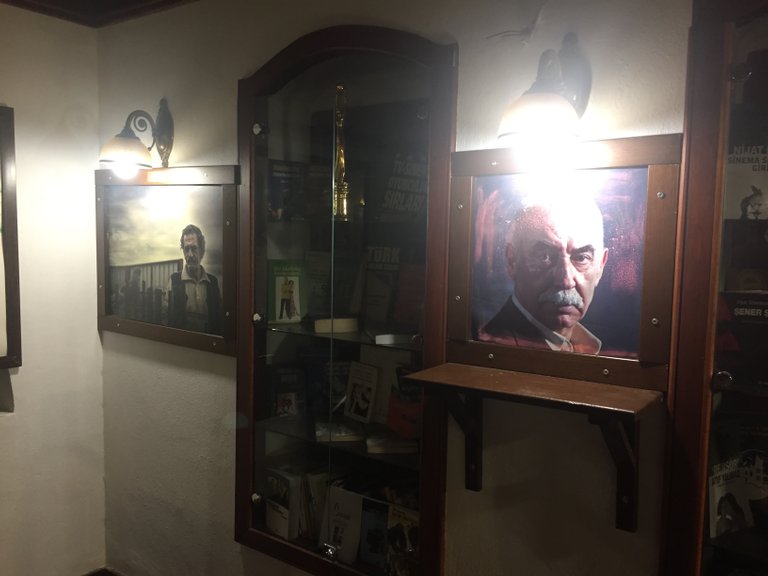 Ünlü Türk sinema sanatçılarına ait fotoğraflar ve sinemayla ilgili kitaplar. Şüphesiz aralarında en çok bilineni Şener Şen. Hemen üstteki fotoğrafta sağdaki sert bakışlı adam. Türk sinemasında kaç tane filmi var inanın bilmiyorum. Ancak hangi sektörde olursa olsun iyi bir film izlediğimde genelde onu oyuncuların arasında görüyorum.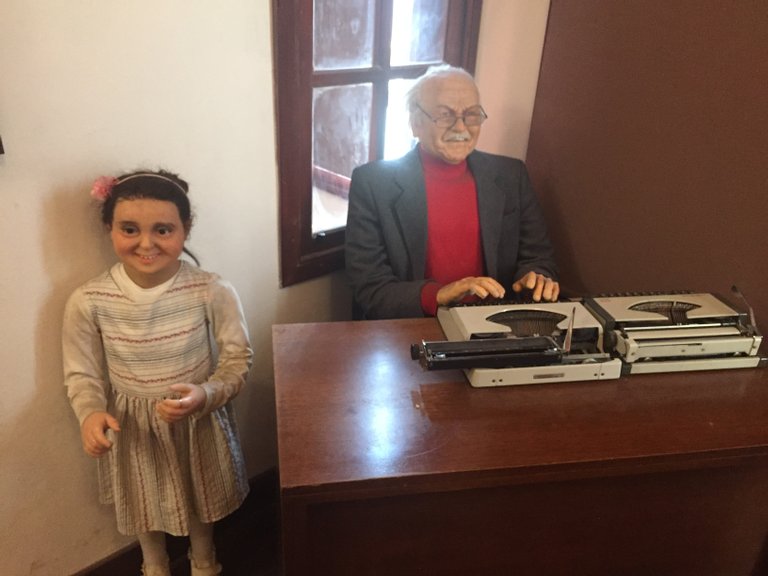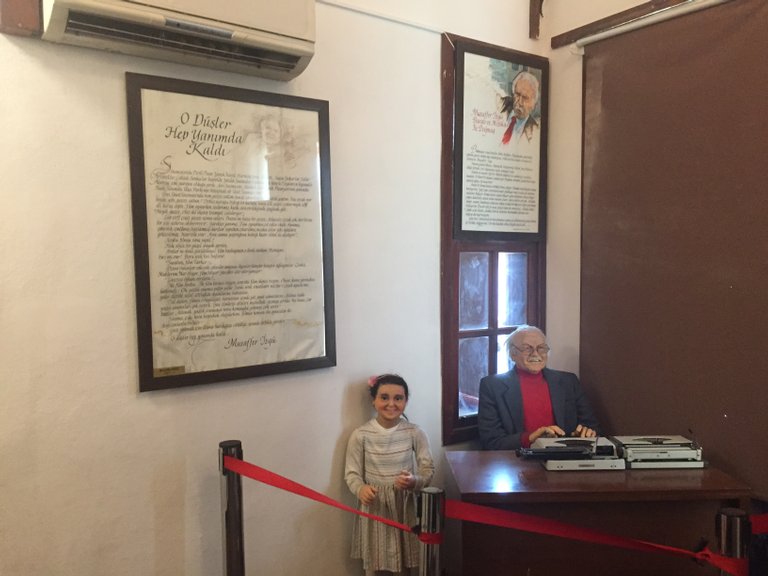 Bu da Muzaffer İzgü'nün figürü. Oldukça iyi yapılmış. Bu ismi ilk duyduğumda bir yerden tanıdık geldi. İnternetten biraz araştırdım ve bu yazar benim çocukluğum boyunca kitaplarını okuduğum bir çocuk kitabı yazarı. 100'den fazla kitabı varmış. Bu bilgiye ve daha fazlasına buraya tıklayarak ulaşabilirsiniz. Yanında bir çocuk figürü olmasının sebebi de bu. Muhtemelen çoğu Türk insanı çocukluğunda bu yazarın en az bir kitabını okumuştur.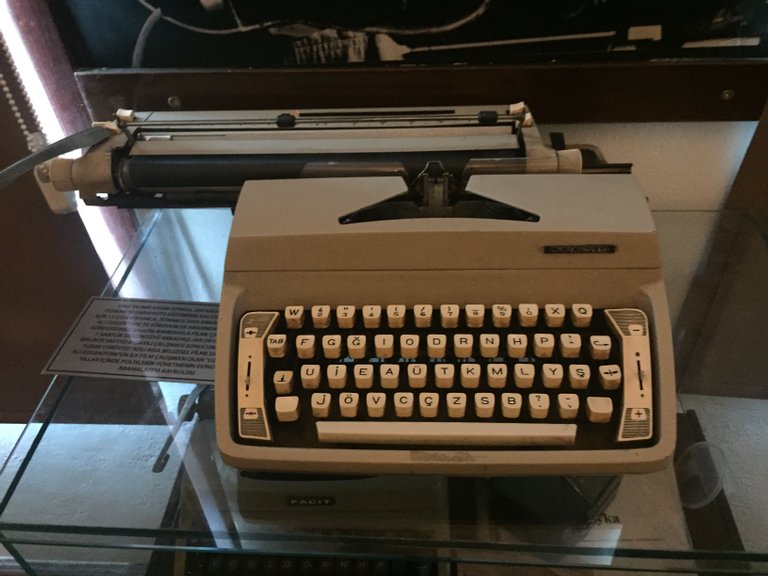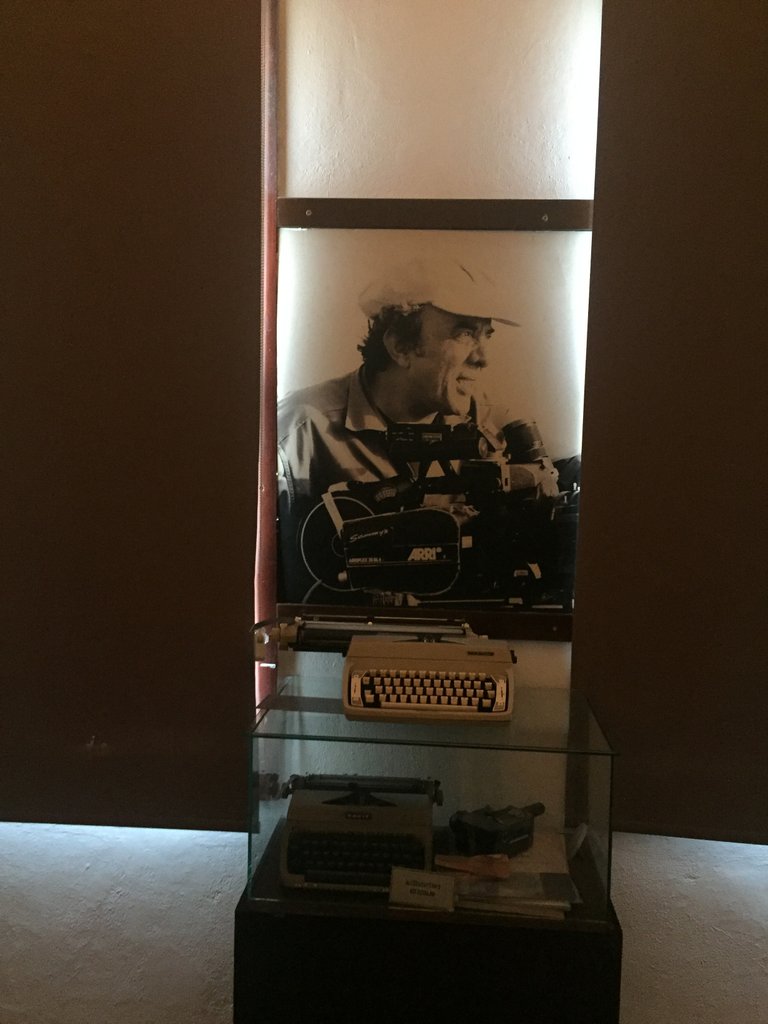 Müzede birçok eski daktilo da mevcut. Bunların bazıları eski senaristlere ve yazarlara ait. İlk fotoğrafta gördüğünüz daktilo İrfan Atasoy(oyuncu, yapımcı ve senarist), diğer iki fotoğraftaki daktilo ise Ali Özgentürk'e(senarist) ait.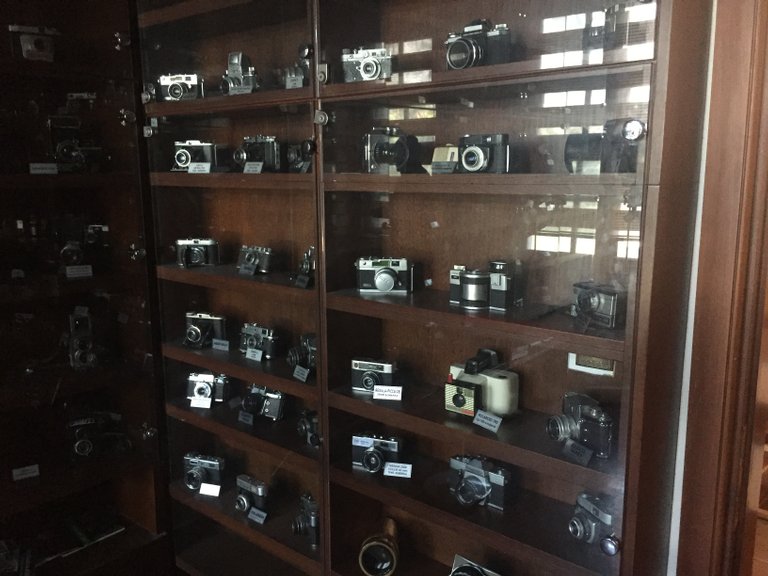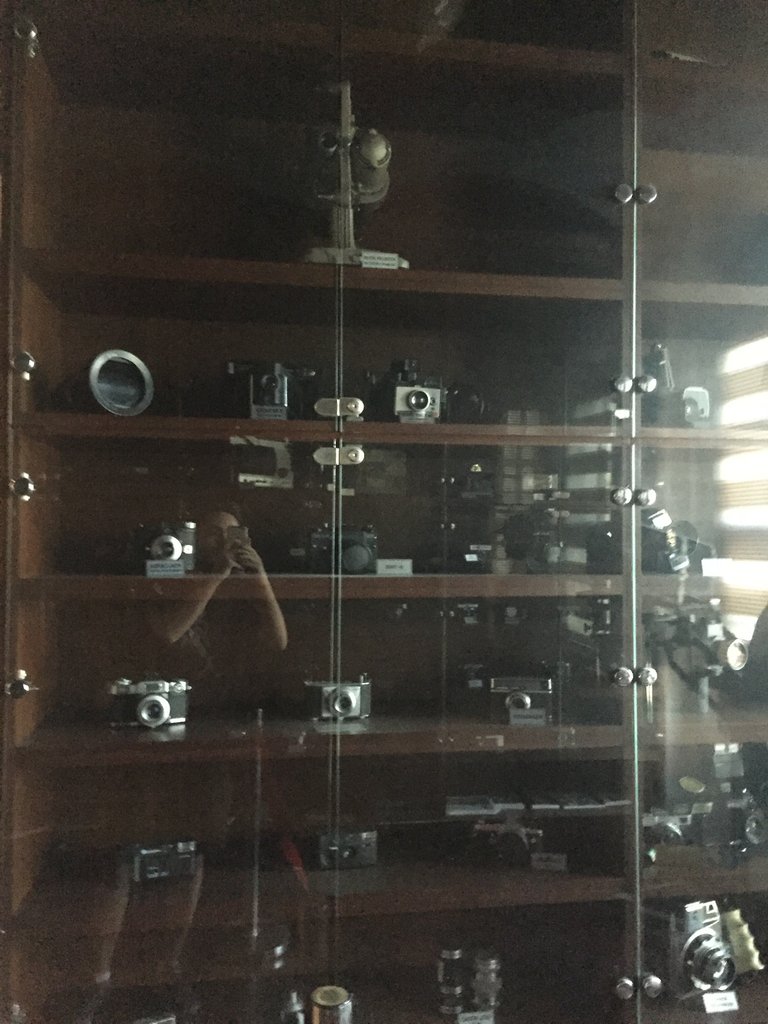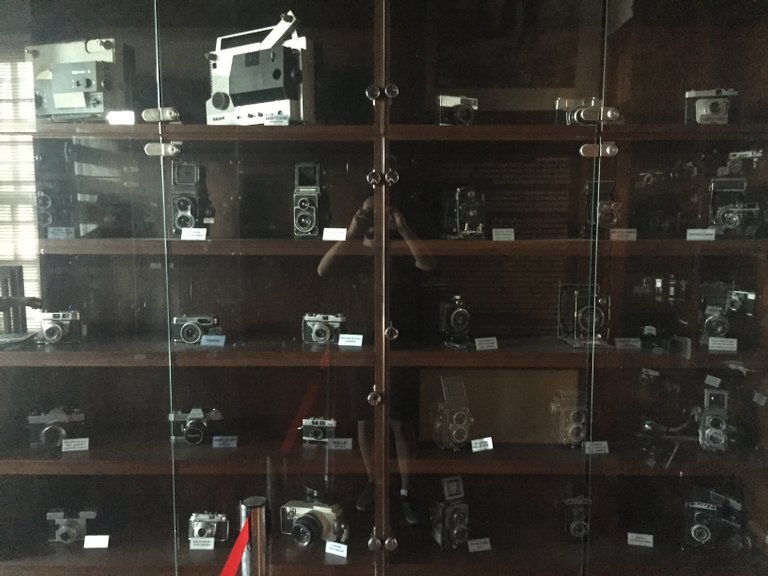 Tekrar etiketlediğim için özür dilerim ama şu fotoğraf makinelerine bak dostum @derangedvisions. Burası senin için cennet gibi olmalı. Birçok yıldan geçmişten günümüze sayısız fotoğraf makinesi var. Buradaki bazı fotoğraf makinelerini daha önce hiç görmemiştim.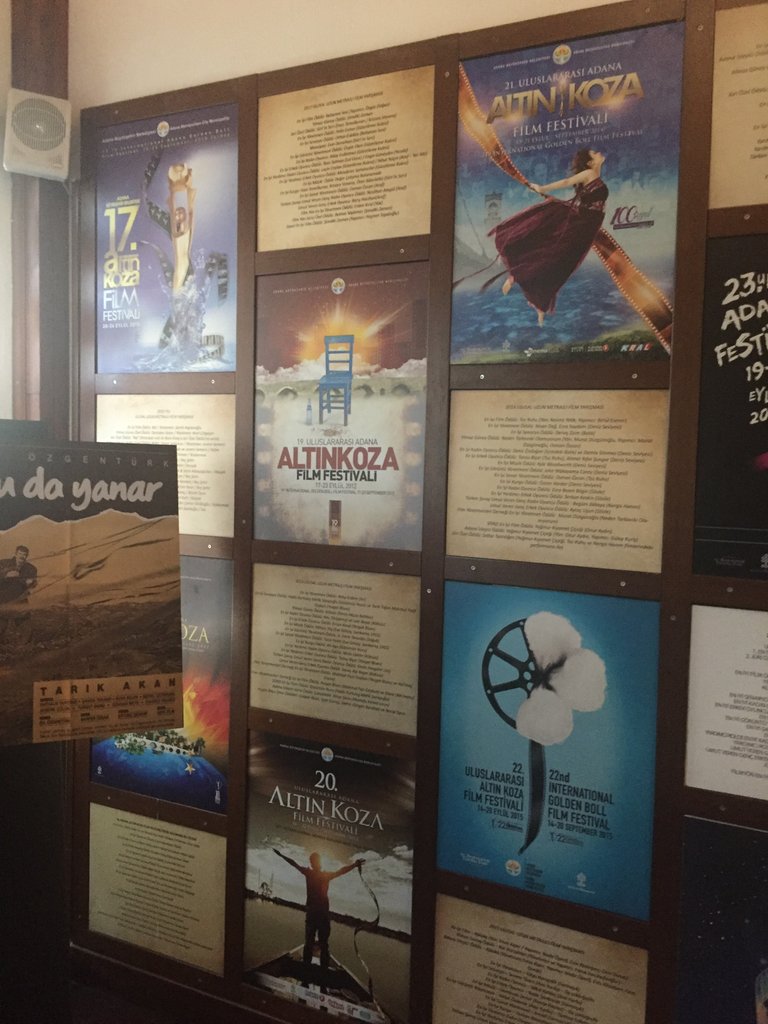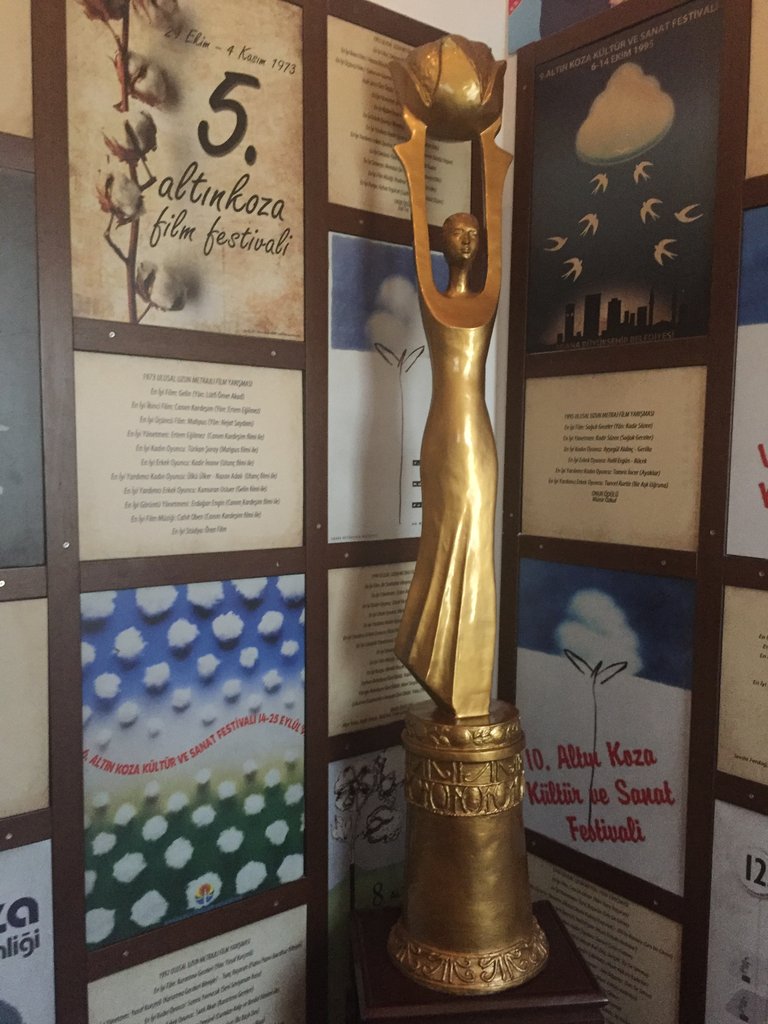 Adana Altın Koza Film Festivali her yıl Adana'da düzenleniyor ve jüri tarafından seçilen filmlere ve o filmde oynayan oyunculara ödül veriliyor. source
Bu festival için ayrılan odada festivalin her yılına dair tanıtım broşürleri var. Ayrıca ödül olarak verilen heykelin bir modellemesi de var. Bu kadar büyük bir şey verdiklerini zannetmiyorum hahaha. Sanırım bu onun birkaç kat büyütülmüş versiyonu.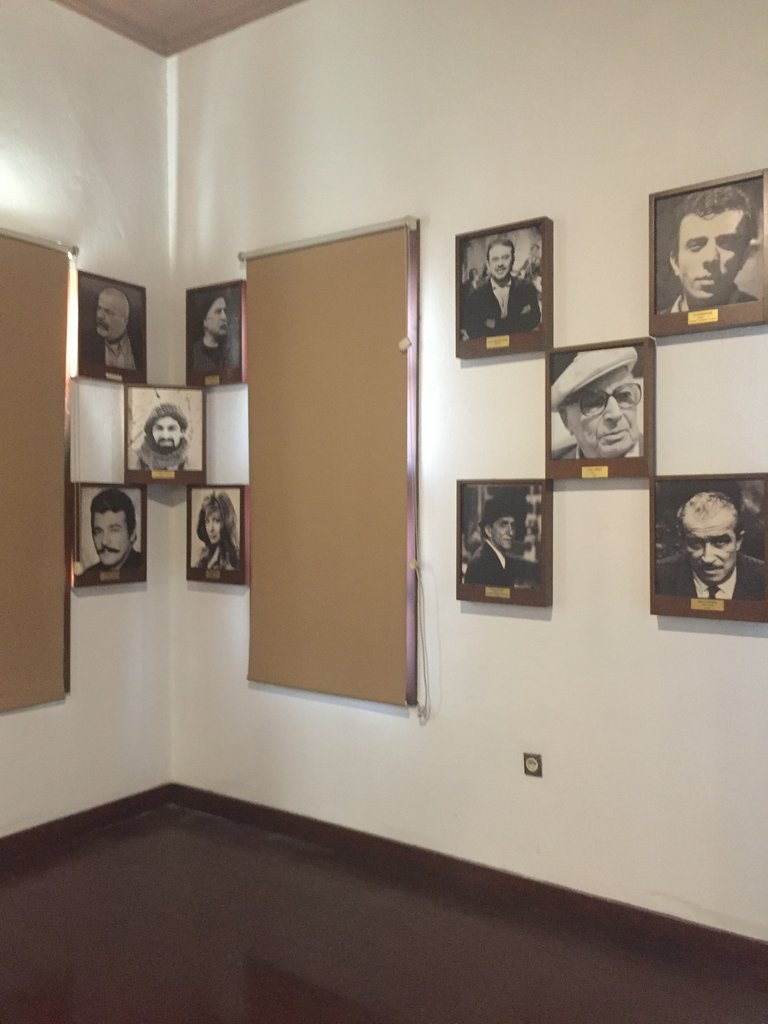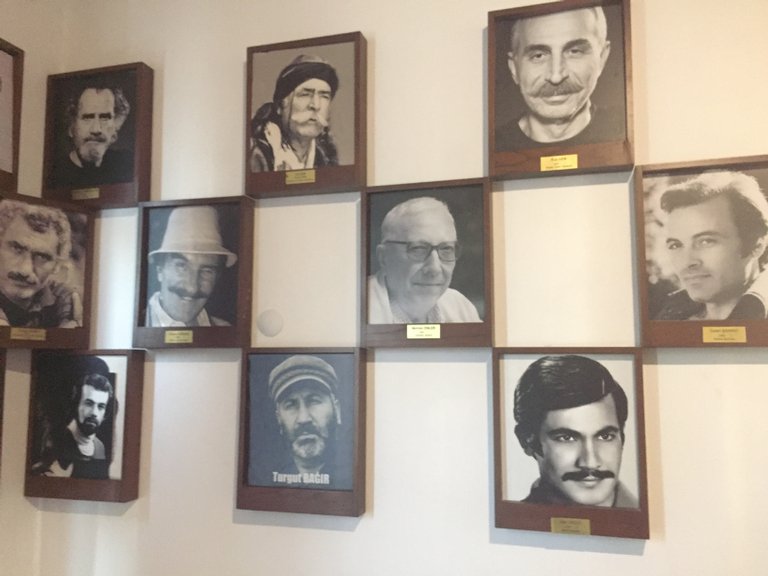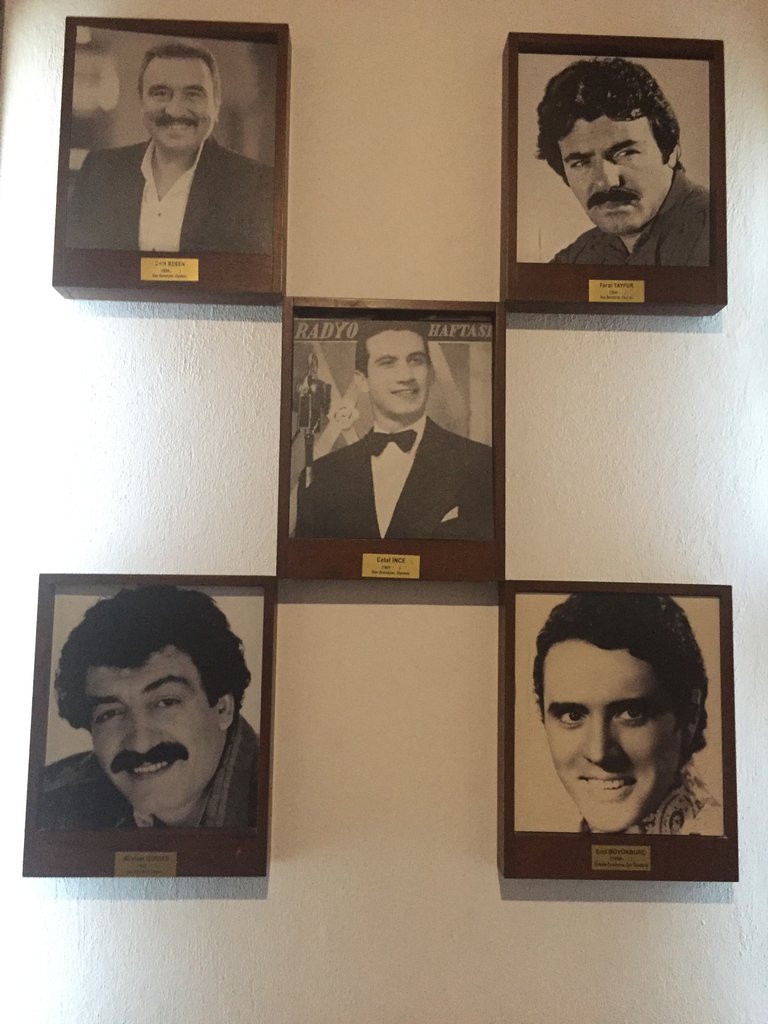 Buradaki fotoğraflarda da Adana'da doğan bir sürü oyuncu ve sanatçının fotoğrafını görebilirsiniz. Bazılarının Adana'da doğduğunu biliyordum ancak bazıları benim için sürpriz oldu. Örneğin Kıvanç Tatlıtuğ. Onun fotoğrafını çekmeyi unutmuşum ancak o ve bir sürü oyuncunun daha fotoğrafı vardı.

Yangın hortumunun olduğu yerde bile harika boyamalar var. Bu da eski bir Türk filmine ait. Bekleyin, fotoğrafın sol tarafında Kıvanç Tatlıtuğ'un fotoğrafını görebilirsiniz. Amacım onu çekmek değildi ancak fotoğrafa sızmış.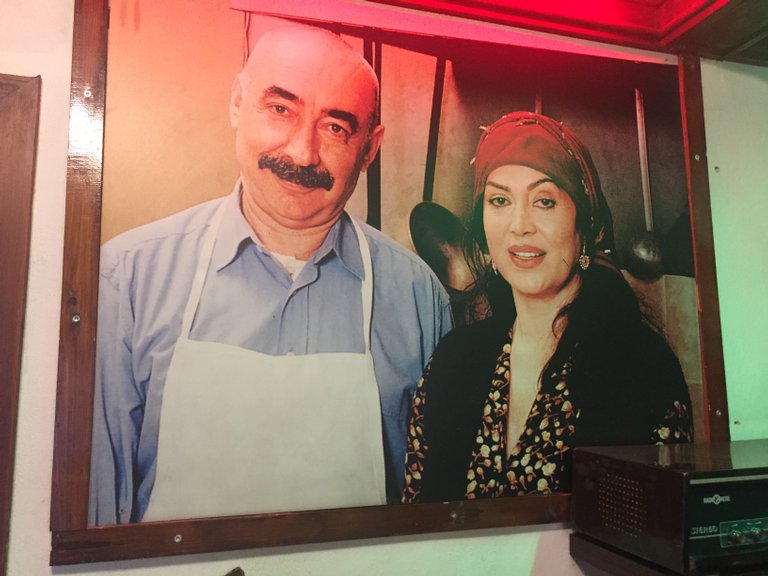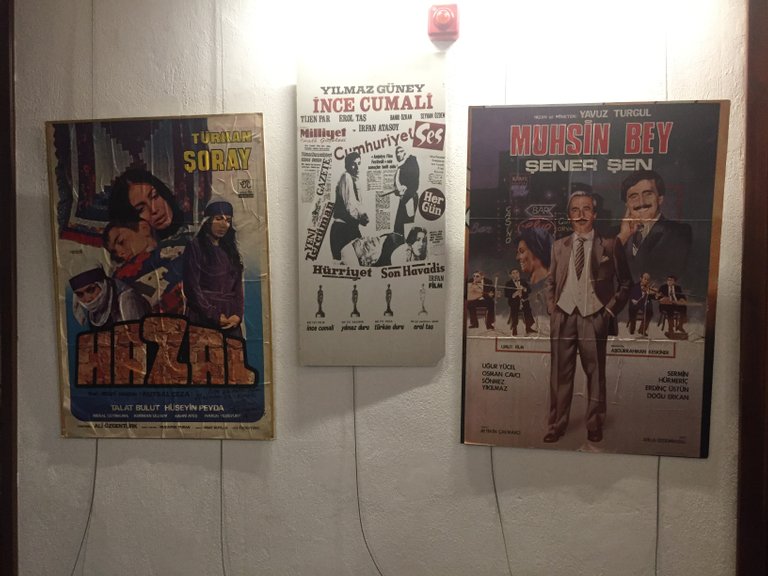 Türk sinemasında en sevdiğim iki oyuncuya ait bazı fotoğraflar ve posterler. Bu oyuncuları eminim birkaç Türk filmi izleyen herkes biliyordur. İkisinin de oynadığı o kadar çok film izledim ki.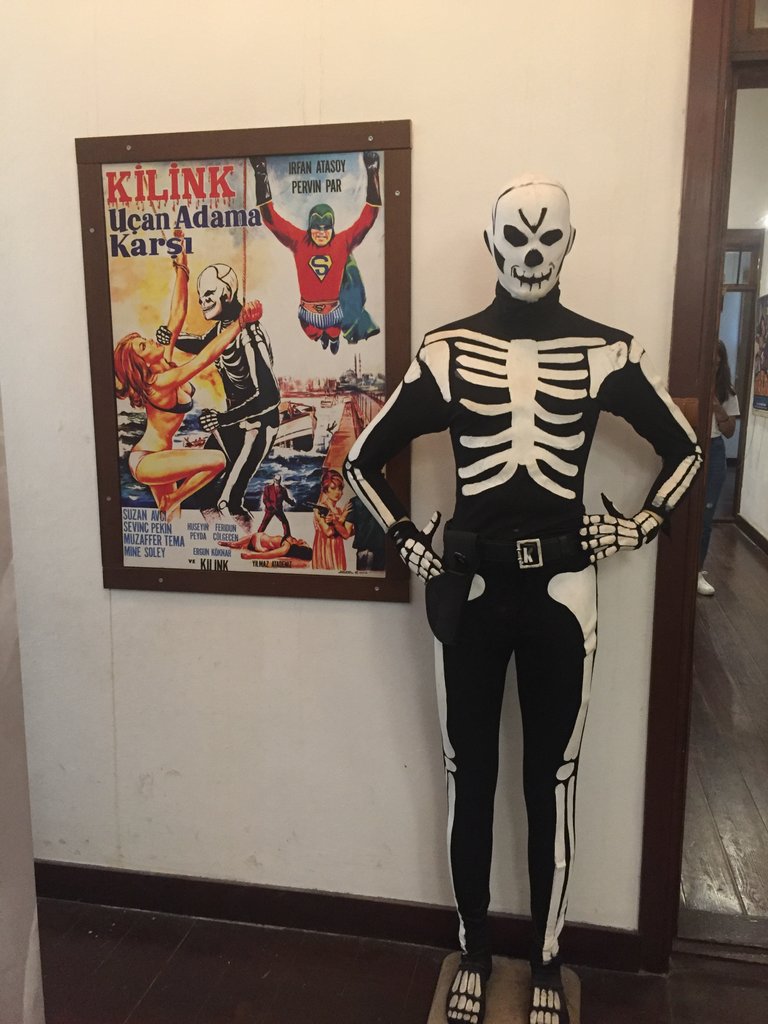 Bir Türk süper kahraman filmi olduğunu biliyor muydunuz? Ben bilmiyordum. Afişin hemen solunda da balmumu heykeli var. Gerçekten ilginç, sanırım bu postu hazırladıktan sonra filmi izlemeye çalışacağım. Özel gücünün ne olduğunu merak ediyorum 😂.
Bonus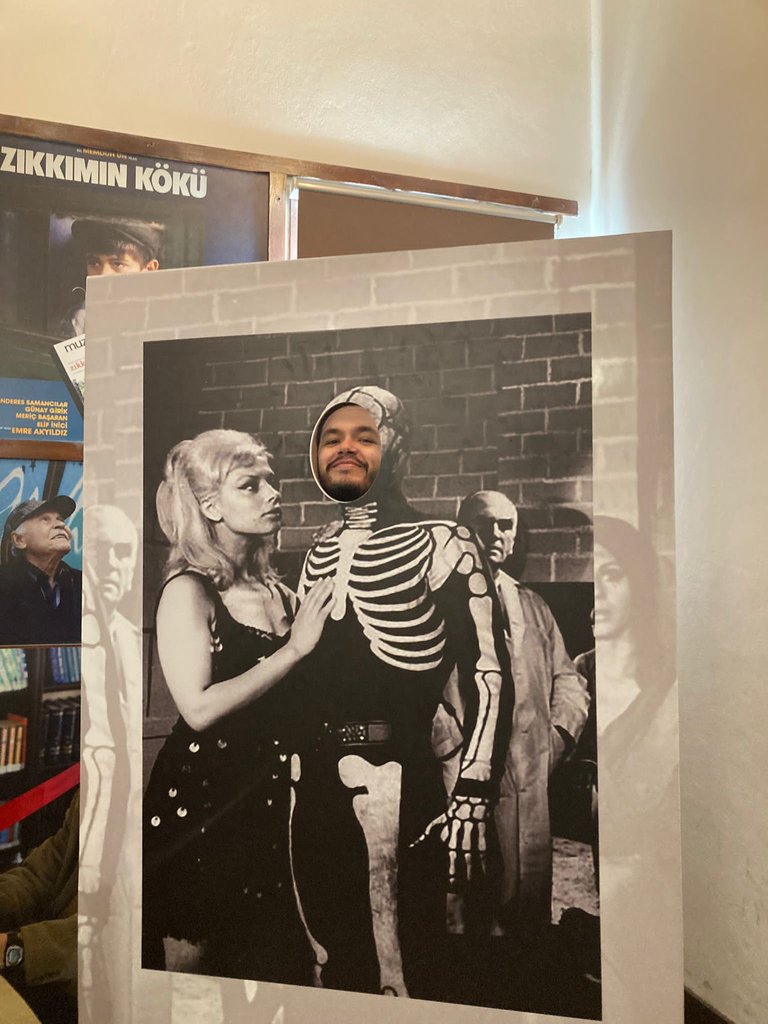 Orada böyle komik bir fotoğraf çekebileceğim bir yer vardı ve ben bunu kaçıramazdım. Boyum yeterince uzun olmadığı için çok komik çıktım.
---
Okuduğunuz için çok teşekkür ederim umarım beğenmişsinizdir. Görünüşe göre gezmeye devam edeceğim. Şimdiden nereleri gezebileceğimi araştırmaya başladım. En sevdiğiniz aktör hangisi? Bunu yorumlarda yazabilirsiniz. Ayrıca postum hakkındaki görüşlerinizi de merak ediyorum. Harika bir gün geçirin!
Bütün fotoğraflar benim tarafımdan iPhone 6 ile çekilmiştir. Sadece komik olan hariç. Onu kuzenim çekti.
---
---