Indiaunited - 100% Curation rewards shared with the delegators
Indiaunited community has been running a service for quite some time where people can delegate their Hive Power and earn Curation reward share based on their delegation. So far we had been sharing only 80 percent of the curation reward earned by the community account with the delegators. The remaining 20 percent rewards were reserved by the community account to increase the stake. We have decided to make some changes to that. Starting yesterday we have started sharing 100% curation rewards with the delegators.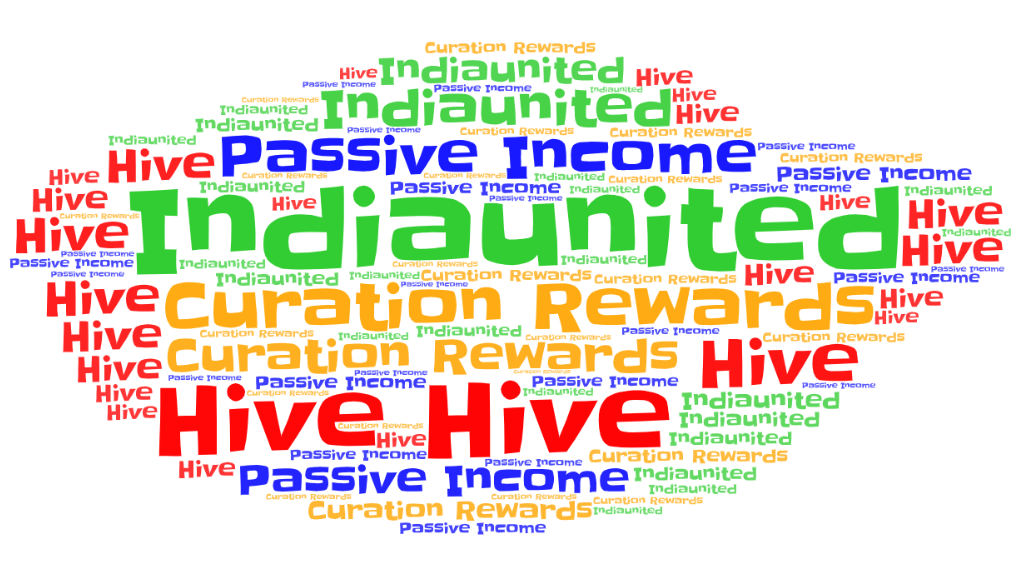 Created using https://wordart.com/
Many people find it hard to do manual curation. But they are the ones who would like to support manual curation. In that case, they delegate their Hive power to communities that do manual curation and share the rewards with the delegators. Indiaunited is one such community on Hive. We have a set of curators in our discord server who hunt for good posts and manually curate them. They currently do this curation service for free. In the future, we are planning to reward the curators as well.
We have taken some efforts to make sure the rewards we get from curation are maximum. This is one of the reasons why we curate only posts that are not older than 24 hours. In addition to that, we are very strict on Plagiarism and low-quality content. Though quality is subjective, we make sure we value the authors who put their valuable efforts into their articles.
We will also try to make it regular to post the curation rewards earned by the delegators. We used to do that every week but then stopped doing it for some reason. We are planning to resume that post back. This will give a clear picture of how much the delegators are earning weekly. There are also a few more ideas lined up for the growth of the community. We will soon share details on the same.
If you wish to delegate, here are some handy links for delegations: 100HP, 250HP, 500HP, 1000HP. If you need a delegation link for more than 1000 HP or any other customized HP value, you can contact us in the discord channel or generate the delegation link by yourself from the community bot in the discord server.
---
We value your contributions, feedback, and comments. If you think you can add any value to this community by any means, please contact us in discord server.
---

---
---
---