Laporan Harian Kurasi Indonesianhiver tanggal 2 September 2022 | Nilai HP kami bertambah lagi !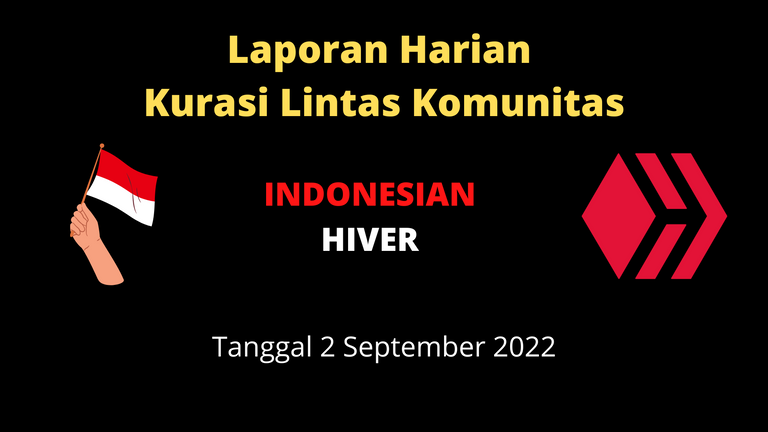 ---
PEMBUKAAN
Halo Sobat Indonesianhiver, di postingan ini kami akan melaporkan kurasi yang kami berikan pada tanggal 31 Agustus 2022. Mohon maaf pada tanggal 1 September akun kami tidak sempat memberikan kurasi karena admin sedang sibuk tugas negara :). Tujuan adanya laporan ini antara lain:
1. Bentuk transparansi atas apa yang kami kerjakan;
2. Media promosi bagi akun yang dikurasi, terhadap sesama blogger Indonesia yang berasal dari berbagai komunitas di Hive;
3. Menambah wawasan terkait komunitas-komunitas yang ada di Hive;
4. Salah satu metode untuk mengembangkan akun ini apabila mendapatkan kurasi, demi perkembangan blogger Hive Indonesia;
---
*Laporan Kurasi *
Berikut laporan akun yang telah kami kurasi pada tanggal 31 Agustus 2022.
---
UNDANGAN MENJADI KONTRIBUTOR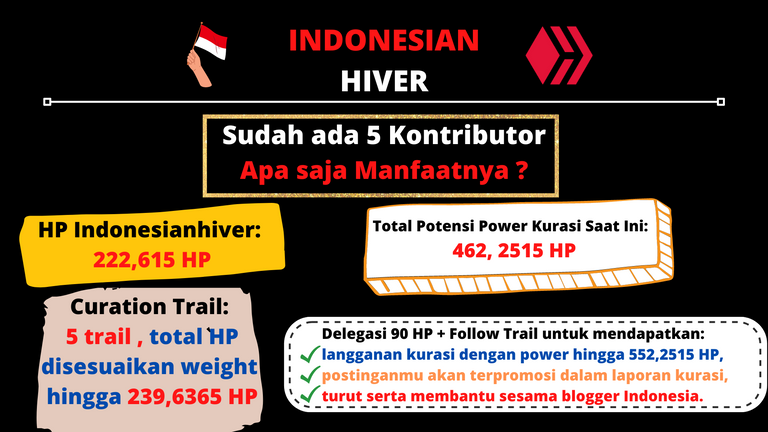 Hingga saat ini, kami telah mendapatkan 5 orang kontributor dalam program ini, baik yang memberikan curation trail, delegasi HP, maupun keduanya. Tercatat pada tanggal 2 September, total Hive Power dari akun ini saat ini tekah meningkat menjadi 222,615 HP ! Thanks to bang
@dewabrata
for the HP Delegation, a major boost for our curation program ! Adapun jumlah 5 curation trail yang memiliki total HP disesuaikan dengan weight trail yaitu hingga 239,6365 HP. Maka total potensi kurasi yang didapatkan yaitu hingga 462,2515 HP. Itu artinya apabila kalian turut serta mengikuti curation trail 100% dan delegasi 90 HP, maka kalian berpotensi mendapatkan langganan kurasi 552,2515 HP setiap hari (dan akan terus bertambah seiring claim reward kurasi). Selain itu kalian akan mendapatkan promosi terhadap postingan kalian di laman laporan kurasi yang akan dimulai segera, dan kalian juga telah turut serta mendukung perkembangan sesama blogger hive Indonesia 😁
Kami ingin mengundang teman-teman yang belum menjadi kontributor untuk menjadi bagian dari kemajuan Hive Blogger Indonesia melalui kontribusi secara nyata dan menjadi kelompok kontributor. Ingat bahwa selama jumlah persentase kontributor belum mencapai 600%, kontribusi kalian tetap berpotensi mendapatkan kurasi 100% meskipun kontribusi kalian tidak memenuhi syarat 100% :)
---
PENUTUP
Terima kasih telah membaca postingan kami sampai selesai. Kami berharap akan semakin banyak kontributor yang bergabung bersama kami untuk kemajuan perkembangan hive blogger Indonesia.
Sebagai bentuk dukungan terhadap komunitas hive Indonesia, kami telah mengalokasikan 10% dari pendapatan postingan ini terhadap komunitas
@hive-153476
(komunitas ini merupakan komunitas hive indonesia yang tidak terafiliasi dengan kami, namun secara beriringan mendukung perkembangan blogger hive Indonesia). Sisanya akan kami alokasikan menjadi hive power agar akun ini semakin berkembang dan memberikan niai kurasi yang semakin besar untuk mendukung perkembangan blogger hive Indonesia.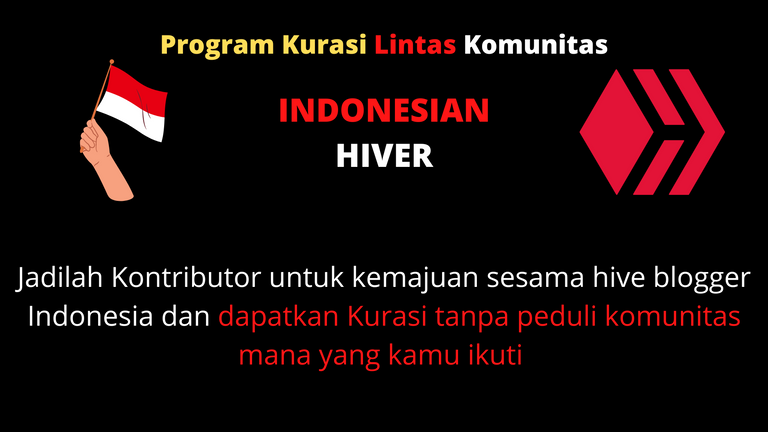 ---
---