The transcendental vibration called music from the listener's point of view.
Friends of the q-inspirado community this is the first time I write here, I've been reading many of the posts and that's why I was inspired to subscribe to this nice community even without being a musician or playing an instrument, but I think that music is not only about that. So I'll start by telling you how I perceive music from a listener perspective, my boyfriend @naradamoon is an amazing composer and singer-songwriter, I think he rehearses every day and really for him it's like his medicine and somehow music has connected to me as a means of healing.
We have heard hundreds of times that music is the language of the soul, but what does that really mean, I think it is a constant flow of our emotions expressed through the melodies and chords created. In my personal experience as a faithful lover of music and the feeling that springs in me, I can say that it is perceived as a certain longing when we listen to songs, instruments or something related to the art of music.
It would be worth asking then, should the inspiration to make music go hand in hand with the person who enjoys listening to it? Well for me it is a resounding yes, I think that all this is complemented because there is a part of all of us that feels deep satisfaction in seeing the musical evolution in each composition, I firmly believe that music has saved me in very sad moments, of course I do not pretend to describe or emulate the emotion of the musician since I am not a creator of these wonders of sound.
But it is worth noting that being able to listen and somehow connect with the narrative that is hidden in the lyrics of the songs or simply the continuous rhythm of chords they contain, is a unique feeling, since getting to appreciate this, is undoubtedly a balm for the soul. When I make an instrospection and an evaluation of what have been my most fragile and happiest moments, I can't help but notice that each and every one of them are accompanied by certain songs that connect me immediately with these emotions.
Amigos de la comunidad de q-inspirado es la primera vez que escribo acá, he estado leyendo muchos de los post y por eso me vi inspirada a suscribirme a esta linda comunidad aún sin ser músico ni tocar un instrumento, pero creo que la música no solo se trata de eso. Por lo que empezaré contándoles como percibo la música desde la perspectiva de oyente, mi novio @naradamoon es un increíble compositor y cantautor, creo que todos los días ensaya y realmente para él eso es como su medicina y de algún modo la música me ha conectado a mí como medio de sanación.
Hemos escuchado cientos de veces que la música es el lenguaje del alma, pero ¿qué quiere decir realmente esto?, creo que sí a ver vamos es un fluir constante de nuestras emociones expresadas a través de las melodías y los acordes creados. En mi experiencia personal como fiel amante de la música y del sentimiento que brota en mí , puedo afirmar que se percibe como una cierta añoranza cuando escuchamos canciones, instrumentos o algo relacionado con el arte de lo musical.
Valdría entonces la pena preguntarse la inspiración por hacer música debe ir de la mano de quién se deleite escuchándola? Pues para mí es un rotundo sí, creo que todo eso se complementa porque hay una parte de todos nosotros que siente profunda satisfacción, en ver la evolución musical en cada composición, yo creo rotundamente que la música me ha salvado en momentos muy tristes, claro está no pretendo describir ni emular la emoción del músico puesto que no soy una creadora de estas maravillas sonoras.
Pero vale destacar que el poder escuchar y de algún modo conectarme con la narrativa que se encuentra oculta en las letras de las canciones o simplemente el continuo compás de acordes que contienen, es una sensación única, puesto que llegar a apreciar esto, es sin lugar a dudas un bálsamo para el alma. Cuando hago una instrospeccion y una evaluación de lo que han sido mis momentos tanto más frágiles como los más felices no puedo evitar notar que todos y cada uno de ellos, están acompañados por ciertas canciones que me conectan de inmediato con estas emociones.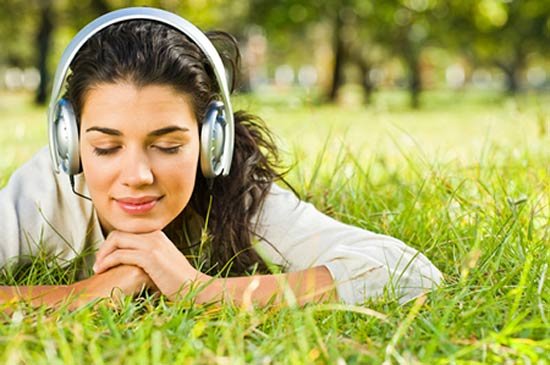 source (fuente)
Wooww, it amazes me that music has the ability to achieve this, in fact, it impresses me, how can we recall in our memory just by listening to a song again? I will confess that when I am sad the song stop cry the star of the band Oasis comes to my mind and in my happiest moments I can only bring back to my imagination the beautiful melody of the Indian bhajans, for those who do not know this, this style of music is something more spiritual that is connected to a sense of transcendence as it is an evocation of divinity through sacred mantras.
Wooww me asombra la que tiene la música de lograr esto, es más esto me impresiona, ¿cómo podemos remembrar en nuestra memoria simplemente al volver a escuchar una canción?. Les confesaré que cuando estoy triste se me viene a la mente la canción stop cry the star de la banda Oasis y en mis momentos más alegres solo puedo retrotraer a mi imaginario la bella melodía de los bhajans indues, para los que no conozcan esto, este estilo de música es algo más espiritual que está conectado con un sentir de la trascendencia en cuanto se trata de una evocación a la divinidad a través de mantras sagrados.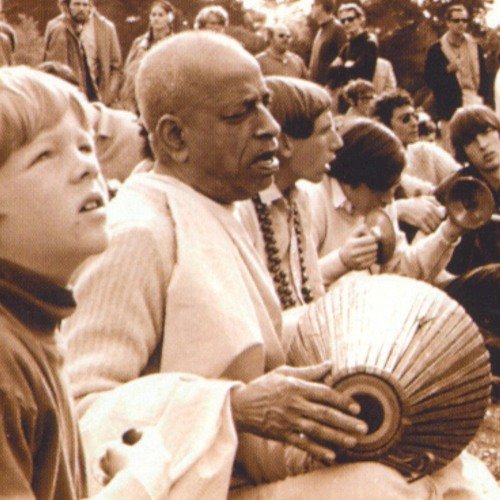 source (fuente)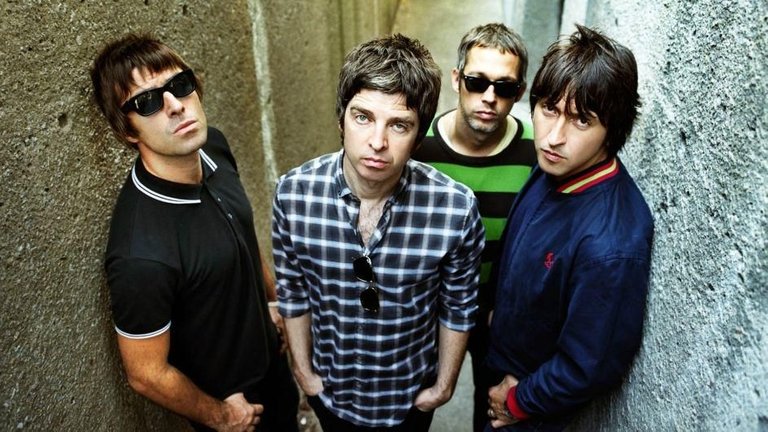 source (fuente)
Trying to define music would be like labeling it, trying to give shape to the concept would be like trying to put an unimaginable amount of feelings that are invisible in a bottle, that is to say; it is something unreal. Then it could be said that music is everything, from chords to what we cannot perceive in terms of the emotions that are generated both in the musician and in my case, the listener, the person who is only in charge of letting all this sound flow through his perception without even knowing what it is to play an instrument.
I can't imagine how much longing can exist in you musicians, but I am sure that this is a beautiful expression of art, of the experiences, the experience and even the deepest sadness. I can only be perplexed and applaud with vehemence such acts of magnificence, because being honest, who has not been moved to the core when listening to certain songs?
It would be daring as listeners to pretend not to appreciate the work that goes into the musician and how this effort materializes after the composition is ready to be listened to. My intention is simply that you can understand the perspective of those of us who are not musicians, but are lovers of it, those of us who cannot go through life without headphones while walking through the streets of a bustling city, without feeling the extreme need to disconnect from the constant hustle and bustle by simply listening to the melody.
Deep down we become music lovers and our state of mind feeds on this, since it really becomes an encouragement for the soul. Many will say that life can function without the stridency of an instrument, without the trial and error that I hear every day when my boyfriend is playing, but with all the frankness in the world I will tell you that this is not possible for me, it takes that part of the story that recreates colors and emotions, the sound of the instruments, the passion that generates listening and how much it has healed hundreds of broken hearts, this medicine called music.
Tratar de definir la música, sería como etiquetarla, tratar de darle forma al concepto sería como intentar meter una cantidad inimaginable de sentimientos que son invisibles en una botella, es decir; es algo irreal. Entonces cabría plantear que música lo es todo, desde acordes hasta lo que no podemos percibir en cuanto a las emociones que son generadas tanto en el músico como en mi caso, el oyente, aquella persona que sólo se encarga de dejar fluir todo este sonido a través de su percepción sin saber si quiera lo que es tocar un instrumento.
No imagino, cuanto anhelo puede existir en ustedes los músicos, pero si estoy segura que este es una hermosa expresión del arte, de las vivencias, la experiencia y hasta las más profundas tristezas. Yo solo puedo quedarme perpleja y aplaudir con vehemencia tales actos de magnificencia, porque siendo honestos a ¿Quién no se le han removido hasta las entrañas cuando escuchamos ciertas canciones?
Seria un atrevimiento como oyentes, siquiera pretender no valorar el trabajo que alberga en el músico y como este esfuerzo se ve materializado luego de que la composición está lista para ser escuchada. Mi intención simplemente, es que puedan comprender la perspectiva que tenemos los que no somos músicos, pero somos amantes de ella, los que no podemos pasar por la vida sin unos audífonos mientras caminamos por las calles de una bulliciosa ciudad, sin sentir la extrema necesidad de llegar a la desconexión del ajetreo constante al simplemente escuchar la melodía.
En el fondo nos convertimos en melómanos y nuestro estado anímico se alimenta de esto, puesto que realmente llega a hacer un aliciente para el alma. Muchos dirán que la vida puede funcionar sin la estridencia de un instrumento, sin los ensayos y error que escucho todos los días cuando mi novio está tocando, pero con toda la franqueza del mundo les diré, que esto no es para mí algo posible, se necesita de esa parte de la historia que recrea colores y emociones, del sonido de los instrumentos, de la pasión que genera escuchar y de lo mucho que ha sanado cientos de corazones rotos, esta medicina llamada la música.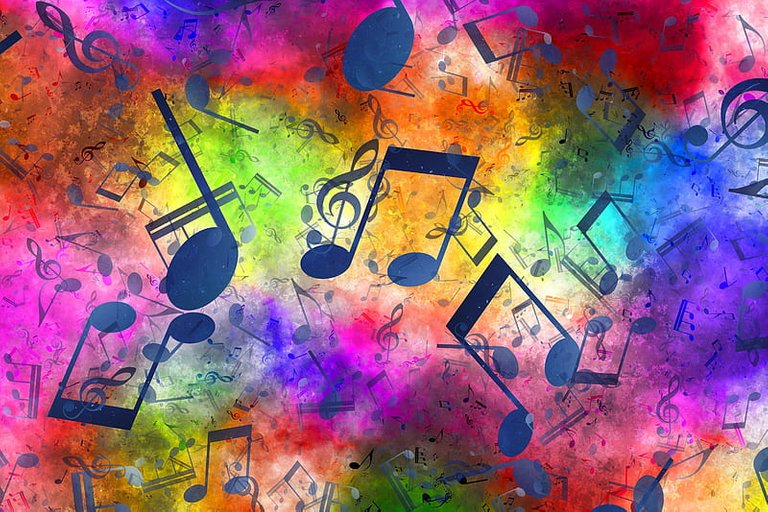 source (fuente)
I do not intend to convince anyone of what I say here, I just want to give my version and with it to tell the musicians that it is a great job they do, do not give up if the music they make never gets to be in the top ten of the world charts, or if they get to be criticized because they simply play what their hearts feel. Therefore, do not allow yourself to feel a vacuum for perhaps being different, there are hundreds of genres and that's fine, but that does not mean you should feel pigeonholed, just keep creating, try to shine day by day with your melodies listening to what your heart dictates ... .
Perhaps, the most important thing is to know that this is part of what you created with great love, dedication and care or simply emulated. Do not faint, do not lose heart in the continuous attempt to be better every day and remember that we, the Melomaniacs, are here ready to listen carefully to each creation.
It only remains to thank you for evoking us to places untraveled in the real but lived in the imaginary, because music is also having the ability to imagine through what we hear. It is simple, only by listening and allowing ourselves to feel can we effectively translate this beautiful language of the soul.
To you musicians my applause and thanks for making this world a melody in continuous movement!!! Blessings.
No pretendo convencer a nadie de lo que acá expongo, solo quiero dar mi versión y con ello poder decirle a los músicos, que es un gran trabajo el que realizan, que no se rindan si la música que hacen no llega a estar nunca en el top ten de las listas mundiales, ni si llegan a ser criticados porque simplemente tocan lo que sus corazones sienten. Por tanto, no permitan sentir un vacío por tal vez ser distintos, existen cientos de géneros y eso está bien, pero no por eso deben sentirse encasillados, solamente sigan creando, intenten día con día brillar con sus melodías escuchando lo que les dicte su corazón. .
Tal vez, lo más importante es saber que eso es parte de lo que ustedes con gran cariño, dedicación y esmero crearon o simplemente emularon. No desmayen, no desfallezcan en el intento continuo de ser cada día mejores y recuerden que nosotros los Melómanos estamos aquí dispuestos a escuchar con detenimiento cada creación.
Solo resta agradecer por evocarnos a lugares intransitados en lo real pero vividos en el imaginario, porque la música es eso también tener la capacidad de imaginar a través de lo que escuchamos. Es sencillo, solo escuchando y permitiéndonos sentir llegamos a traducir de manera eficaz este hermoso lenguaje del alma.
A ustedes músicos mis aplausos y agradecimiento por hacer de este mundo una melodía en continuo movimiento!! Bendiciones.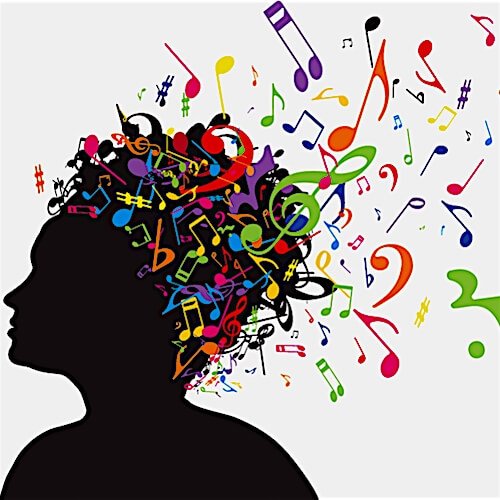 source (fuente)
---
---