Three Tune Tuesday: Inspirational rock songs || Canciones de rock que son fuente de inspiración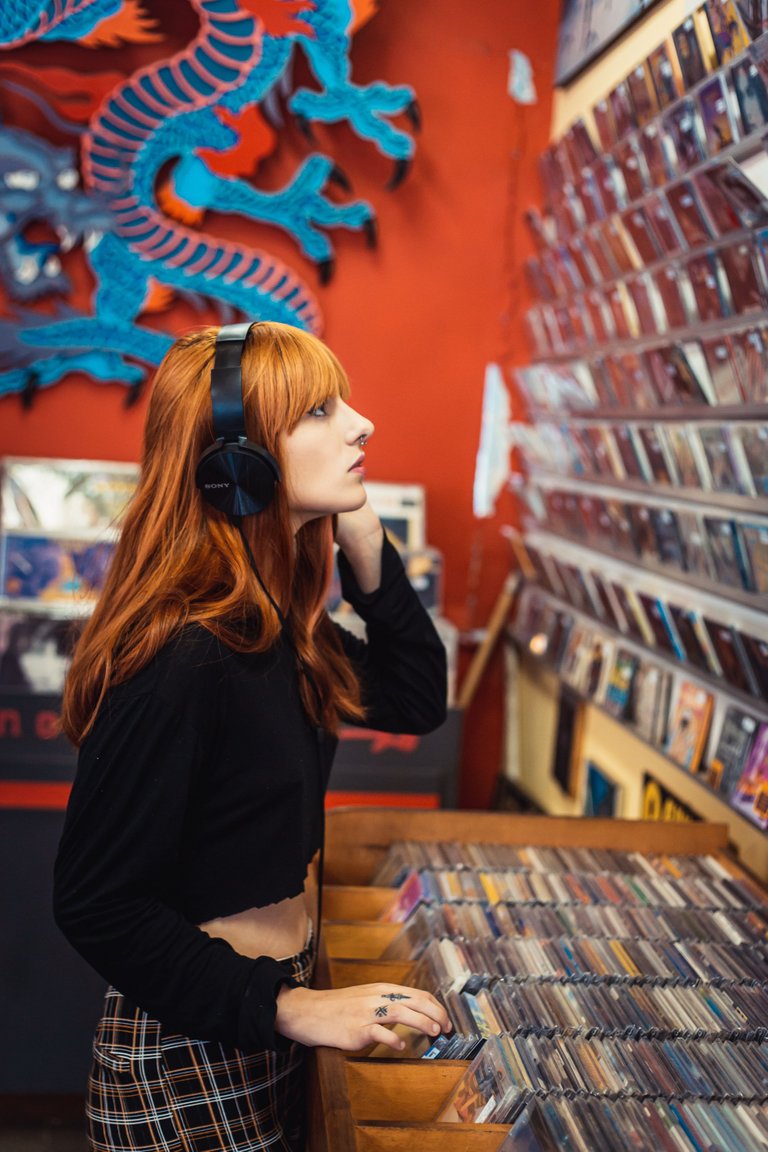 Free photo taken from pexels. Photographer Wellington Cunha
Dear friends of Music. I am pleased to participate for the first time in the Three Tune Tuesday @ablaze initiative. I have selected three songs that for me are unique in their genre and in what they transmit, I hope you like them.
I have always thought that you don't need to be a musician to appreciate the beauty in music and this is my case, since I was very young I have been a fan of listening to melodies that transport me and somehow make me feel safe. For me, music expresses feelings, emotions, narrative through tonalities and above all it shows us that capacity it has to shake our being, because when we listen to music we can feel from euphoria to an overwhelming melancholy.
Queridos amigos de Music. Me complace participar por primera vez en la iniciativa Three Tune Tuesday @ablaze. He seleccionado tres temas que para mí son únicos en su género y en lo que transmiten, espero sea de su agrado.
Siempre he pensado que no hace falta ser músico para apreciar la belleza que hay en ella y este es mi caso, desde muy pequeña soy fan de escuchar melodías que me transportan y de algún modo me hacen sentir segura. La música para mí expresa sentimientos, emociones, narrativa a través de las tonalidades y sobre todo nos muestra esa capacidad que tiene de estremecer nuestro ser, porque cuando escuchamos música podemos sentir desde euforia hasta una melancolía arrolladora.
---
The verve - Bitter Sweet Symphony
The verve, was an English rock band, whose lyrics were characterized by being authentic, both in arrangements and in the message printed in their lyrics, since I heard their songs, I was in love with them, that's why today I share with you one of the most iconic songs that this band has, called Bittersweet symphony.
This song has a unique characteristic because it is like listening to something classic mixed with the rock genre, it is a perfect combination musically speaking, whose meaning can be interpreted in different ways. Being so great in sound and having a lyric that transmits such a clear message for all of us, because it expresses something that we have lived at some point, the bittersweet symphony of life, with its good and bad moments, going through a sometimes even emotional wear and tear.
So it evokes those moments that we experience every day, when we simply feel trapped and prey to the everyday, so that a strong need to change arises in us. But let's be honest, how do we manage to change? It's not an easy thing, much less possible in the immediate future, but day by day, we keep trying to be better and to be able to somehow feel happiness or satisfaction with what we do.
As the song describes, we are immersed in the bittersweet symphony that is life. In the meantime, we can deal with all these emotions and try to see everything as a learning experience and an opportunity to see what we are capable of.
There is a verse that has always moved me a lot in this song and it is the following: "Because it's a bittersweet symphony, this life, you try to make ends meet, you're a slave to money, then you die". At some point we have all gone through that, feeling trapped for not having everything we want, money, fame, etc, desires that have not been fulfilled.
All these dissatisfactions bring unhappiness, because if we are a continuous prey of desires and they are not fulfilled, then we get depressed or even angry with life, but in the end, what does all this really matter, if the time of death comes and we have not appreciated the little or much that we had.
I think we should try to understand that there are things that produce so much bitterness in our hearts that we must learn to manage them and not let them control our lives.
Certainly money is important, but it is not everything and even if we had a lot of money, let's not forget that our being is made up of many qualities that have nothing to do with finances.
For me this song is a hymn to hope, to challenge ourselves, to understand that we live in bittersweet circumstances, but that we have the capacity to retake the path that we have delimited with freedom and above all with gratitude, to be ourselves and to be happy in our own way.
The verve, fue una banda de rock inglesa, cuyas letras se caracterizaban por ser auténticas, tanto en arreglos como en el mensaje impreso en sus letras, desde que escuche sus canciones, quedé prendada de ellas, es por eso que hoy les comparto una de las canciones más icónicas que tiene está banda, llamada Bittersweet symphony.
Esta canción tiene una característica única porque es como escuchar algo clásico mezclado con el género rock, es una combinación perfecta musicalmente hablando, cuyo significado se puede interpretar de diferentes formas. Al ser tan genial en sonido y tener una letra que transmite un mensaje tan claro para todos nosotros, ya que expresa algo que en algún momento hemos vivido, la sinfonía agridulce de la vida, con sus momentos buenos y malos, pasando por un desgaste a veces hasta emocional.
Entonces nos evoca a esos momentos que vivimos a diario, cuando simplemente nos sentimos atrapados y presa de las cotidianidades, por lo que surge en nosotros una fuerte necesidad de cambiar. Pero seamos honestos ¿Cómo logramos cambiar? no es cosa fácil ni mucho menos posible en lo inmediato, pero día a día, seguimos intentando ser mejores y poder de algún modo, sentir felicidad o satisfacción con lo que hacemos.
Tal como lo describe la canción, estamos inmersos en esta sinfonía agridulce que es vivir. En tanto, podemos lidiar con todas estas emociones y tratar de ver en todo un aprendizaje y una oportunidad para comprobar de lo que somos capaces.
Existe una estrofa que siempre me ha conmovido mucho en esta canción y es la siguiente: "Porque es una sinfonía agridulce, esta vida, intentas llegar a final de mes, eres un esclavo del dinero, luego te mueres". En algún momento todos hemos pasado por eso, sentirnos atrapados por no tener todo cuánto deseamos, dinero, fama, etc, deseos que no se han cumplido.
Todas estas insatisfacciones traen consigo infelicidad ,porque si somos presa continua de deseos y no se llegan a cumplir, entonces nos deprimimos o hasta nos enfurecemos con la vida, pero al final, que importancia tiene realmente todo esto, si llega el momento de la muerte y no hemos apreciado lo poco o mucho que teníamos.
Creo que debemos tratar de comprender, que hay cosas que nos producen tanta amargura en nuestros corazones, que debemos aprender a manejarlas y no dejar que estás controlen nuestra vida.
Ciertamente el dinero es importante, pero no lo es todo y aún así, si tuviéramos mucho dinero, no olvidemos que nuestro ser está compuesto, por muchas cualidades que no tienen nada que ver con lo financiero.
Para mí está canción es un canto a la esperanza, a desafiarnos a nosotros mismos, para comprender que vivimos circunstancias agridulces, pero que tenemos la capacidad de retomar el camino, que nosotros hemos delimitado con libertad y sobre todo con gratitud, para ser nosotros mismos y así ser felices a nuestra manera.
---
Creedence - Have you ever seen the rain
Creedence was an American rock band from the 70s, considered one of the best bands, having countless hits and becoming known worldwide. This selection is inspired by my father, as it is one of his favourite bands and I remember perfectly when I was a little girl, listening to this wonderful melody made song.
It's a beautiful song full of the best chords and a question that is less and less appreciated every day: Have you ever seen the rain? It's as if it were an analogy that they carry out, because as they say, after a storm comes the calm and certainly sometimes something happens to us that torments us and we come to feel that it is impossible to achieve tranquility, but then things get better.
Incredibly beautifully, it describes how at some point we are all storms and at other times rain on a sunny day. Therefore, let us always trust that even in our personal storms, then calm will come to us.
Creedence, fue una banda de rock estadounidense de los años 70, considerada una de las mejores bandas, teniendo innumerables éxitos y dándose a conocer a nivel mundial. Esta selección está inspirada en mi padre, ya que es una de sus bandas favoritas y recuerdo perfectamente cuando era pequeña, escuchar esta maravillosa melodía hecha canción.
Está hermosa canción llena de los mejores acordes y de una interrogante cada día menos apreciable. ¿Has visto alguna vez la lluvia? es como si se tratara de una analogía que llevan acabo, porque como bien lo dicen, después de una tormenta viene la calma y ciertamente a veces nos ocurre algo que nos atormenta y llegamos a sentir que es imposible lograr la tranquilidad, pero luego las cosas llegan a estar mejor.
Increíblemente bella la forma, en la que se describe como en algún momento todos somos tormenta y otra veces lluvia en un día soleado. En consecuencia, confiemos siempre que aún en nuestras tormentas personales, luego la calma vendrá a nosotros.
---
Oasis - Little by little
Oasis, one of my favourite English bands, simply living poetry is what the Gallagher brothers transmit and in this song Little by little they prove it. This is how, in this piece worth listening to, they raise such fundamental issues as Who are we? and Why do we exist?
In these lyrics, important realities are stated, such as the definition they give of perfection, saying: "what is truly perfect is imperfect", and there is nothing truer than that, our differences make us unique and unrepeatable. For, beauty resides in the eye of the beholder and it is up to us to see all that is wonderful about ourselves.
In that sense, we are our own creators, since we have the possibility to choose what we want and where we are going, but we must assume at some point the consequences of our decisions, so that leads to accept that even in freedom, we must go step by step, grateful for who we are and the opportunity to be alive!
I bid farewell by giving a round of applause to these creators of the most beautiful musical art and who drive us and sometimes comfort us without even knowing it, in so many moments of our lives.
Oasis, una de mis bandas inglesas favoritas, simplemente poesía viva es lo que transmiten los hermanos Gallagher y en esta canción Little by little lo demuestran. Es así, como en esta pieza digna de escuchar, plantean temas tan fundamentales como ¿Quiénes somos? y el ¿Por qué de nuestra existencia?
En estas líricas se enuncian realidades tan importantes, como la definición que dan de la perfección diciendo: "lo verdaderamente perfecto es imperfecto", y no hay nada más cierto que eso, nuestras diferencias nos hacen únicos e irrepetibles. Puesto que, la belleza reside en los ojos de quién la observa y está en nosotros ver todo lo maravilloso de nuestro ser.
En tal sentido, somos nuestros propios creadores, ya que tenemos la posibilidad para elegir lo que queremos y hacia donde vamos, pero debemos asumir en algún momento las consecuencias de nuestras decisiones, por ende eso conlleva a aceptar que aún en libertad, debemos ir paso a paso, agradeciendo quienes somos y la oportunidad de estar vivos!!
Me despido dándoles un aplauso a estos creadores del más bello arte musical y quienes nos impulsan y a veces nos consuelan sin siquiera saberlo, en tantos momentos de nuestras vidas.
---
---