Balda-Bünde Baldixette - Dust Off and First Photos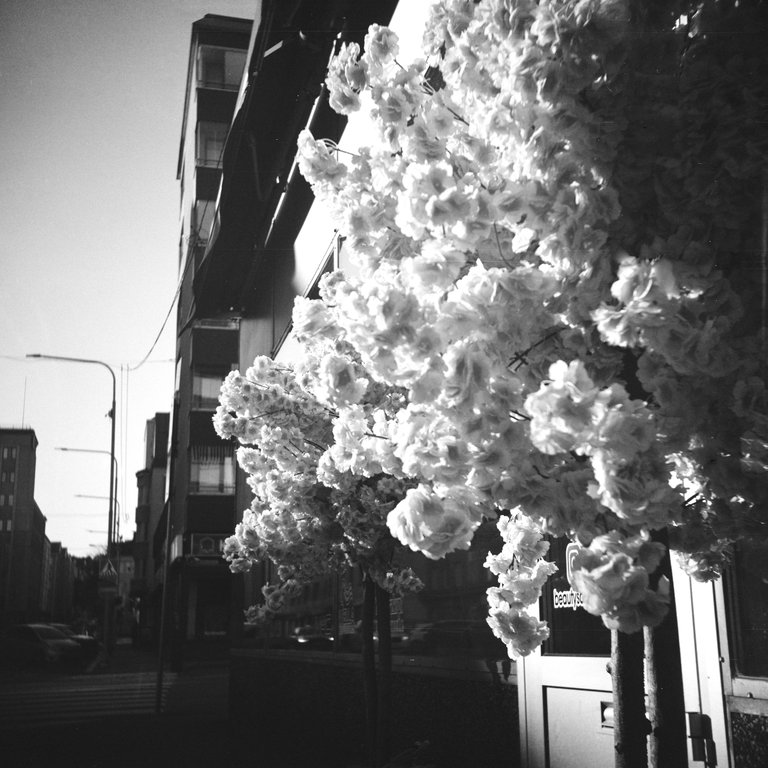 Of all the 12 photos that I got from shooting my first film roll with Baldixette, this photo is, in my opinion, the best one. There's just something in it.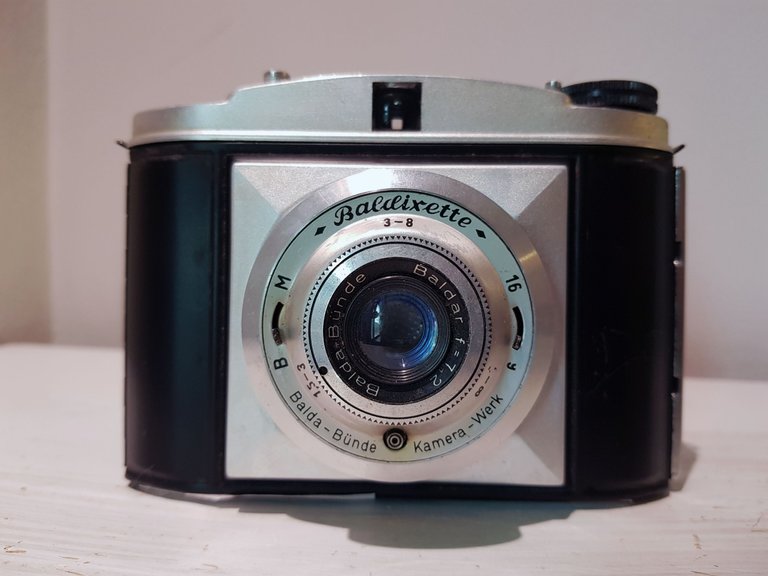 The Baldixette is a simple camera taking 6x6cm images on 120 film. It has a collapsible lens tube, which springs out when a release button on the top plate is pressed. It was introduced in 1956 by Balda Bünde in West Germany. There is one instantaneous shutter speed + B - with flash sync via a PC socket, and the 72mm (7.2cm) Baldar lens has two apertures, f9 & f16 set by a switch beside the lens.
There were two models; the Baldixette II added double-exposure prevention and a film counter.
http://camera-wiki.org/wiki/Baldixette
Manual --> https://www.butkus.org/chinon/balda/balda_baldixette/balda_baldixette.htm
I absolutely loved taking pictures with this and also hated it. The collapsible lens tube that pops out makes me smile every time because it's so ridiculous. It may pop out on it's own too if something hits on the button when the camera is in my bag. It makes a loud metallic sound and, as I said, it really is ridiculous. Laughable, funny and perky.
But why oh why does the Baldixette have to have such a tiny viewfinder? Like the Felica, it's pretty hard to see if the thing you're taking the picture of is where you want it to be. That is, if you don't want to place everything right in the center of the picture. On the other hand it may be that these kind of cameras were meant only for simple and easy photography. Nothing fancy. Target dead center, sunny and bright day, no movement, sun behind photographers back.
Anyway the viewfinder is also ridiculous in this camera but not in a good way. Sad ridiculous.
A little bit of rust here and there, lots of dust. See the collapsible lens tube. It's like a separate tin can! An ill fitting prosthesis. Absolutely cutely ugly and adorably ridiculous.
This was new to me. NCool that I didn't have to wiggle the film rolls in to their place as the Baldixette has these, I don't know what you call them, elevating film roll holders. Nice!
Ilford PanF Plus 50 ISO in and we're good to go.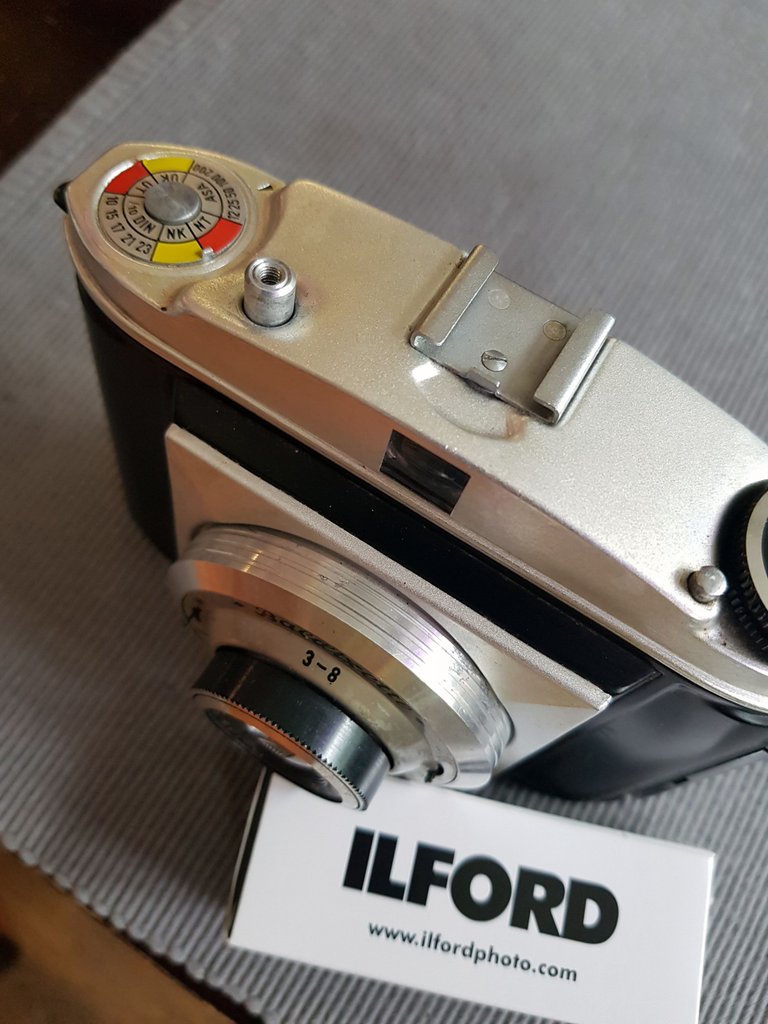 Funny how I thought that I did get all the dust and smudge off but it just seemed to either attract or generate more. I didn't screw the camera open, I just wiped it outside and under the back cover before I put the film in. So I guess it has a tiny dust machine inside it. And yes, that's the only logical explanation.
Tiny bit of gluing too, the camera is in rather good shape considering it's about 60 to 70 years old. A really perky little fella with it's collapsible tube. The shutters metal parts perhaps have been black when the camera was new but now they were really shiny and bright. But I'm sure that's not a huge problem. It just ads more character to the photos.
But now, the first photos. Again I have not done anything to these photos although I can see that some of them might be better if adjusted a bit in post processing.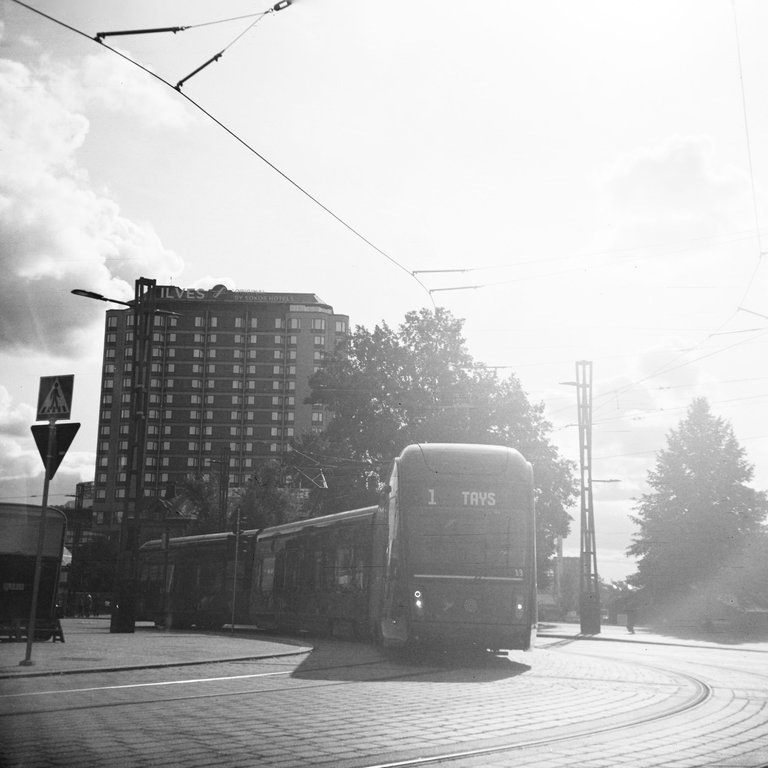 Of course I have to take a picture of a tram. And of course facing the sun. Or almost in this case.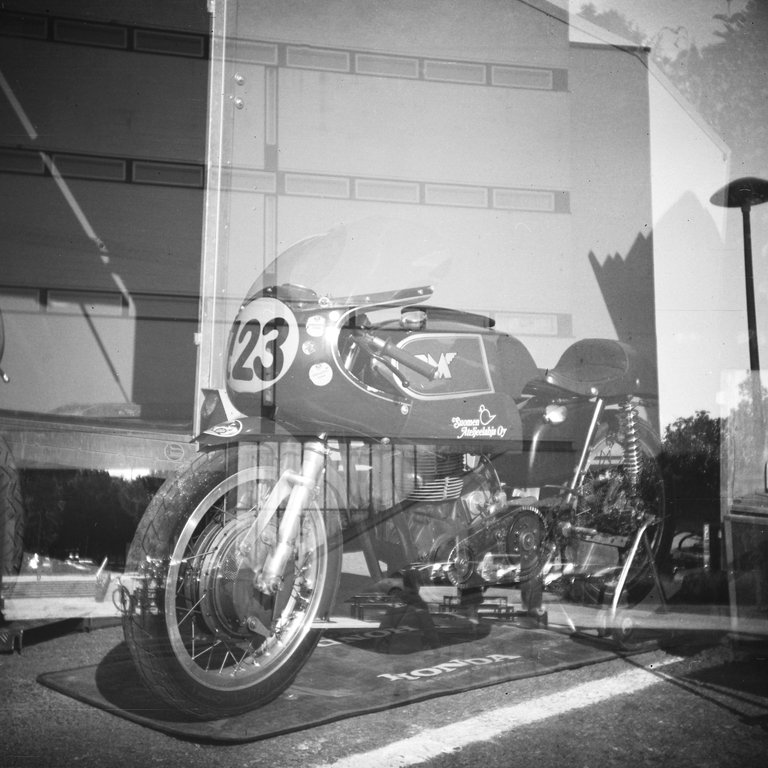 I actually missed the first number in the Ilford film because the cameras red peephole is so dark. It's almost impossible to see the number if there's not really bright light available. But I thought that I would just start from there. Number two. But after number 7 I still thought about missing the first number so I rewinded the film in a dark closet (again that dark closet although I swore I wouldn't go back there) and started photographing again. I didn't skip numbers 2 to 7 because I thought that there would be cool accidental double exposures but now that I've seen the results, perhaps I should have skipped those already photographed frames.
Weird but not weird enough.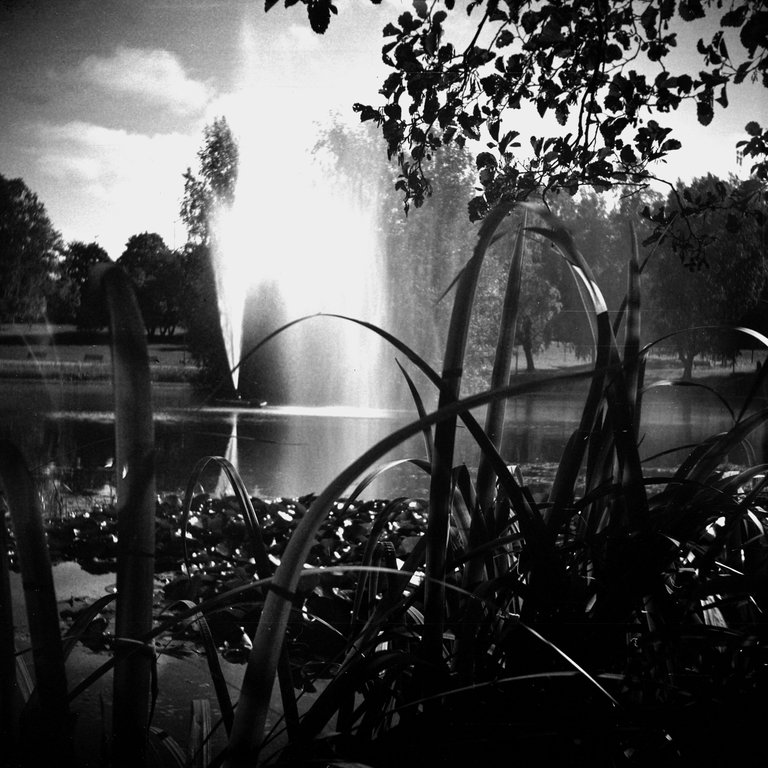 I really, really, really like the mood Ilford PanF film gives.
Ilford PanF and Baldixette was a really good match.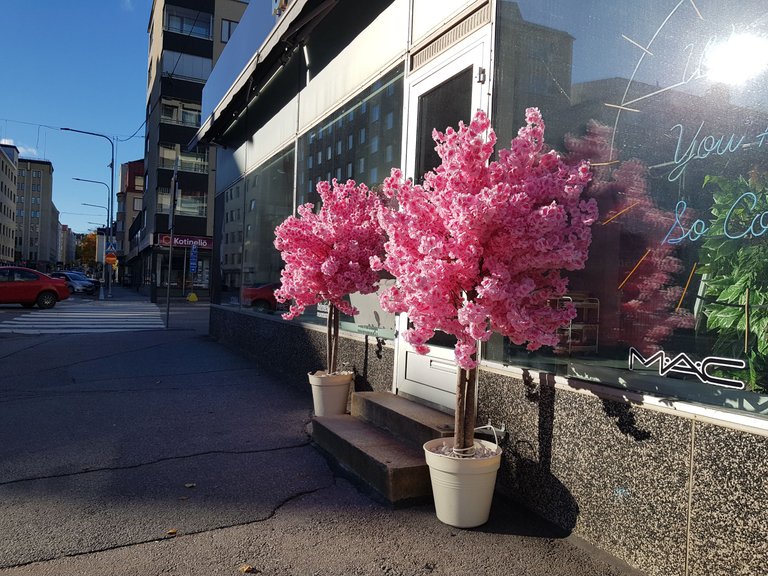 Here's the same place photographed with my phone.
That's it! The first photos with Balda Baldixette.
A lot has happened in October when I decided to try drawing again and only post Inktober posts. Well, that agony is now over and it's back to cameras again. Yippee!
And oh boy oh boy do I have a lot of old cameras that are new to me. And also photos taken with my cameras. Here's a sneak peek.
Most of these I have not photographed with yet.
Taking pictures with Kodak EK1 and Polaroid 104 will be harder because there's no instant film available for those anymore. But we'll see, we'll see what I come up with. Perhaps some 3D printing and magic happening. Or shit happening, which ever is more Hive postable.
The two Felicas were meant to be as spare parts for my first Felica that lacks the winding knob, but fortunately I didn't have time to do anything about that because I kid you not, I went to the same flea market where I bought the first Felica and there it was, a lonely Felica winding knob, in a knick-knack box. Just waiting for me!
Coronet D-20 had an old Gevaert film inside it and I'm hoping it has not been exposed to light during the years it's been in the camera, so I'm taking photos with it. For the first time or double exposing it. I'm a little skittish developing some random persons photos that might be as old as 60 years! But then again, it might be that I, for the second time in my life, take photos to an over exposed film and the only memory I will have of those photos will be in my head. Which is not much.
Bilora Bella 66 has a 400 ISO film in it and the camera seems to work just fine. Bilora, Kodak Jr and Voigtländer were a gift from my film provider because apparently: "You like fixing old cameras, here you go!" and I'm super exited but also terrified because I know nothing about fixing cameras! I just hope I won't break them more. But aren't the old cameras simply incredibly beautiful!
Yashica FX-3 also was just given to me because, yeah, apparently I like old film cameras. It's worn out but immediately precious to me.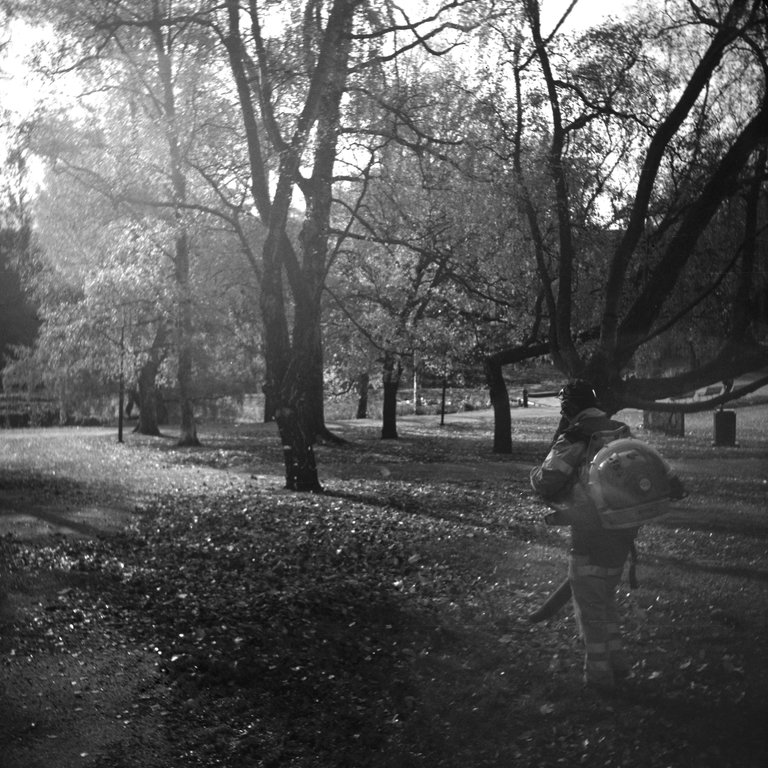 Edit
I forgot to include what this all cost me so here goes:
Camera: Balda Baldixette --> 14€
Film: Ilford PanF Plus --> 7,50€ (Not actually sure, I've lost the receipt but I think it was on sale so this is a good guess.)
Film development: 17,90€
Film scan to TIFF: 20€
---
Film cameras
Cosina Flash 35E
1, 2, 3
Felica
1, 2, 3
Kodak Box 620
1, 2
Kodak Brownie Six-20 Model C
1
Digital cameras
Sony A6400, 16-50mm
1
Sony A6400, Laowa 25mm f2.8
1
Comparison: Sony A6400, Canon EOS 550D, Panasonic Lumix DMC-FZ7, Sony Cyber-shot DSC-P32, Canon PowerShot A550
1, 2
---
---