Zeiss Ikon Colora F - The First Photos With ZIAG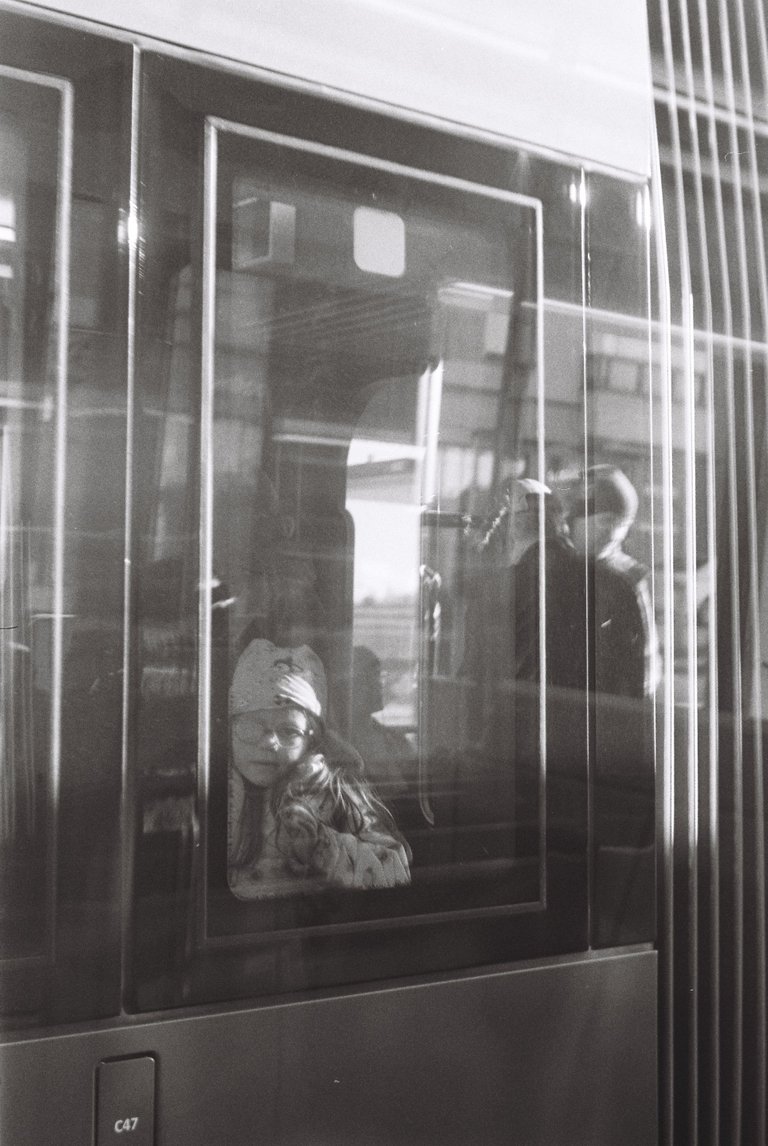 The absolutely the definitely the best photo of this 1960's camera.
Oh okay, there's another one too that I really like, and perhaps a third one too, but this one simply stands out.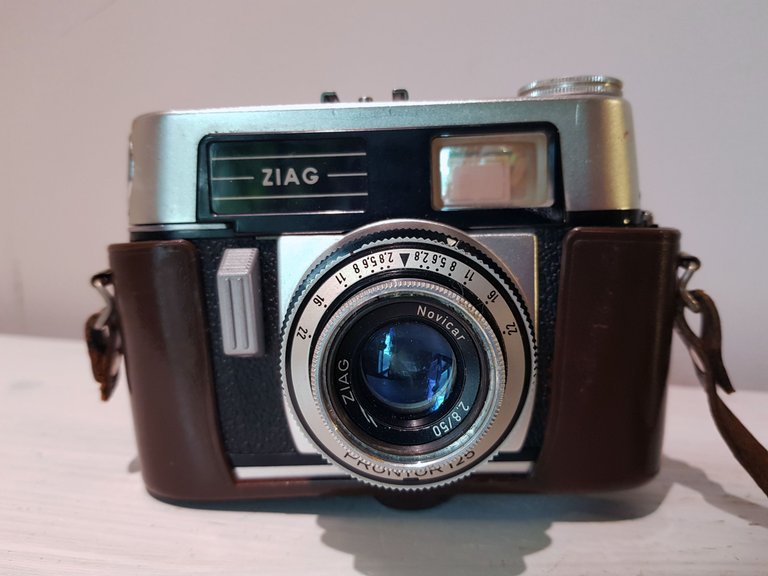 Straight from the flea market.
Manual: https://www.butkus.org/chinon/zeiss_ikon/zeiss_ikon_colora/zeiss_ikon_colora.htm
More info: http://camera-wiki.org/wiki/Colora
Dust, dust, dust, clean, clean, clean. The battery is fortunately only needed if I use a flash so no need to worry about that now. As usual, if the camera is relatively in an okay condition so that I can take pictures with it, I only do a little bit of cleaning and decide if I do anything major to it after I see the first results. That of course includes the repair of the camera bag. If it's fairly easy to repair or if I want to. It all depends. On things. You know how it is.
Why oh why has someone had the need to scratch a circle to the 1/30 speed?
Perhaps it's the same person who needed to write: "something Finla" to the camera case. It looks like it's Finland Finland and that makes no sense but what do I know. It's like: "Hi, I'm Insane and from Finland Finland" which might mean that I'm not only from Finland but that I'm more from Finland than usually people who are from Finland are. Perhaps that's the case. And it was a big thing in the 60's. Here in Finland Finland.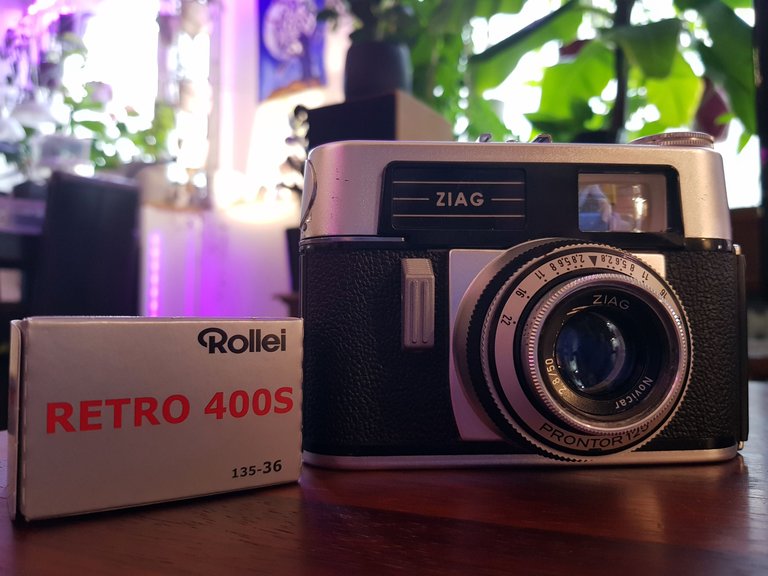 Rollei Retro 400S film in and time to take this ZIAG baby outside! To the streets of Tampere Finland Finland. And perhaps some other cities too. In Finland Finland.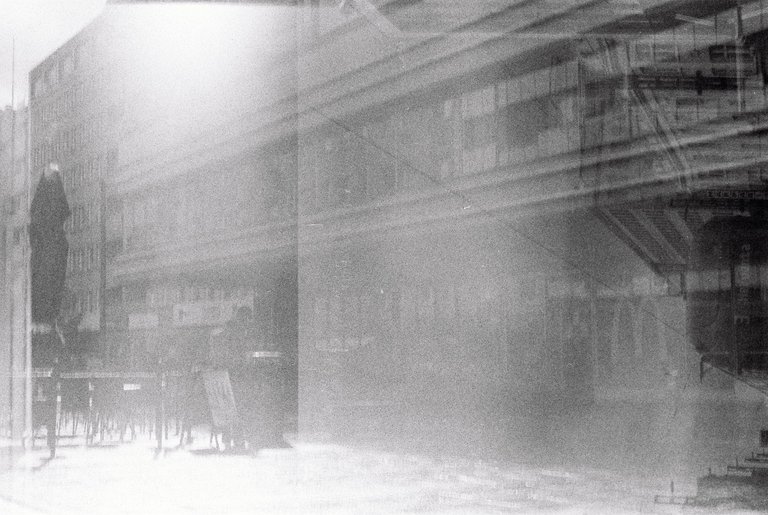 Um... #Doubleexposure shouldn't be possible but there it is. If I hadn't shown you the best photo already you would all be like "oh no" and pleasantly surprised later, but now you know that it is possible to take good photos with this too so those who have photographed with film before perhaps know already what went wrong.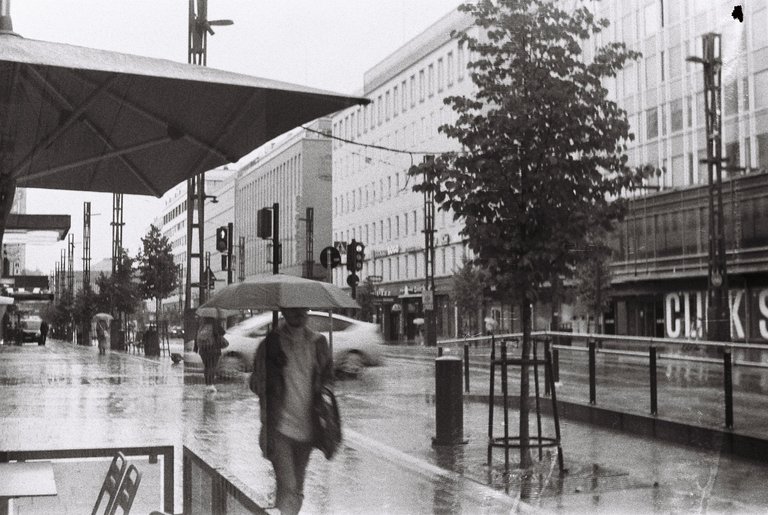 Not a great photo but okay. And there a dark thing on the upper right corner, scratches and is that a sign of double exposure that I see on the right? Might be.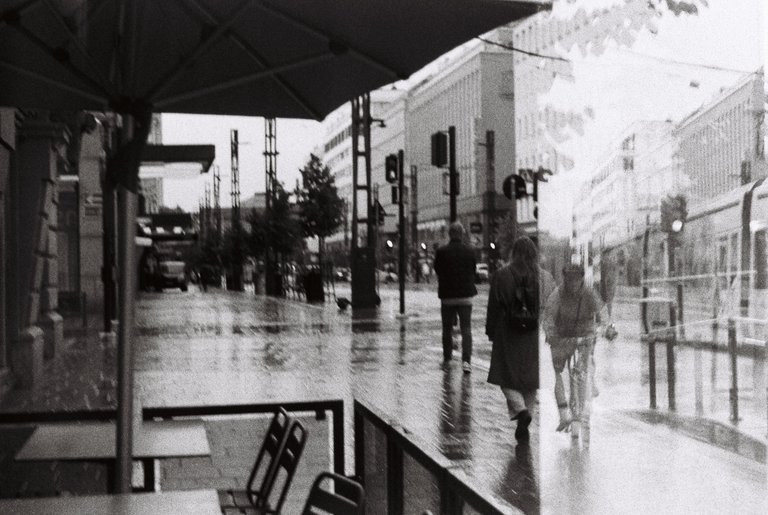 And there it is again, double exposure. Kinda cool but I guess it would have been nice if the picture had been a little less blurry. The shutter release became a slightly stiff as soon as the weather was colder. And I don't mean freezing, just going out from room temperature to perhaps 10 degrees of celsius was the thing that made the release and the shutter slower. The only shutter speed that worked was the fastest so there was no way I could get good photos if I tried to photograph on any other weather than bright daylight.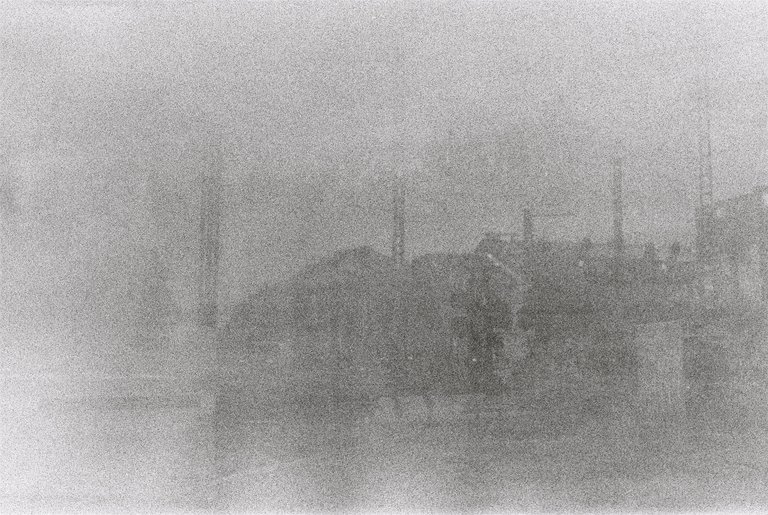 Yeah. Okay. Sure is artsy. It wasn't a foggy day though. I'm thinking there's more than two exposures here.
I photographed 39 photos and when I thought the film was stuck as I tried to rewind it, I took it to the camera store, they took the film out and developed it. As it happens, the film only had 7 exposures and the rest of the film was pretty wrinkly. So what it think happened was that the film never started to roll properly and that was it. All those photos I thought I took are in the last photo. It's a miracle it isn't all white since there's something like 30 photos on top of each other.
It's always a good thing to check if the film rewinding knob turns also when you wind the next frame. My brain obviously was too busy thinking of everything else than that, over 30 times.
I didn't want to give up this easily, although I didn't yet want to properly fix it since there's always the chance that if I try to fix the camera by opening the lens, it might after that be more faulty than originally. Or there might be leftover parts. So I bought the exact same film, made sure it started to roll properly this time and also made sure it kept rolling as the rewind knob also turned. I also decided to take all the photos with the fastest shutter speed which is 1/125 and only change the aperture. That way I wouldn't have to deal with the jamming and stiff shutter release, a stupid leaver which when pressed easily jerks the camera at the same time. So it's a jerky shutter leaver.
| | |
| --- | --- |
I got a hint that sometimes it helps if you first warm the camera a bit with a hairdryer and then clickety click the shutter release over and over again something like thousand times. Then if you get it working, you can add a tiny amount of oil to the leaver. By my calculation, clicking thousand times takes a long of time and I wasn't prepared for that yet. So I just decided to avoid the problem which is also a good thing to do in any situation. Leg broken? Just leave it be if it doesn't bleed too much and don't look at it. Ignoring is the first step one should always do when encountering difficult issues.
Anyway, moving on.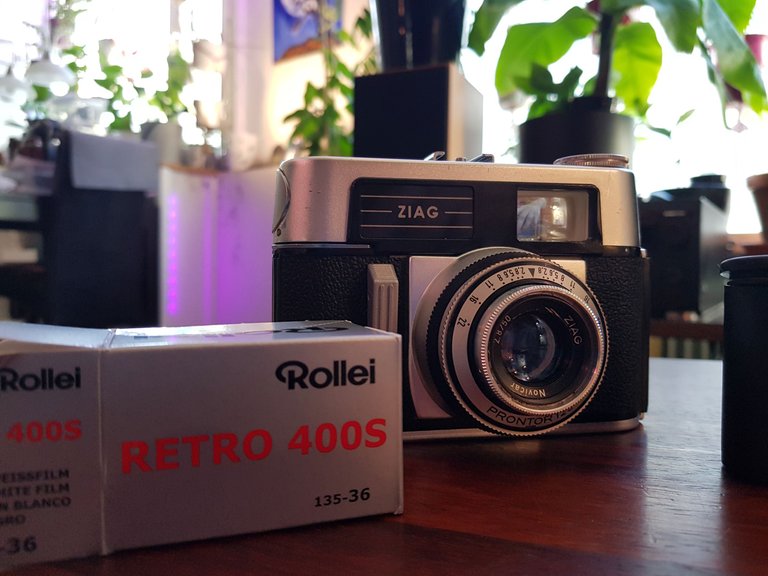 Here are the best of the worst of the second film, another Rollei Retro 400S. Again I've done nothing to the photos. Few of them might be better if slightly post-processed but as I mostly want to know what kind of results do this camera and this film give in different conditions, I'll show you the photos as they are.
Voilà!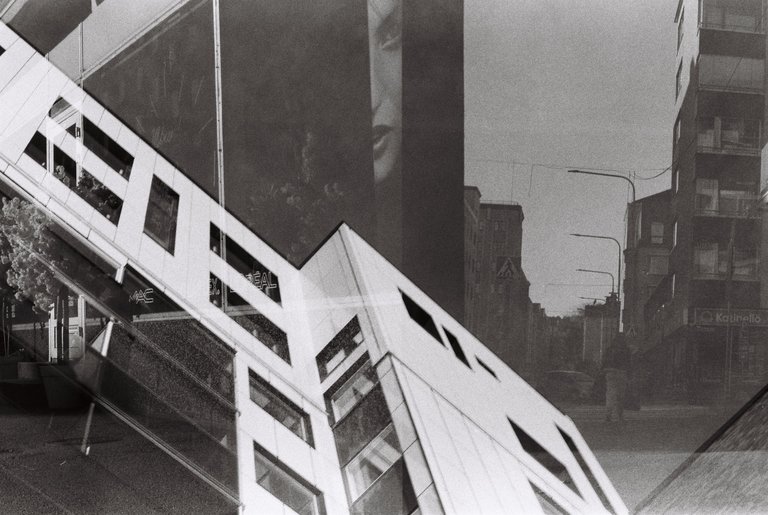 It's not possible to take double exposures with this camera, unless... Oh yes, I have to admit. It was only the third time that I got the film to stay on the spool. After the second attempt I had to open the camera in the dark, roll the film back and try again. But what an interesting double exposure that game me. I love it!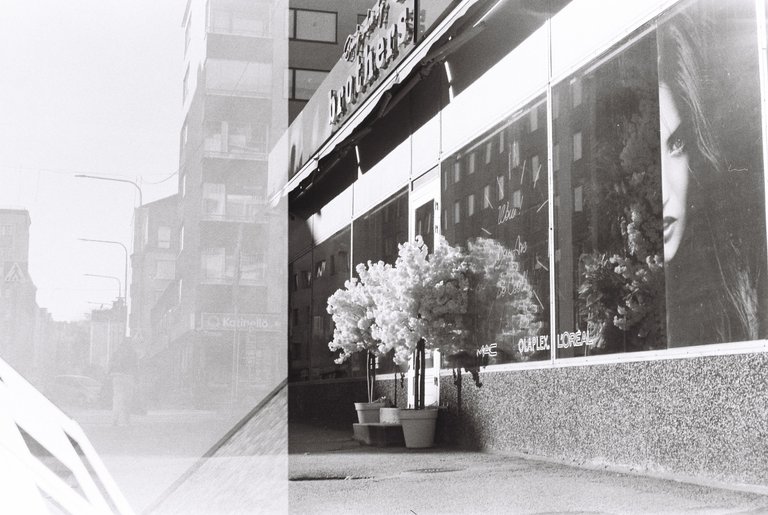 This picture isn't that interesting and I'm only publishing it because my previous post has three photos of this same place, taken with a different film and film camera and a comparison photo taken with my phone.
Obligatory tram photos facing the sun. But this time also from the inside.
The one on the left isn't sharp but there's something that fascinates me. The one on the right is sharp but it lacks the thing that is on the other photos. A person. A soul. A tiny moment of someones life.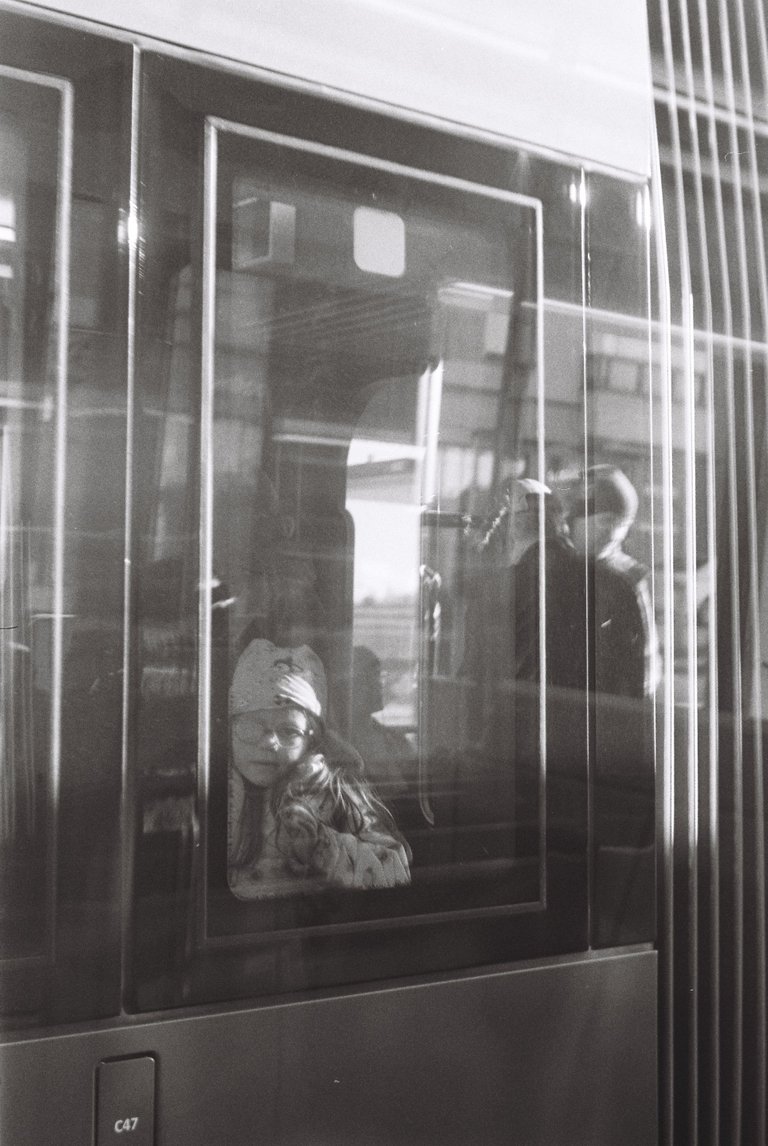 And then there's this one. I'm inside a tram, she's inside a tram and our eyes meet. Then there's also a person entering the tram the girl is in. I had to be really fast and that I was. The distance may be a bit off, the girl is a bit blurry but I think that suits the photo very well. So that's why this was my choice, not the first double exposure photo.
Moving on.
Light at the end of the tunnel. Or the underpass.
It's so hard to precisely determine how far things are from the camera when using a large aperture. Or it's the cameras fault. It might not be that precise. But I'm thinking it's the photographers fault.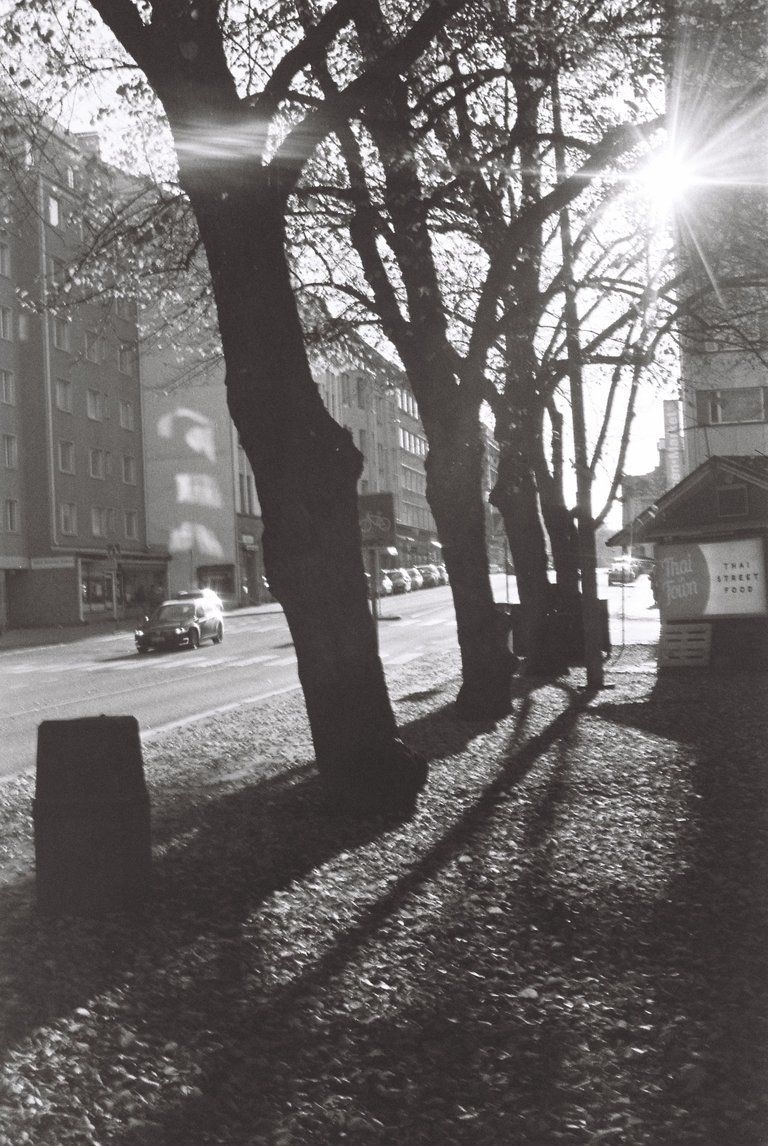 This photo of the trees and the shadows near Turku railway station would be awesome with more contrast. But as it is what it is then here it is. Not bad but could be better.
Too much light in the Aura river photo and a jerky leaver when trying to take a photo of the Turku Cathedral.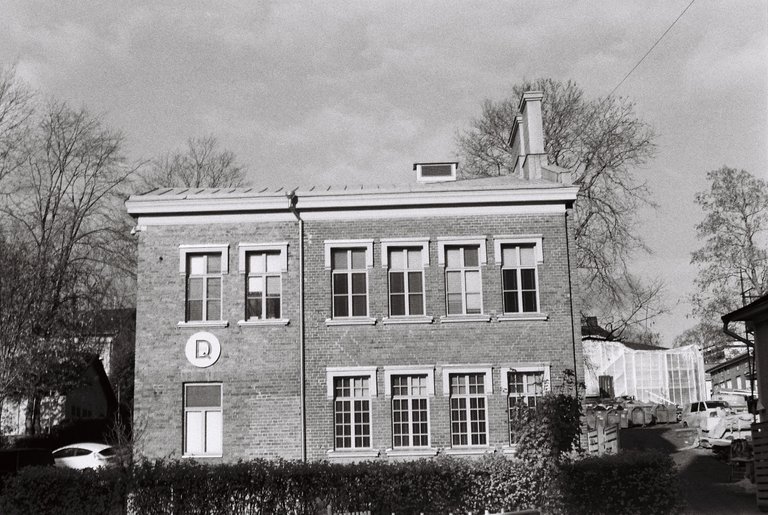 I do also take photos with the sun behind my back although I think that kind of photos usually are a bit boring. But as I did get the advise that this way, when taking photos with an old camera, the photos would be sharper and more recognizable, I decided to take this photo. It's a brick building. Building made of bricks. Bricky bricks.
Moving on.
I actually only have two photos and neither one of those is amazing so this is one of those anticlimactic endings post.
Here you go.
Actually the one on the right has potential but when you look at the photo closer, well, I don't know. Perhaps, perhaps not.
What did all this cost me?
ZIAG Colora F: 15€.
Rollei Retro 400S: 7,90€ x2
Film developing: 14,90€ x2
Film scanning to TIFF images: 10€ x2
---
Film cameras
Balda-Bünde Baldixette
1
Cosina Flash 35E
1, 2, 3
Felica
1, 2, 3
Kodak Box 620
1, 2
Kodak Brownie Six-20 Model C
1
Digital cameras
Sony A6400, 16-50mm
1
Sony A6400, Laowa 25mm f2.8
1
Comparison: Sony A6400, Canon EOS 550D, Panasonic Lumix DMC-FZ7, Sony Cyber-shot DSC-P32, Canon PowerShot A550
1, 2
---
---