Close-up Look of Salted Fish, Fruits, and Vegetable in the Traditional Market

Over the past few months, I have developed a new habit of cooking my meals. I find that by doing so, I can control the ingredients and of course save more budget. Since I'm just learning how to cook, most of the dishes I make are plain fried foods or stews that don't use a lot of seasoning. To stock up on groceries, I usually shop at traditional markets that are not too far from where I live.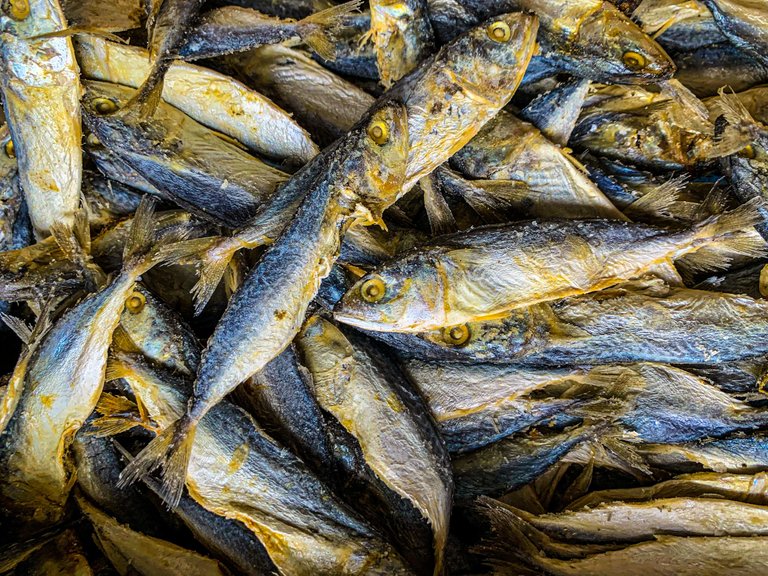 This morning I went to the market to shop because my food stock was running low. In traditional markets, of course, many types of commodities are sold starting from vegetables, fruits, meat, spices, and others. As I made my way deeper into the market, I came across a stall selling salted fish and vegetables. The smell of the fish was intense, but in a good way, which attracts my attention. I talk with the seller and ask him the price range for these salted fish, and he said the price ranged from 45 - 70 Thousand Rupiah (~ 3 to 5 USD) per kilogram. Unfortunately, he didn't sell the type of salted fish that I like, so I don't buy anything from him. Before leaving, I asked him if I could take some pictures of the salted fish, and he said yes. So in a moment, I pick up my phone and take a random shot from the fish.
After spending some time at the salted fish stall, I decided to move on to the vegetable stall. I am a big fan of spinach, and I always make sure to buy a stock of it whenever I visit the market. The price for spinach was 10,000 Rupiah for three bunches. As I was browsing through the vegetable stall, I also came across other types of vegetables and fruits such as eggplant, jengkol, some varieties of cassava, and bananas. However, I didn't buy any of the fruits as my shopping bag was already quite full.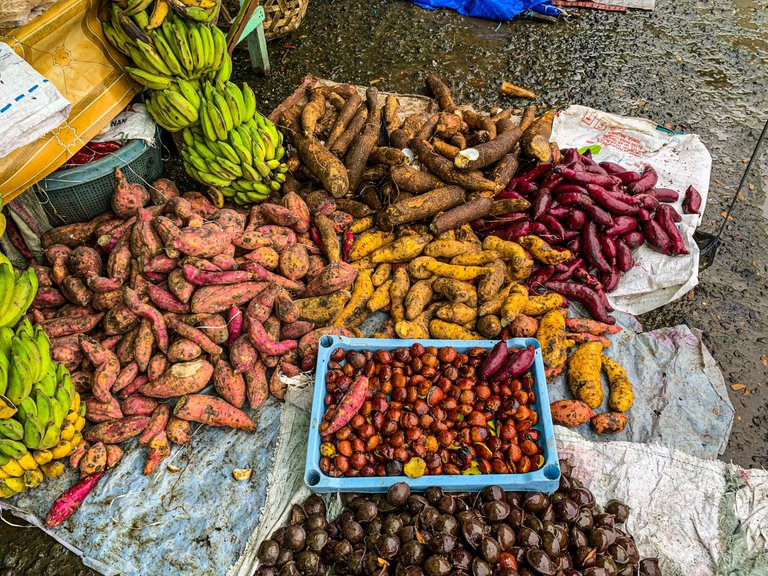 Another food that I always buy when shopping is tofu and tempeh. These protein-rich foods are both affordable and easy to prepare, and can be enjoyed in a variety of ways, such as boiling or frying, and served with a sauce. Unfortunately, I didn't have the chance to take a picture of them this time as my hands were full of other groceries.
That's a brief story about my visit to the market today. I hope you enjoyed reading it. Anyway, since this is my first time posting in this community, I would love to get some comments on whether my posts are still lacking and what needs to be improved in certain parts. Thank you and see you in the next post everyone!
All these pictures were taken using iPhone XR and processed through Adobe Lightroom
---
---