Crochet Panda Earrings
Saludos comunidad de Hive DIY, espero se encuentren muy bien por acá, hoy comparto con ustedes la realización de unos hermosos aretes con forma de Panda hechos a crochet, esta es una forma divertida de lucir bien, pues los accesorios con motivos de animalitos siempre llaman la atención, más aún si es algo hecho a mano, estos particularmente están hechos con un hilo y agujas delgados por lo que les recomiendo trabajar con bastante iluminación y mucha atención 👀, espero les guste.
Greetings Hive DIY community, I hope you are very well here, today I share with you the making of some beautiful crocheted Panda-shaped earrings, this is a fun way to look good, because accessories with animal motifs always call attention, even more so if it is something handmade, these are particularly made with thin thread and needles, so I recommend working with enough lighting and a lot of attention 👀, I hope you like it.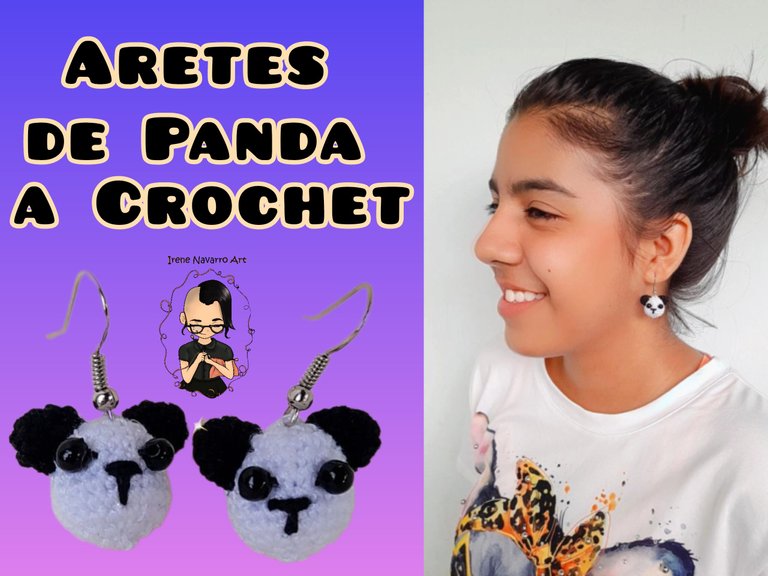 Materiales / Materials
---
Hilo de coser o bordar de 4 hebras, en color blanco y negro.
Ganchillo de 0,90 mm
Tijera
Relleno de fibra acrílica o en su defecto hilo de reciclaje
Aguja de coser
4 perlas negras de plástico
2 garfios para aretes
Pizas para bisutería
4-strand sewing or embroidery thread, in black and white.
0.90 mm crochet hook
scissors
Filled with acrylic fiber or alternatively recycled thread
sewing needle
4 black plastic pearls
2 hooks for earrings
Pliers for jewelery
---

Proceso / Process
---
Para la cabeza con hilo blanco hacer 6 puntos bajos en anillo
Hilera 1:Hacer 6 aumentos. Total de puntadas: 12
Hilera 2: (1 punto bajo, 1 aumento) X 6. Total de puntadas: 18
Hileras 3-7: 18 puntos bajos
Hilera 8: (1 punto bajo, 1 disminución) X 6. Total de puntadas: 12
Rellenar
Hilera 9: Hacer 6 disminuciones, terminar con 1 punto deslizado y esconder la hebra por dentro.
Hacer dos cabezas de la misma forma.
For the head with white thread make 6 single crochets in a ring
Row 1:Make 6 increases. Total stitches: 12
Row 2: (1 single crochet, 1 increase) X 6. Total stitches: 18
Rows 3-7: 18 single crochet
Row 8: (1 single crochet, 1 decrease) X 6. Total stitches: 12
Fill out
Row 9: Make 6 decreases, finish with 1 slip stitch and hide the yarn inside.
Make two heads the same way.
---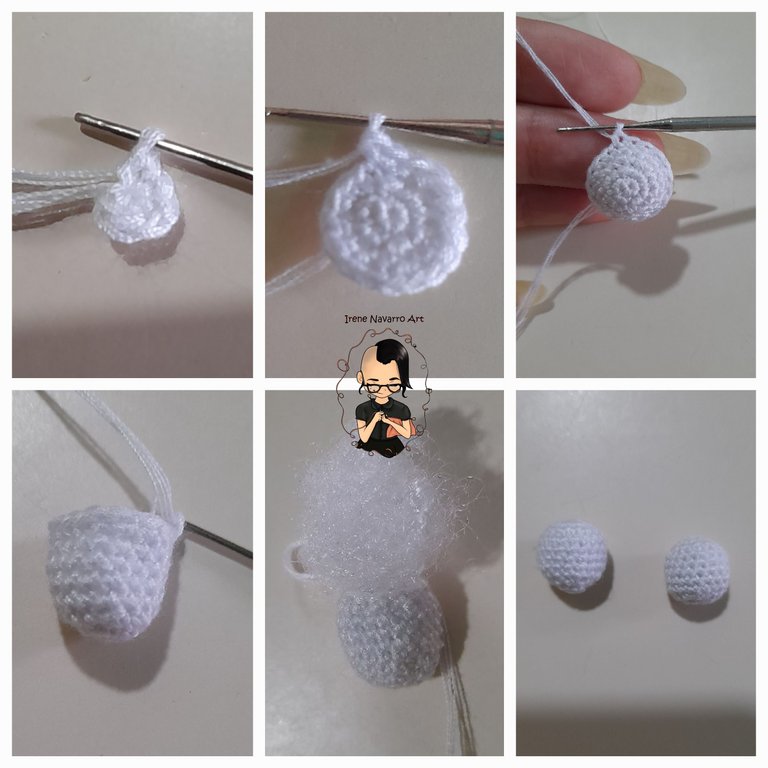 ---
Para las orejas con hilo negro hacer 8 puntos en un anillo.
Hilera 1 y 2: 8 puntos bajos.
Terminar con 1 punto deslizado y dejar una hebra larga para coser.
Hacer 4 orejas del mismo modo.
For the ears with black yarn make 8 stitches in a ring.
Row 1 and 2: 8 single crochet.
Finish with 1 slip stitch and leave a long tail to sew.
Make 4 ears in the same way.
---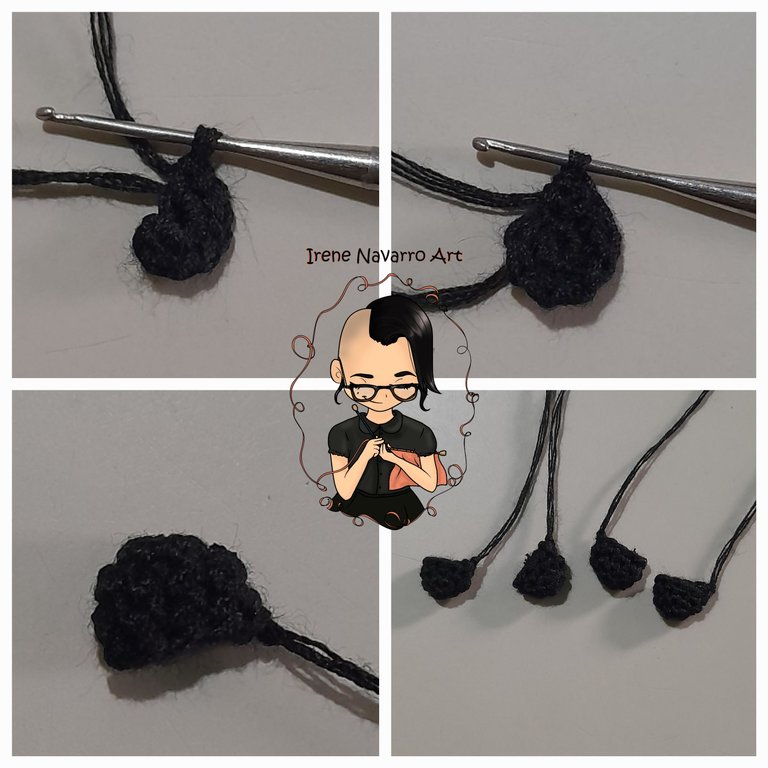 ---
Con la aguja coser cada oreja al lado de la cabeza, timar la misma hebra y borrar la nariz y boca, coser las personas negras para los ojos.
Con la pinza abrir el garfio para aretes y enganchar la parte superior de la cabeza de Panda y cerrar nuevamente.
With the needle sew each ear to the side of the head, sew the same thread and erase the nose and mouth, sew the black people for the eyes.
Open the earring hook with the tweezer and hook the top of the Panda's head and close again.
---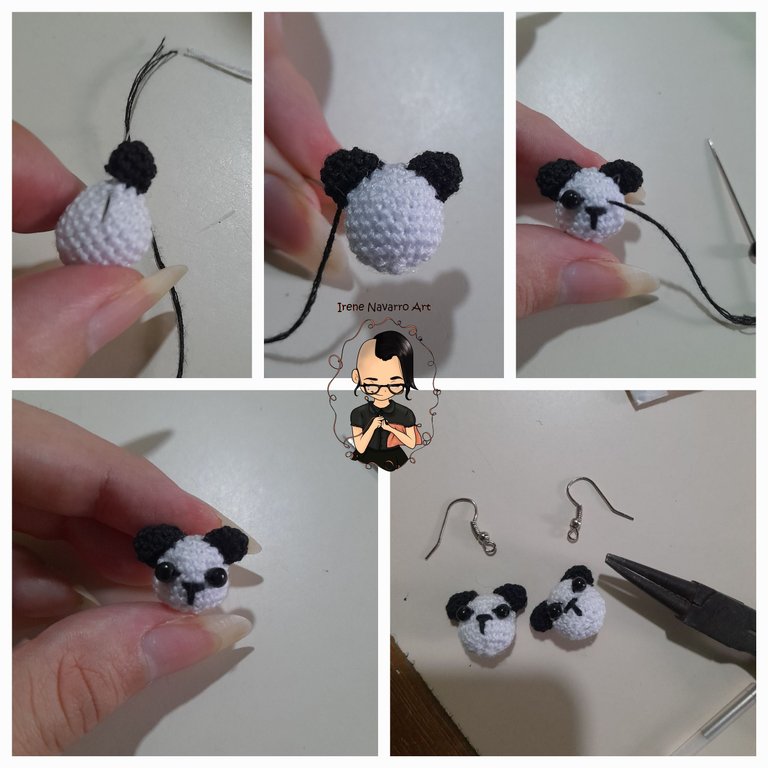 Resultado / Result
A mi sobrina que estaba de visita le encantaron estos aretes , así que decidí regalárselo a ella, además de hacerla modelar para la fotografía, me gustó mucho poder hacer estos aretes con una figura tan pequeña 🥰 🐼
My niece who was visiting loved these earrings, so I decided to give them to her, in addition to having her model for photography, I really liked being able to make these earrings with such a small figure 🥰 🐼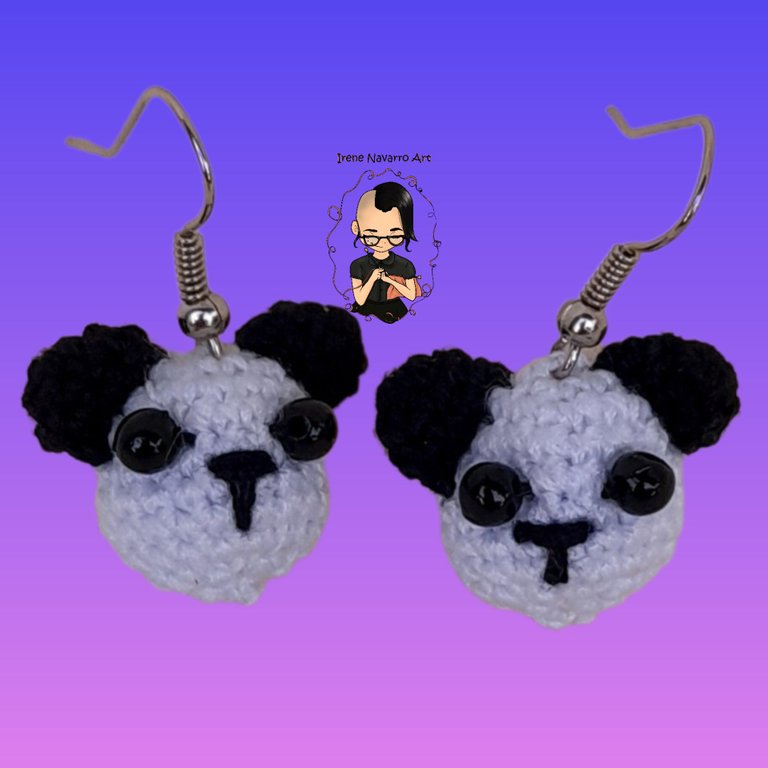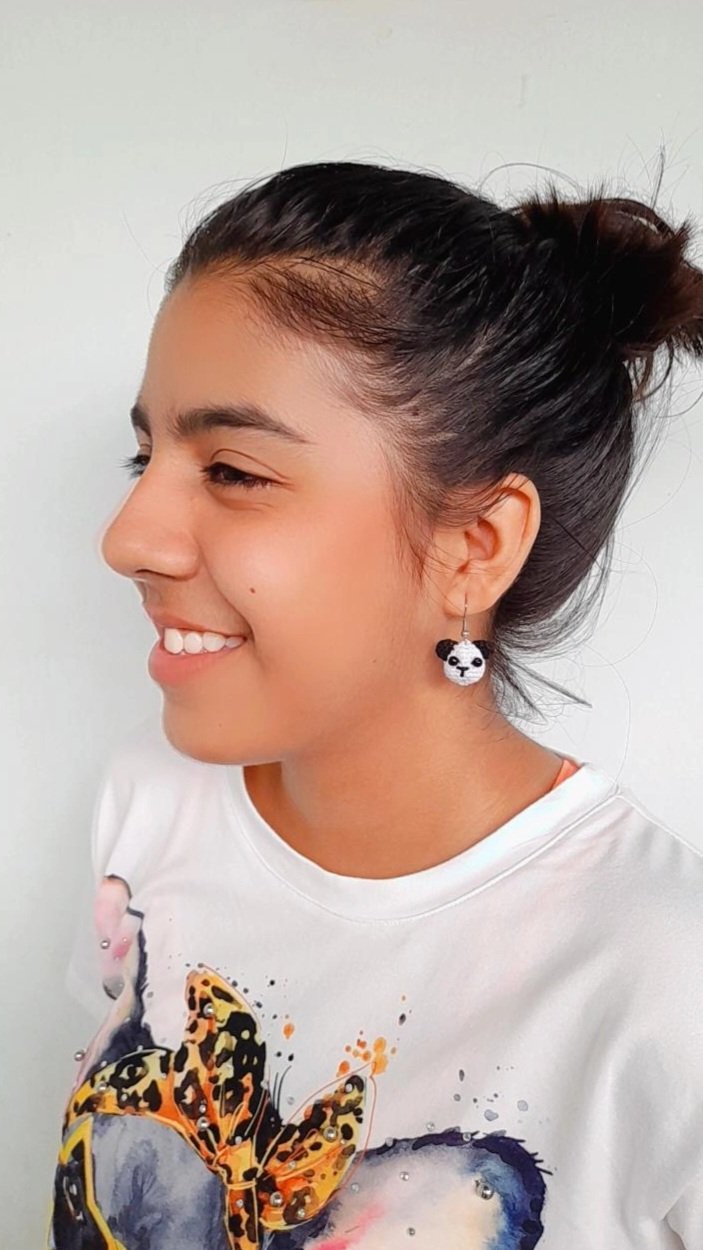 Imágenes tomadas con dispositivo Samsung A12. Portada editada en InShot
Pictures taken with Samsung A12 device. Cover edited in InShot
Invítenme un Café/Support Me on Ko-Fi


https://ko-fi.com/irenenavarroart

---
Si deseas apoyar mi contenido también puedes hacer donaciones por el valor de un café en Ko-Fi
If you want to support my art you can also make donations for the value of a coffee (Ko-Fi)
---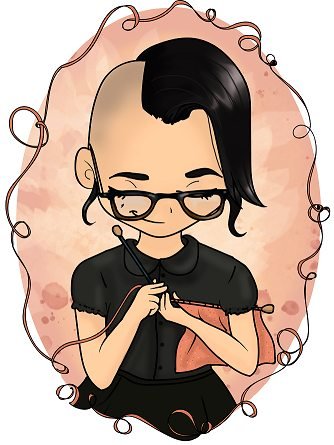 Espero les haya gustado. Les invito a leer mis próximas publicaciones y siempre estaré dispuesta a responder sus preguntas y comentarios, también pueden seguirme y contactarme en cualquiera de mis redes sociales. ¡Muchas gracias!
I hope you liked it. I invite you to read my next publications and I will always be willing to answer your questions and comments, you can also follow me and contact me on any of my social networks. Thank you!
---
---