Learning More About Food Additives and its Impact
I went to my village to visit my grandmother, and I realized that the only packaged thing she knew or was familiar with is Biscuits, and she claimed that she didn't eat them. Trust me when I say that I believed her because she doesn't have any reason to lie to me. She talked about eating everything fresh, and lest I forget, she is a centenarian and she looks very young compared to some people who are at their age of 50 years. Everything she used to prepare fish stew was fresh from the ground, and in fact, she harvested the Onions she used herself. I cannot remember when last I ate something truly fresh. Living in an industrial area, we are used to seeing foods and food items in bags, bottles, nylons, packs, tins, and cartons. I then thought had to do a little study on how this food remained fresh, or how it maintained its taste, colour, and or odour.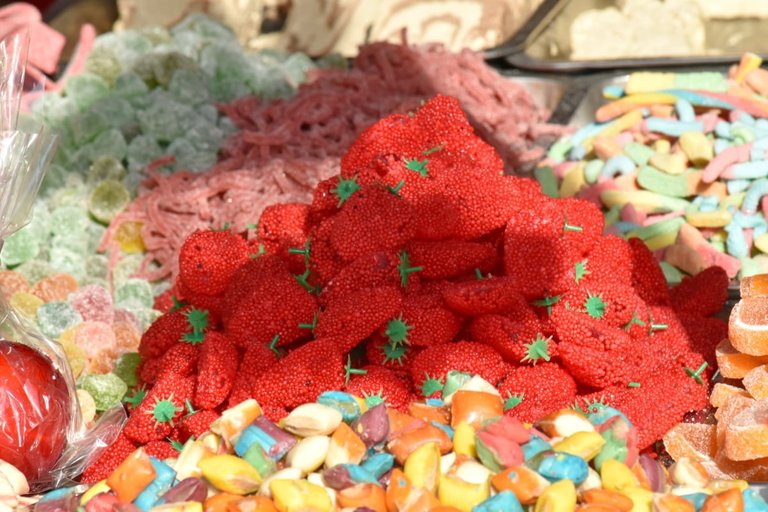 Pixnio
I decided to check out what is on the labels of most of the foods that we eat, and I realized that most of them have additives in them. These additives are either synthetic or natural although, they are still harvested in some synthetic ways. You do not need to be scared thinking that these additives would harm you, they are regarded as GRAS (Generally Regarded as Safe) I found some common additives, and let me share some with you. Have you heard of the name Red Dye 40 maybe you are familiar with Allura Red or known in Europe as E Number (E129), and has the IUPAC ID; disodium 6-hydroxy-5-((2-methoxy-5-methyl-4-sulfophenyl)azo)-2-naphthalenesulfonate. It is a synthetic AZO dye which is a common food dye, and it is made from petroleum. It contains AZO bonds between two atoms of Nitrogen. Another red colour additive I found out about was Coratenoids, and this is naturally compared to Allura Red but cannot withstand much heat and oxygen as it is a long chain of carbon and hydrogen.
One additive I also found that manufacturers use to replace animal fat and egg yokes is Stabilizers. This compound imitates fats, carbohydrates, and proteins. They smoothen the texture of foods, helping to maintain their physicochemical state of them. Some stabilizers are naturally occurring, such as Xanthan Gum, gotten from Xanthomonas campestris this is an example of a stabilizer that is gotten from isolating the bacteria in an oxygen-free environment. The bacteria secrete polysaccharides, a complex sugar as they respire. It is dried and made into a powder which is then added to food where it creates a thick gel-like appearance in food and gives the mouth-feel taste. One other stabilizer is Carrageenan which is a seed weed (algae). It is a fat replacer in so many food items.
It is important to also know that additives can be preservatives too, and I was able to find a few preservatives, such as Citric Acid which use to preserve food and keep its taste, it is also used to preserve the colour of fruits. It does this by blocking the enzymes that would speed up the rate of spoilage of these plants such as Phenolase in Apple. Phenolase reduces the pH of the tissue that will secrete the enzyme thereby causing the Apple to stay longer without turning brown. Citric Acid is also used in Chelation, a process where Citric Acid is added to cans of Can foods so the food does not get bonded with stray atoms of metals in the can. This Acid is extracted in moulds (aspergillus) which produce Citric Acid when metabolising sugar in low oxygen.
Another preservative is Sodium Benzoate, and benzoic acid is very important I'm attacking and killing fungi, bacteria, and yeast, and while it is the main ingredient it requires Sodium to be able to dissolve in water. While it is common, it is said to have side effects such as reacting with Ascorbic Acid (Vitamin C) and producing a cancer-causing hydrocarbon called Benzene.
In the end, can we say these additives are good and do not have any side effects. The Food and Drug Agency has placed restrictions on the use of some additives as a result of the health risk they pose. What is your take on Additove?
---
---
References for Further Reading
Red Dye 40: Safety, Side Effects, and Food List
Re‐evaluation of xanthan gum (E 415) as a food additive
Effect of citric acid combined with UV-C on the quality of fresh-cut apples
---
---