Cambiando el motor de la turbina de ventilación split | Replacing the motor of the split ventilation turbine [ESP/ENG]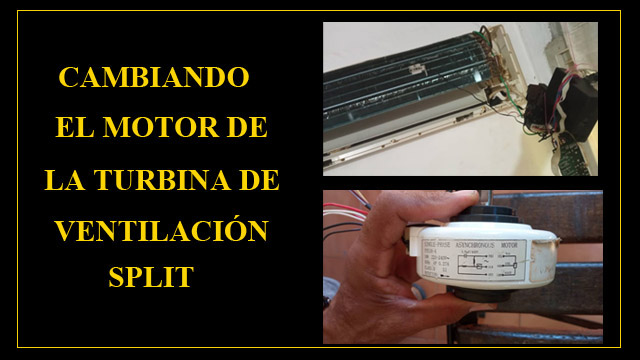 Gracias a HIVE he podido poner al día el mantenimiento de los aires acondicionados de mi hogar, los que tenían años sin repararse.
Dos quedaron en perfectas condiciones, pero uno quedó con un sonido muy fuerte y al poco rato de encendido se trancaba la turbina de ventilación, por lo que dejaba de soplar el aire y comenzaba a congelarse.
Le comenté al técnico y respondió que eran las gomas del motor, como no sé nada del tema me quedé con esa explicación. Sin embargo, pasaba el tiempo y el técnico no se apareció a terminar el trabajo, por lo que tuve que buscar la ayuda de otro profesional.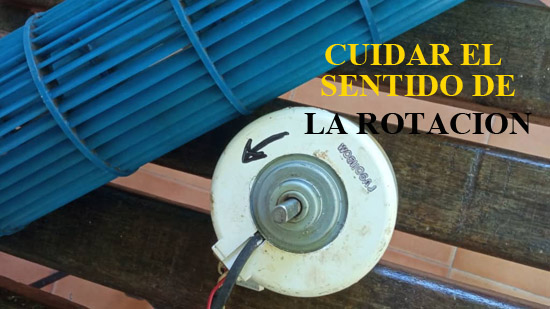 El segundo técnico me indicó que no eran las gomas sino el motor del ventilador de la turbina, así que perdí los cuatro dólares que gasté en la compra de las gomas.
Sobre el ventilador del motor me dio dos opciones: repararlo o montar uno nuevo. La reparación salía en unos nueve dólares, con el consabido riesgo de que quede bien o mal. El motor nuevo costaba más que eso pero me incliné por esa opción.
Lo primero que pensé fue comprarlo a través de mercado libre y menos mal que no lo hice así. Resulta que en mi país es casi imposible conseguir el repuesto original y solo se consiguen imitaciones, seguramente de procedencia china. Esas imitaciones funcionan bien, el problema es dar con la que sea más parecida a la original.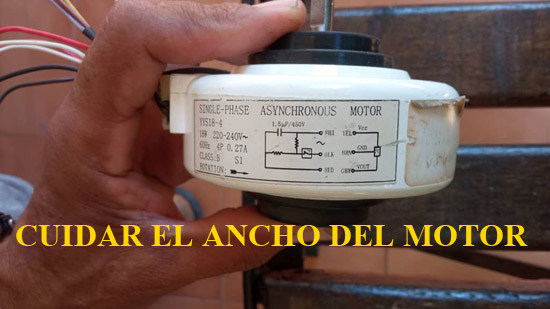 Afortunadamente el técnico me quiso acompañar y fuimos con la muestra en la mano, sin eso se corre el riesgo de comprar lo que no es. Luego de dar muchas vueltas y probar unos cuantos motores logramos comprar el que necesitábamos.
Con esta compra hay que ser muy cuidadoso porque por los menos en mi ciudad ese tipo de componentes no se cambia, si uno lo lleva y no es el adecuado, pues sencillamente pierde el dinero. Lo otro es que las variaciones de precio son sustanciales de un sitio al otro, el motor lo ofrecían en diferentes sitios en una gama que iba de los diez a los veinticinco dólares.
El que necesitábamos era de doce watts y no lo había, quedaba uno de trece pero el eje era mucho más largo que el de muestra, el técnico me dijo que se podía cortar sin ningún problema. Al final la dependiente consiguió uno de dieciocho watts y el técnico dijo que estaba bien, por él pague catorce dólares. De haber ido yo solo seguramente que no hubiese sabido decidirme.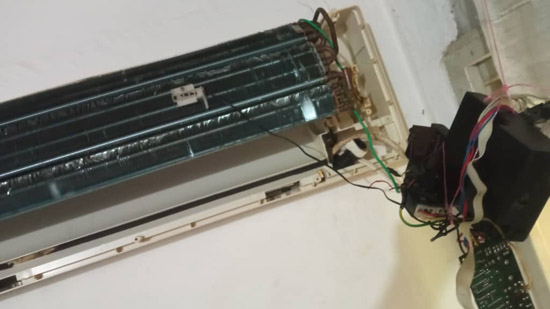 Lo más importante al comprar este tipo de motores es tomar en cuenta el sentido de la rotación, no todos giran hacia el mismo lado, aunque cambiando los cables se puede hacer que gire en un sentido u otro, pero el técnico dice que no funciona igual. Lo otro, que si es determinante, es el espesor; si es más grueso o más angosto no va a calzar en la carcasa con la que se fija a la consola y allí si no se puede hacer nada.
El trabajo del montaje es un poco engorroso y hay que hacerlo entre dos personas. Ese día me tocó ayudar un poco al técnico sobre todo en lo relativo a sostener la turbina para que no cayera al suelo y levantar el evaporador para poder fijar los componentes.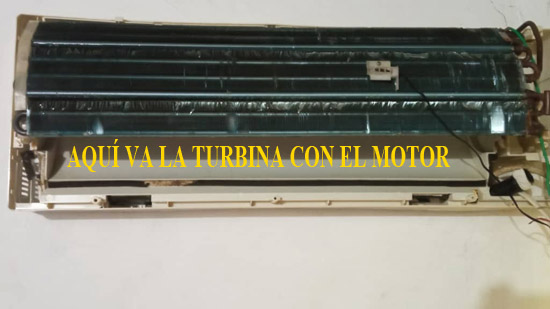 Lo ideal es armar todo esto en el suelo y no en la pared como hicimos nosotros. El problema es que al despegar las tuberías del gas refrigerante de la consola se corre el riesgo de que pueda quedar alguna fuga.
Al final pudimos montar el motor, en el ínterin se soltaron dos cables de la tarjeta de control y el técnico procedió a soldarlos. Hasta el día de hoy el aire está funcionando bien.
Espero que algunos de estos datos les pueda servir sí están en una situación semejante.
Gracias por tu tiempo.

ENGLISH


Thanks to HIVE I have been able to update the maintenance of the air conditioners in my home, which had not been repaired for years.
Two of them were in perfect condition, but one of them had a very loud sound and shortly after it was turned on, the ventilation turbine stopped blowing air and started to freeze.
I told the technician and he replied that it was the engine rubber, as I know nothing about the subject, I kept that explanation. However, time went by and the technician did not show up to finish the job, so I had to seek the help of another professional.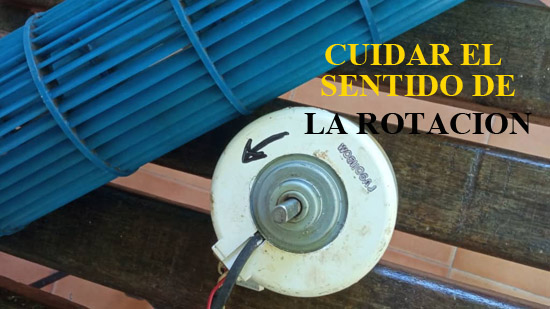 The second technician told me that it was not the tires but the turbine fan motor, so I lost the four dollars I spent on the purchase of the tires.
About the motor fan, he gave me two options: repair it or install a new one. The repair cost about nine dollars, with the usual risk of getting it right or wrong. The new motor cost more than that but I went with that option.
The first thing I thought was to buy it through the free market and thank goodness I didn't do it that way. It turns out that in my country it is almost impossible to get the original part and only imitations are available, probably from China. These imitations work well, the problem is to find the one that is most similar to the original.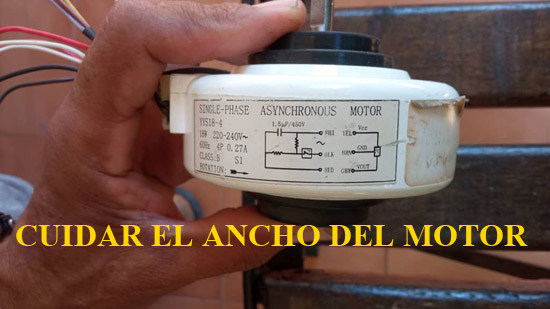 Fortunately the technician wanted to accompany me and we went with the sample in hand, without that you run the risk of buying what is not. After a lot of walking around and trying a few motors we were able to buy the one we needed.
With this purchase you have to be very careful because at least in my city these types of components are not changed, if you take it and it is not the right one, you simply lose the money. The other thing is that the price variations are substantial from one place to another, the motor was offered in different places in a range that went from ten to twenty-five dollars.
The one we needed was twelve watts and there wasn't any, there was a thirteen watt one left but the shaft was much longer than the sample, the technician told me that it could be cut without any problem. In the end the clerk got one of eighteen watts and the technician said it was fine, I paid fourteen dollars for it. If I had gone by myself I probably would not have known how to decide.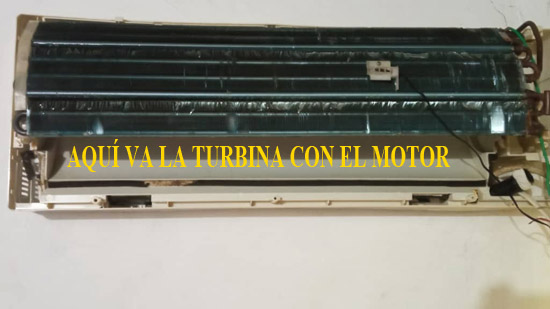 The most important thing when buying this type of motors is to take into account the direction of rotation, not all rotate to the same side, although by changing the wires you can make it rotate in one direction or another, but the technician says it does not work the same way. The other thing, that if it is determinant, is the thickness; if it is thicker or narrower it will not fit in the casing with which it is fixed to the console and there if you can not do anything.
The assembly work is a bit cumbersome and has to be done by two people. That day I had to help the technician a little bit, especially when it came to holding the turbine so that it would not fall to the floor and lifting the evaporator to be able to fix the components.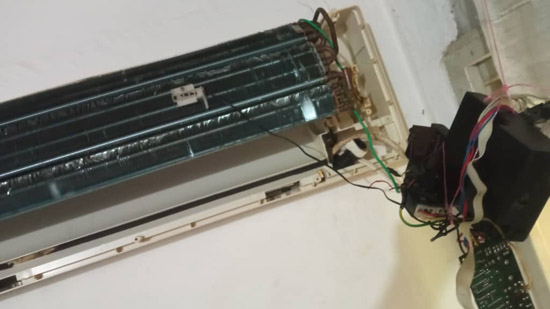 The ideal is to assemble all this on the floor and not on the wall as we did. The problem is that by detaching the refrigerant gas pipes from the console there is a risk that there could be a leak.
In the end we were able to mount the engine, in the meantime two wires from the control board came loose and the technician proceeded to solder them. To this day the air is working fine.
I hope that some of this information may be useful to you if you are in a similar situation.
Thanks for your time.
Translated with www.DeepL.com/Translator (free version)

Todos tus comentarios son bienvenidos en este sitio. Los leeré con gusto y dedicación.
Hasta una próxima entrega. Gracias.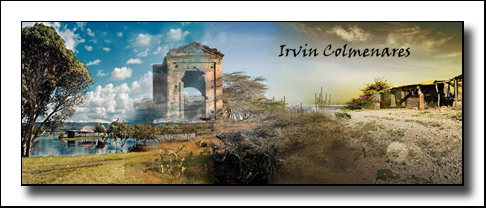 Las fotos, la edición digital y los Gifs son de mi autoría.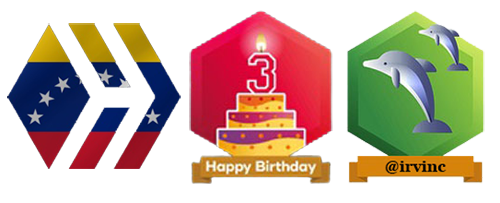 No te olvides de votar @cervantes como witness en esta página:
https:/wallet.hive.blog/~witnesses

Te invito a apoyar este proyecto como witness y a formar parte de esta gran comunidad uniéndote a su Discord en el siguiente enlace:

---
---