Busy February Beginning in My Hydroponic Garden - Preparation for Growing Hydroponic Vegetables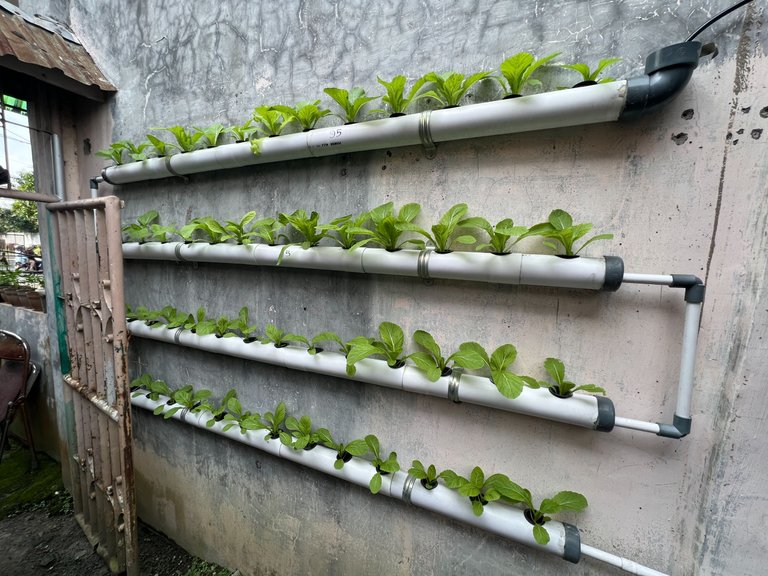 ---
---
Hello Gardeners
How are you today ? I hope and pray, we are all always given health and also happiness in living this life. This time, I came back to Hive Garden Community to share stories about growing vegetables in my hydroponic garden. What are my activities this time? keep watching my weekly hydroponic journal this time.
Hydroponic Garden Conditions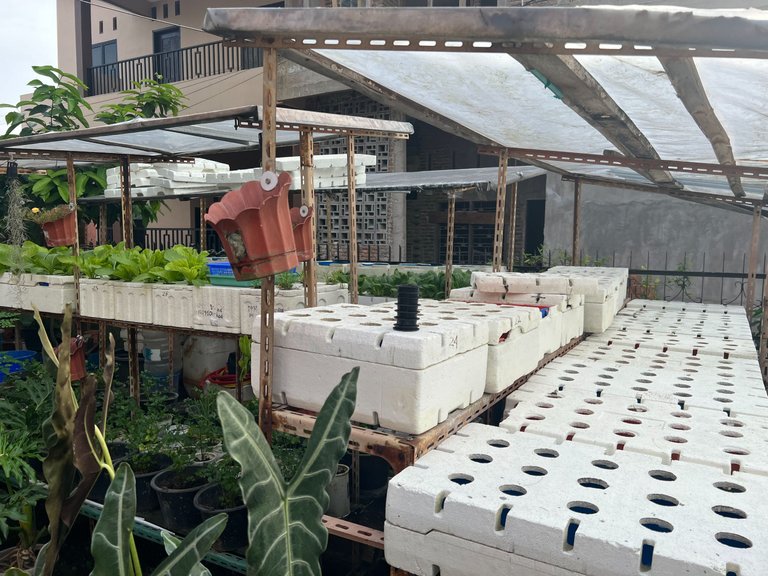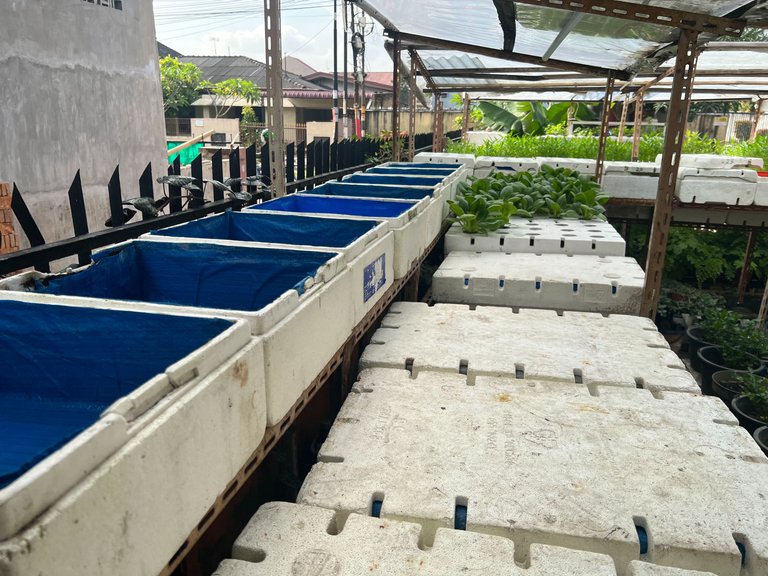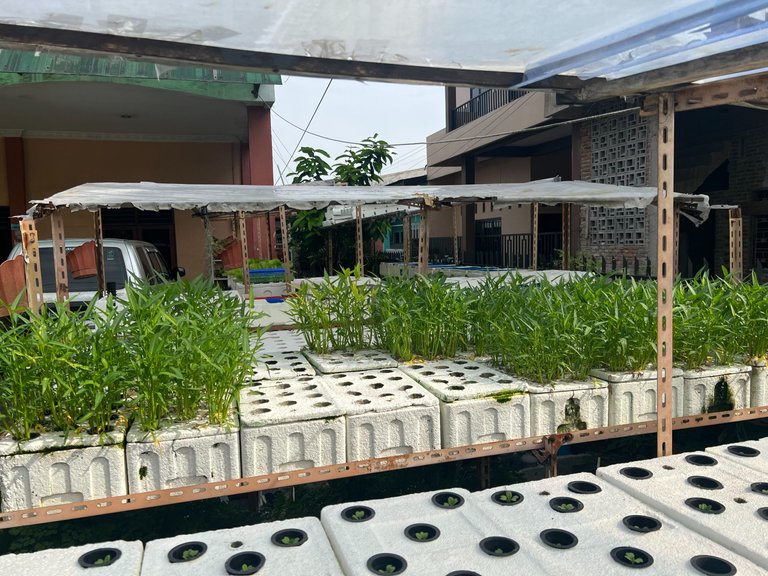 During this week, I have been busy with harvesting vegetables such as pakcoy and kangkong. All the vegetables that I planted during the planting period last January, were successful and I got optimal yields for pakcoy. During the harvest, we get about 30 kilograms of pakcoy for me to sell and some of the harvest for us to eat.
Unfortunately, I didn't get optimal yields for kangkong. I couldn't find a proper and logical reason why the watercress that I planted suddenly experienced a delay in growth and the growth became non-uniform. In fact, the growth of kangkong in the first 10 days when I planted it was very promising. Finally, I decided not to sell this kangkong and consume it myself for my family's needs.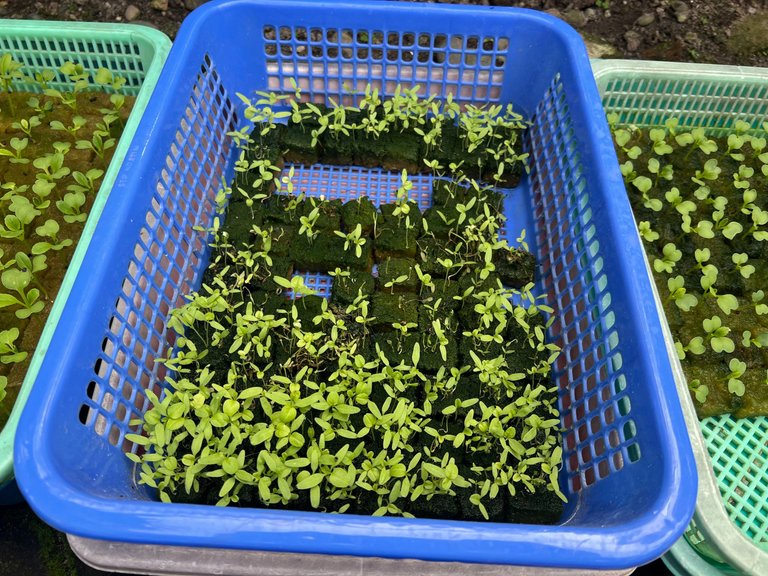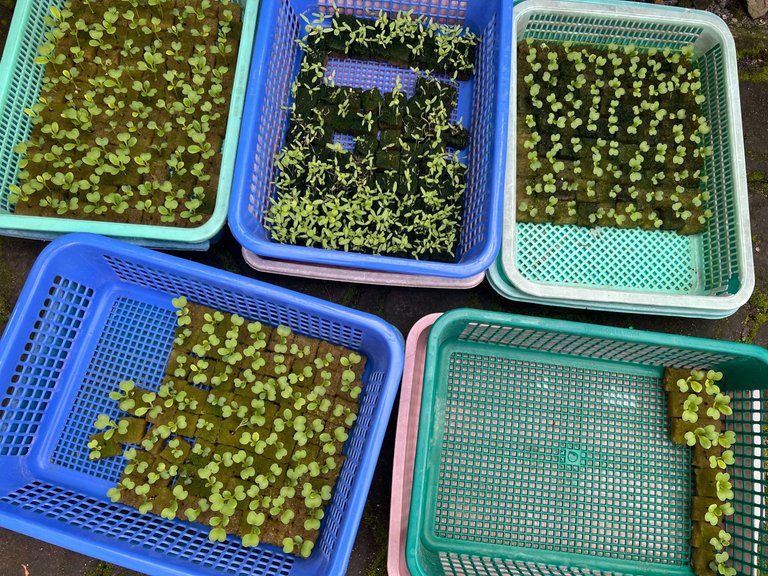 After harvesting all these vegetables, my hydroponic garden looks empty. Because of that, I work even more extra. I've been seeding a lot of vegetable seeds. I sowed a lot of pakcoy that I planted today. Besides that, for my planting period this time, I also did an experiment to grow spinach. I sowed about 220 pots of spinach which I will plant in this planting period.
---
---
Preparation for Mixing Hydroponic Fertilizer
Because I will do seed transfer to hydroponic media. I also have to prepare a fertilizer solution that will be used as a mixture of water in hydroponic media. Hydroponics uses liquid fertilizer, called AB-Mix Hydroponic Fertilizer. I bought this hydroponic fertilizer online at a farm shop in my hometown.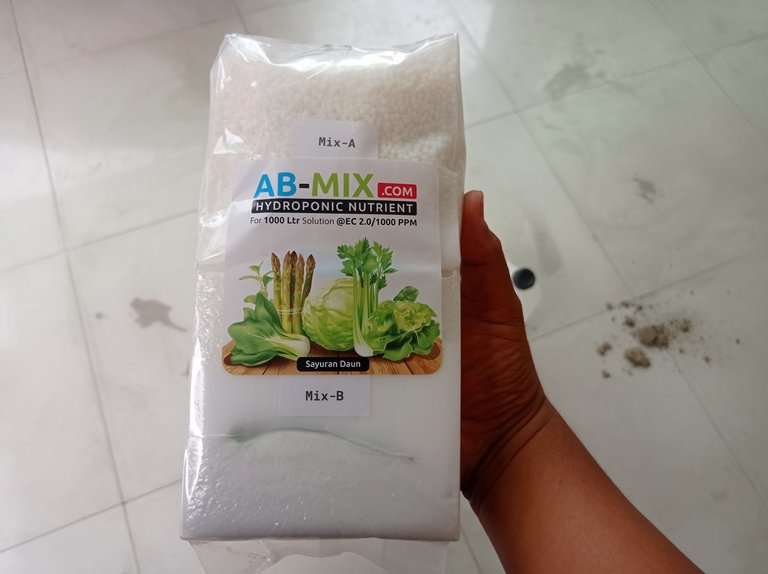 AB-Mix Hydroponic Fertilizer, consists of two types, namely Fertilizer A and Fertilizer B. These two fertilizers are mixed with water and stored separately. How to use it, we use these two fertilizers and mix them with water according to the dosage and standards.
---
---
Moving Pakcoy Seeds to Hydroponic Media
This afternoon, I also transferred about 400 pots of pakcoy to hydroponic media. There is one question that is often asked by people who study hydroponics, which is when is the right time to transfer the seedlings to the hydroponic medium. The answer is, when the seeds we sow have issued three or four leaves. In conditions like this, usually the seeds are more ready to move.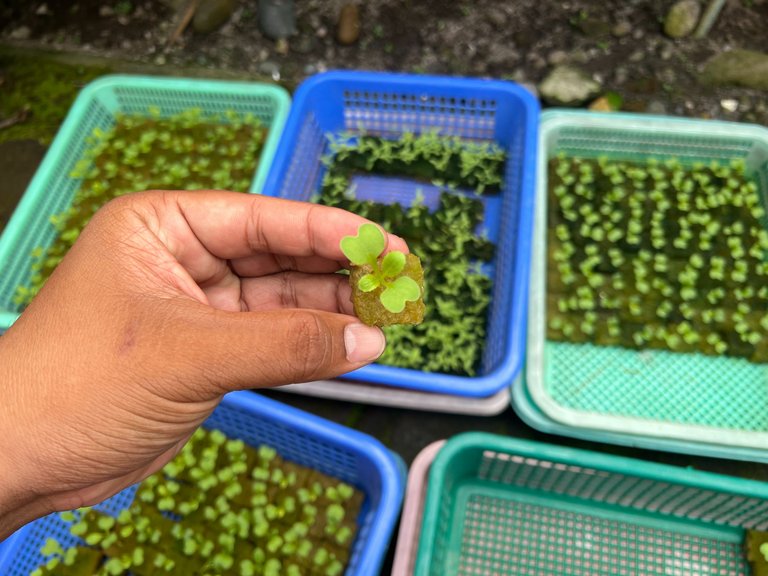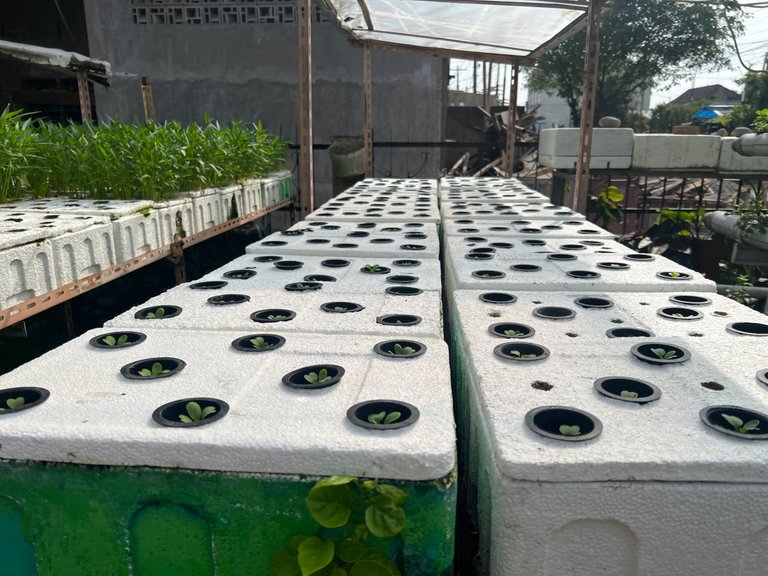 The pakcoy seeds that I sow are about 8 days old after sowing. Seed conditions also grow uniformly and optimally. In this planting period, I set the ppm concentration in my hydroponic medium to 1100-1200 ppm, and we will see how the pakcoy grows next week.
---
---
Conditions of Lettuce in My Hydroponic Garden
Next, I will invite my friends to see the condition of the lettuce that I grow in my hydroponic garden. I planted about 200 pots of hydroponically grown lettuce on my balcony on the second floor of my house.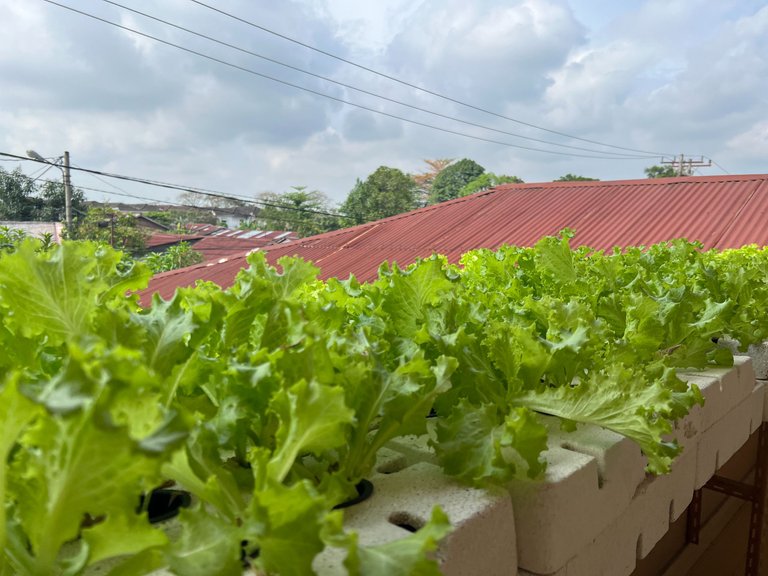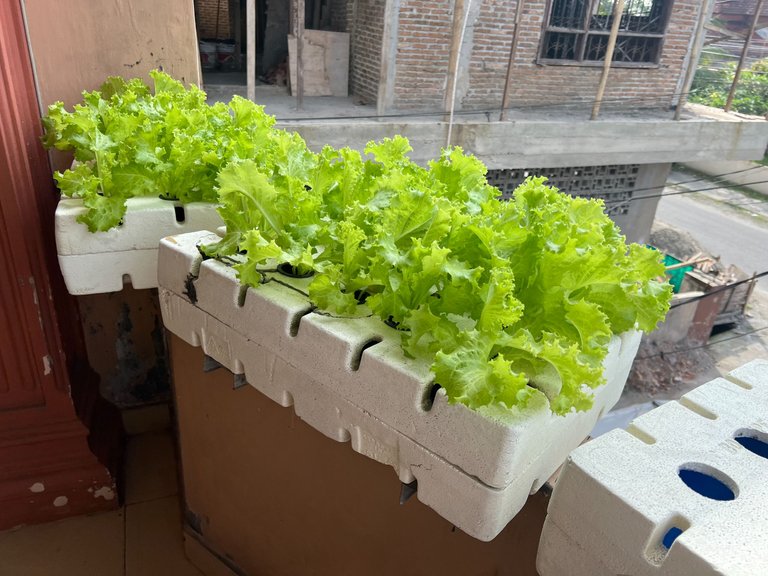 The lettuce that I planted during this planting period grew very well and optimally. We can see this good growth from the uniformity in the size of the growth of this lettuce. I also saw no signs of pest attack or leaf damage for this lettuce. Judging from the growth and also the condition of the lettuce, it looks like in about 10 more days these vegetables will be ready for me to harvest.
---
---
Bitter Mustard Conditions in My Hydroponic Garden
I plant bitter mustard or also often known as Chinese Mustard. This vegetable is one of the favorite vegetables for Indonesians, especially my family. This vegetable has a more bitter taste when compared to all other vegetables. However, the bitter taste of this vegetable gives us a stimulus to increase our appetite.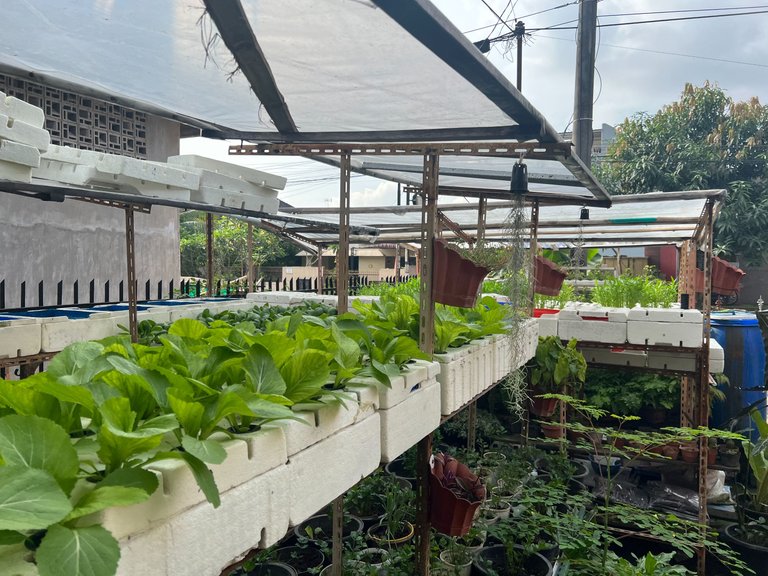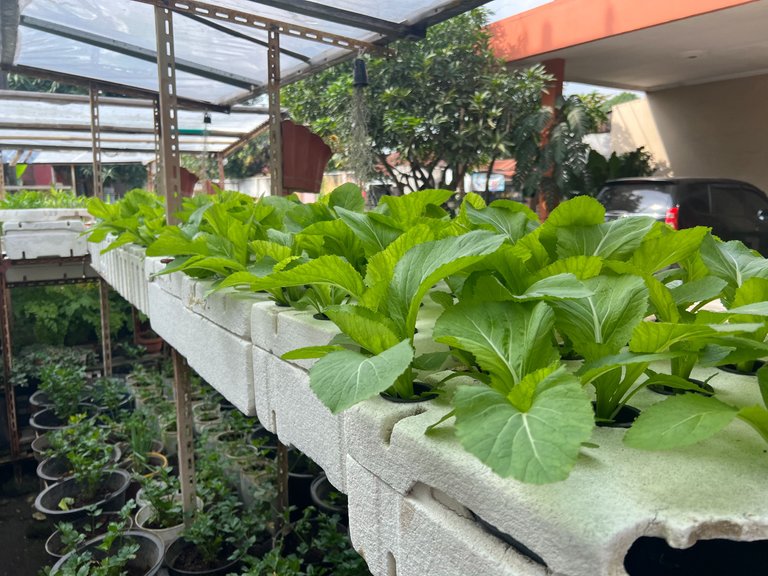 The bitter mustard greens that I planted in the Styrofoam media seemed to have better growth compared to the vegetables that I planted in the PVC pipe media. The Chinese Mustard that I planted on the Styrofoam media seemed to have a larger size, and the leaves were wider than the Chinese mustard in a vertical hydroponic installation.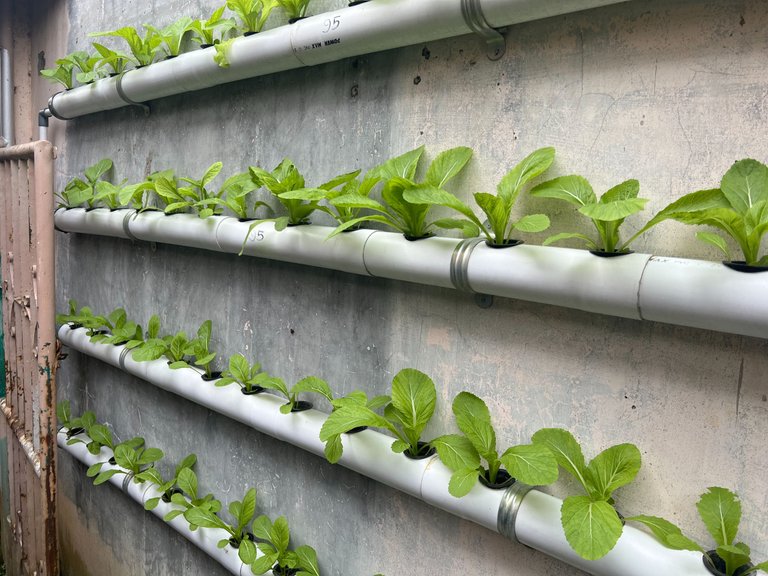 Vertical hydroponics utilizes the walls of the house, this method is indeed very simple and also saves space. However, the sunlight that enters the hydroponic installation is a little limited, especially if there are tall buildings like my house around the hydroponic installation. I don't need to worry about these different plants either, even though the Chinese mustard on my wall hydroponics is late, the difference in harvest time is only about 5-7 days.
---
---
Mint Leaves Condition in My Hydroponic Garden
Lastly, I asked my friends to see the condition of the mint leaves that I planted. During this week, I have to fight with the caterpillars that eat my mint leaves. Some of my pots of mint had to be damaged because of the many caterpillars that ate the mint. Leaf caterpillars are one of the natural enemies of this plant. When mint leaves thrive, caterpillars will come because they smell the fragrant and fresh mint leaves.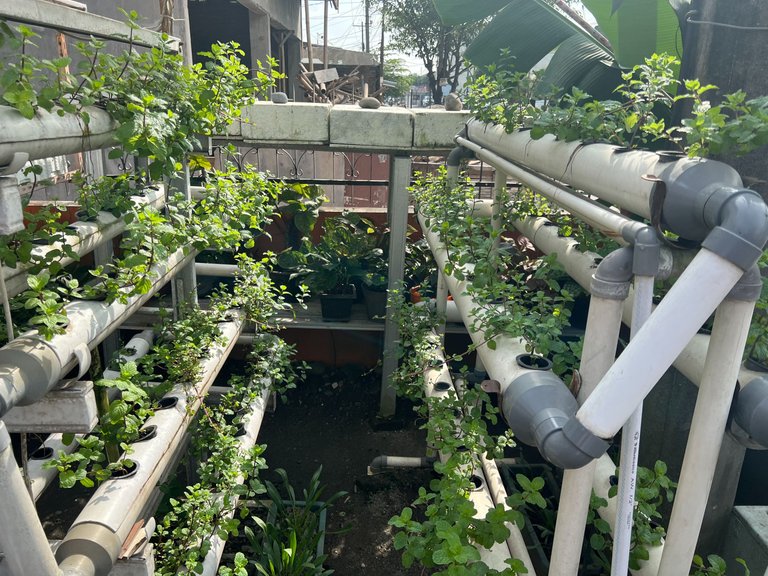 The arrival of caterpillars is indeed a bad and negative impact. However, I believe everything must have a positive side. I can make an insect attack on my mint leaves as a branding, if my agricultural products do not use chemical peptides. This is evidenced by insects such as caterpillars that eat the leaves of this mint plant.
Okay, maybe this is just my story this time. See you at another time.
---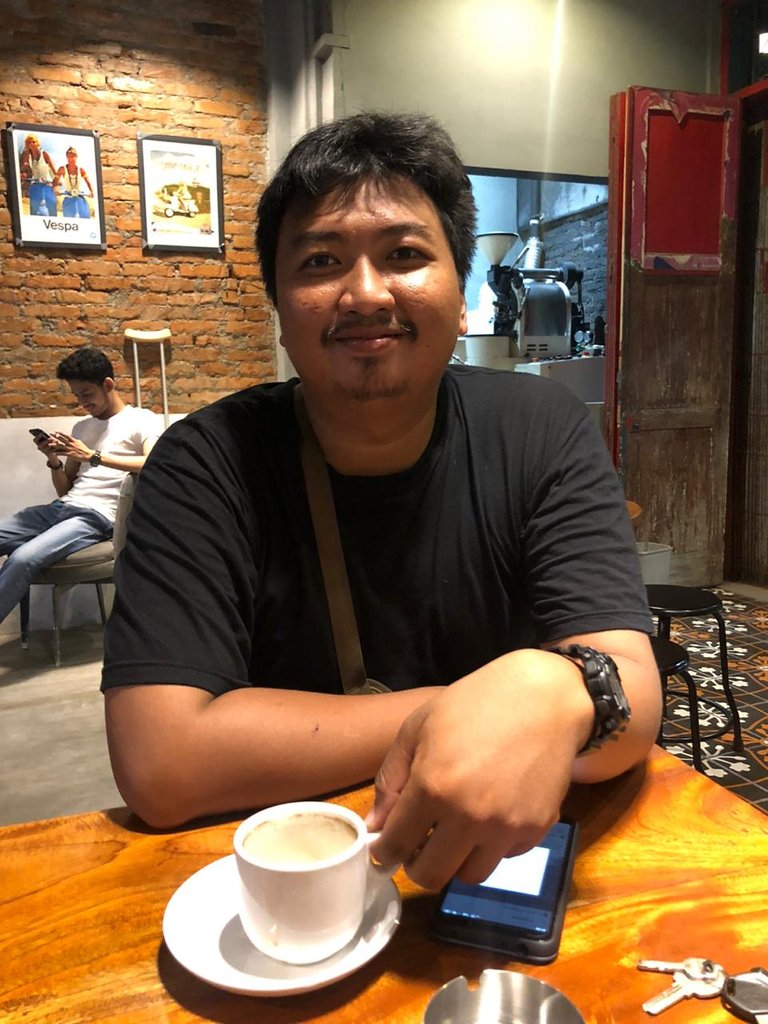 About Author

Call me Isdarmady, because I have a full name that is very long, namely Isdarmady Syahputra Ritonga. I am a head of the family who work as Farmers Vegetables Hydroponic and Consultant Hydroponics, sometimes I also sell coffee from various regions in Indonesia.
I have expertise dispensing coffee with a variety of techniques and tools brewing, because I have the desire to make a coffee shop with hydroponics as centerpieces. Help me realize that dream.
Thanks for read, vote, re-blog and support me in Hive. Maybe god will reward the kindness, let's success together.

---
---