Chicken Porridge: The Indonesian Breakfast Food That Is Always Debated
---
---
Hello everyone and community, how are you guys today? I can slightly predict what you are feeling, I see there are two feelings that you may be experiencing right now. First, there are some of you who are happy because the last few days Hive has been rising high and selling their coins at a good price, but there are also those who feel regret or sadness because some of their Hive assets have been sold some time ago at a price of half or a third of the current price.
---
---
Breakfast
Whatever happens about your feelings of confusion about the increase in the price of Hive coins, you should not think too much about it. We should enjoy and be grateful for what we get, because cryptocurrencies are a place of regret. Don't be nervous about seeing the price movements of crypto coins on your smartphone or computer screen but forget one important thing, namely breakfast.
I'm the type of person who has to eat breakfast, maybe it's because of the habit since I was little that my mother always prepared breakfast and that routine makes my body unable to do activities and I feel weak if I don't have breakfast. This morning, my wife and I decided not to cook breakfast and went to find breakfast with chicken porridge menu.
---
---
Chicken porridge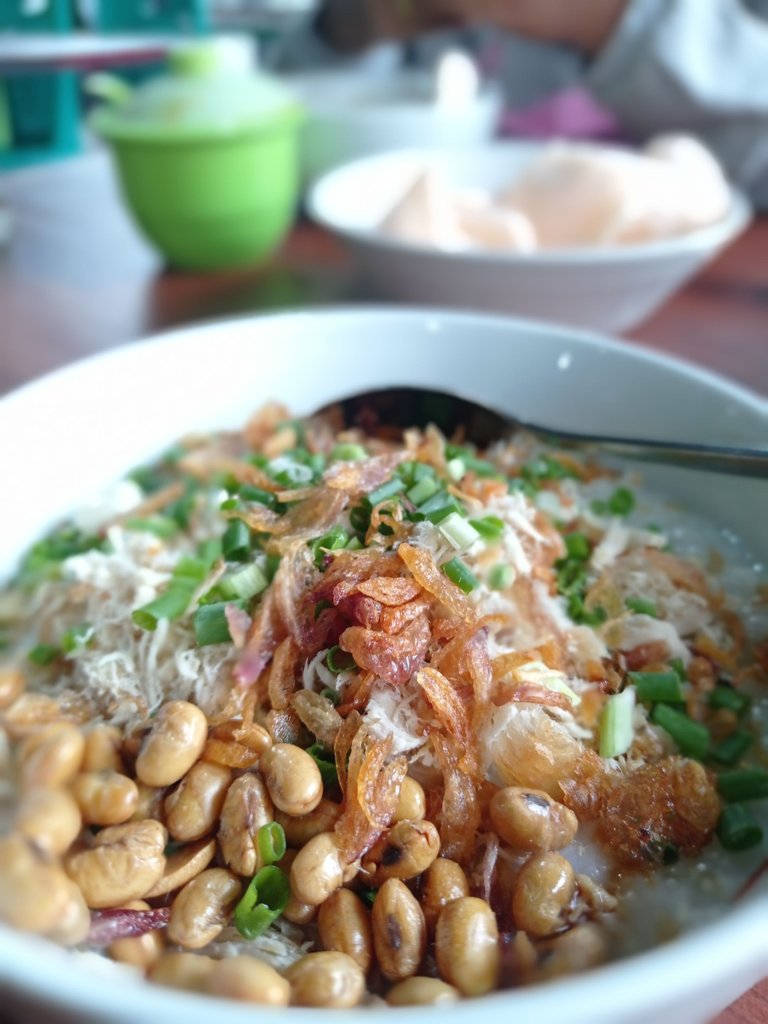 Chicken porridge (or Bubur Ayam in Indonesian Language) is a favorite food for breakfast in our family, and probably many people throughout Indonesia. The basic ingredient of chicken porridge is rice cooked with large amounts of water, so that the resulting texture is like porridge. In addition, due to the long cooking process, the rice and water combine, resulting in a plain and thick rice porridge.
The chicken porridge has a simple taste, and what makes it different is the topping. Several types of toppings are commonly used, such as cakwe, shredded chicken, celery leaves, soybeans, eggs and fried onions. Well, there is a uniqueness and at the same time I feel sorry for the seller of chicken porridge. Because, usually there are several buyers of chicken porridge who provide notes for their orders, such as chicken porridge without celery, chicken porridge without peanuts, or chicken porridge without eggs. At first glance it seems trivial, but if the order is crowded, it will certainly be difficult to remember such an order.
No one can argue about the delicacy of chicken porridge. This food can also make us immediately feel like eating, when a bowl of chicken porridge is served in front of us. However, behind the delicacy of Chicken Porridge, there is a big problem that makes Indonesian people split into two opinions about how to eat chicken porridge.
---
---
Stirred Chicken Porridge
The first opinion about how to eat chicken porridge is stirred. For adherents of this understanding, they will mix (mix) all the ingredients in the chicken porridge, like the photo below.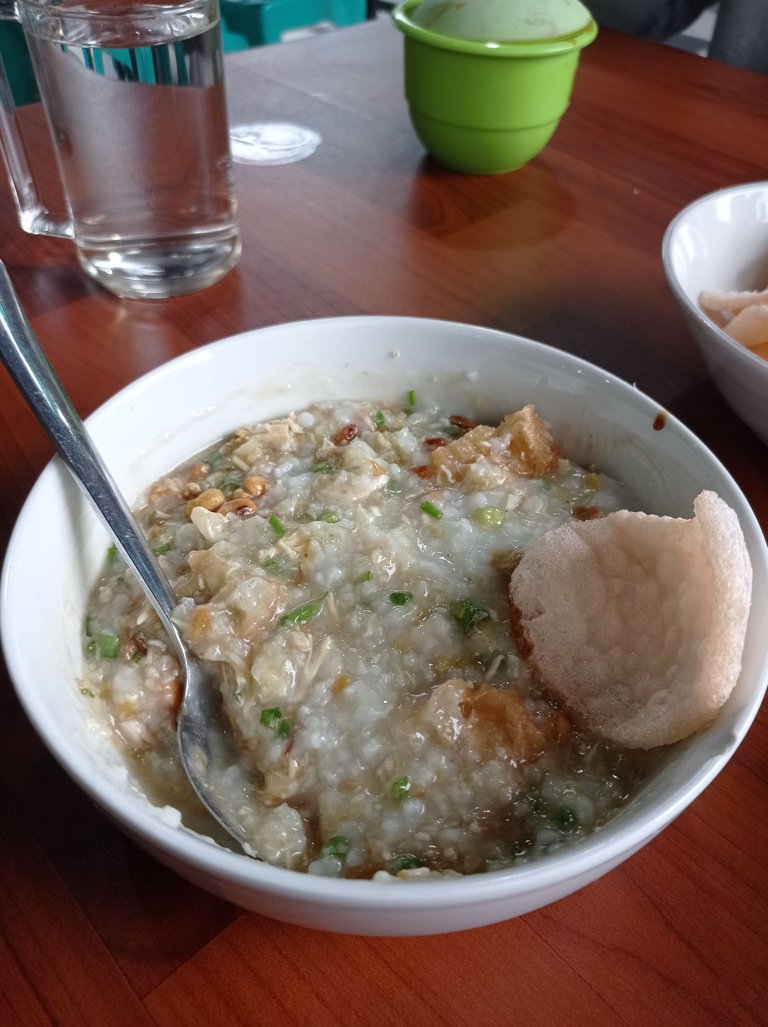 There are many reasons for people to stir like chicken porridge, among them they have the opinion that chicken porridge will be more easily digested by the stomach. However, the reason I often hear is that stirring chicken porridge makes all the ingredients evenly, and the flavors are perfectly mixed.
---
---
Unstirred Chicken Porridge
The second opinion about how to eat chicken porridge is not stirred. For adherents of this understanding, they will eat the chicken porridge slowly, and still maintain the shape of the chicken porridge, as in the photo below.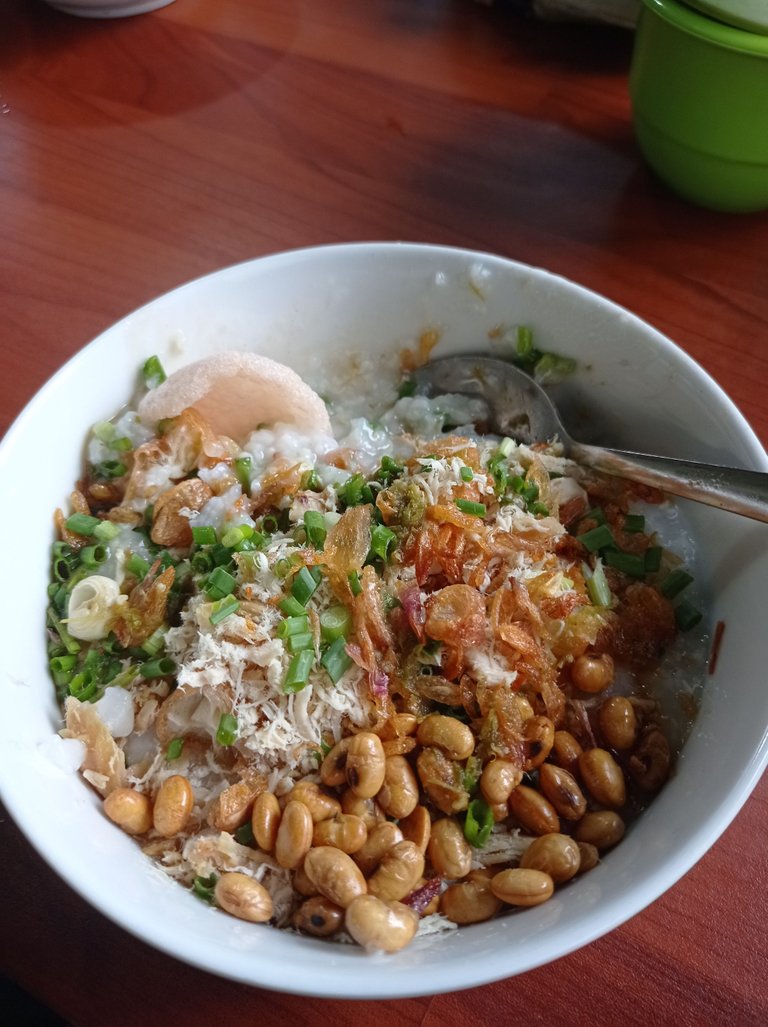 Some of the reasons people who eat chicken porridge are not stirred are to maintain the aesthetics of the shape of the chicken porridge to increase appetite.
---
---
My choice
I am a person with the characteristics of the second type of eating, I eat chicken porridge without stirring. For me, just mix cement, stone, and sand (just kidding). There is a strange feeling in me when I see the porridge that has been stirred in the form of this food makes my appetite go away.
Unlike me, my wife is the type of person who eats chicken porridge by stirring. Even though we have different ways of eating we have never had a problem with it. But the debate about how to eat chicken porridge continues, especially on Indonesian social media.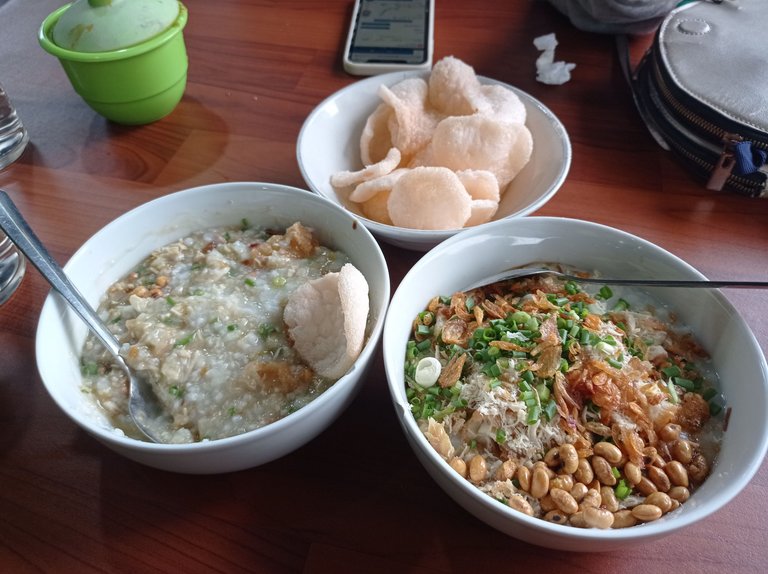 Questions about how to eat are also often asked to guest stars on talk shows. Usually the question of eating chicken porridge is stirred or not stirred, asked by the presenter to make the talk show funny, and break the rigidity. However, sometimes the answer from the artist or guest star will be debated by netizens on social media.
The debate about how to eat chicken porridge may never end. Because everyone's eating habits and tastes are different and cannot be generalized. Btw, what kind of meal would you choose if you served a bowl of chicken porridge in front of you?
---
---
---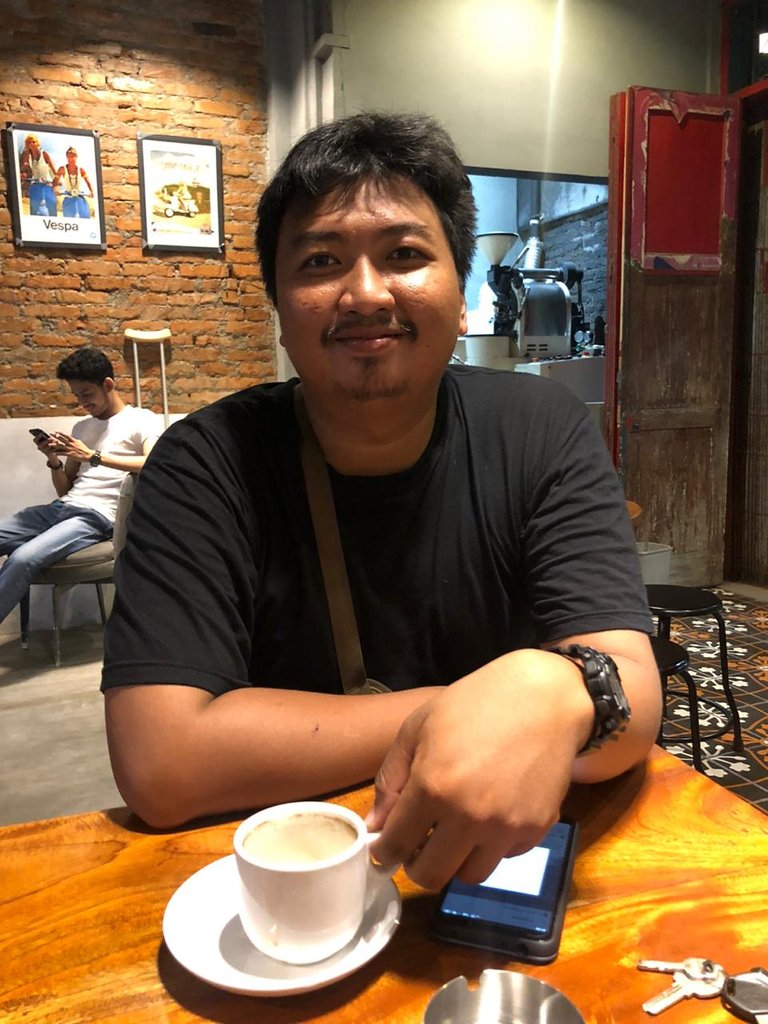 About Author

Call me Isdarmady, because I have a full name that is very long, namely Isdarmady Syahputra Ritonga. I am a head of the family who work as Farmers Vegetables Hydroponic and Consultant Hydroponics, sometimes I also sell coffee from various regions in Indonesia.
I have expertise dispensing coffee with a variety of techniques and tools brewing, because I have the desire to make a coffee shop with hydroponics as centerpieces. Help me realize that dream.
Thanks for read, vote, re-blog and support me in Hive. Maybe god will reward the kindness, let's success together.

---
---