Cleaning Up dan Prepare of My Hydroponic Garden - My Hydroponic Weekly Journal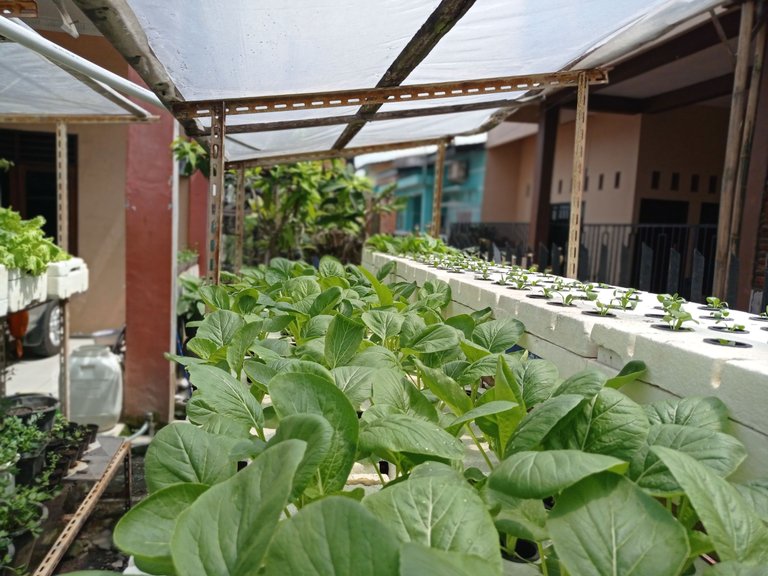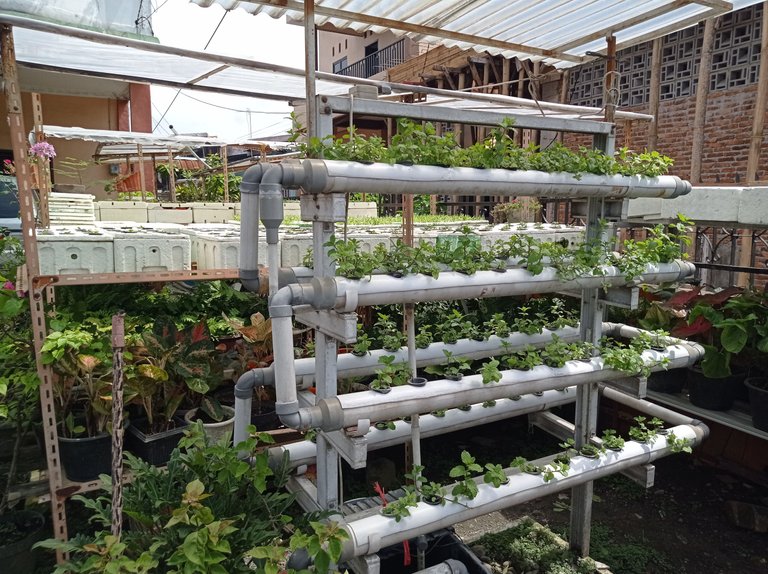 ---
---
Hello everyone
How are you guys ? I hope and pray that all of us, especially all members of the HiveGarden Community, will always be given health and also patience in living this life. Patience is very important in the midst of the uncertainty that occurs, the dynamics of life and the problems that keep coming to us. Patience makes it easier for us to be grateful for our lives and prevent us from being jealous and greedy in life. When it is easy for us to be grateful in our lives, it will be easy for us to achieve happiness.
This time, I want to contribute and participate again in the HiveGarden Community by sharing a garden journal about my activities this week in my hydroponic garden. Making a weekly garden journal about the condition of my hydroponic garden has become like a routine activity of mine. This makes me more excited to take care of the hydroponic garden and make it better.
---
---
Cleaning Hydroponic PVC Pipes
This week, I have lots of activities to do in my hydroponic garden. The condition of my hydroponic garden is almost filled with about 70% of the total number of holes I have, all the seeds that I have sown I have almost finished moving. However, my hardest gardening activity this week was cleaning the moss on my PVC pipe installation.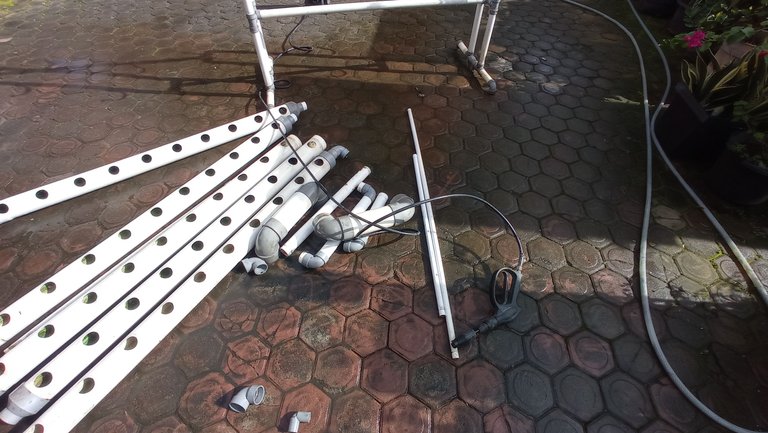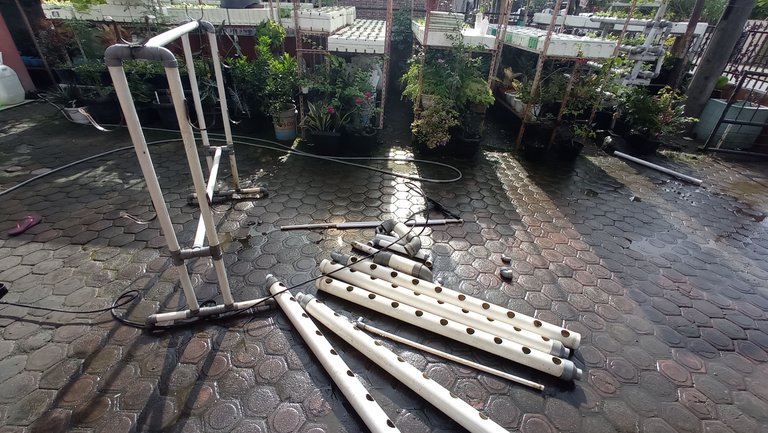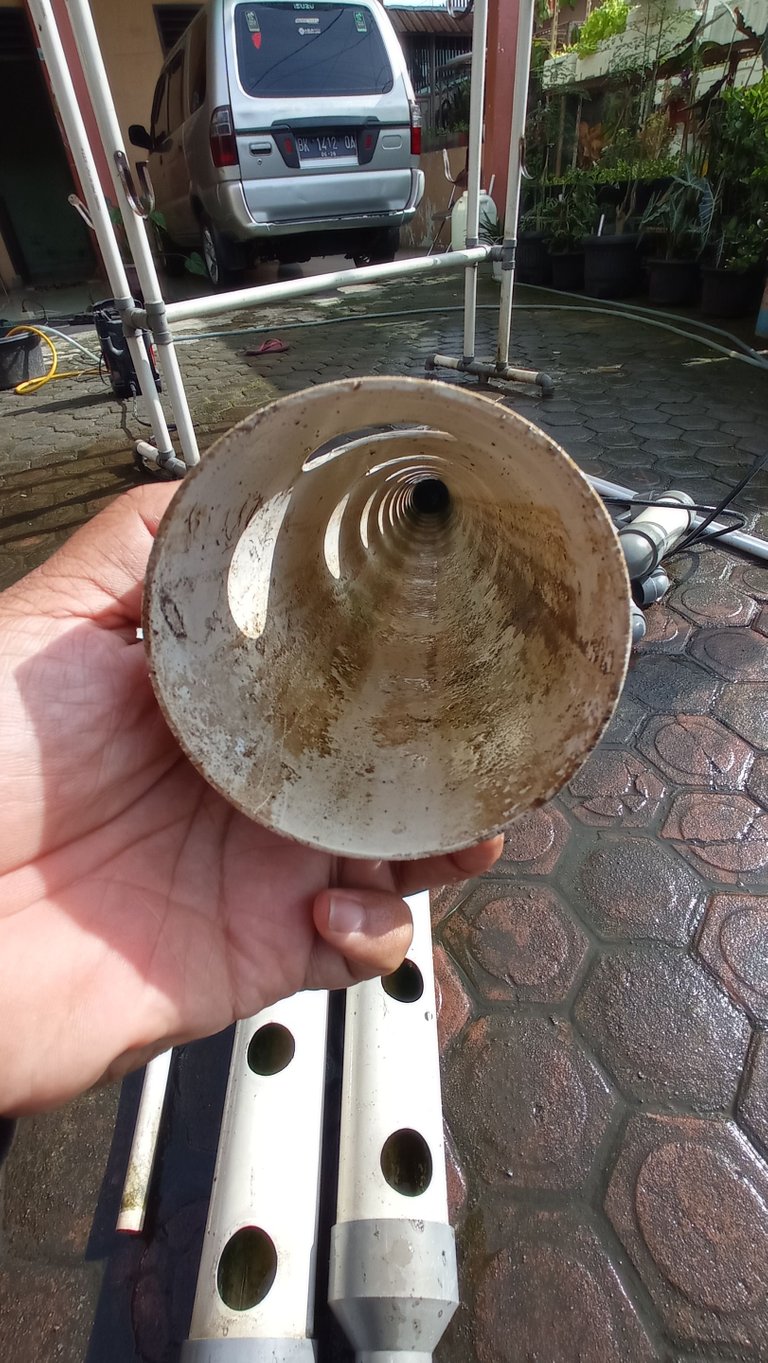 If friends often see and read the weekly hydroponic garden journal that I make, of course you know that I have two units of hydroponic pvc pipe installation series. As far as I can remember, I haven't cleaned these pipes in a long time and cleaning the pipes will really help the plants grow better and thrive. The moss that is not cleaned will make the vegetables and plants that we grow compete with each other for the nutrients that we provide in the hydroponic installation.
To clean this hydroponic pipe installation, I first disassembled the series of pipes and sprayed it with a jet cleaner machine so that the moss attached to it could be removed. Every now and then I also scrub this pipe with a brush. The process is simple, but it will take you a whole day to do it.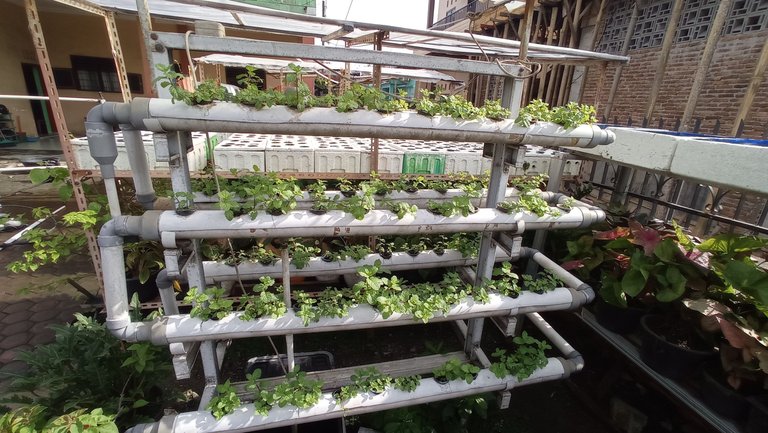 These pipes are dirty because I grow mint leaves continuously. Unlike other vegetables that I harvest directly, the mint leaf harvesting system only needs to trim the leaves and leave shoots for these leaves to grow back. Leaf roots that continue to grow make dirt and moss stuck in the hydroponic pipe.
---
---
Conditions and Development of Hydroponic Pakchoy
This week, I transferred the pakchoy seeds to my hydroponic media. I transplanted about 500 pakchoy seedlings last Thursday, and currently these pakchoys are about 12 days old after sowing. This time, I planted this pakchoy with a uniform planting age. Actually, I'm avoiding this method because it will make it difficult for me to harvest it later. However, my growing cycle in my hydroponic garden is changing with my busy schedule.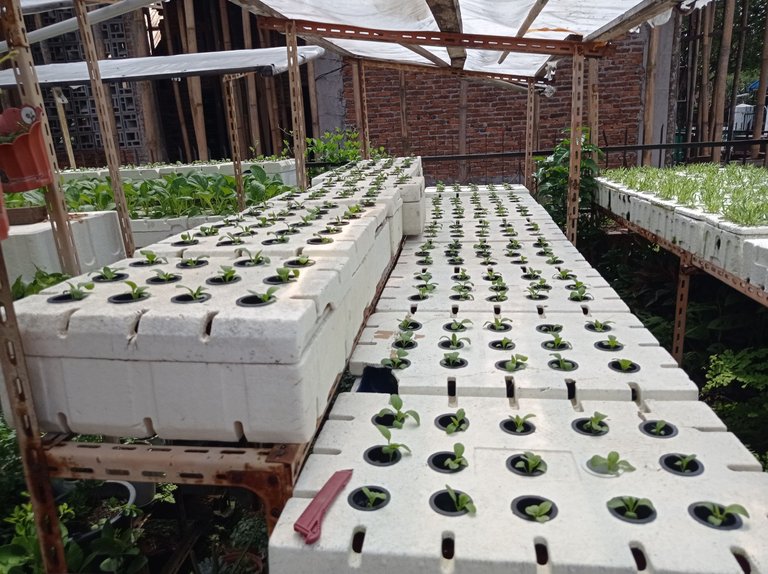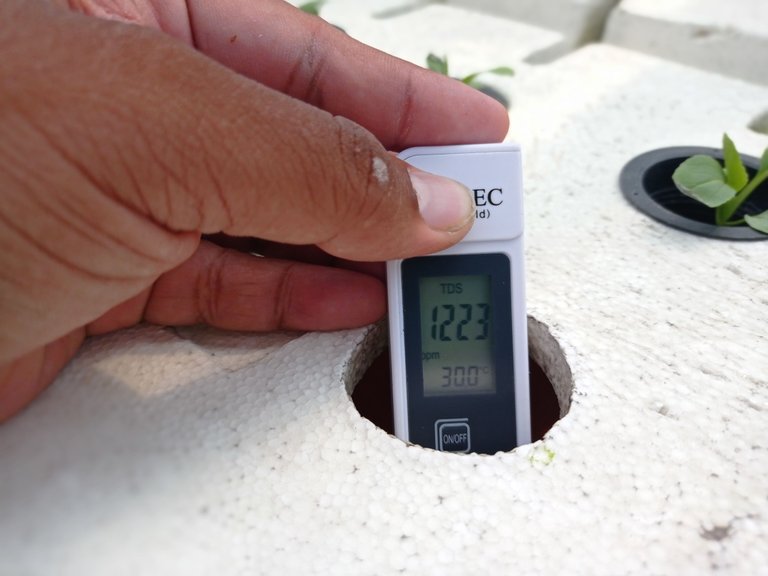 In this initial period, I used a hydroponic liquid fertilizer solution with a concentration of 1200 ppm. All these pakchoy grow well and optimally. I also do regular maintenance by spraying plant-based pesticides to prevent pests in my garden.
---
---
Conditions and Development of Hydroponic Kangkong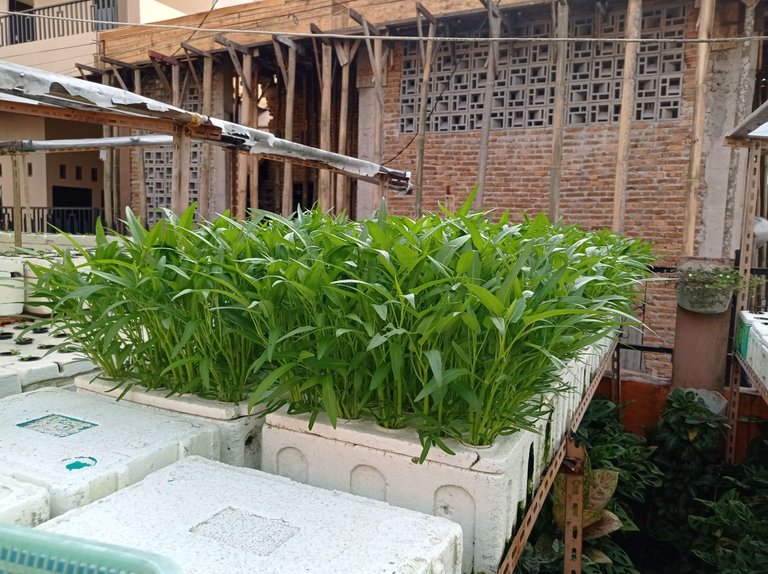 This week, all the kangkong were 21 days after the seedlings were harvested. This kangkong grows very fast and optimally, I get about 10 kilograms of kangkong with only 200 planting media holes. I imagine that if I have more land, I want to plant more kangkong, of course, it is very profitable for everyone.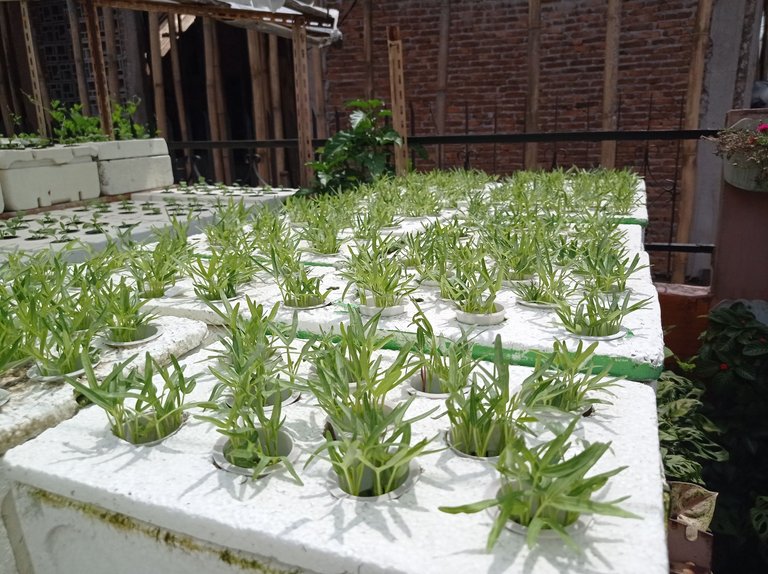 When I harvest the kangkong, I don't leave the hydroponic media empty. I immediately replanted it with kangkong seeds again. Utilizing the remaining water in hydroponic media after post-harvest makes us more efficient in using fertilizers and also efficient in working. The solution in hydroponic fertilizer can be used directly, but if it is not used immediately and is left exposed to excess sunlight, the solution will be acidic and vegetables will not grow optimally.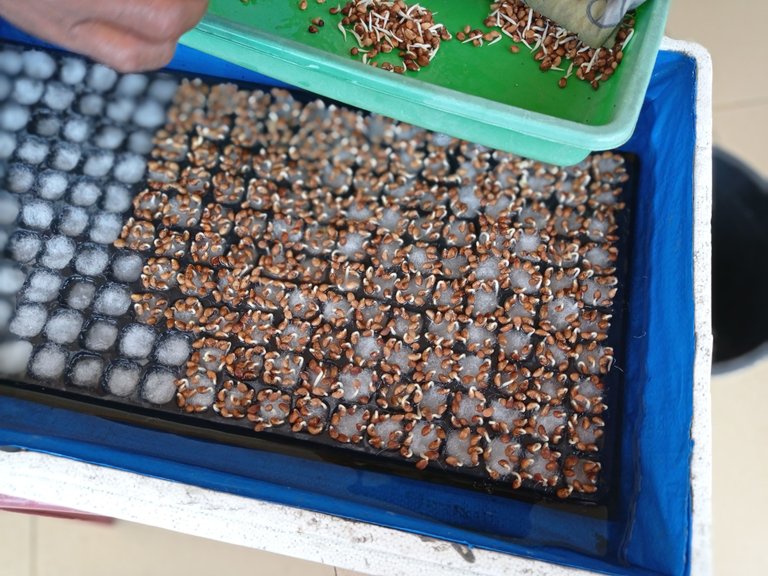 This week, I also prepared a kangkong nursery for me to plant in the remaining hydroponic media that I have. This way of seeding kangkong for hydroponics is a little unique and different from other vegetables. For kangkong, I sow it with a media tray for seedlings and dacron, and for other vegetables I use rockwool as a medium for planting and sowing seeds.
---
---
Conditions and Development of Hydroponic Lettuce
Next, we go to the lettuce I planted. This hydroponic lettuce is about 23 days old after sowing, everything grows well and is uniform. I use a liquid fertilizer solution with a concentration of about 700-800 ppm in this planting period. For this lettuce, I also tried to give a spray of hydroponic liquid fertilizer solution so that this lettuce grows better.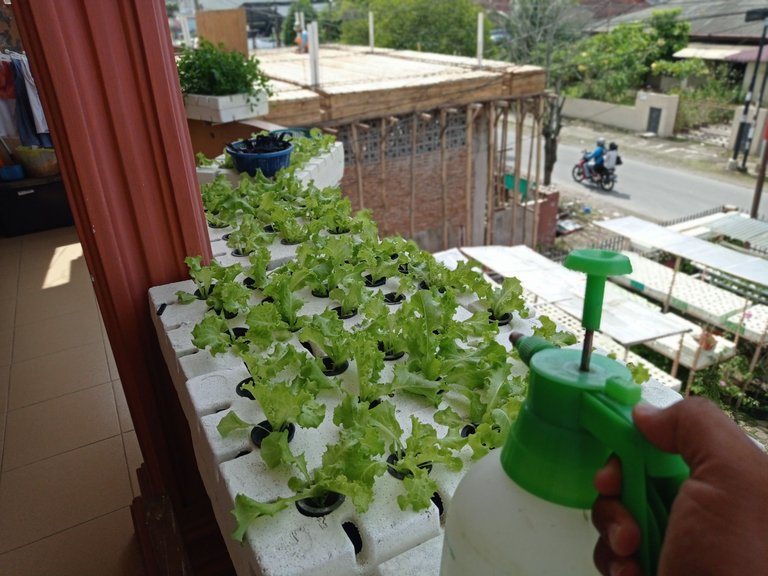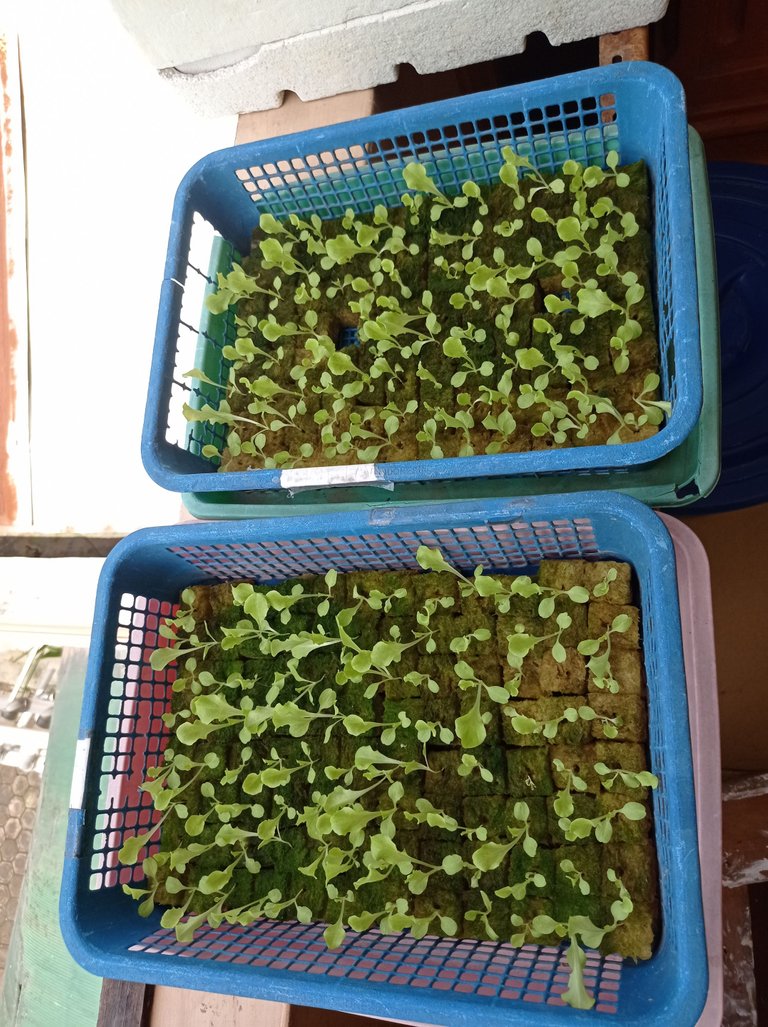 I also want to update the condition of the lettuce seedlings that I sowed last week. Everything is growing very well, with about 10 days after sowing and I will be transferring to growing media this week.
Conditions and Development of Mustard Greens
After seeing several types of vegetables that were still freshly moved. This time, I want to invite my friends to see vegetables that are bigger and greener. However, there is one problem that I only realized after this vegetable grew bigger. I was planning to plant bitter mustard, it turned out that my bitter mustard seeds seemed to be mixed with caisim seeds. It seems that there was an accidental mixing of seeds that Sasya did when sowing these vegetable seeds. These vegetable seeds are indeed very small and have almost the same shape, so there is a possibility that they may be mixed during the seeding process.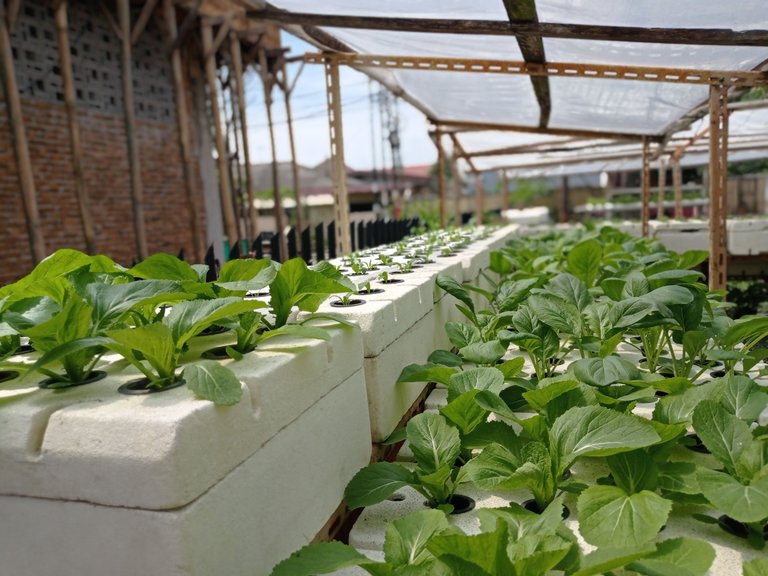 However, even though the seeds are mixed with bitter mustard and caisim mustard, these two vegetables grow well and optimally, because basically these two vegetables have similar types and also the same nutritional needs. I use a hydroponic nutrient solution with a concentration of 1200-1300 ppm for these vegetables.
Okay, this is a story about my activities in my hydroponic garden. Hope you guys don't get bored, and see you next week. Happy Gardening.
---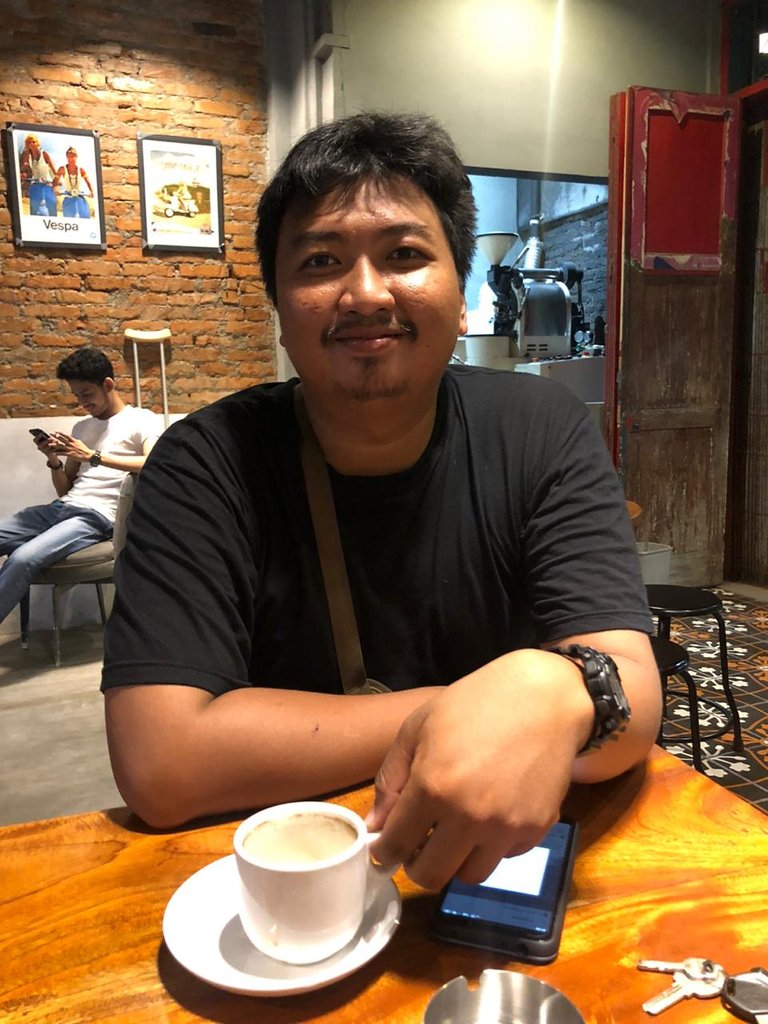 About Author

Call me Isdarmady, because I have a full name that is very long, namely Isdarmady Syahputra Ritonga. I am a head of the family who work as Farmers Vegetables Hydroponic and Consultant Hydroponics, sometimes I also sell coffee from various regions in Indonesia.
I have expertise dispensing coffee with a variety of techniques and tools brewing, because I have the desire to make a coffee shop with hydroponics as centerpieces. Help me realize that dream.
Thanks for read, vote, re-blog and support me in Hive. Maybe god will reward the kindness, let's success together.

---
---