Design and Architecture of Avros Cafe - Dutch East Indies Theme Cafe in a Historical Building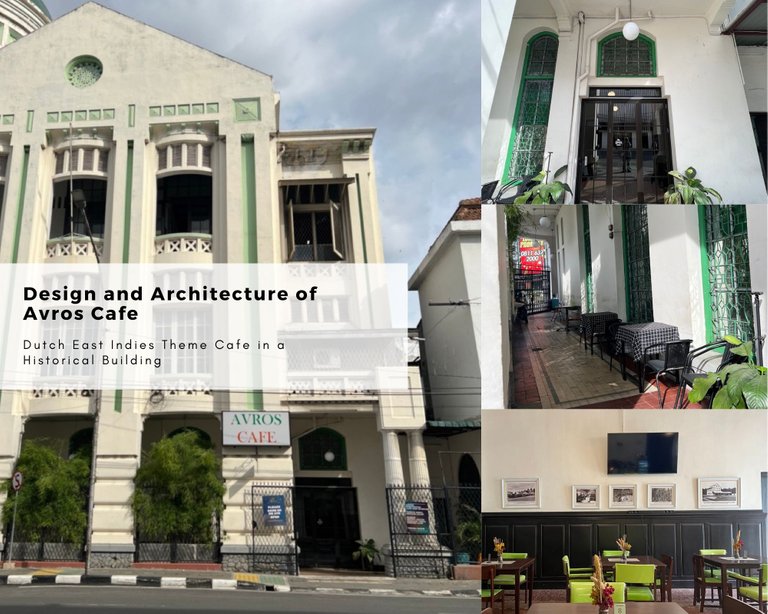 ---
---
Hello everyone, how are you guys today? I hope and pray, we are all always given health and also happiness in living this life. I am also very happy to finally be give the time and opportunity to be able to participate and contribute to the Architecture+Design Community again. It is a pride and joy for me to be able to always contribute to this community.
As usual, I will still discuss the design and architecture of cafes or coffee shops in my city. Architectural content about the café, coffee shop and restaurant business is still one of my favorite content that I write on this blog. Since long time ago, I always enjoy the moment when I visit a cafe or coffee shop. For me personally, coffee shops and cafes are businesses that are heavily influenced by architectural design and interior design. Several people, and café customers will come to one place because they are interested in the concept and then are interested in trying to eat it.
In my post this time, I want to share a story about my experience when visiting a coffee shop in my city. What are the interesting stories? keep watching my post this time.
---
---
Avros Cafe
Last week, I accompanied my wife to buy some fabrics at one of the largest cloth markets in my city. My wife has a home business of making window curtains and I often help her buy fabrics. The market location is named "Pajak Ikan" or in English version: "Fish Market". The name of the market does sound strange, because there isn't a single fish being sold here, there are only cloth with various models.
My wife's favorite cloth shop is downtown from Medan City. For information for friends, Medan City is one of the largest cities in Indonesia and also gets a lot of design and architectural influences from the Dutch colonialism in Indonesia. One that can be seen in my city are several old buildings with a very strong European style. Some of the buildings are still well maintain but some of the buildings have been damaged or renovated.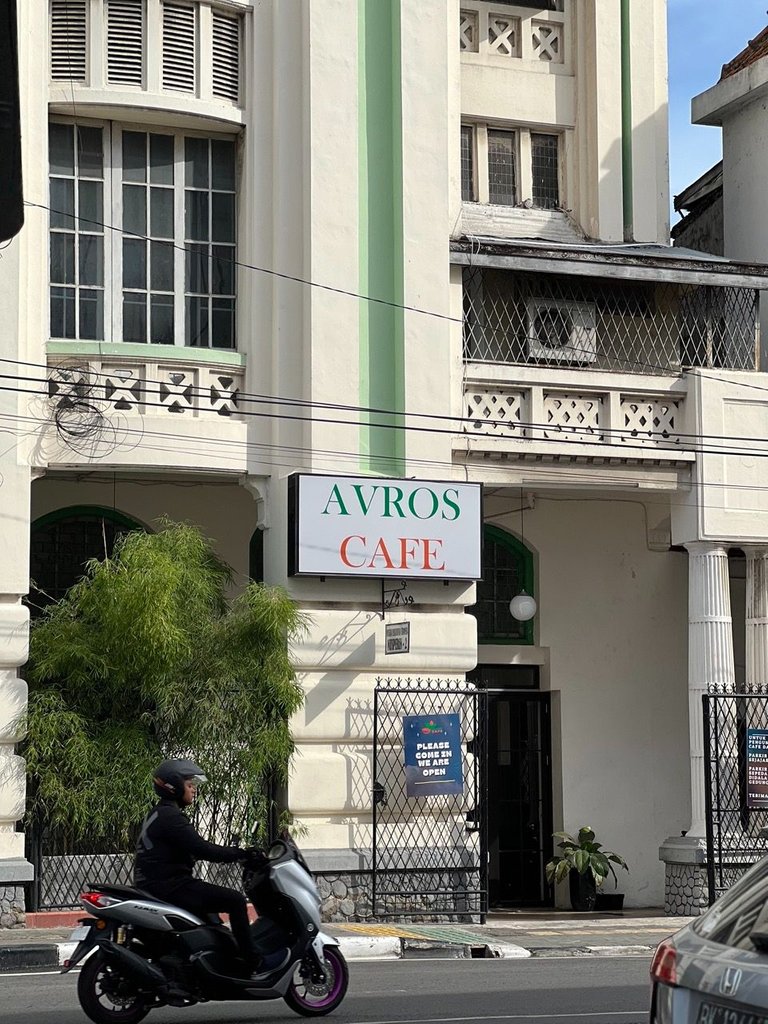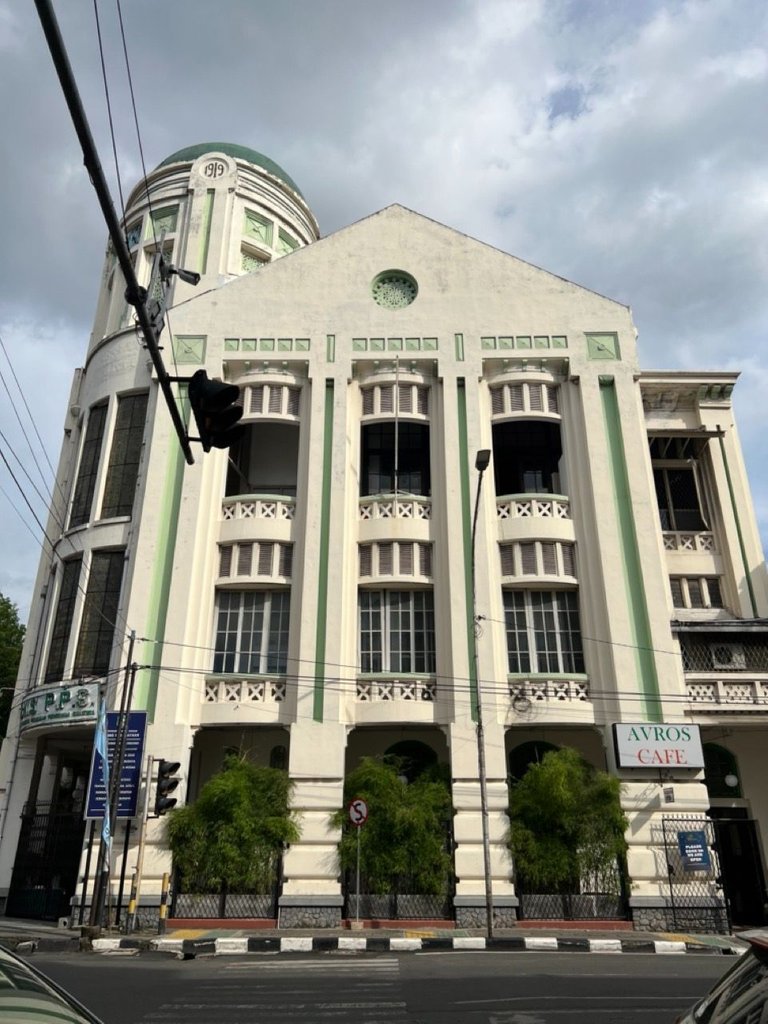 After finishing shopping, I invited my wife to stop at a coffee shop that caught my attention. This coffee shop or café is called Avros Café which is at an intersection and not far from where we are. The location of Avros Café is at Pemuda Street no. 2, Medan Maimun District – Medan City.
It's very easy to find Avros Café, because the café uses a room from a historic building in Medan City. According to the historical literature that I often read, Avros is the name of one of the plantation business corporations in the colonial era. I can say, Avros is an international company because it is owned not only by the Netherlands but also Germany, Poland, England and other European countries. Currently, the avors building is part of the Indonesian oil palm research center.
Just looking from the front, we can already see the size of this old building. Currently, this building has changed its function to become a plantation museum. Unfortunately, when I arrived that afternoon the museum was already closed. I also want to discuss the design and architecture of the museum, another time.
---
---
Dutch East Indies Café Theme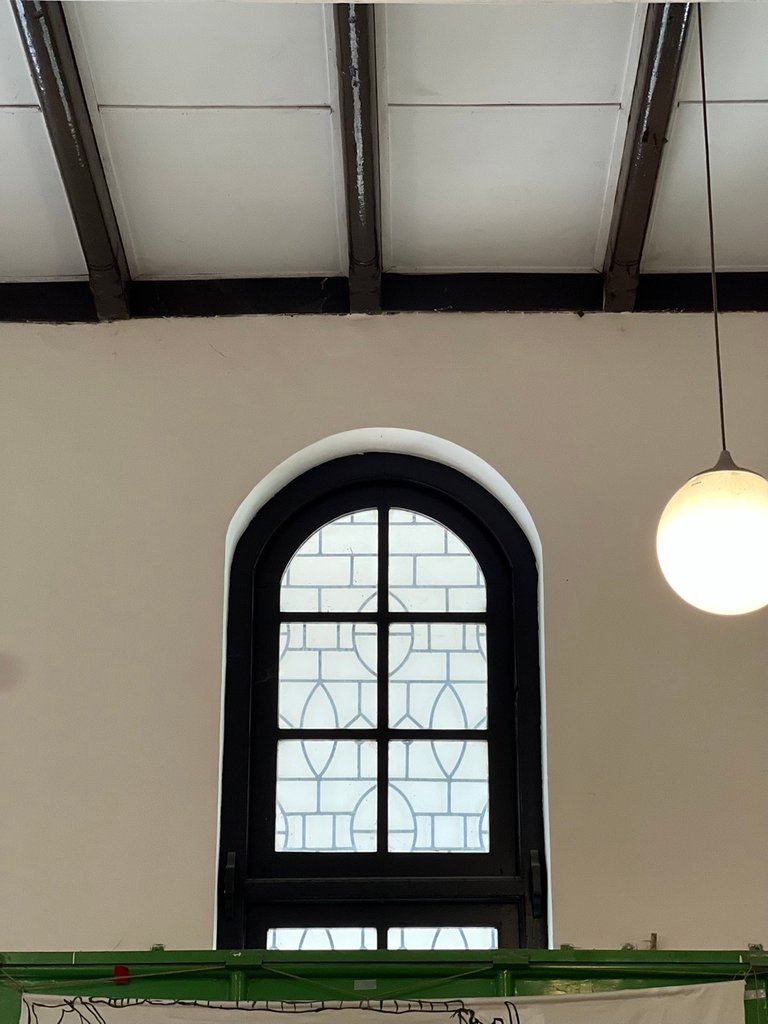 The location of Avros Café is at the base and corner of this building. I suspect, in the past this café area was used as a doorway for goods. On the door, I still see a large door that uses a pulley system. The function of this door can still be used, and get regular maintenance.
The biggest appeal of Avros Café is that it is classic and oldschool. When I entered this café room, I felt like I was traveling through time to the past. Avros Café gives us a real experience of the situation and condition of cafés in the Dutch colonial era (1910-1945). Avros Café maintains the original shape and design of this building. We can see from the doors, windows and also the roof design which still uses the same design but has received restoration and renewal.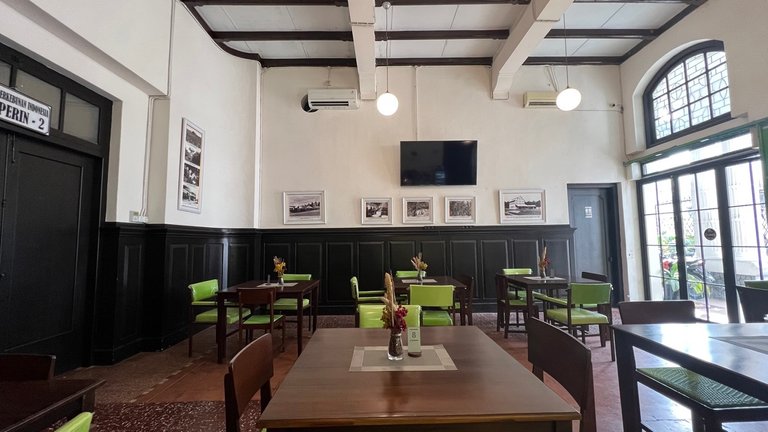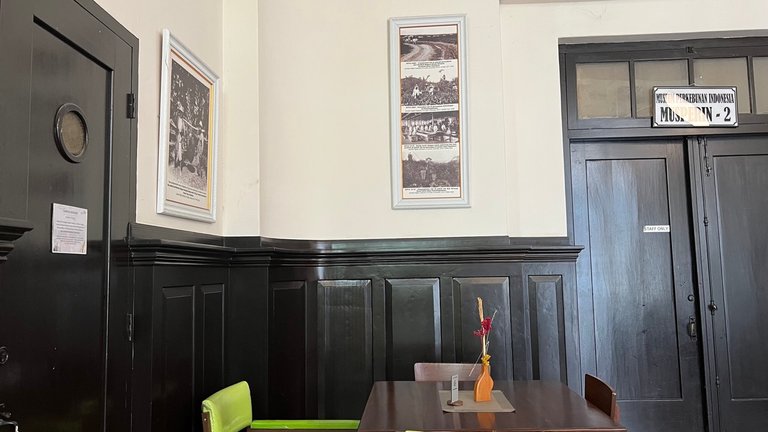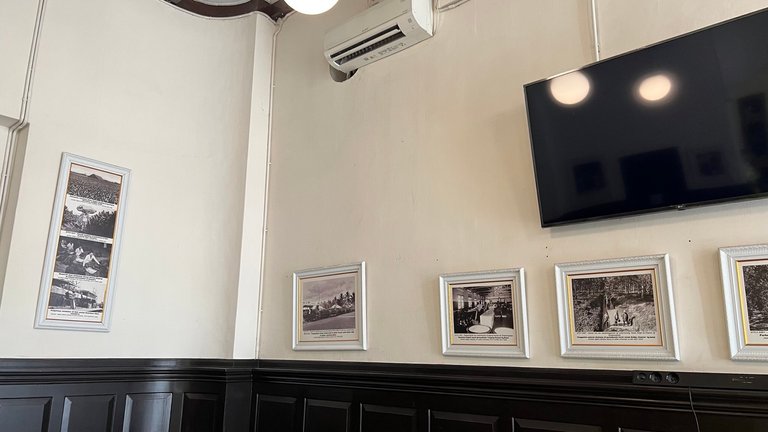 The walls of this café room use a combination of walls with white paint and black wood panels on the lower area. The combination of walls and wood harvest is very nice, looks classic, elegant but also luxurious. Moreover, Avros Café provides several black and white photographs from the company's archives which are displayed on the walls of this café. I think, there is no best decoration other than historical photo documentation in a café located in a historic building.
It seems that the floor of Avros Café still uses the original ceramics and marble from this building. The floor tiles use terracotta colors with a slightly dull condition but are still clean and combined with classic abstract motif tiles. I always think, how can architecture in the past choose materials that are durable and long lasting, like the floor tiles at Avros Café. For info, the ceramics of my house are still 10 years old since they were built and many are broken.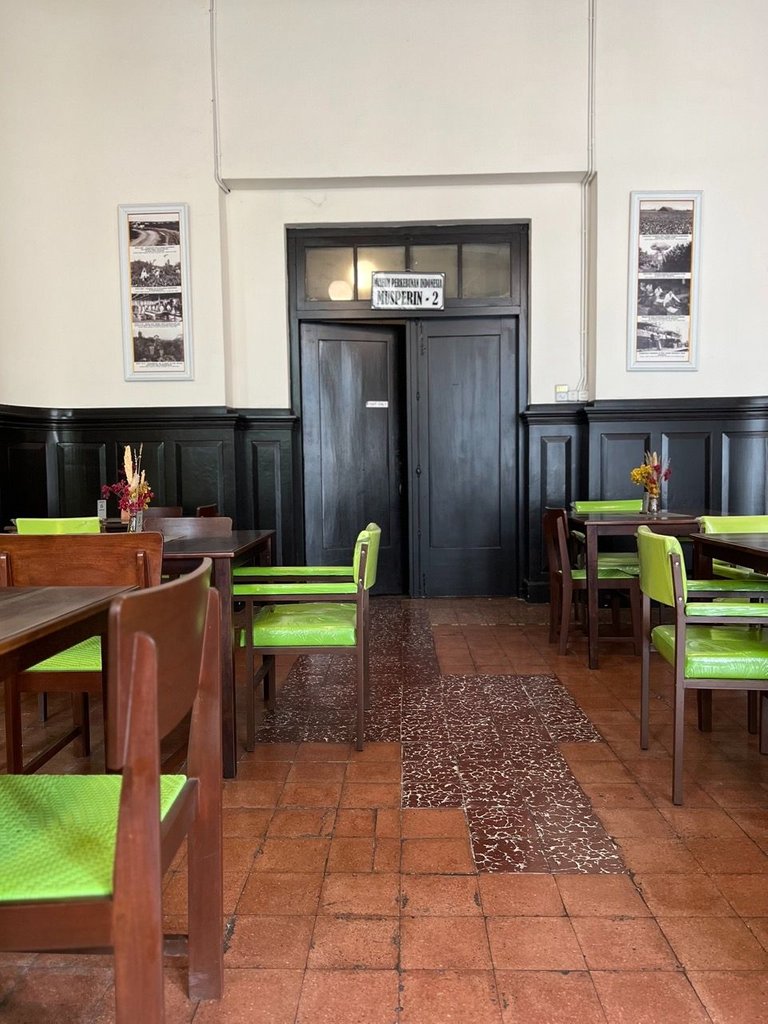 I also want to appreciate the selection of chairs and tables used in this café. Chairs and tables use iron and wood furniture in a very old style. I would even bet, if the chairs and tables used in this cafe are original furniture from this Avros building. Why am I sure? because I sat in one of the very classic metal chairs and my grandpa had this model of chair that he got from the trash by the local government office.
I also like the choice of green in some of the furniture and designs. It seems that this green color is very suitable for the old building and also this cafe. We know that the Avros Building was a former plantation company building and there is no more appropriate color than green to convey an image of the plantation which is part of the history of this building.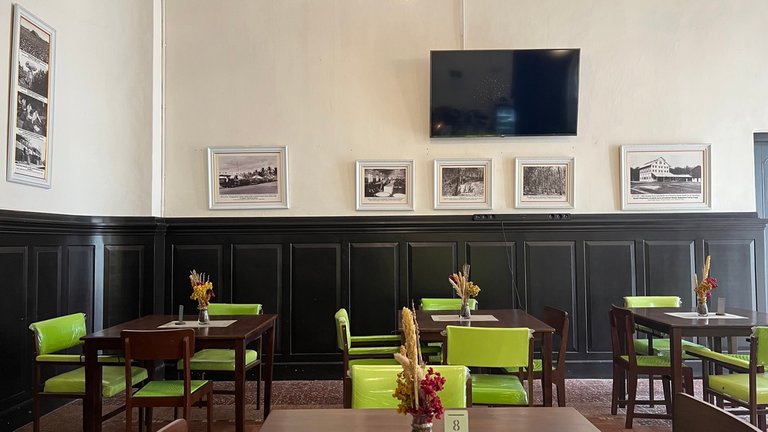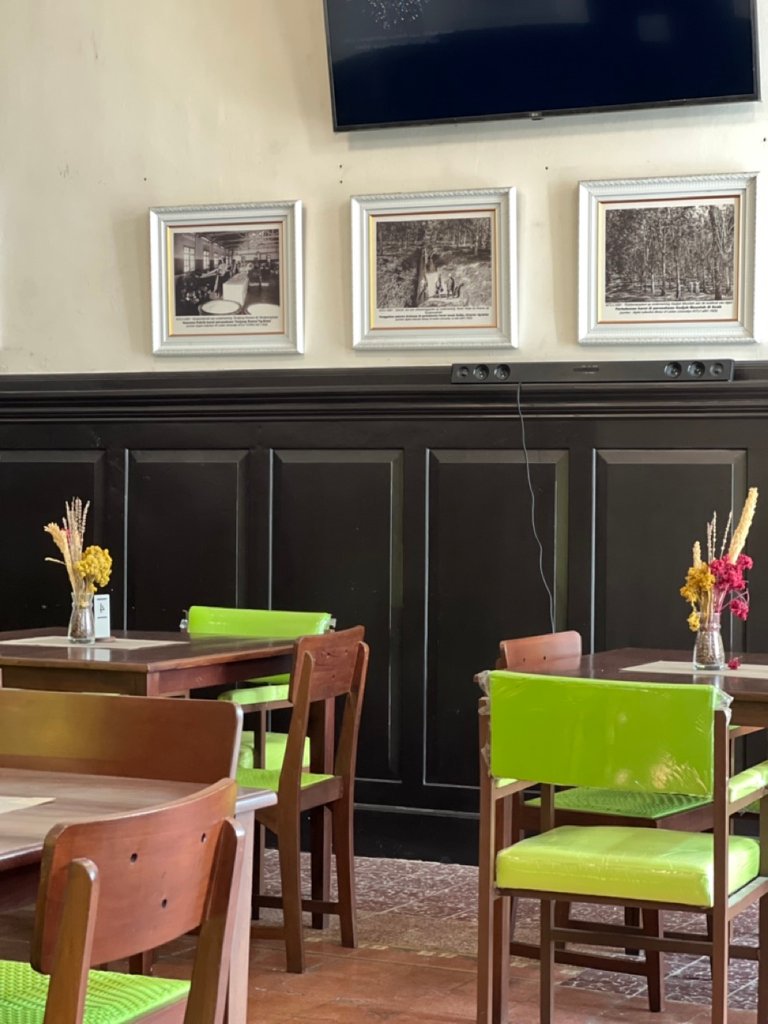 As information, Avros Café has become like a café because it only provides a menu of coffee or drinks and light snacks such as bread, desserts and French fries. In Indonesia, it is often difficult for people to distinguish between cafés, coffee shops and restaurants because they all sell the same menu. I heard from my friend who studied in Europe, that the cafe there only sells drinks and a small menu for food.
---
---
Outdoor Area at Avros Café
Apart from having an indoor area, Avros Café also has an outdoor room and believe me the outdoor space from Avros Café is very beautiful. When passing through this outdoor area, we will get different vibes and ambience. We will feel like walking around an old building in Europe, an experience that is hard for me to explain.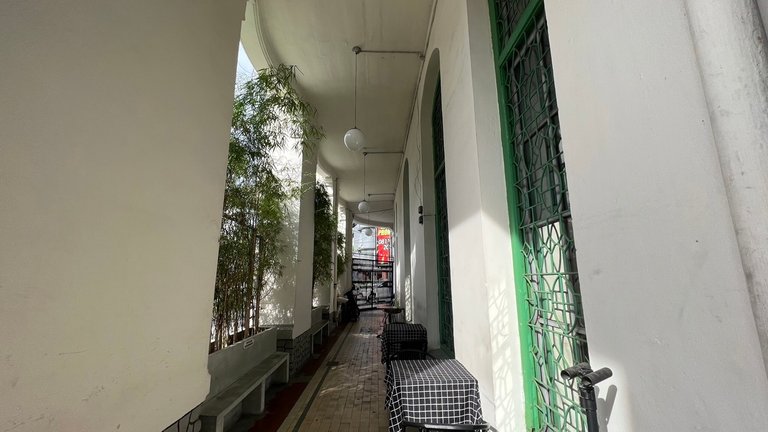 The outdoor area of Avros Café takes advantage of the passageway in front of the Avros building. The old building's hallway with giant concrete pillars, combined with this colonialism style window gives us a different experience. It's like we're not in 2023.
I also like the way this café arranges the positions of the tables and chairs. For the outdoor part of this area, Avros Café chose couple furniture, namely one table with two chairs facing each other. Unfortunately, it's different from furniture in indoor rooms that still use furniture from the past. In this outdoor area, Avros Café uses new furniture made of iron.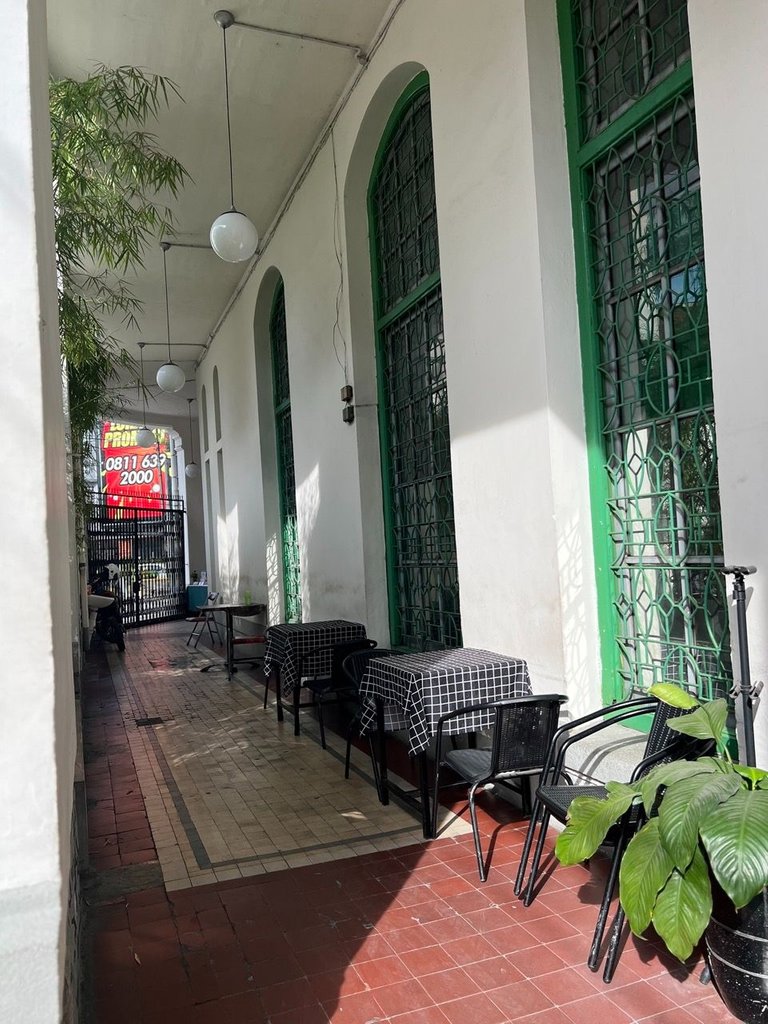 Overall, I feel that Avros Café gives a different dimension to a café or coffee shop in my city. The experience of tasting coffee in an old and historic building will certainly be a pleasant experience for every visitor. Besides enjoying a cup of coffee, we also enjoy every form of architecture in the past. That's all my story this time, see you next time.
---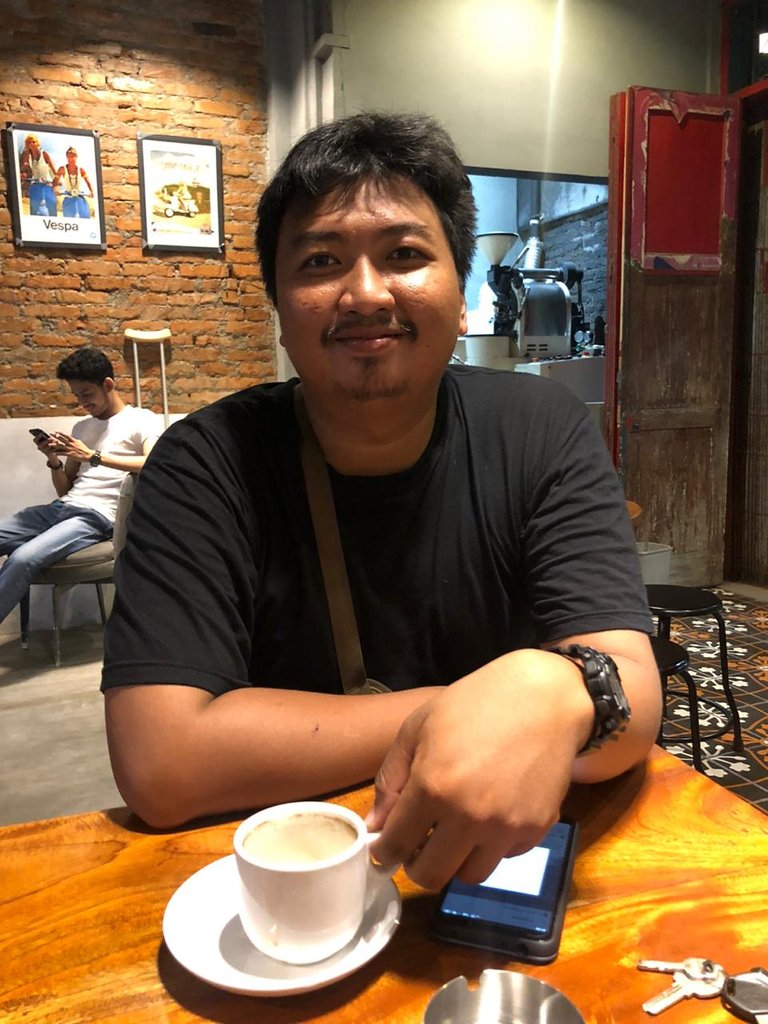 About Author

Call me Isdarmady, because I have a full name that is very long, namely Isdarmady Syahputra Ritonga. I am a head of the family who work as Farmers Vegetables Hydroponic and Consultant Hydroponics, sometimes I also sell coffee from various regions in Indonesia.
I have expertise dispensing coffee with a variety of techniques and tools brewing, because I have the desire to make a coffee shop with hydroponics as centerpieces. Help me realize that dream.
Thanks for read, vote, re-blog and support me in Hive. Maybe god will reward the kindness, let's success together.

---
---