Design and Architecture of Localeaf Eatery

---
Hello everyone
How are you today ? I hope and pray that we all are always given health, patience and also happiness in living this life. One thing I am sure of, all members of the Architecture+Design Community, will always be in a state of enthusiasm and also full of inspiration because every day we always see interesting, informative and inspiring content from around the world. This time, I also want to participate in this community again by sharing buildings that have attractiveness, both in design and architecture.
Some time ago, I went to Localeaf Eatery, a health cafe and restaurant in my city. This visit was very special for me, because in my city there are only three cafes that have the concept of a healty café and restaurant. The concept of a café that serves healthy and organic food certainly has a clear and specific target market. People who come to a place and are very concerned about the quality of food ingredients certainly have a better level of education and income. Food and drinks sold at Localeaf are definitely more expensive than usual cafes, and to make visitors willing to spend more money, of course, a cafe must be able to provide a pleasant experience to visitors, one of which is with an attractive design and architecture.
---
---
Localeaf Eatery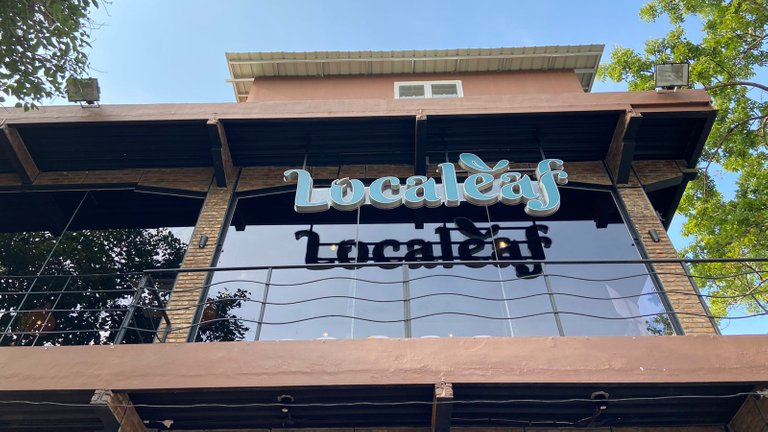 Localeaf Eatery is a restaurant or café located at Mustang Street no. 7, Medan Polonia District – Medan City, North Sumatra. The location of the Localeaf Eatery is very strategic, because it is very close to local government offices, Polinia Airport, Air Force Base, and several luxury residences in the middle of Medan City. Localeaf Eatery uses a building with two floors that has been around for 25 years, but this building is always changing the concept of business and ownership.
Have you ever seen a cafe or restaurant building that is in a strategic location but changes its name and business model very often? I'm sure every city and country has the same problem about it. We will see a building with a cool design and architecture and also built in a strategic area but cannot find customers. Localeaf is trying to branch out in such a building, and it's been running for about two years now.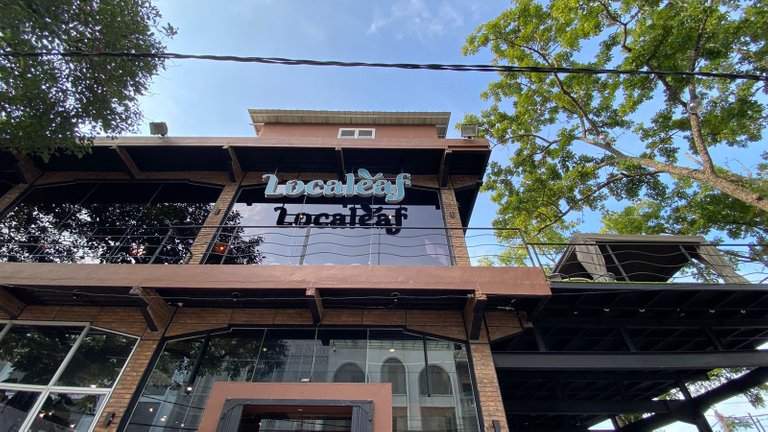 If we look from the outside, Localeaf Eatery has a very interesting design and building construction. The building consists of two floors and uses an industrial and minimalist design. The impression of this industrial-style architectural design can be seen from the pattern of the outer wall that maintains the shape of the bricks, the impression of an unfinished building being one of the characteristics of Industrial Design. In addition, the iron construction that is used as the pillar of the building is left visible and reinforces that impression on visitors. Seeing the building, I felt a strong impression, simple and also unpretentious.
---
---
Cozy Interior Café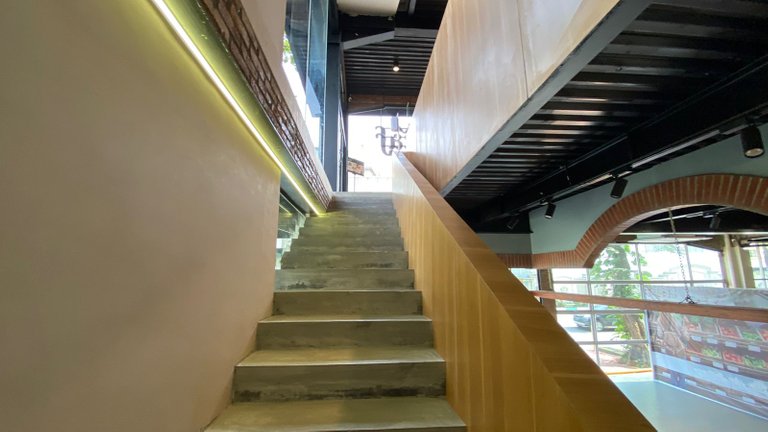 We enter the interior of this building. Localeaf uses the building on the second floor as its Healthy Café and Restaurant. The first floor is still under construction, the plan for this business owner on the first floor will be a supermarket that sells healthy and organic products. So, we went straight to the second floor. I like the stairs from this building, made not too steep and more gentle than the usual stairs. So, stairs like this are very comfortable to use, besides that the staircase design is made of wood and the floor of the stairs uses cement without being given any ornaments.
My first impression seeing Localeaf Eatery is maybe two words that I can express "It's Cozy Place". The term "cozy" we often use to express one thing that gives the impression of being comfortable and warm that we experience. Apparently, that's how I felt seeing the interior design of Localeaf Eatery. In contrast to the appearance of the outer building which has a darker color and monochrome, but the interior of this café is very unique.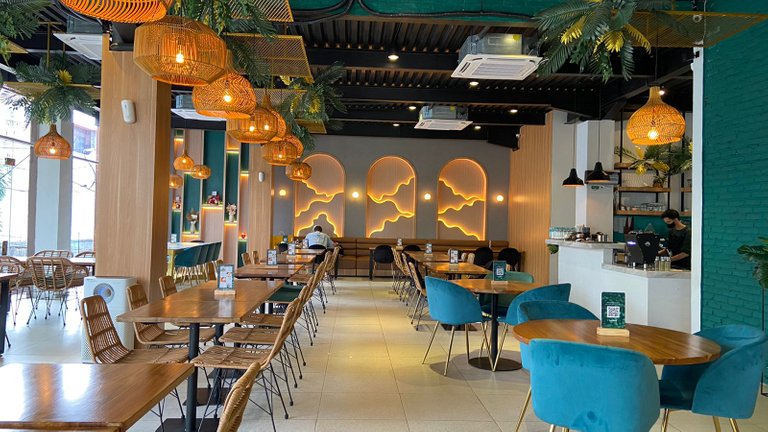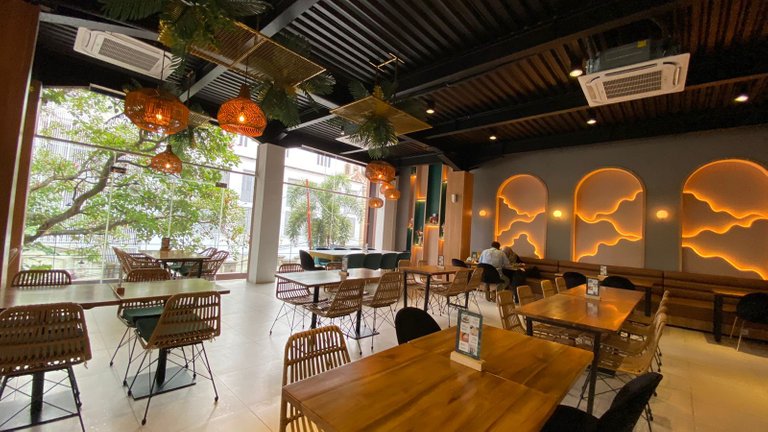 I really like the color play used from Localeaf Eatery. Beige and brown are the colors that dominate this room. We can find the brown element from the wooden furniture used and the beige color dominates this café room through the tiled floors they use. The most important part of this color game is the ingenuity of Localeaf Eatery using additional cheerful color combinations. Some of the walls are painted with turquoise green which makes this room more cheerful, the black color of the roof also emphasizes the industrial impression of this building.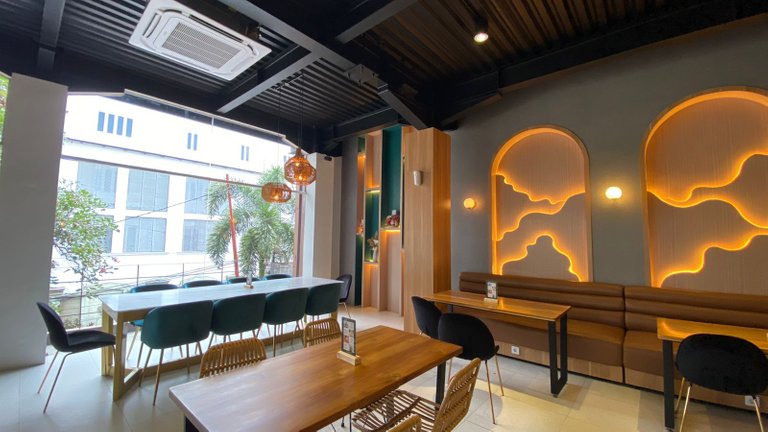 This Localeaf Eatery is surrounded by a glass wall on the part of the building facing the outside. This thick glass wall is very helpful for this building. This glass wall helps in lighting this room because it can help sunlight enter the building. The best moment to enjoy Localeaf Eatery seems to be during the day, because the sunlight makes this place even cooler.
For furniture, Localeaf Eatery uses wooden chairs and tables with a minimalist and trendy design. Some of the chairs also use rattan material combined with an iron frame structure which makes the cozy feel of this place more pronounced. In addition, there are also soft chairs such as smaller sofas with colors that match the Tosca walls. The arrangement of the chairs and benches is also very comfortable and the tables are not too close.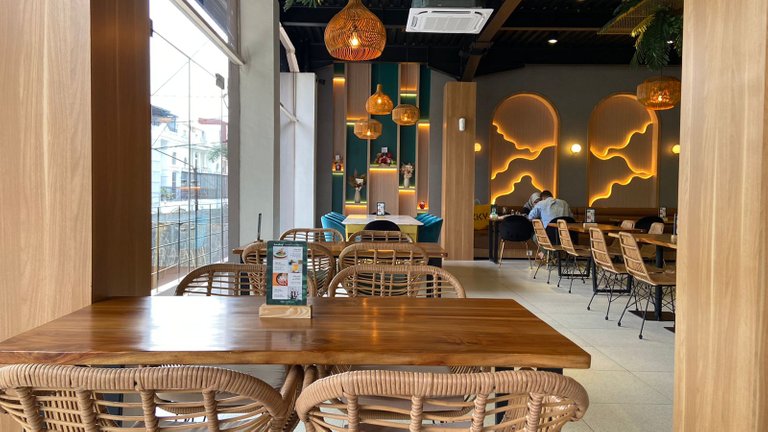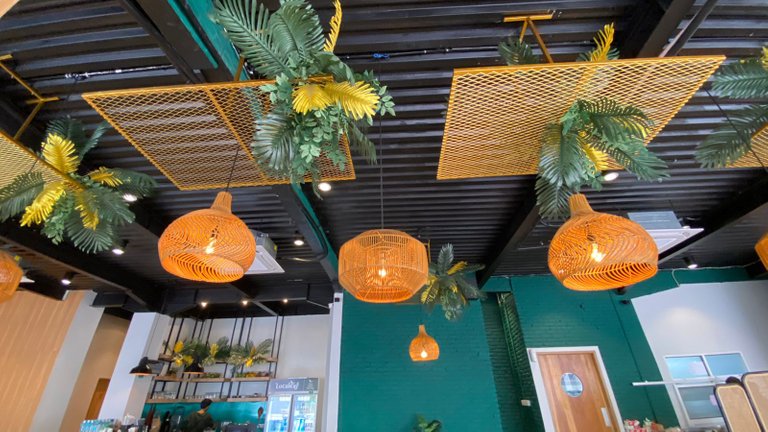 The roof of the Localeaf Eatery also does not escape the touch of interior design. We will look at some very unique lamp hanging decorations. These ornaments are made of bamboo and the color of the neon lights is in perfect harmony with the atmosphere of the café.
---
---
Outdoor Space Localeaf Eatery
Almost all restaurants, cafes and coffee shops in my city always have outdoor space. This is because, culturally and habitually, people in Indonesia prefer a more natural outdoor atmosphere without air conditioning. In addition, business owners must also think about cafe visitors who smoke, and outdoor spaces can become these smokers.
Localeaf Eatery also has an outdoor space, which is made on the balcony of the second floor of this room. The outdoor area is not too wide and the selected furniture is also tables and chairs that use plastic materials but still give a minimalist impression. I actually wonder why Health Café and Restaurant still provides a room for smokers, but I don't want to assume further.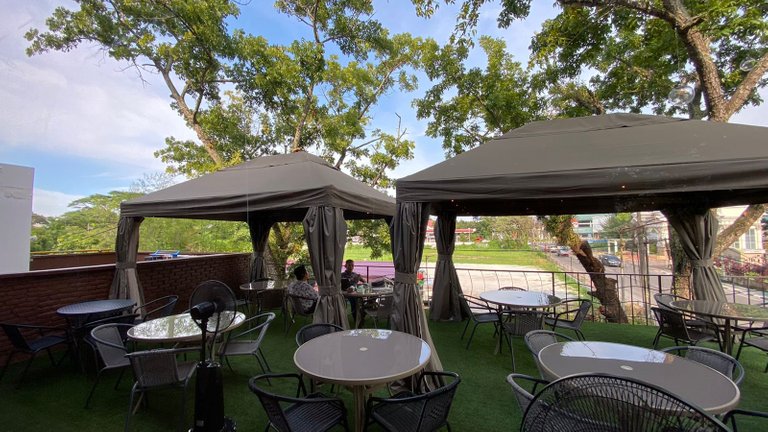 Okay, this is my story this time. From Localeaf Eatery I learned about the importance of interior design for an elegant impression for its visitors. Localeaf Eatery has food and drink prices that are more expensive than usual cafes or restaurants. Apart from using a healthier and fresher menu, customers will be willing to spend money to get a pleasant dining experience in a cozy place like this. Until here my post, see you next week.
---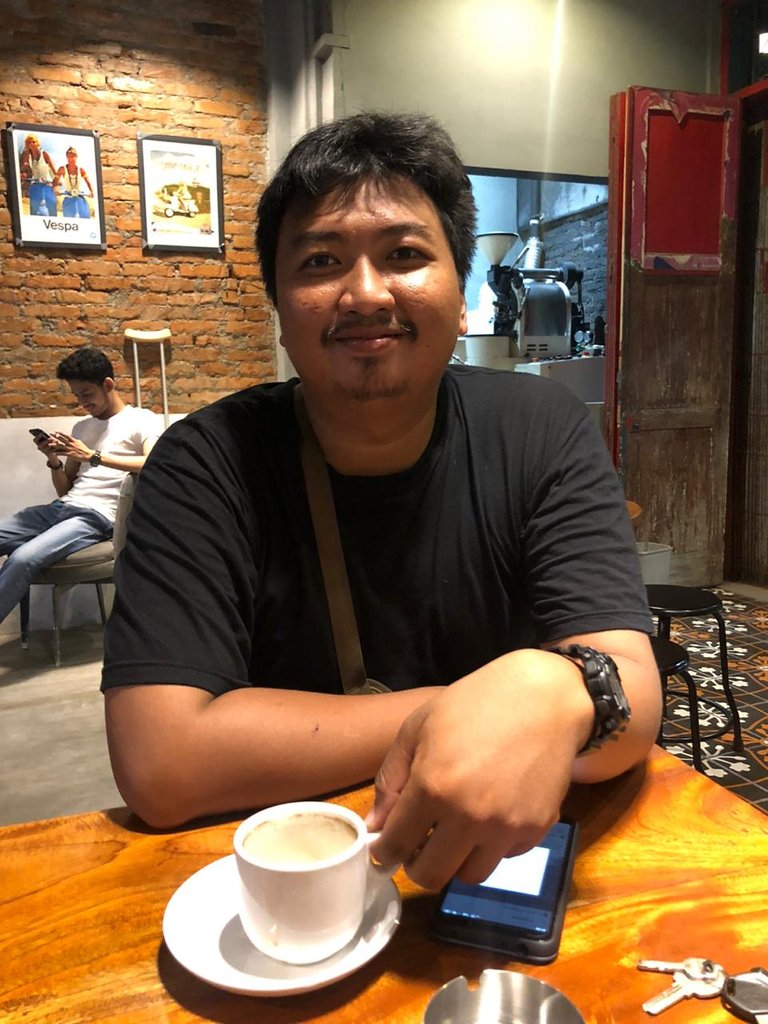 About Author

Call me Isdarmady, because I have a full name that is very long, namely Isdarmady Syahputra Ritonga. I am a head of the family who work as Farmers Vegetables Hydroponic and Consultant Hydroponics, sometimes I also sell coffee from various regions in Indonesia.
I have expertise dispensing coffee with a variety of techniques and tools brewing, because I have the desire to make a coffee shop with hydroponics as centerpieces. Help me realize that dream.
Thanks for read, vote, re-blog and support me in Hive. Maybe god will reward the kindness, let's success together.

---
---