Design and Architecture of Ludoo Cafe & Eatery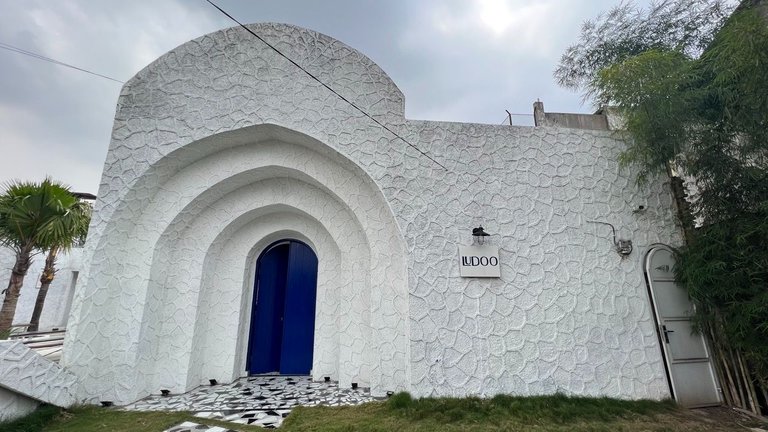 ---
---
Hello everyone
How are you today ? I hope and pray, we are all always given health and also happiness in living this life. I am very happy, to have the convenience and space of time to be able to participate and contribute to this Architecture+Design Community again. In communism, I always try to share my stories about my impressions or experiences when visiting buildings or landmarks that have interesting designs or architecture to discuss.
If friends often pay attention to my posts, since I started actively writing on Hive. My architectural and design content often discusses the design and architecture of buildings such as cafes, coffee shops or restaurants. I have a view, if a business like that really needs a function of design and architecture for the building. We know, since the current era of social media. Consumer decisions to come to cafes, restaurants or coffee shops are increasingly complex, including.
I'm lucky, on my social media there are lots of accounts that often recommend places to eat such as new cafes, coffee shops or restaurants which are always interesting to visit and discuss. Some time ago, I received information about a new café in my city, Medan City, namely Ludoo Café & Eatery. So, what's interesting about this new cafe? keep watching my post this time.
---
---
Ludoo Café & Eatery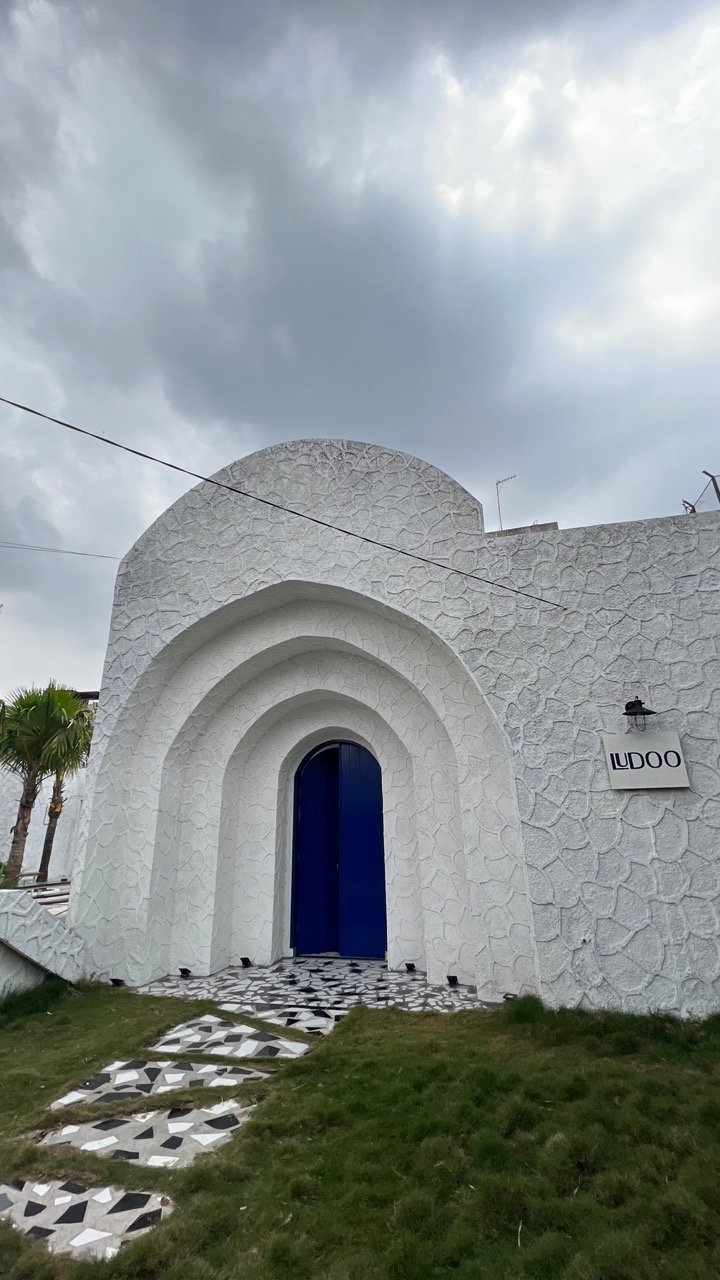 Ludoo Café & Eatery is a new café in Medan City. This cafe is located on Airlangga Street, Medan Petisah District – Medan City. The location of this café is very strategic and easy to find because it is at the intersection of three streets, I can say this café is on a street corner. This cafe is open from 10 am and does not have a food delivery system. Why did it happen ? I see it seems, the owner of the café wants people to come and taste the experience of eating at this café.
Ludoo Café & Eatery has a very strong architectural and design appeal. From the front of this café, we can see how artistic the design of this building is. Broadly speaking, Ludoo Café & Eatery uses the Santorini style design concept which is currently popular and is widely used in cafes today. This cafe has several interesting spots, we will discuss one by one the out door section of this café.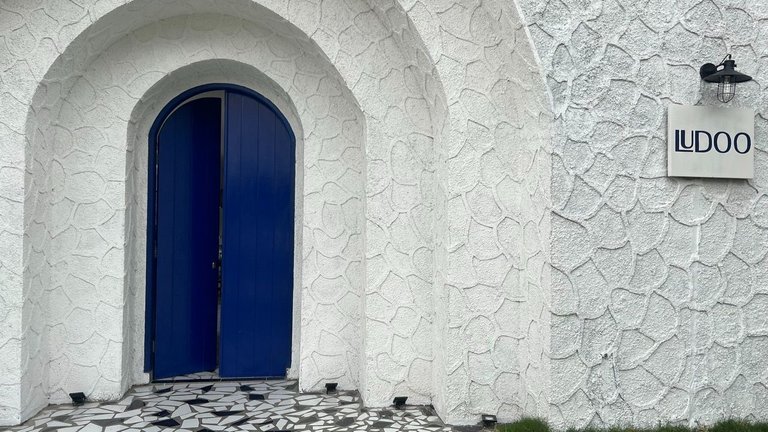 First, this café building looks very prominent and unique when compared to other buildings around this area. From my observation, this café building looks like a new building and made with an attractive design. This café building uses walls with white paint and a design pattern with a unique contour.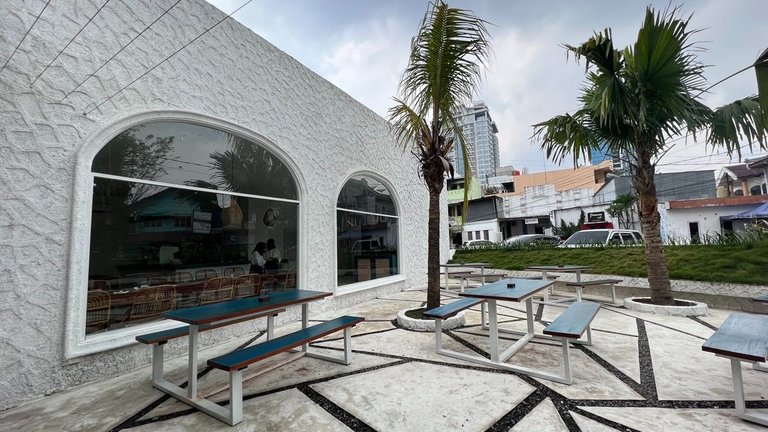 The door part of this building is also very unique, if you pay attention to the area on the door, it looks like an arrangement of matryoshka dolls from large to small size with a wooden door as the end. The wooden door is also unique, the blue color chosen looks very bright and striking when compared to other white colors. We only find the door at the front of the building with no windows.
For the windows, this café building has two large windows on the sides of the building. The two windows use transparent glass with a very large size. Covers almost all the walls of this building. The window concept is also unique, which is a combination of a square shape with a semi-circular design on top. The windows are also designed to get morning sunlight, so this café room gets the best lighting from sunlight.
---
---
Interior and Design Indoor Space Ludoo Cafe and Eatery
Next, I invite my friends to see the indoor space part of this café which is in this Santorini-style building. This indoor space is a closed room with air conditioning, when I entered this room. I was immediately enchanted by the beauty and aesthetics of every part of this room.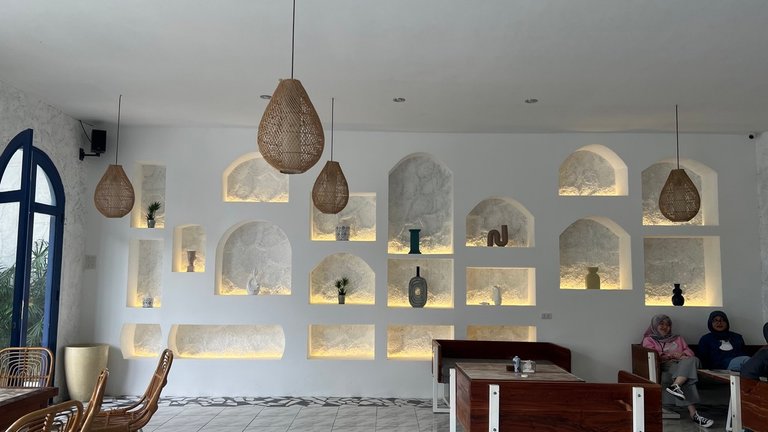 My first attention was drawn to an area of the wall which was designed in a very unique style. On the wall is at the end of the building. The wall uses a column wall design and Ludoo Café installs various ornaments, ornaments and decorations that make the area even more beautiful and aesthetic. I think, anyone who enters this room will definitely notice with that wall. I feel that many people will take advantage of the wall to get an aesthetic photo background.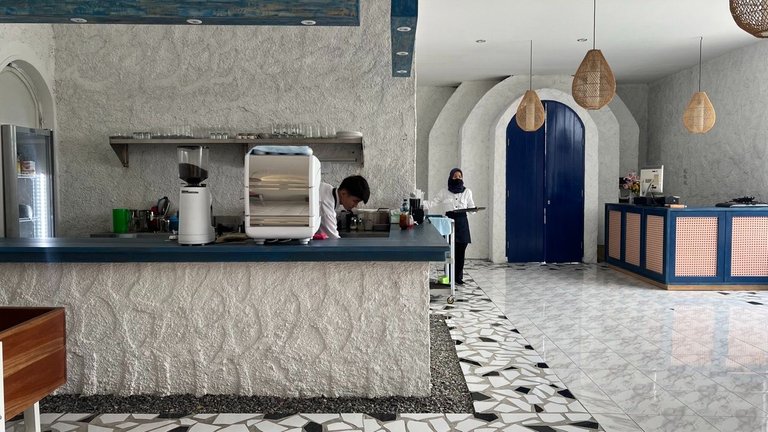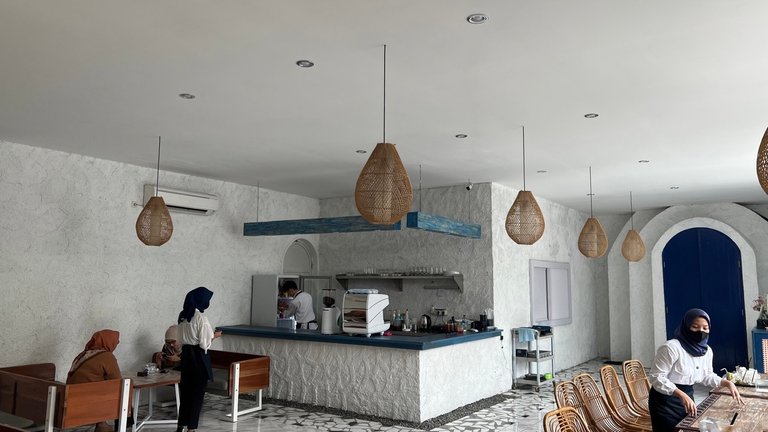 This Indoor Space from Ludoo Eatery is not very large but is designed and managed very well. For example, after we enter this café room, we will see a bar and kitchen area. This coffee bar area is designed in the same style as this building, the concept of a contoured cement wall texture with a blend of blue colors beautifies this bar area.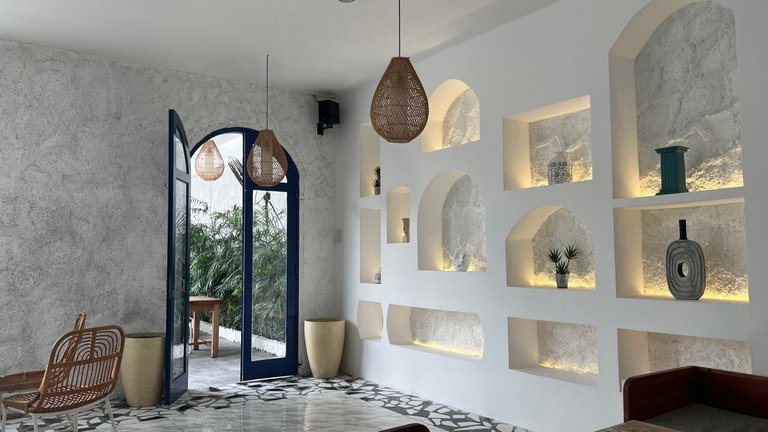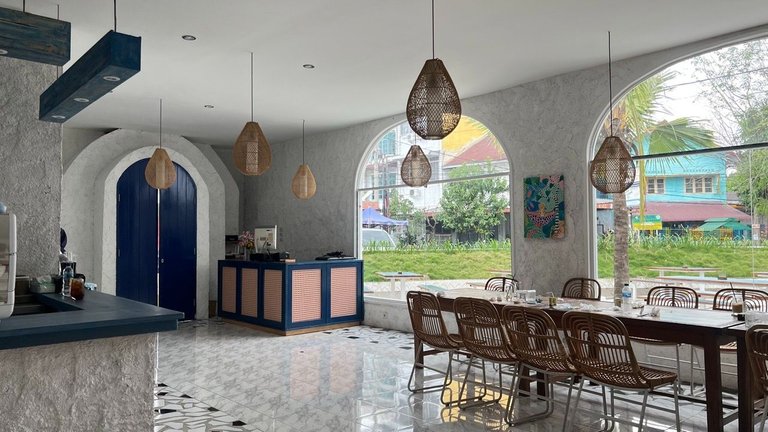 The floor of this room is no less interesting to look at. Ludoo Café uses clean white marble with very beautiful and elegant ceramic motifs. A floor like this will indeed be very sensitive because it gets dirty very easily, compared to an industrial-style cement floor design. However, if the cafe staff can keep it clean, this floor design will support the beauty of this building.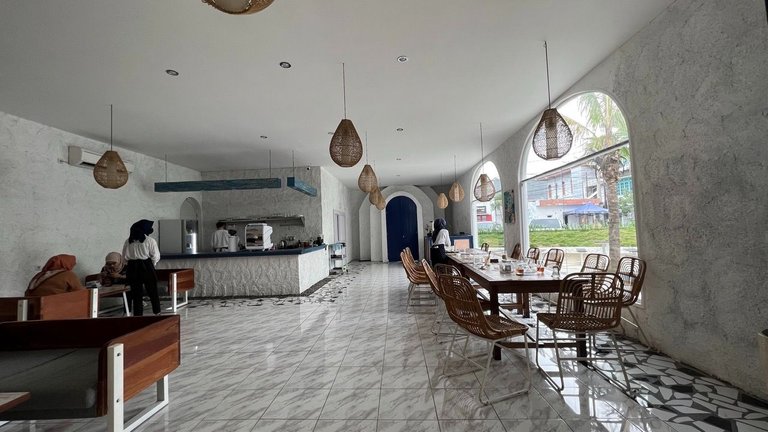 One thing that is no less interesting is the choice of furniture used in this café. Ludoo Café uses lots of wooden tables and chairs as seating. Apart from that, I also saw several tropical café style chairs with a combination of wood and woven bamboo which also really fit the style and design of this café. The arrangement between tables and benches is also very good, not too close but still able to accommodate many people.
---
---
Semi-Outdoor Area Ludoo Café and Eatery

After seeing the indoor space of this café, I invited my friends to see the outside of this café. We can go out the back door, and immediately find the semi-outdoor area of this café. This area is located at the back of this café, this area uses a roof with an open wall concept.
Semi-Outdoor of this café is also very beautiful. We can see it from the tables and chairs that use wood furniture with a tropical style. I really like the design of the chair, it looks very pretty. Apart from that, we can also see the decoration of the chandelier made of woven bamboo in this area which is very aesthetic. One more thing, decorative plants that are installed on the sides of the walls also make this area look greener.
---
---
Outdoor Space Ludoo Café & Eatery
The outdoor spot of Ludoo Café & Eatery is at the front of this café. This outdoor area is not very large but is made very beautifully and aesthetically. We will see the garden atmosphere combined with the clean and white Santorini style around this area.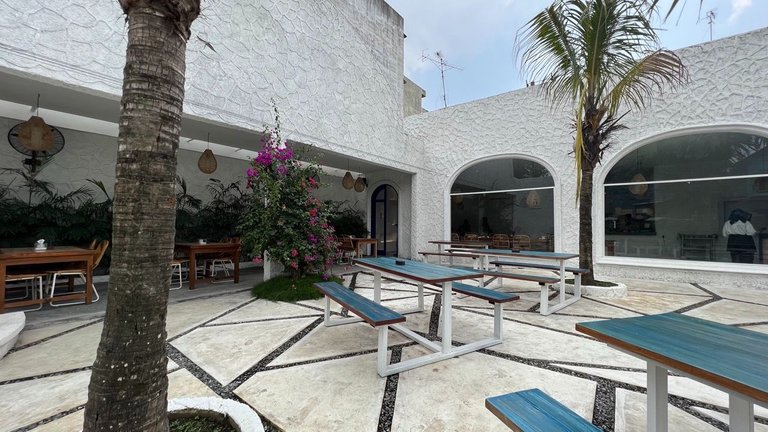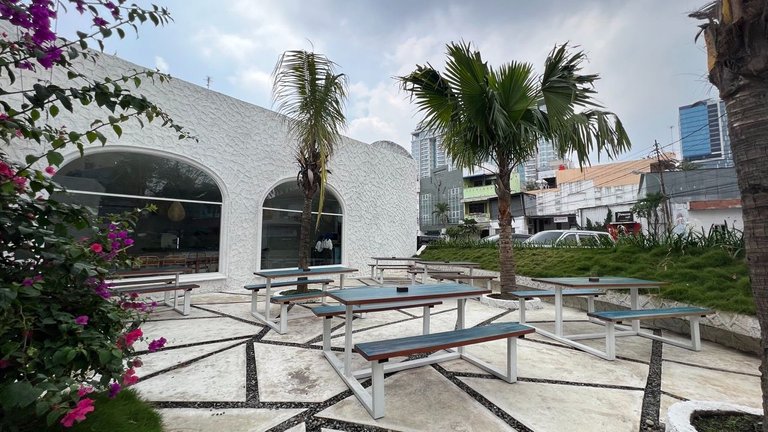 This outdoor area is also combined with a garden that is simple but still beautiful. Ludoo Café uses several palm trees to create a green impression around this area. In some corners, ornamental grass is also installed so that it creates a green color that really suits our eyes.
One thing that interests me is the choice of furniture. In this Outdoor space, Ludoo Café & Eatery uses furniture made of iron. The seat is made together with the table. I often see and find table and chair designs like this in other cafes, especially in the outdoor area, however, Ludoo Café chose a blue design for the table mats. This blue color is very unique, and I rarely find it to be a table mat design. Usually, wood color is the mainstream color choice for table mats.
Overall, Ludoo Café and Eatery gives us an interesting experience to visit. One café, which can also become a new tourist attraction for residents of Medan City.
---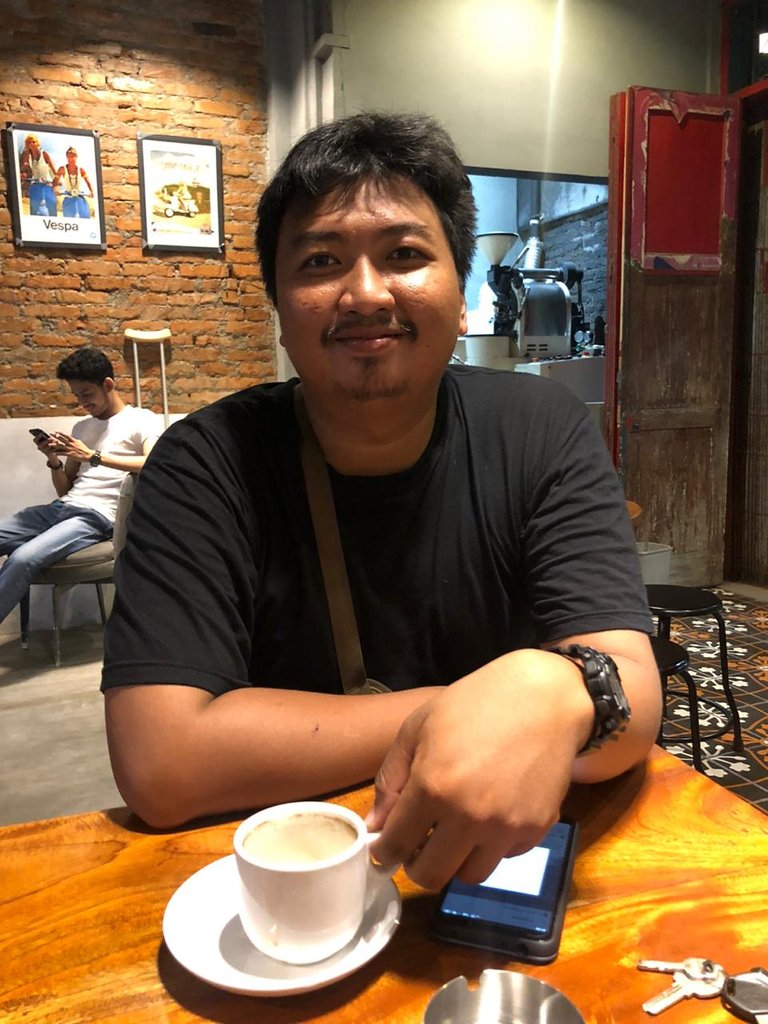 About Author

Call me Isdarmady, because I have a full name that is very long, namely Isdarmady Syahputra Ritonga. I am a head of the family who work as Farmers Vegetables Hydroponic and Consultant Hydroponics, sometimes I also sell coffee from various regions in Indonesia.
I have expertise dispensing coffee with a variety of techniques and tools brewing, because I have the desire to make a coffee shop with hydroponics as centerpieces. Help me realize that dream.
Thanks for read, vote, re-blog and support me in Hive. Maybe god will reward the kindness, let's success together.

---
---