Design and Architecture of Ruang Sarca Coffee Shop - A Minimalist Coffee Shop That Impressed Me
---
---
Hello everyone and all members of Architecture+Design Community, how are you guys today? I hope and pray that all of us are always given health, patience and happiness in living this life. This time, I want to re-participate in this community by sharing my stories, experiences with buildings that have interesting architecture and designs for me.
This time, I want to share my story and impression when I visited one of the coffee shops in my city, Medan City. A few days ago, I visited Ruang Sarca Coffee Shop and Space. What's interesting about the coffee shop or cafe? let's see more.
---
---
Ruang Sarca Coffee Shop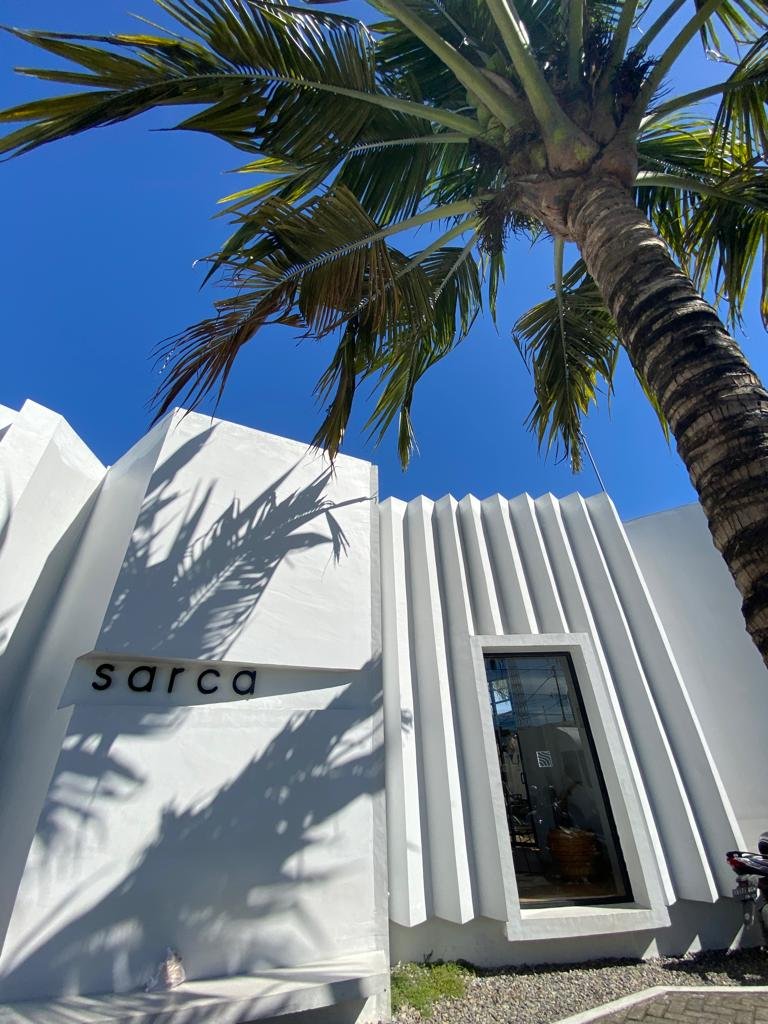 Ruang Sarca Coffee Shop is a new shop in my city. This coffee shop is located at Abdul Hakim Street – Tanjung Sari, Medang Selayang Regency – Medan City. Ruang Sarca adds to the list of coffee shops in the Medan Selayang Regency area. Ruang Sarca is a very strategic coffee shop because it is located around middle-upper class housing estates, student boarding areas and also several large campuses such as the University of North Sumatra, which has tens of thousands of students.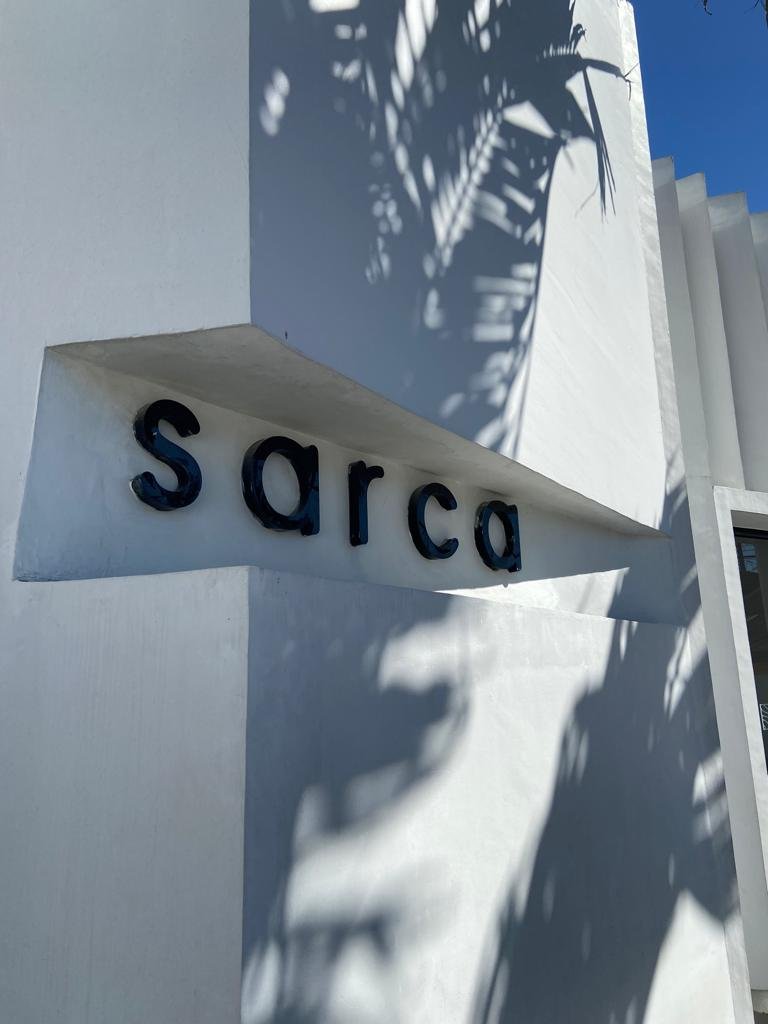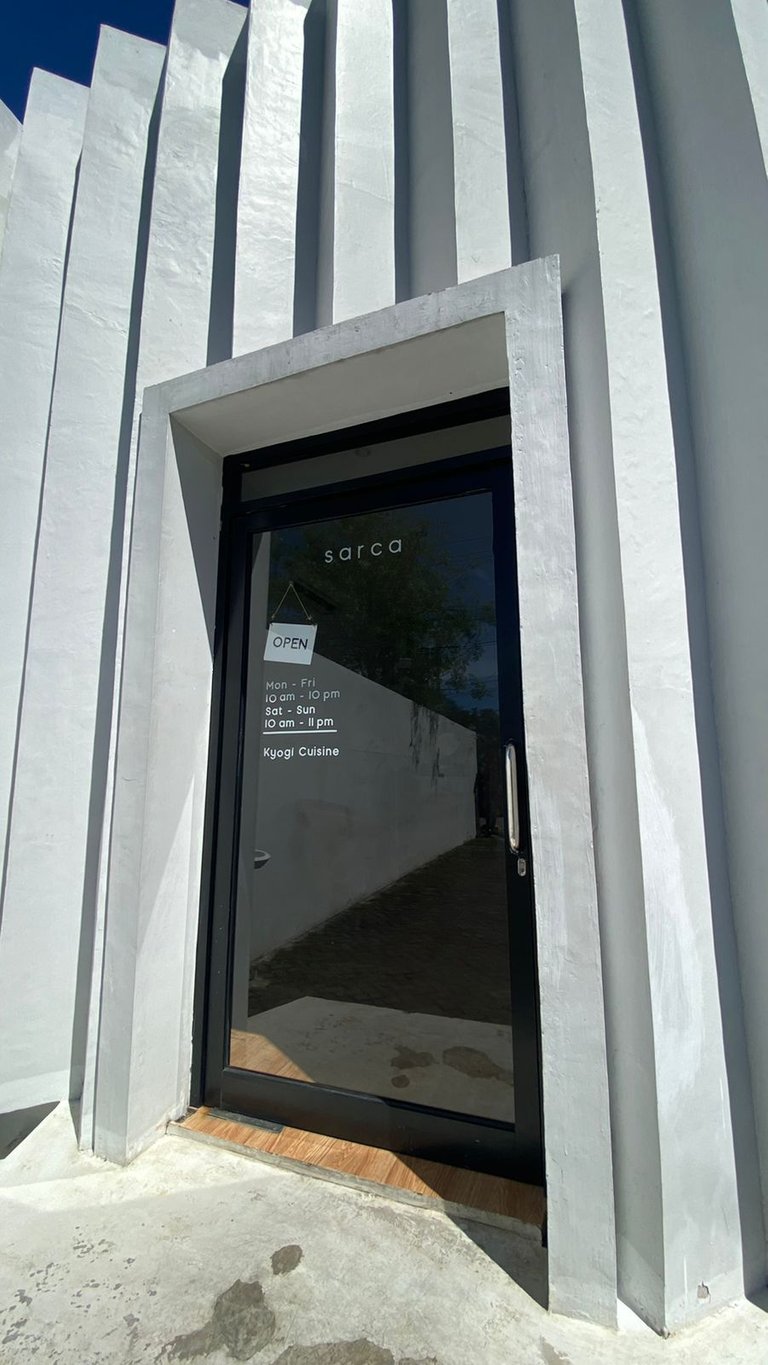 This coffee shop has a large front yard area and is used as a car and motorbike parking area. This is a plus point for me, because there are many coffee shops that have cool places and good quality coffee, but visitors or consumers don't want to come because they have difficulty finding parking. The building of this coffee shop is also very cool, the dominant white color with an asymmetrical checkerboard shape but very beautiful to look at. The words "sarca" are in small font and are located in the middle of the building.
I like the shape of the building in front of this coffee shop. Palm trees (or coconut trees) which are right at the front also make this front building very beautiful and artistic. Moreover, when I took this photo, the sky displayed a bright blue color. The rectangular building style of this coffee shop reflects a minimalist design style that looks simple but displays a luxurious, modern and elegant impression. Oh yes, at the front of the Ruang Sarca Coffee Shop, I didn't find a window like that, the window was in the opposite direction.
---
---
Indoor Space in Ruang Sarca Coffee Shop
This coffee shop or café has two rooms, indoor space and outdoor space that we can explore. First, we discuss the indoor part first. The indoor space of Ruang Sarca Coffee Shop looks minimalist and modern. Paint patterns, floor colors, and furniture are like a single unit that gives each other a "soul" to the beauty of this indoor part.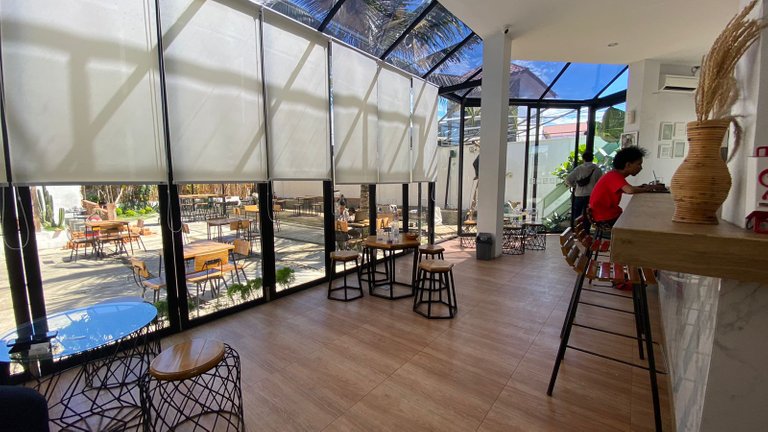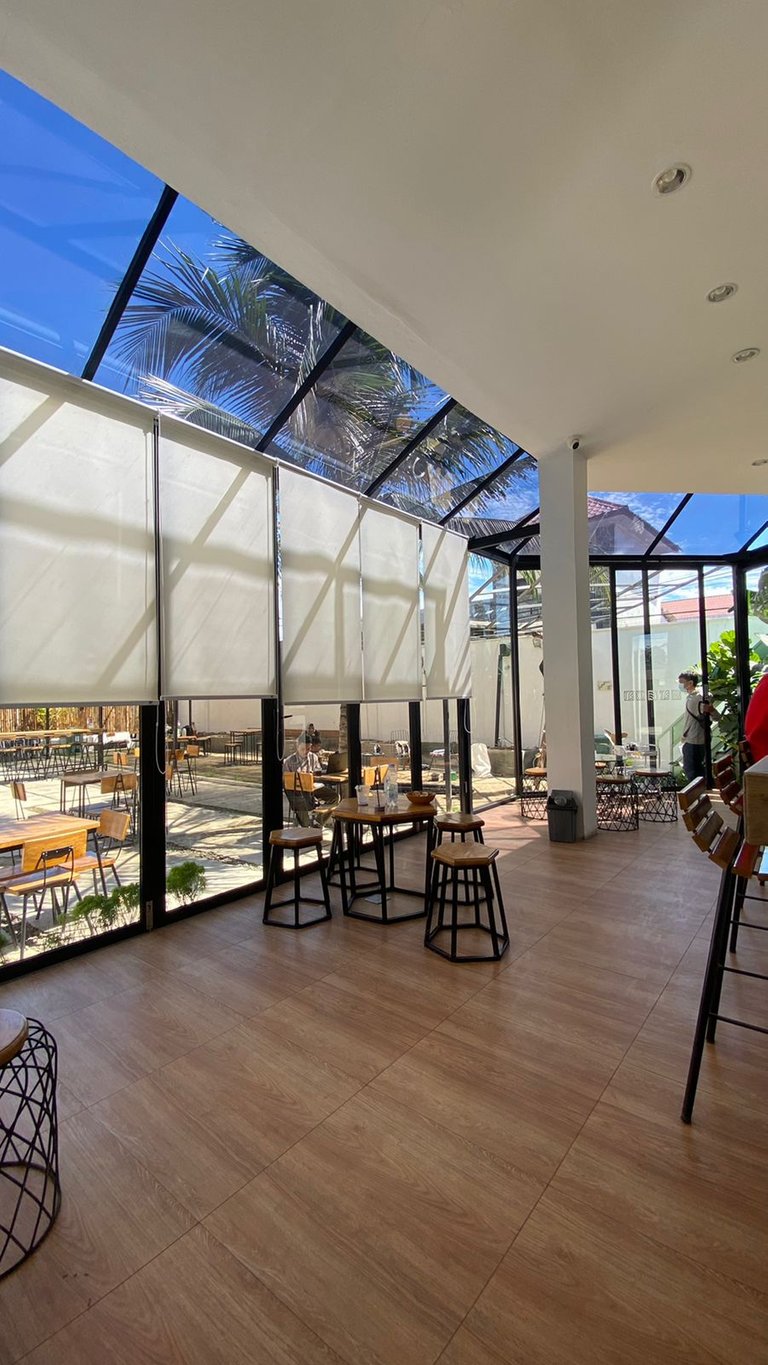 The floor is made of wood-patterned vinyl parquet. I also often see the use of floor designs with wood motifs in some modern and minimalist buildings today. Some luxury homes and indoor cafes also use wooden floor motifs to make the building look elegant and luxurious. However, for me personally, seeing the color of the floor which is very contrasting with the white walls makes me feel the warm and cozy impression of this coffee shop.
The part that also caught my attention was the glass wall on the back side of this indoor room. The indoor part of the Ruang Sarca does not have a window, but is replaced with a thick transparent glass wall so that we can see towards the outdoor space of this coffee shop. The use of glass walls makes us feel a broad and airy impression that makes this indoor room seem spacious.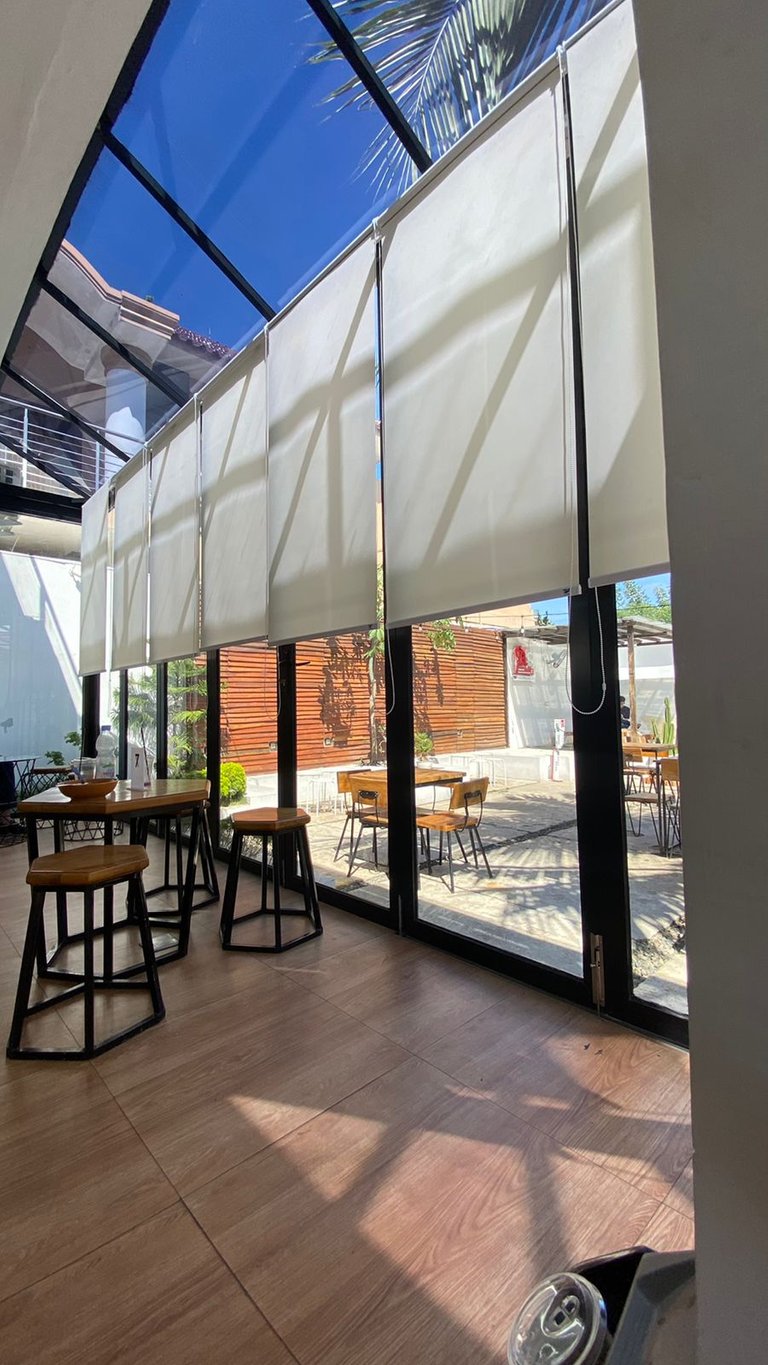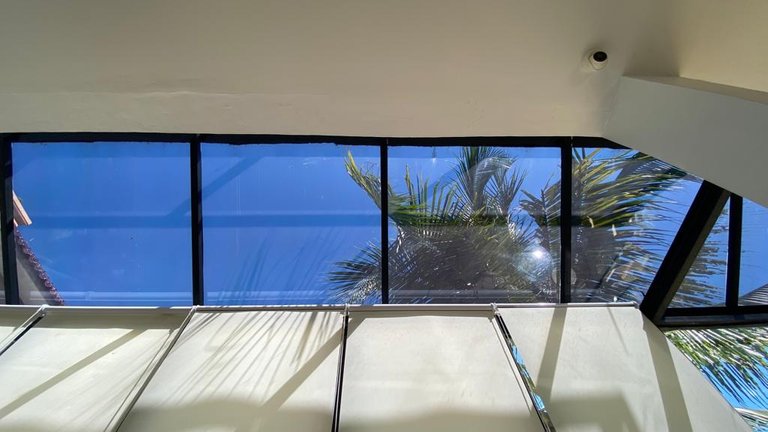 This glass wall also allows sunlight to enter the indoor room so that this cafe or coffee shop does not need additional lights for lighting during the day. This concept is often recommended to make buildings that are more energy efficient and care about the environment. I also get a different and very special impression when sitting near this glass wall, I feel like a different vibe seeing the light reflecting on the wall and also the floor blending together.
This coffee shop also prepares curtains near the glass wall to reduce exposure to the sun which is too hot during the day. In addition, Ruang Sarca also uses a roof made of glass, approximately of the indoor outdoor area, which also helps provide direct lighting from the sun.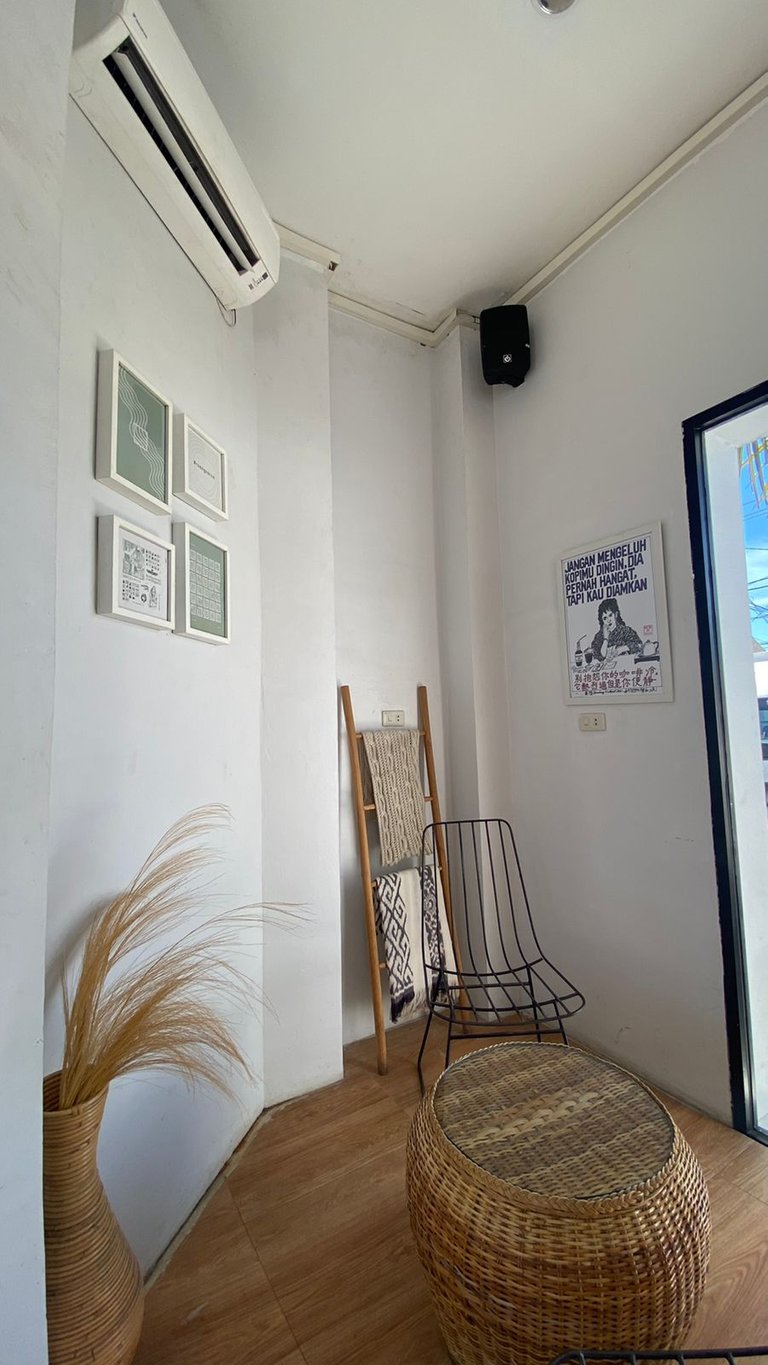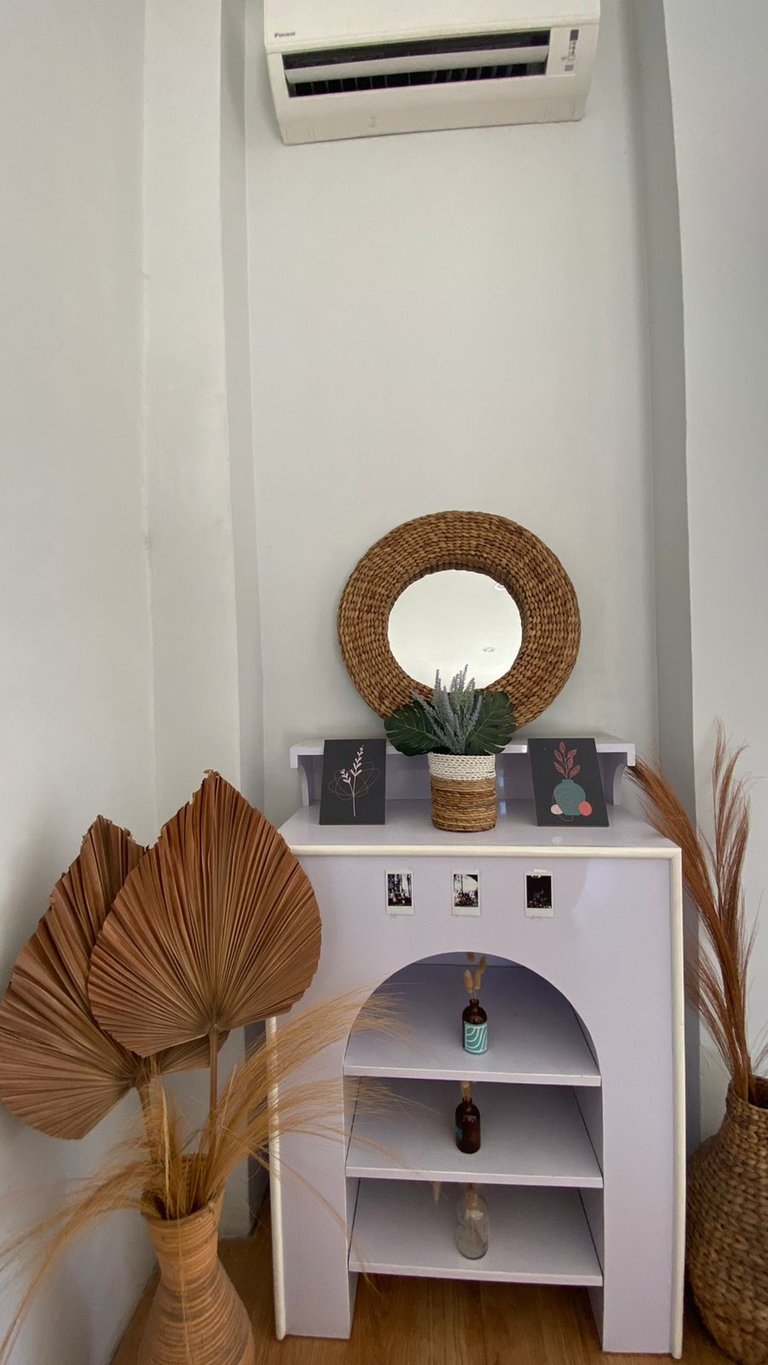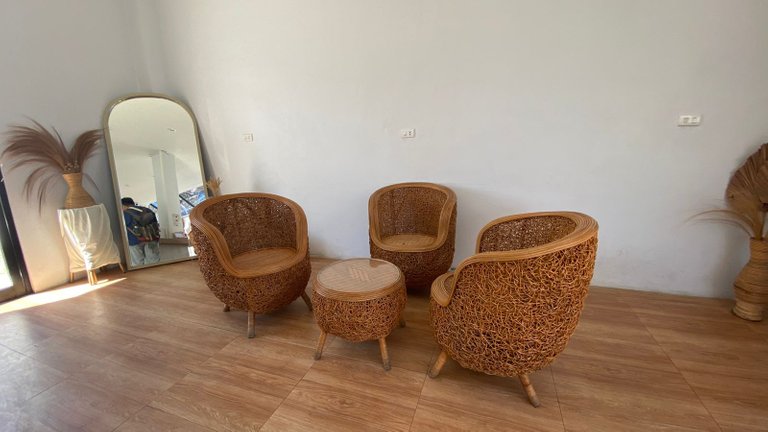 Ruang Sarca Coffee Shop room uses furniture with various materials. We can see a rattan chair that is very aesthetic and also looks very comfortable to use. Some wooden chairs and tables with iron constructions that look very harmonious with the floor and design of this coffee shop or café.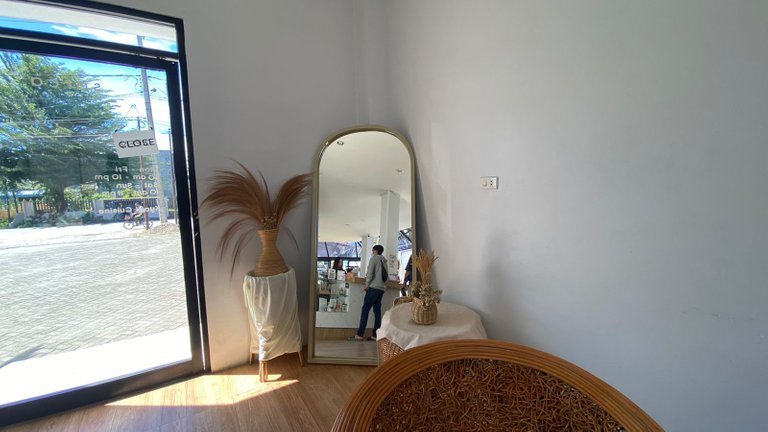 I also saw some interior additions such as wall hangings with inspirational quotes, dried palm leaves placed in bamboo pots and also several large mirrors for the full body. Regarding mirrors, I often see interior decoration patterns like this in various coffee shops or cafes, and it seems very template. However, if I think about this large mirror is usually often used for feng shui purposes and some other items are added around the mirror so that it is not too monotonous.
---
---
Outdoor Space from Ruang Sarca Coffee Shop
Next, we discuss the outdoor space of this coffee shop. Unfortunately, I can't tell you too much because when I arrived, the outside was under construction and the sound of the gerenda to cut the iron sounded very loud and very disturbing to my ears when outside. In addition to the sparks that arise from the iron welding process, it also makes me uncomfortable to take photos outdoors.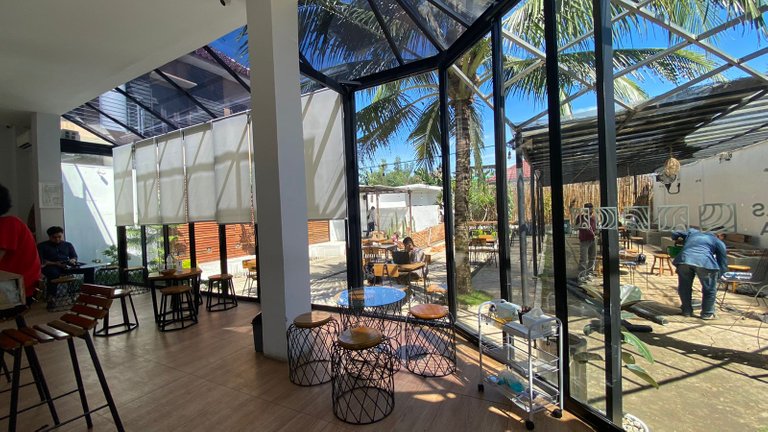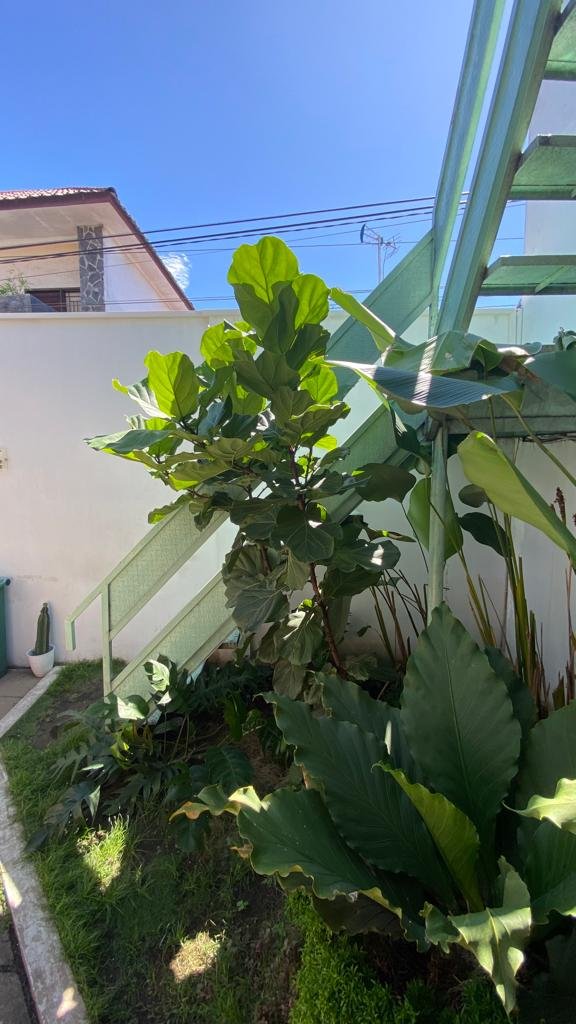 The outdoor space of this coffee shop is quite wide and seems to be a favorite place for customers who want to enjoy their coffee while smoking. Maybe, next time I will come back to this coffee shop when the under construction is finished later.
My conclusion, Ruang Sarca is a coffee shop or café that has a very mature concept with a design and architecture that has been determined by the market. Ruang Sarca was built very instagenic and every corner is very beautiful and considered for the social media content needs of its visitors. Currently, every coffee shop, café or restaurant is not only required to create a menu of delicious food or quality drinks but is also required to have a cool architecture and attractive design to be posted on the social media of its visitors, and Ruang Sarca Coffee Shop. has accommodated that wish.
---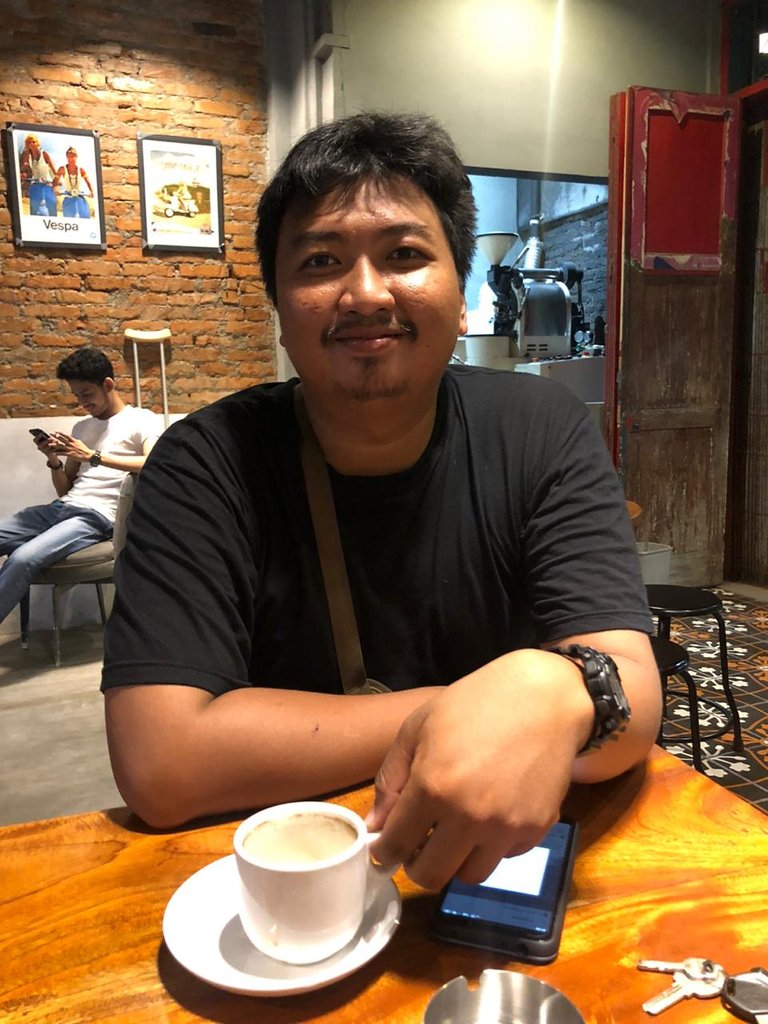 About Author

Call me Isdarmady, because I have a full name that is very long, namely Isdarmady Syahputra Ritonga. I am a head of the family who work as Farmers Vegetables Hydroponic and Consultant Hydroponics, sometimes I also sell coffee from various regions in Indonesia.
I have expertise dispensing coffee with a variety of techniques and tools brewing, because I have the desire to make a coffee shop with hydroponics as centerpieces. Help me realize that dream.
Thanks for read, vote, re-blog and support me in Hive. Maybe god will reward the kindness, let's success together.

---
---