Design and Architecture of Rumus Coffee Space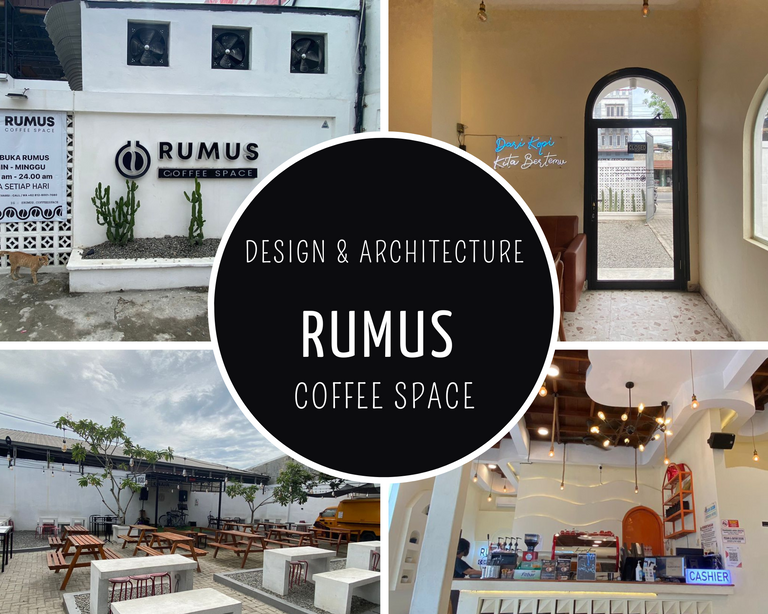 ---
---
Hello everyone
How are you today? I hope and pray for all of my friends to always be given health and happiness in living this life. I always believe, all members of the Architecture+Design Community are always in a state of enthusiasm and inspiration because every day, we can see various kinds of interesting and educational content. In this community, the members contribute to each other by providing various building content with cool design and architecture, and allowing us to feel the "magic and love" from all over the world.
I also want to share that magic and love with each other. I want to always try to be consistent in contributing to this community. I want to share my story and experience when I visited Rumus Coffee Space.
---
---
Rumus Coffee Space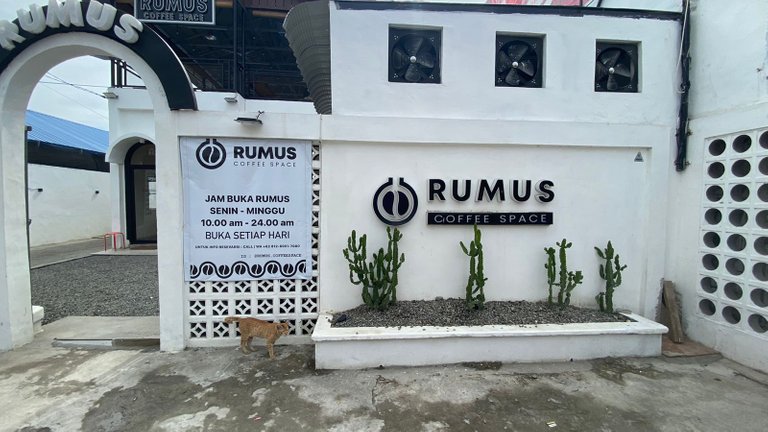 Rumus Coffee Space is located at Tanah 600 Street, Marelan District – Medan City. I want to describe a little about Marelan District to my friends. Marelan District is one of the districts or sub-districts in Medan City. This district, located on the outskirts of Medan City, is an area close to the port, residential areas, and factories.
Fifteen years ago, almost no one wanted to live in Marelan, this district because access to public facilities was far, the weather was hot and it was also prone to crime. However, the high price of housing and settlements in Medan City makes many people look for cheaper residential areas even though they are far from the city and Marelan District is the choice of many people. Why am I explaining this? because the pattern of consumers of cafes and coffee shops will be greatly influenced by the sociology of the surrounding community.
We return to Rumus Coffee Space, to find this coffee shop very easy because it is located on a wide highway and also a specific billboard on the side of the road. There is one problem, the car park space of this coffee shop is very limited. Only able for three cars, but the motorbike parking lot is quite spacious. According to the parking attendant, the majority of visitors use motorbikes and are crowded at night or after work.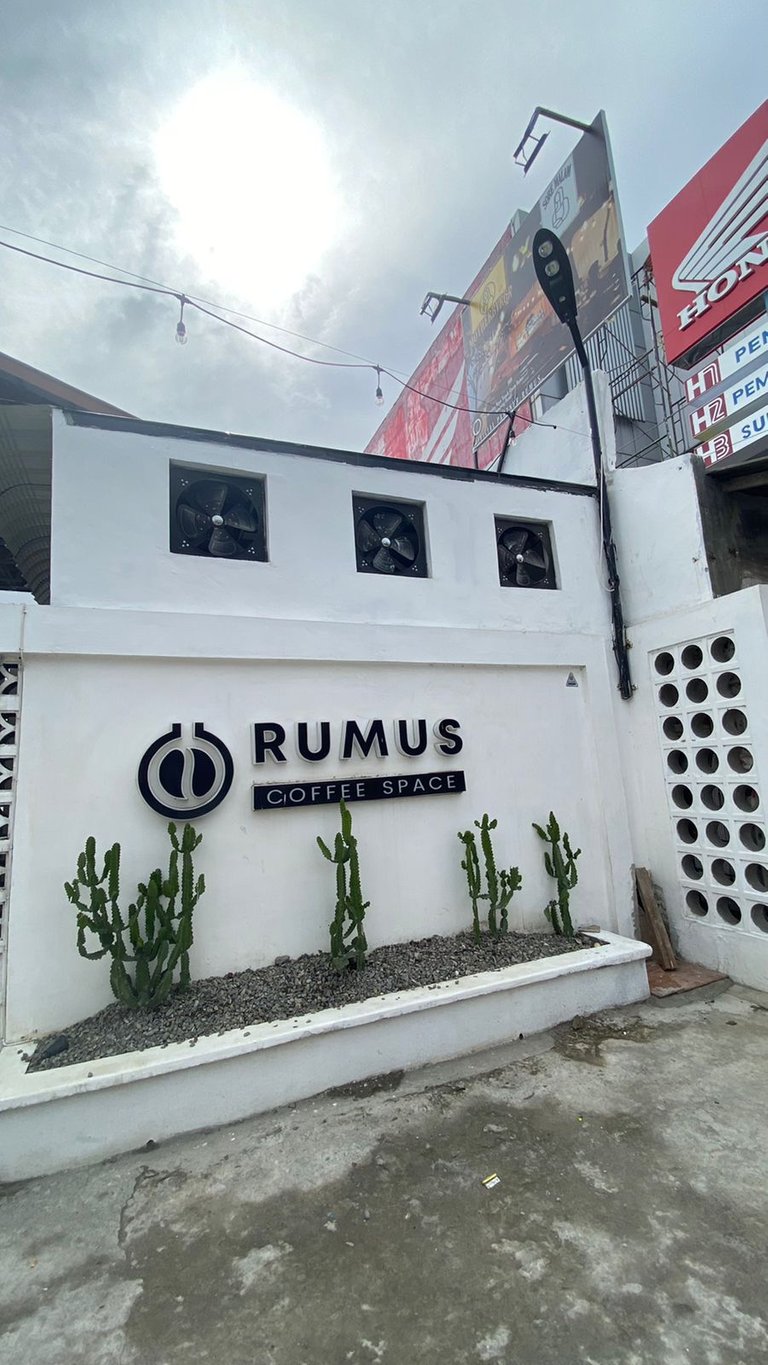 On the front, we will see the font and logo of this coffee shop. The writing of the RUMUS COFFEE SPACE, made simple but elegant. The capslok font uses black with white walls making it very harmonious. This part of the logo is also very unique, depicting a coffee bean in an Erlenmeyer tube. "Rumus" is an Indonesian word, which means a Rumus or a short method for a problem.
There is a popular quote in the world "don't judge a book by the cover", but if you go to a bookstore, I can make sure the price tag is always on the cover of the book. Just like when we come to a building, the front is always the center of our attention. Entering from the entry gate, we see an interesting and consistent sight. Small pebbles are scattered along the floor in the front, and the cactus cowboy makes a few new colors to reduce the monochrome impression of this coffee shop.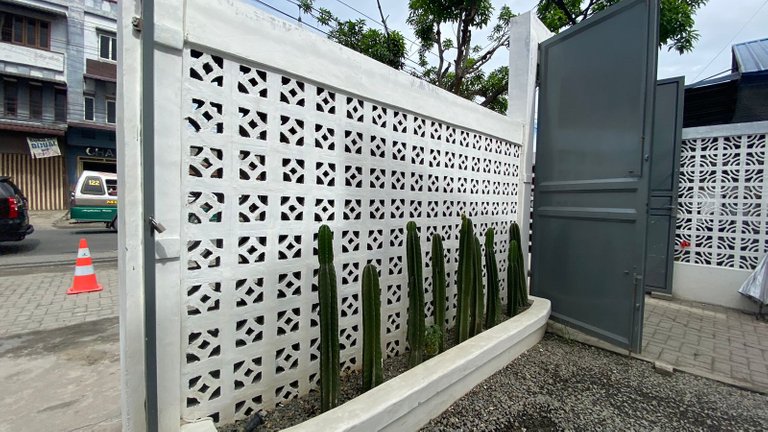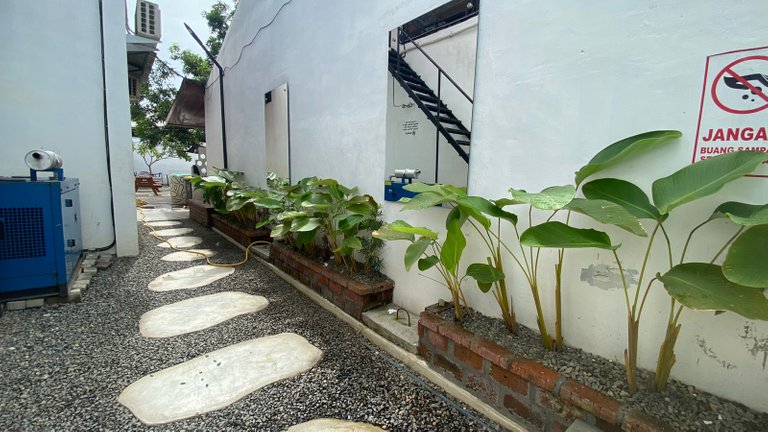 I like the way Rumus Coffee Space makes green plants around the building, cactus cowboy and taro plants make this coffee shop look less arid.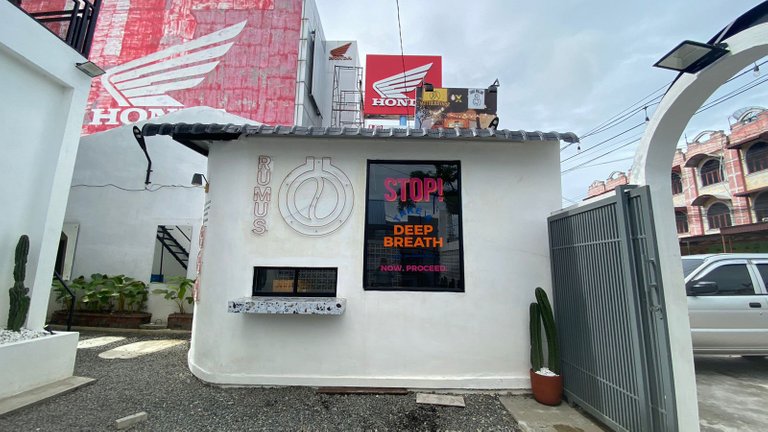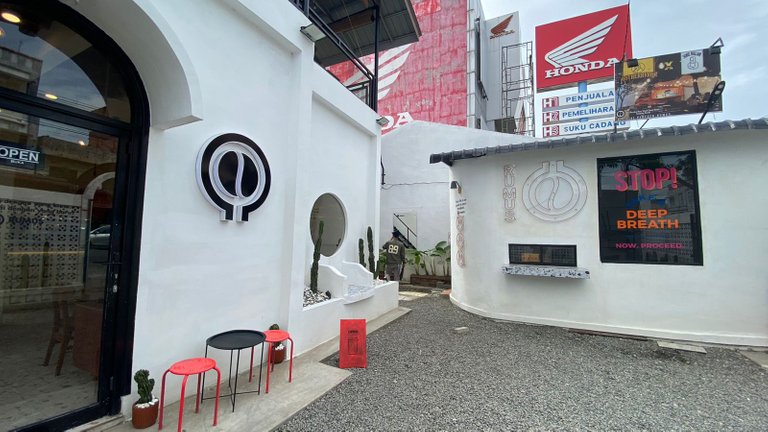 In the foreground, we will see a small white building. Previously, it was the initial building of this coffee shop. This coffee shop was originally a take and go coffee shop concept that uses a small building and a box car as an additional bar, but the community and target market in Marelan District are not yet suitable for that concept. The parking attendant I asked said, initially the visitors hung out and drank coffee on the sidewalk and eventually rented one location to become a coffee shop that was quite spacious.
---
---
Indoor Space Rumus Coffee Space
I came to this place during the day. The condition of this coffee shop is not too crowded and very comfortable to take photos. The Rumus Coffee Space has three spaces that we can choose from and have different concepts of course. First, we discuss the indoor space of The Rumus Coffee Space. We will first discuss the part that I like about this room, I really like the design of the doors and windows of this indoor room, it is very chic and minimalist. The doors and windows of this building are designed in a semi-circle. The design of doors and windows like this, is very suitable to emphasize the minimalist impression of a building.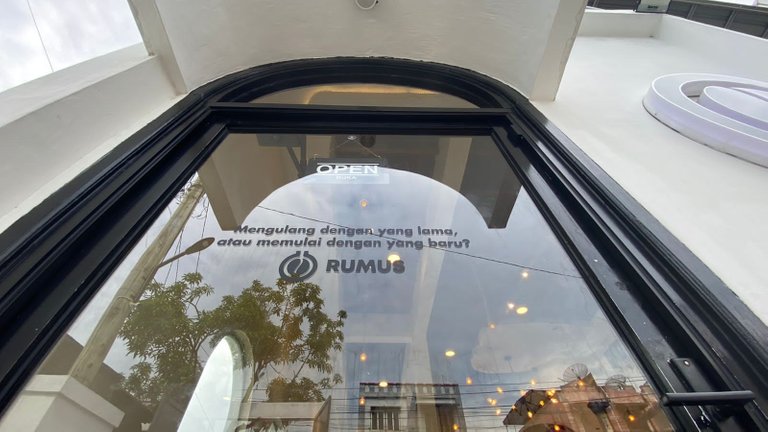 This indoor room is not spacious, because the visitors' tables and chairs must be in various spaces with a coffee bar table and an employee room. If I count there are probably only four large wooden tables (for four people) and three small wooden tables for two people. I love the sofa that is used as a seat in this indoor room, the brown sofa with soft leather, very comfortable and makes me feel at home.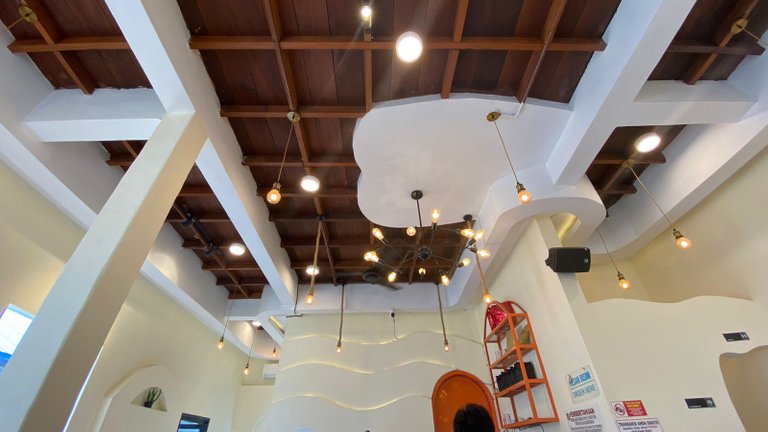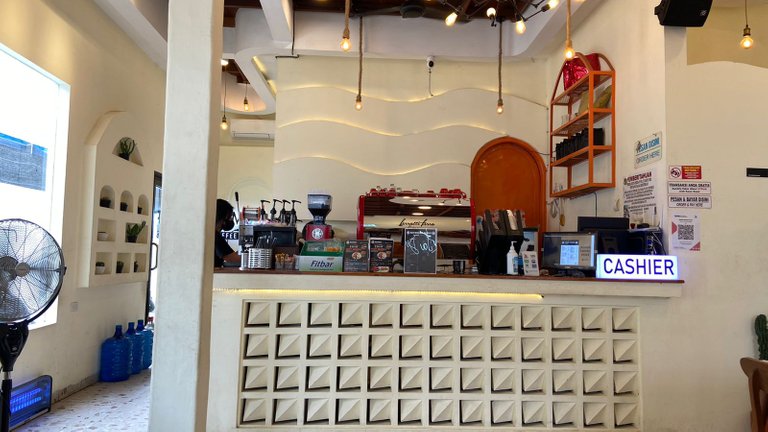 This building has a rooftop that is used as part of this coffee shop, to prevent the impression of being monotonous on the roof. I saw the Rumus Coffee Space using a neon chandelier ornament that gives us the impression of an industrial coffee shop, looks very unified and very cool.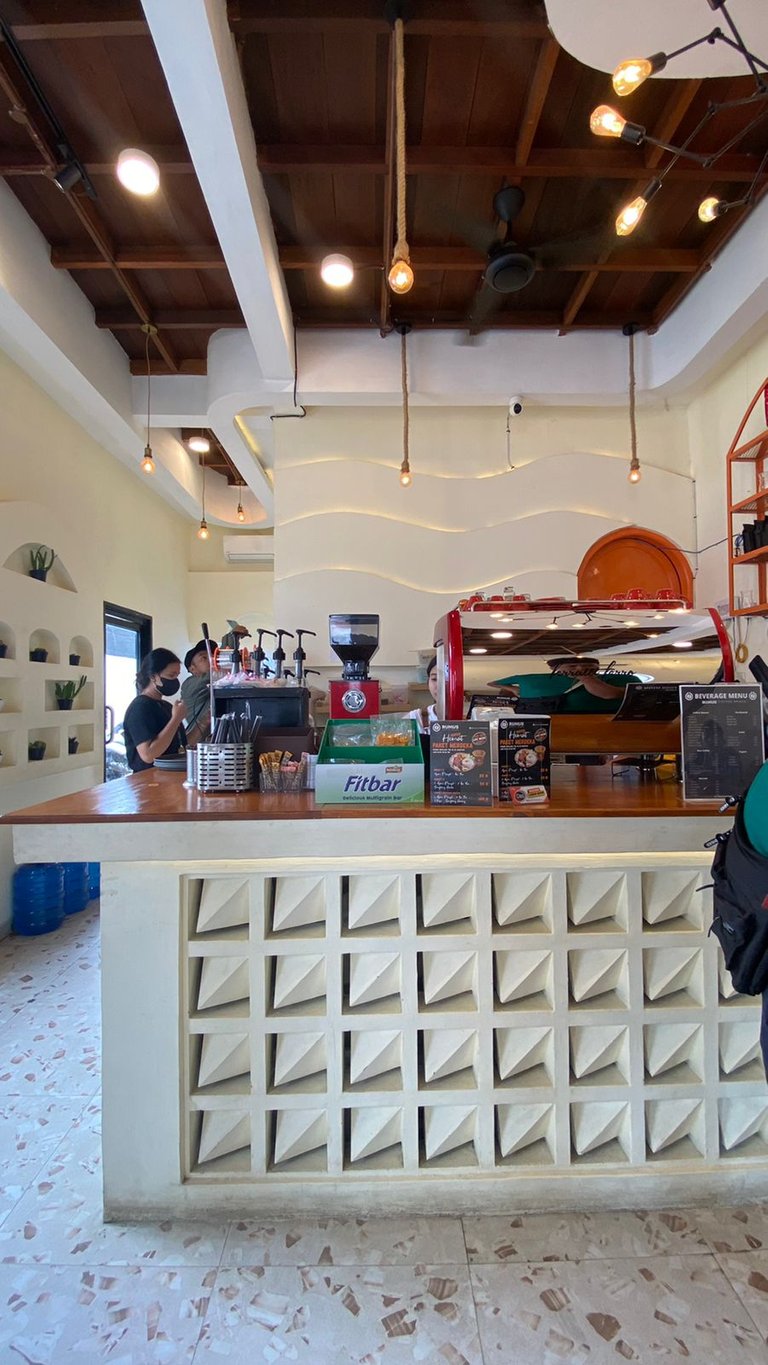 So, those are the points that I like. The part that I don't like is about the air circulation in this room. This room uses four air conditioners but it doesn't feel cold at all, even the owner of this coffee shop made two additional fans to help this room feel comfortable for visitors. We are not hot, not because of the cool air conditioning but because of the big fan. The problems I see are two things, the distance between the floor and the roof is too high and the air conditioning specifications are too low to cover the area of the room.
---
---
The Back of the Coffee Shop and Outdoor Space
Rumus Coffee Space has a wide back, and it seems that at night this place is a favorite of visitors to this coffee shop. This open space uses a variety of furniture, such as wooden tables and chairs, tables made of cement which we often see in other industrial coffee shops.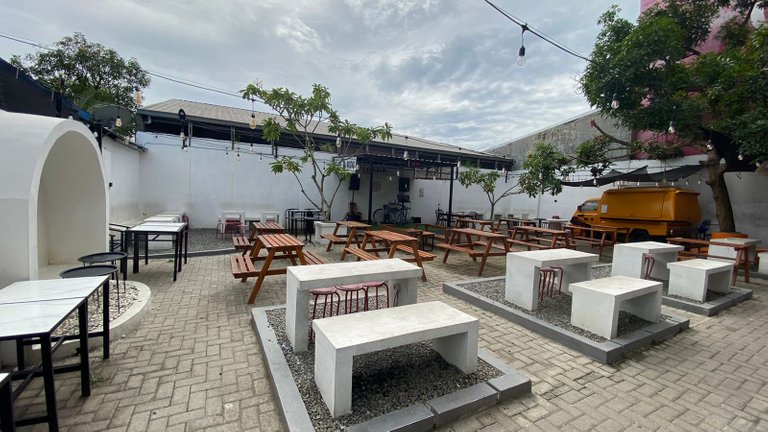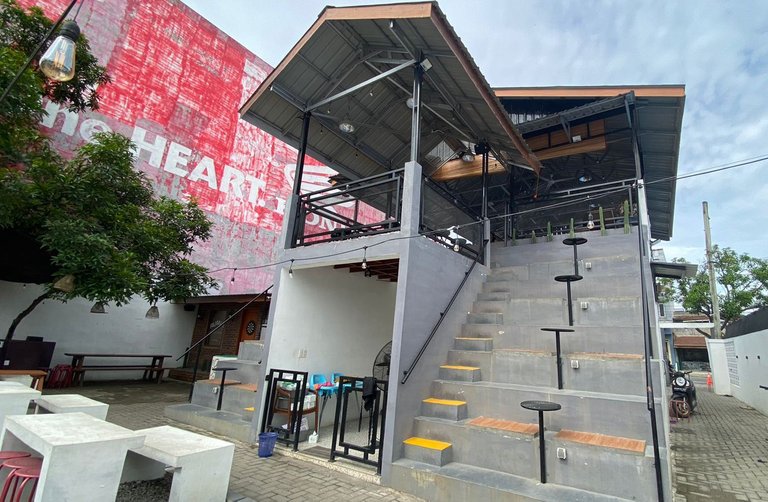 From the design and layout of The Rumus Coffee Space furniture, we can already describe the types of consumers who come. I'm sure that Rumus Coffee Space visitors always come in groups or communally, I don't see any individual tables and it doesn't seem like a segment of this coffee shop. In a food and beverage business, it is very important to read the market and also the target of the consumers we want. If when the business is running, and there is a change in the flow of visitors, the business owner will be faced with two choices, namely to innovate or stay with idealism.
The Rumus Coffee Space seems to be at peace with the circumstances and types of consumers in Marelan District. Not only making it a coffee shop, Rumus Coffee Space tries to accommodate people who want to hangout with friends by creating a coffee shop that is more acceptable, because it is spacious, and the café building has an interesting design concept.
---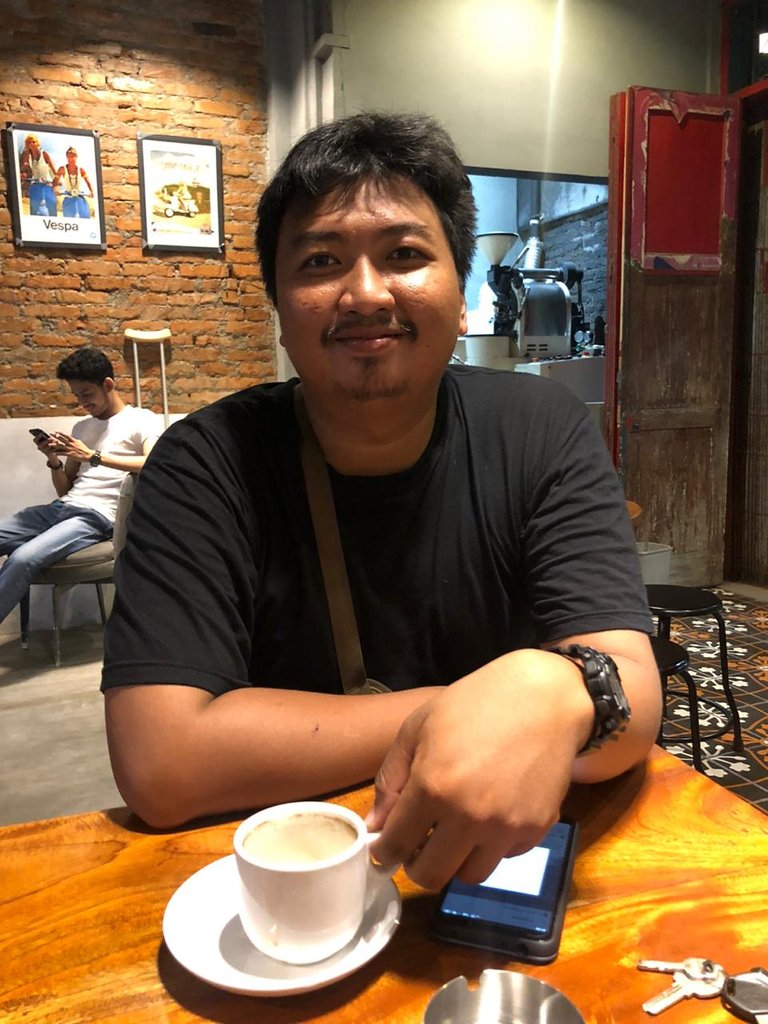 About Author

Call me Isdarmady, because I have a full name that is very long, namely Isdarmady Syahputra Ritonga. I am a head of the family who work as Farmers Vegetables Hydroponic and Consultant Hydroponics, sometimes I also sell coffee from various regions in Indonesia.
I have expertise dispensing coffee with a variety of techniques and tools brewing, because I have the desire to make a coffee shop with hydroponics as centerpieces. Help me realize that dream.
Thanks for read, vote, re-blog and support me in Hive. Maybe god will reward the kindness, let's success together.

---
---