Design and Architecture of Starbucks Delipark Mall Medan - The One and Only Starbucks Reserve in Sumatra Island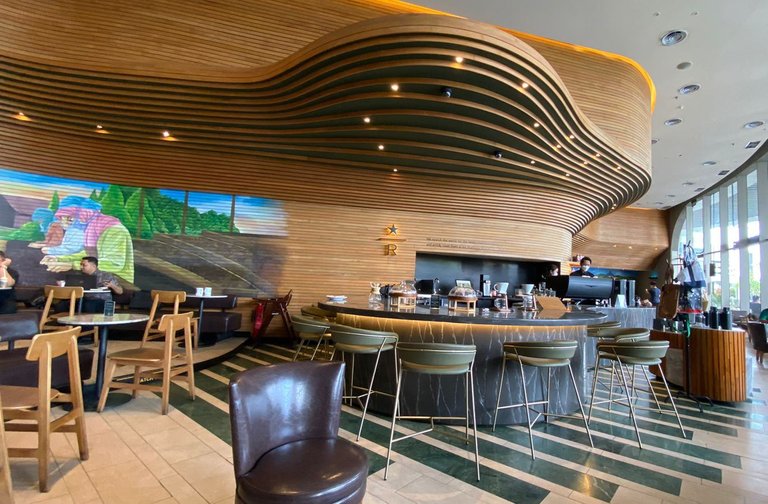 ---
---
Hello everyone
How are you today ? I pray and hope that all of us are always given health and happiness in living this life. One thing I am sure of, all members of the Architecture+Design Community are always in a state of enthusiasm and inspiration. Every day, we see unique and interesting buildings from all over the world shared by members of this community. Not only discussing the architecture of historic buildings, many also discuss modern and contemporary buildings and their relation to the impact on the environment.
I always try to participate in this community. To share my story and experience of a building that impressed me. Some of my last posts, I often discuss about cafes, restaurants or coffee shops. That's because I feel the rapid development of the design and architecture of the Food and Beverage Industry about their concern for the impression of the visitors. Business actors in this field, not only make a special dish, but also make their place of business attractive and memorable with the architecture of the building or the choice of interior design used. This time, it seems that I am not complete to discuss a coffee shop brand that really cares about the impression of its visitors. Yup Let's talk about Design and Architecture from Starbucks, the world's largest brand and coffee shop.
---
---
Starbucks Delipark Mall Medan
A few days ago, I visited one of the First Starbucks Reserve outlets in my city, Medan City and also Sumatra Island. Starbucks Reserve is one of the coffee shop design concepts from Starbucks that tries to offer a different sensation from other Starbucks outlets, here visitors will feel the authenticity and locality of the Starbucks Reserve outlets. Visitors will experience a different kind of architecture, interior and choice of coffee beans presented here.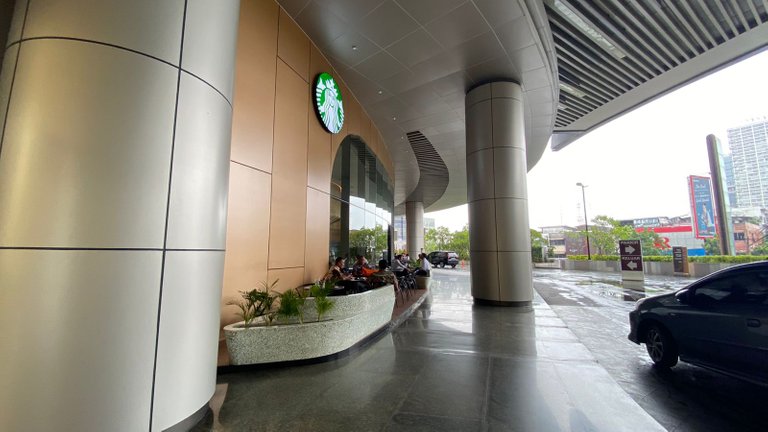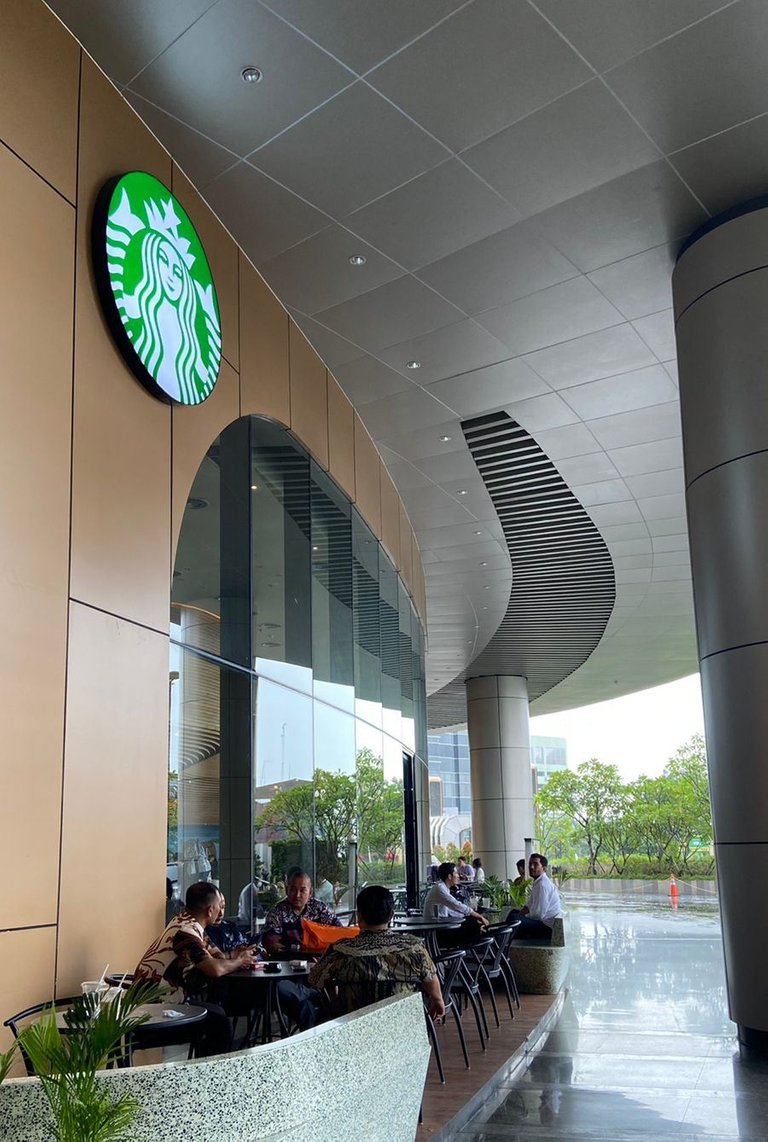 The first Starbucks Reserve in Medan City is located on the Ground Floor of Delipark Mall, one of the newest, largest and most luxurious malls in my city. This Starbucks Reserve chose a location in the lobby ground flour area next to the entrance of this mall. If you pay attention, almost all Starbucks outlets located in malls or plazas in Indonesia always choose the front of the lobby and it is very strategic, both in terms of marketing and for design. The front or lobby will make it easier for outlets to explore and innovate to create designs and interiors that are different from the inside of the mall. This location is very strategic, the rental price is also definitely expensive but not all brands or businesses can take the location in front of the Mall. The location is always filled by big and global brands.
Starbucks has always had a design and architecture that made a strong impression on anyone who saw it. In fact, without our logo and looking at it we would have assumed it was a Starbucks coffee shop. The outdoor part of Starbucks Delipark Mall is not too wide and is designed with black iron furniture. Tables and chairs are formed with groups of one table for four chairs, this is very important because the outdoor space visitors from Starbucks have a tendency to come more than two people, want to chat and laugh louder and can smoke freely.
It's hard for me to describe to you, but Starbucks Delipark Mall is very smart in utilizing the large pillars of the mall into a single building unit for this Starbucks outlet. I was not bothered by the big pillar but it seemed that the pillar of the mall building seemed to be part of this Starbucks outlet.
---
---
Interior Design of Starbucks Delipark Mall Medan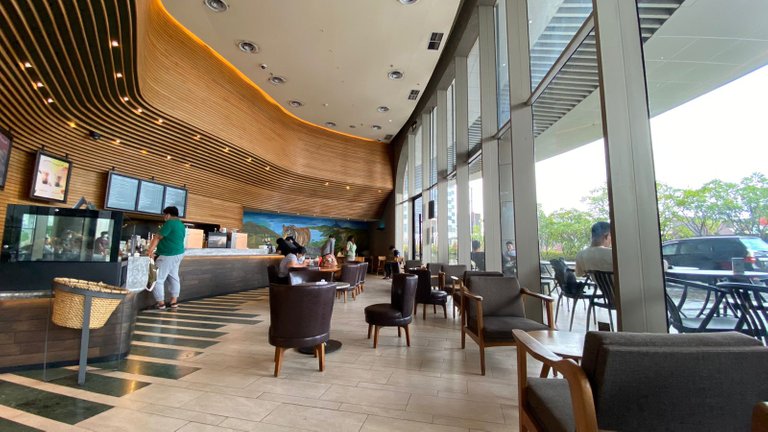 The indoor space of Starbucks Delipark Mall Medan uses transparent glass walls on the outer walls. Glass walls in buildings have many benefits. First, the glass walls will allow sunlight to enter directly into the interior of the building to help with lighting so that it can minimize the use of lights during the day. The second benefit, transparent glass walls give us a broad impression and view. A room will feel more spacious, I also feel that at this Starbucks outlet. I feel that the room seems very spacious and airy because of the walls. Lastly, glass walls are also more practical for cleaning and maintenance, we don't need to bother thinking about how to repaint the space.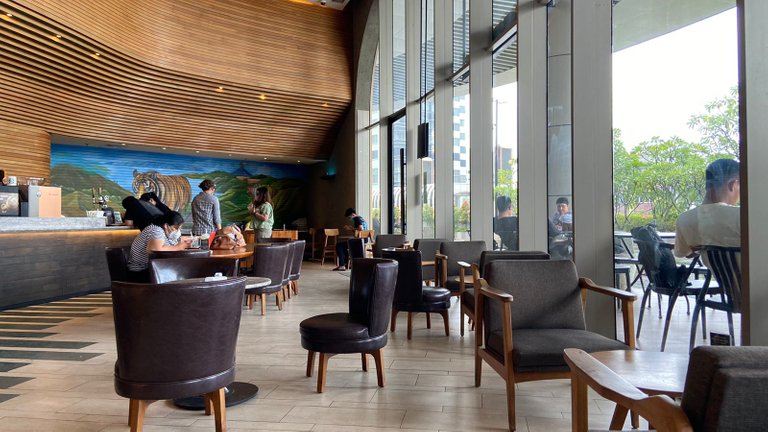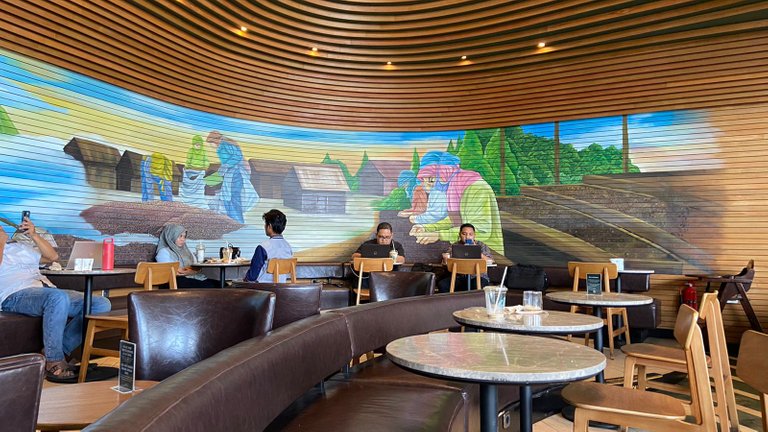 The indoor space of Starbucks Delipark has a luxurious and elegant impression. All aspects of the interior and furniture they choose reflect and emphasize that luxurious impression. The chairs and tables are arranged very neatly, the visitors are not too close so that if we come alone, we will also get a private room. There are various choices of tables and chairs that we can choose, according to our purpose in coming to this Starbucks, whether you want to just chat and hangout while enjoying a cup of coffee or also finish work with a cup of coffee.
---
---
Next, we discuss my favorite interior parts in this place. The interior of Starbucks Delipark Mall Medan uses elements of a very unique and interesting wood brown color. I feel warm and calm when I see the brown color of this wood. The walls in the room use wooden ornaments that are arranged parallel to the roof. One special thing is that this wooden decoration is not monotonous, the top is made like an indentation that makes us definitely notice and impress to see it.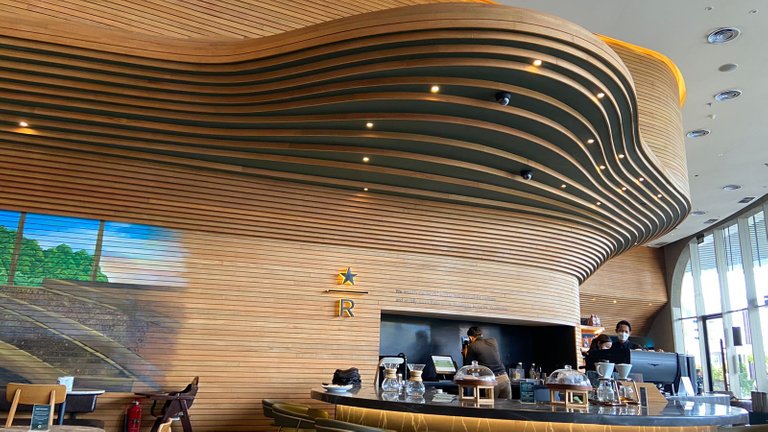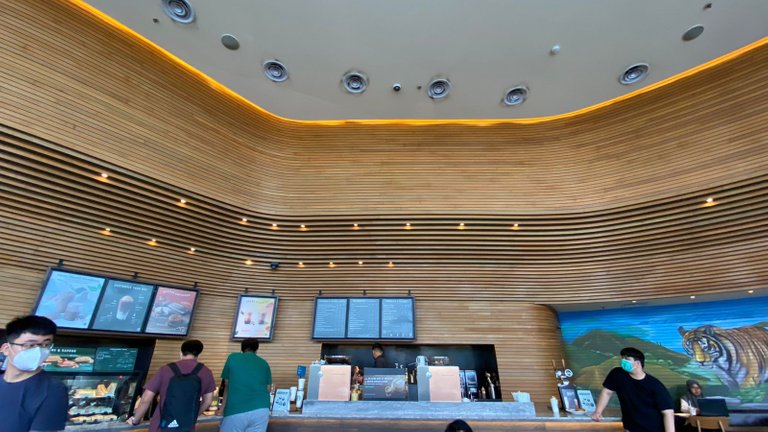 I had time to ask the meaning of this interior decoration design to one of the baristas when I asked for the password, he was quite friendly and explained the philosophy of the interior of this curved wood depicting two things, namely the feel of Bukit Barisan on Sumatra Island which is a place to grow the best types of coffee in the world such as Gayo Coffee, Lintong Coffee or Mandailing Coffee. Second, this beautiful and curved wall decoration depicts the long process of coffee processing from coffee plantations to become a universal drink that we can enjoy today.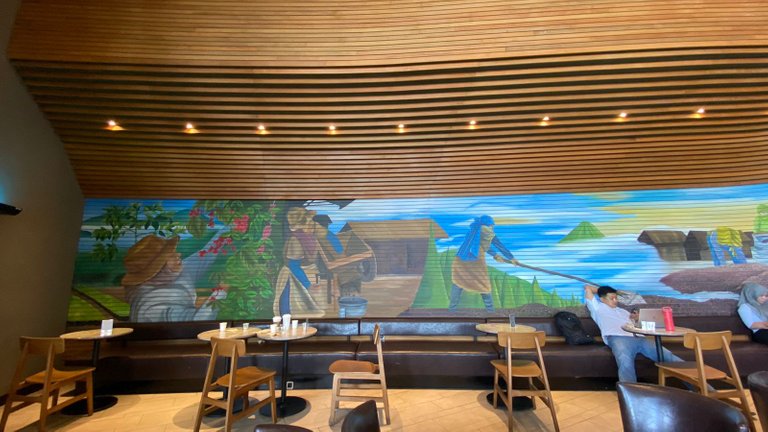 The element of locality of the first Starbucks Reserve on Sumatra Island is further clarified by the paintings on the walls. Paintings about the activities of tough women who are harvesting coffee, drying coffee beans and doing post-harvest activities such as drying. This is in line with the facts on the ground, women play a very important role in coffee plantations and become tough workers, they are very agile, diligent and hardworking. Starbucks seems to want to give a message to visitors with this painting, if every cup of coffee we hold, there is the struggle and love of tough women from coffee plantations.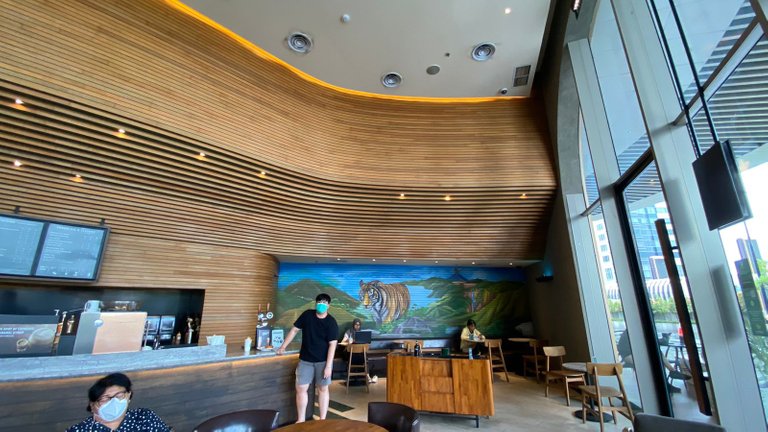 In addition to paintings of women's activities in coffee plantations, in another corner of Starbucks Delipark Mall there is also a wall painting depicting the Sumatran Tiger, which is an endemic animal native to Sumatra Island, and is the tiger with the smallest size among the seven tiger races in the world.
Okay, this is my post this time. As we know, everyone has their own reasons for coming to Starbucks. Starbucks became a big and global brand not only because of the taste and quality of its coffee, but also because of the pleasant experience and impression from each of its outlets. See you in my other stories next time.
---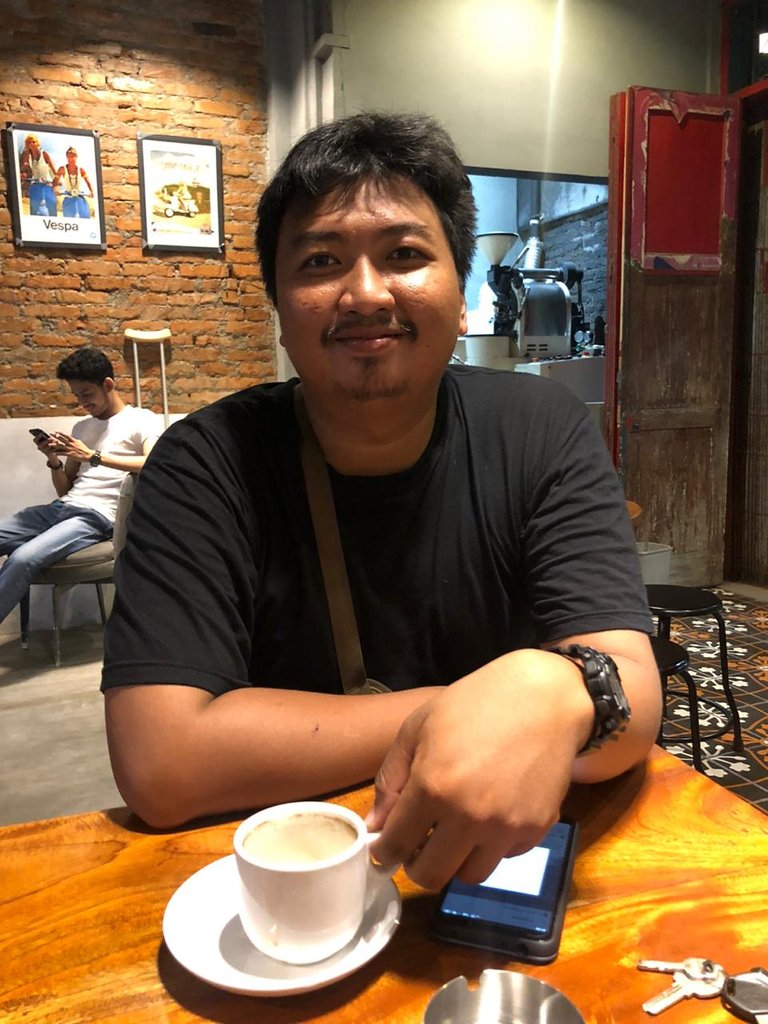 About Author

Call me Isdarmady, because I have a full name that is very long, namely Isdarmady Syahputra Ritonga. I am a head of the family who work as Farmers Vegetables Hydroponic and Consultant Hydroponics, sometimes I also sell coffee from various regions in Indonesia.
I have expertise dispensing coffee with a variety of techniques and tools brewing, because I have the desire to make a coffee shop with hydroponics as centerpieces. Help me realize that dream.
Thanks for read, vote, re-blog and support me in Hive. Maybe god will reward the kindness, let's success together.

---
---