Enjoying Delicious and Spicy Devil Noodles at Mie Gacoan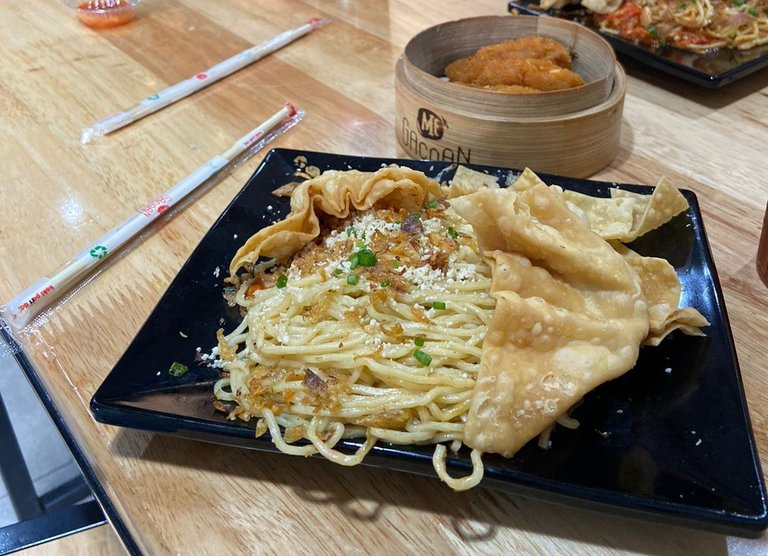 ---
---
Hello everyone,
How are you today ? I hope and pray that all of us are always given health and ease in living this life. I also believe that all members of the Foodies Be Hive Community are always in a happy and happy state. Every day in this community, we can see various recipes and dishes from all over the world, culinary experiences from members from various cultures and cities as well as community members' stories about restaurants that provide delicious and appetizing food. All of that can make us feel happier when reading and seeing it.
This time, I want to participate again to share happiness and stories with members in this community. I want to tell you about my culinary journey when I visited a restaurant or place to eat that was viral in Indonesia a few days ago. Check out my culinary trip this time at Mie Gacoan – Mie Pedas no. 1 in Indonesia.
---
---
Mie Gacoan - The Most Viral Spicy Noodle no. 1 in Indonesian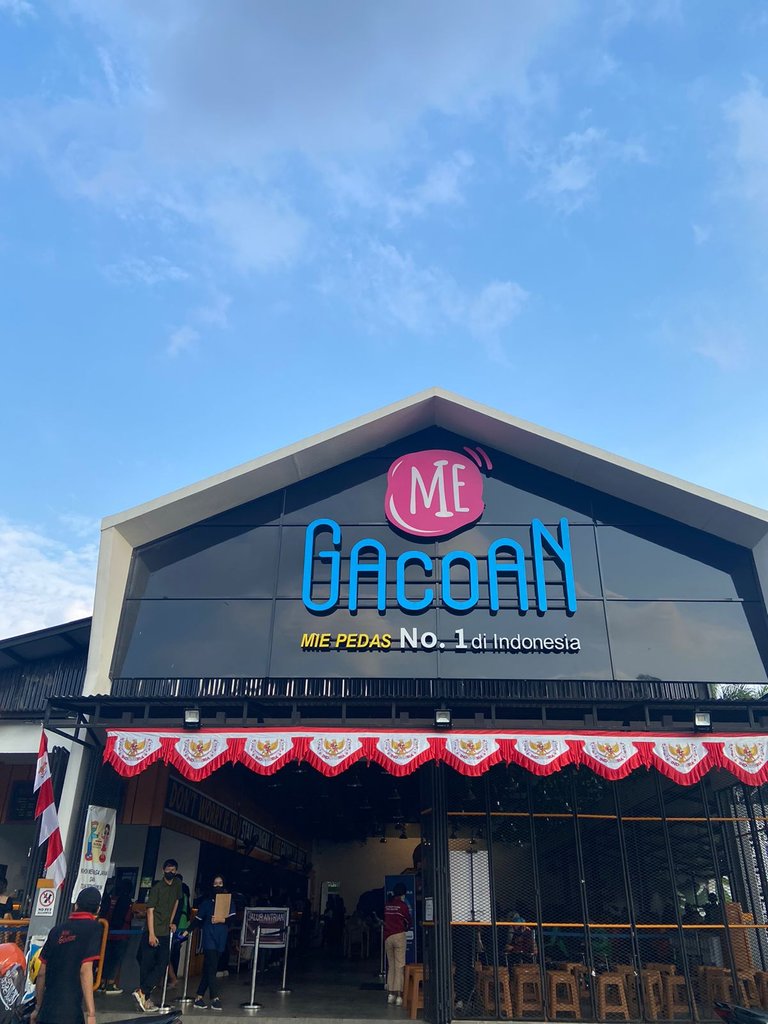 Mie Gacoan is one of the most famous noodle restaurant brands in Indonesia. Founded in 2016, Mie Gacoan currently has dozens of branches in various major cities in Indonesia and continues to expand. "Gacoan" is a word from Indonesian (which is taken from Javanese) which means "something that can be relied on". It seems like the Indonesian proverb, the name is prayer and hope. Currently, Mie Gacoan is the mainstay and top of mind for cheap, delicious and delicious noodle restaurants in Indonesia.
I visited one of the outlets of Mie Gacoan in my city which is located at Dr. Mansyur Street, Medan Selayang District – Medan City. area dr. Manysur Street is one of the centers of life style, culinary and street food in Medan City. In this road area there is also the University of North Sumatra, the favorite and largest university in Medan City with tens of thousands of students, hospitals, government offices, and also several residential apartments. I think Mie Gacoan's management has made a smart move when taking a business location here.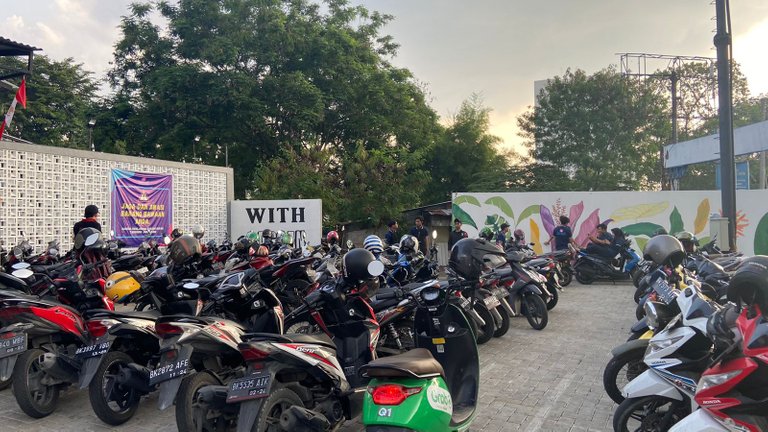 My wife and I came to this restaurant on a Monday afternoon. I saw that the front parking area was already filled with hundreds of motorbikes from customers from this noodle restaurant. From the front, the building of this restaurant looks very large, magnificent but still creates a comfortable impression for anyone who comes to this restaurant.
---
---
Ordering System, Menu and Prices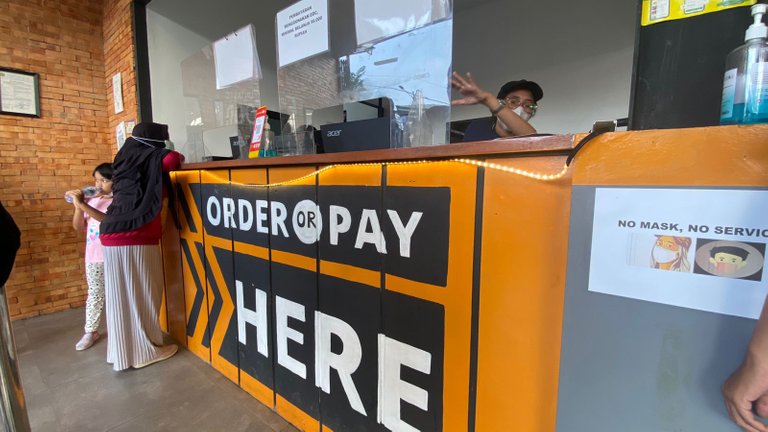 This Gacoan noodle had caused a stir among the people in several big cities on Java Island because there was a demonstration by food delivery couriers who got a lot of orders from this restaurant but had to wait for long hours and made them lose. A misunderstanding between employees and food delivery couriers caused clashes and injured victims. After that incident, Mie Gacoan Management seems to have cleaned up and made a separate ordering and ordering system between dine in and take away.
For visitors who want to dine in at Mie Gacoan, we will be invited to fill out a waiting list to wait for empty tables and chairs. It's better to come together or more at this noodle restaurant, because Mie Gacoan uses a self-service system. If more than one person comes, we can divide the tasks, one person orders the food menu and the other waits to be called to get an empty table. The self service ordering system at Mie Gacoan, we will queue at the cashier while ordering food and paying for it immediately.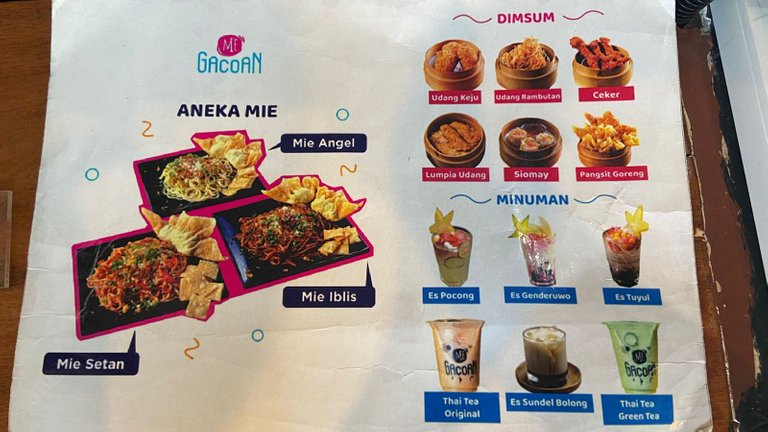 Mie Gacoan sells several noodle menus with unique names and different levels of spiciness. There are three types of noodle dishes, namely, Mie Angel (plain noodles seasoned with soy sauce - not spicy taste, slightly sweet and savory), Mie Satan (noodles with spices and chili, has a spicy and savory taste), Mie Devil (noodles with spices plus chili). and soy sauce, has a sweet and spicy taste). For satan noodles and devil noodles, we can choose the level of spiciness from level 1 to level 8. In addition, dimsum, spring roll, fried rice and somay are also available as side dishes.
For the prices of all these menus, they are very cheap, because of that we will see many students and students who make Mie Gacoan as their hangout place. Anyway, the menu naming of Mie Gacoan also brought controversy. Because according to the law, to get halal certification from the Indonesian halal certification agency, there is one rule that says food menus cannot be sold using negative, ugly or mystical names, such as satans or devils.
---
---
About Taste and Flavor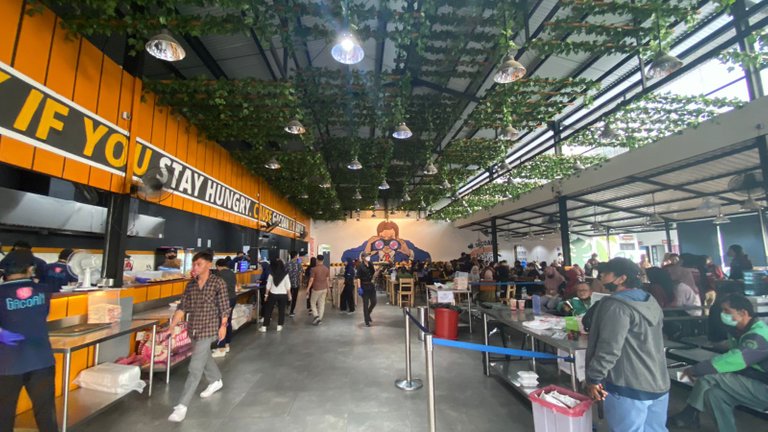 I ordered Mie Devil with level two spiciness and one signature cold drink from Mie Gacoan. My order came about 10-15 minutes after I finished the payment. The atmosphere in this restaurant is very hectic and crowded, we can see the chefs and helpers who continue to work together to cook noodles, waiters passing by and delivering orders from customers and hundreds of customers enjoying the same food, some of them are sweating because of the spiciness.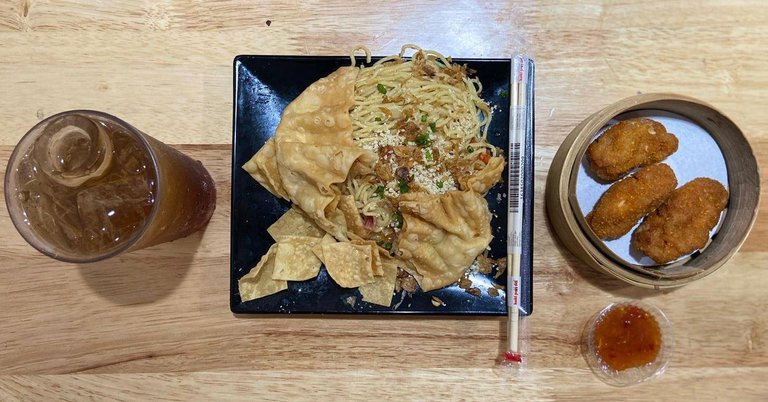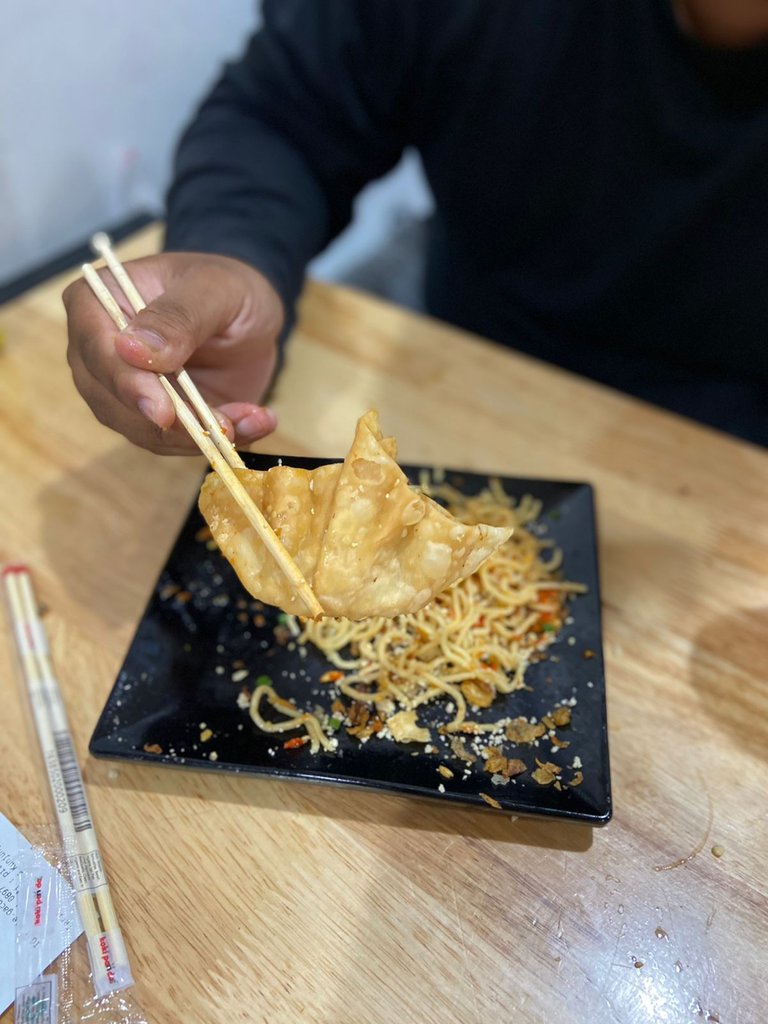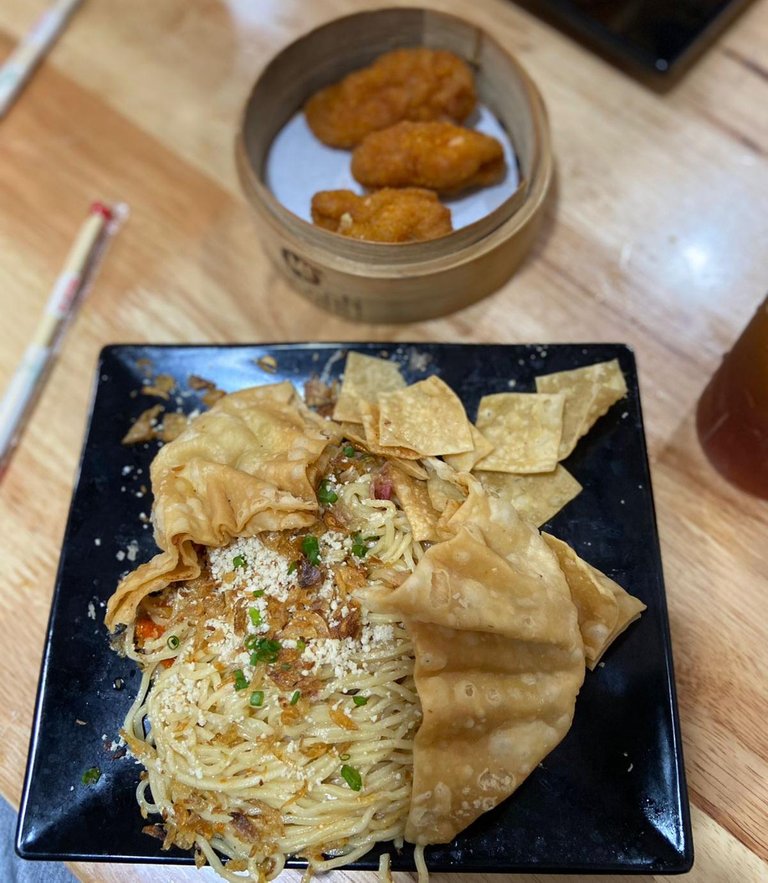 This is my order, looks very tempting. Mie Devil from Mie Gacoan is made using noodles that have a fluffier texture like the noodles in Chinese restaurants. The yellow noodles will be mixed with secret spices, soy sauce, onions and added with chili according to the level of spiciness, then sprinkled with finely ground chicken meat and don't forget the fried spring rolls, delicious right? For the price of this food and drink, it's only around IDR 18K (1.2 USD).
The taste of these Level 2 Devil Noodles is very delicious to me. The spicy and sweet taste of the soy sauce is like blending with the texture of the noodles, the savory combination of the spices used makes one plate of noodles doesn't feel like I will eat it quickly. Don't forget the fried spring rolls, these fries have a fairly large shape with a crispy and soft texture at the same time. Eating noodles with fried spring rolls has become a culinary moment that is fun and satisfying to my taste buds.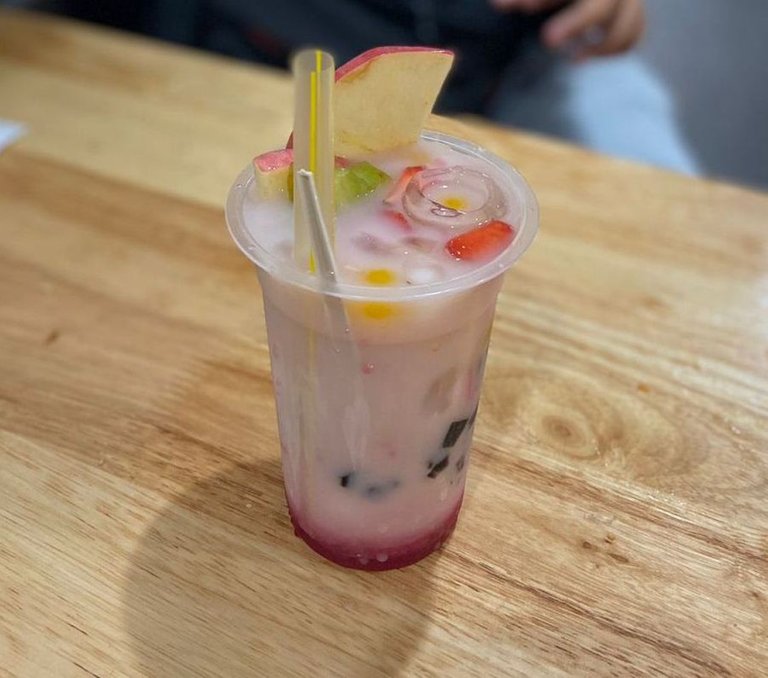 For drinks, I ordered Ice Gundoruwo. For information "gundoruwo" is one type of satan that exists in the mystical and horror culture of Indonesian society. Gundoruwo is described as a hairy ghost, black in color, tall and large, perhaps like a yeti. However, Ice Gundoruwo from Mie Gacoan is very different from the perspective of "Gundoruwo Ghost", this cold drink is made with a combination of water, milk, raspberry syrup, then added with pieces of fruit and jelly which makes this drink very tasty and refreshing.
Okay, this is the story of my culinary journey this time. Hopefully friends can get inspiration and happiness from my posts.
---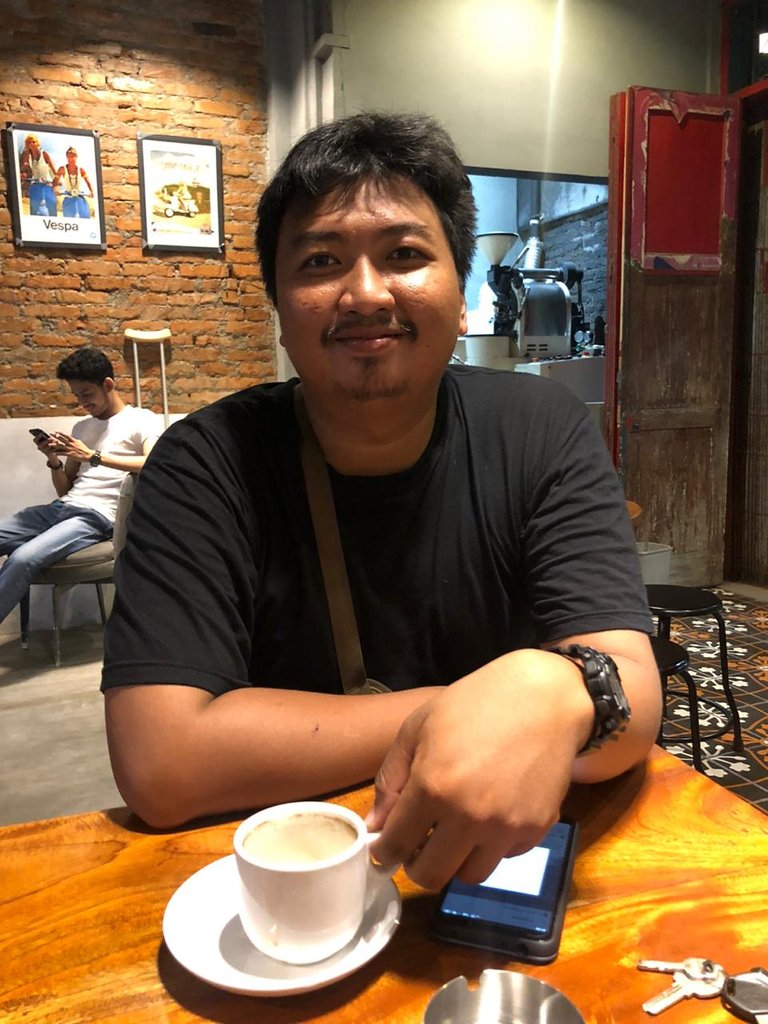 About Author

Call me Isdarmady, because I have a full name that is very long, namely Isdarmady Syahputra Ritonga. I am a head of the family who work as Farmers Vegetables Hydroponic and Consultant Hydroponics, sometimes I also sell coffee from various regions in Indonesia.
I have expertise dispensing coffee with a variety of techniques and tools brewing, because I have the desire to make a coffee shop with hydroponics as centerpieces. Help me realize that dream.
Thanks for read, vote, re-blog and support me in Hive. Maybe god will reward the kindness, let's success together.

---
---