Preparation for Transferring Seeds and Preparing Hydroponic Fertilizer Solutions in My Hydroponic Garden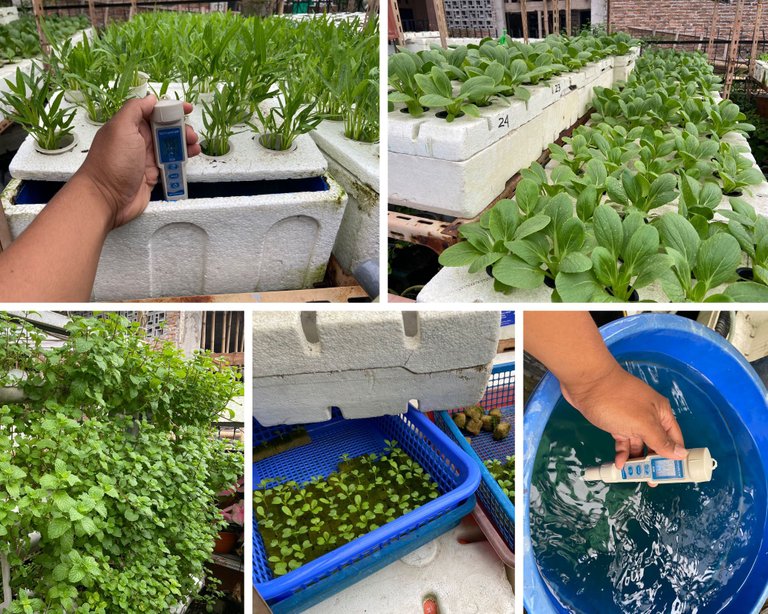 ---
---
Hello everyone
How are you today ? I hope and pray that all members of Hive Garden Community are always in good health and also happy in living this life. One thing I can assure you, the friends in this community are full of enthusiasm and inspiration. Why can I say that? because every day, we get a variety of interesting content about gardening from people all over the world. The gardening culture of each culture and region is definitely different and that's very interesting for us to see.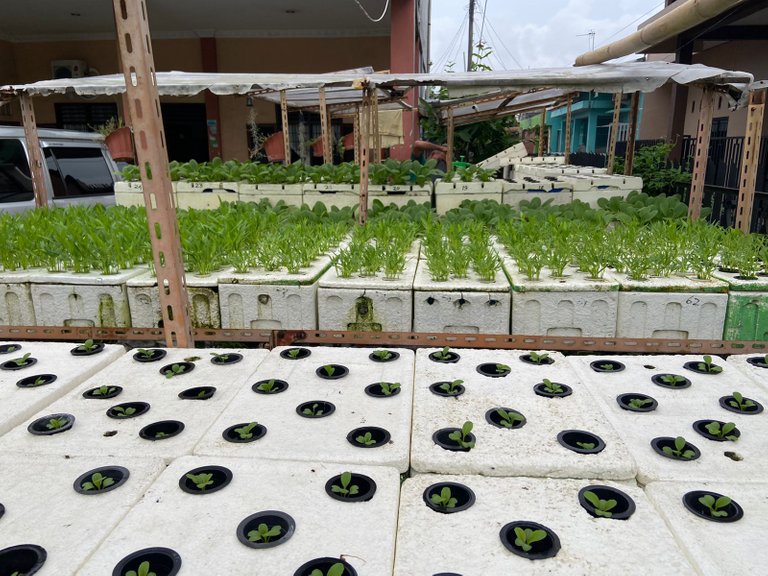 As usual, every Monday I try to consistently contribute to this community by sharing stories about my experience this week in my hydroponic garden. As long as I joined Hive, I tried to consistently create content about my activities in hydroponic gardening. Come on, continue to listen to my story this time.
---
---
Preparation for Moving Vegetable Seeds Into Hydroponic Growing Media
This week has been one of the busiest weeks in my hydroponic garden. In last week's journal hydroponics, I told about the condition that many of my hydroponic media were still empty because the vegetable seeds weren't ready to be moved, or they weren't old enough. This week, almost all the vegetable seeds that I sowed have shown very good condition. Almost all the seeds grew uniformly and not many seeds failed to grow. Therefore, one of my activities this week is transferring seedlings to hydroponic media.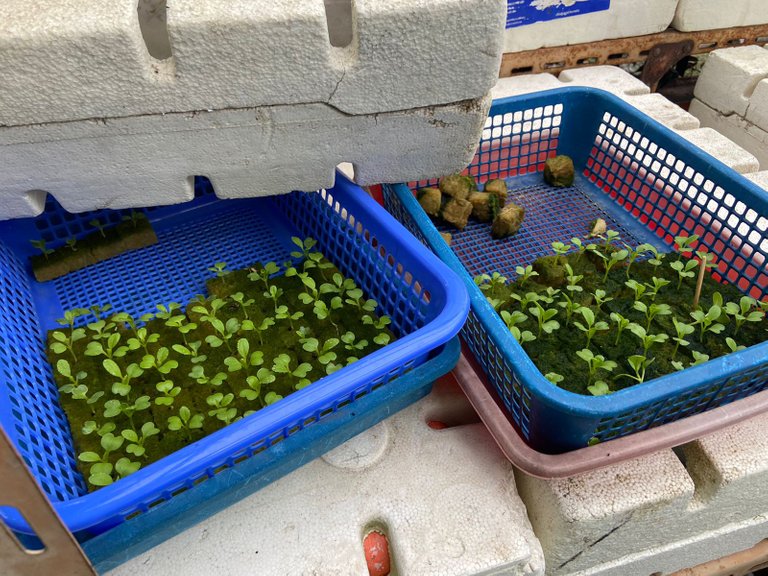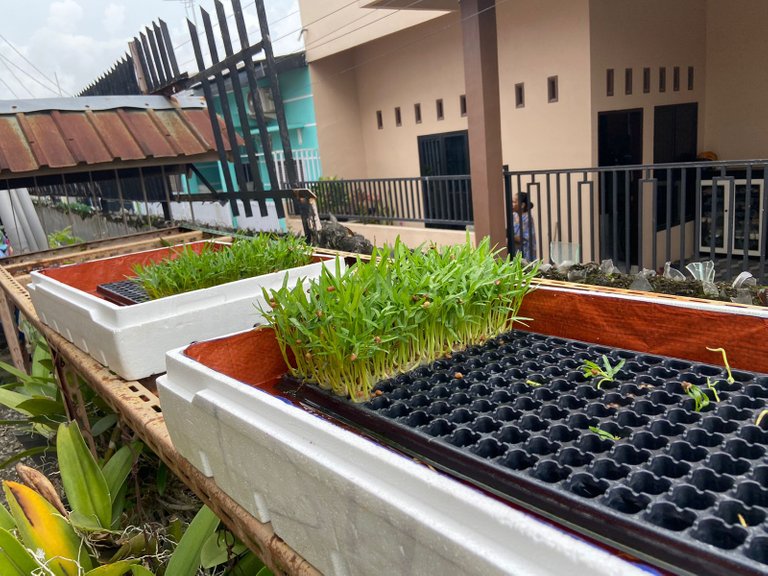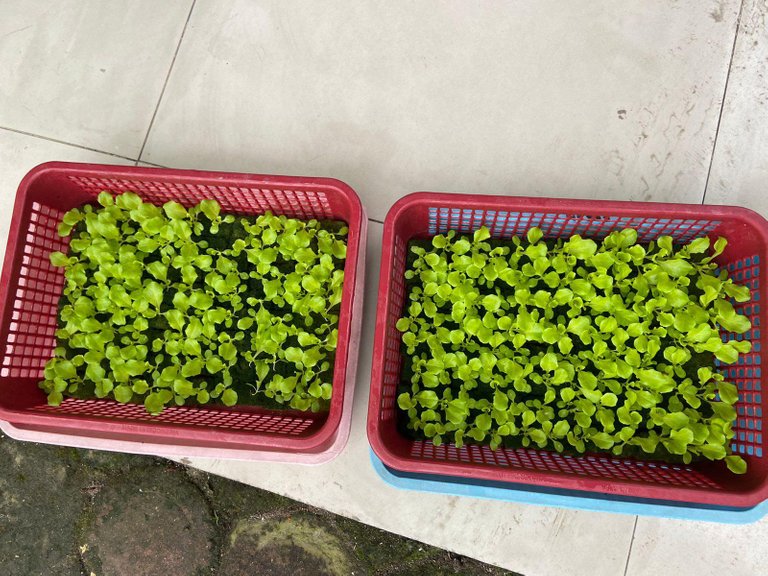 *Vegetable seeds such as lettuce, pakcoy, and kangkong which will be moved
Before moving the seeds to the netpot and hydroponic media. First, I prepared the water used in my hydroponic media. If friends are still unfamiliar with hydroponics, I'm not bored to explain. If hydroponics, is a planting method that uses water as a substitute for soil media. The hydroponic system for vegetables or plants makes it easier for us to ensure that the nutrients and minerals needed by each vegetable or plant are properly and optimally fulfilled.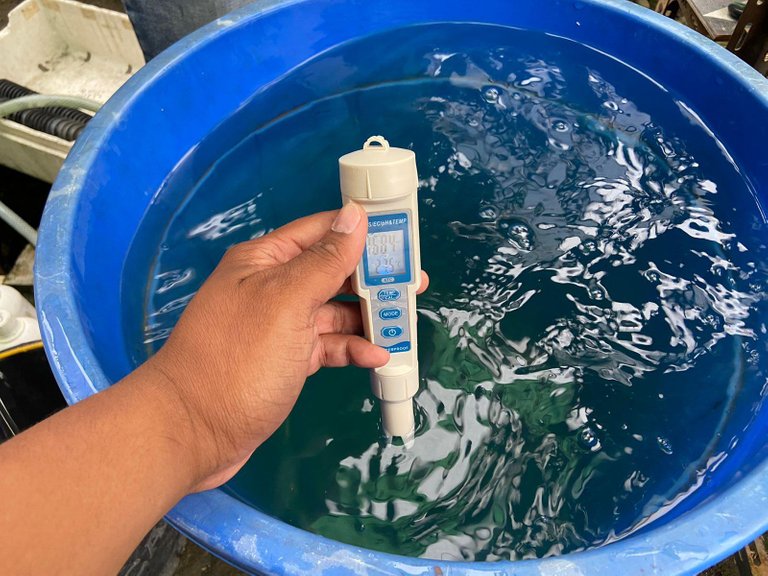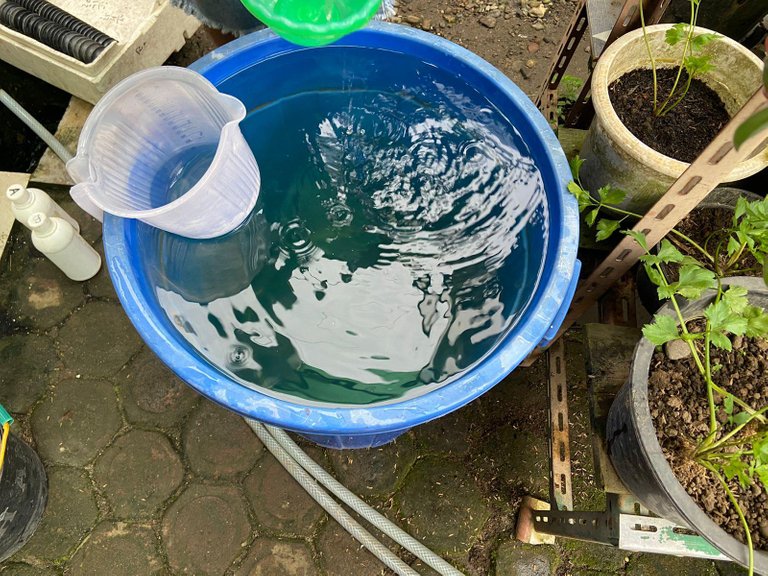 Usually, I make a hydroponic water solution in a big bucket (120 liter capacity) and then distribute it to my hydroponic media. Every Styrofoam I use, usually only requires 9-10 liters of water. This makes it easier for me to control the concentration of ppm in this solution. I mixed hydroponic liquid fertilizer into 120 liters of water, and made the ppm concentration around 1300-1400 ppm. This method is not a standard method, everyone has their own way of gardening to make their work easier in their garden.
---
---
Condition of Pakcoy in My Hydroponic Garden
I want to take you to see some of the vegetables I grow in my hydroponic garden. First, we look at pakcoy, one of the favorite vegetables to grow in hydroponic media. Pakcoy has a very interesting shape and texture, the green color of the vegetables and the wide shape of the leaves make this vegetable look very suitable in hydroponic media such as pipes or Styrofoam.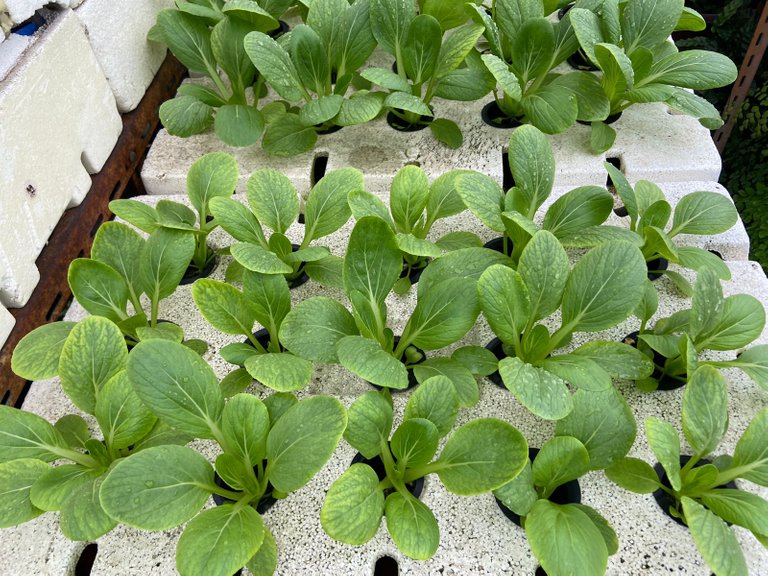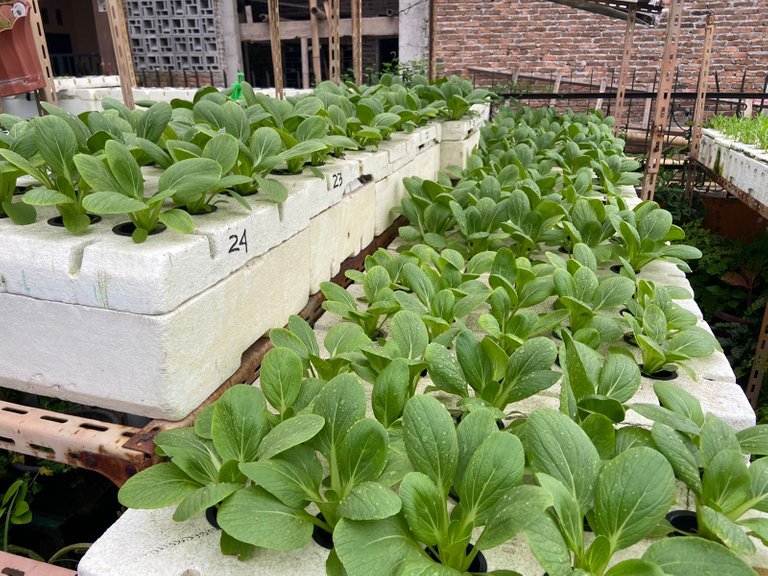 I have around 200 pakcoy pots, with about 21 days of planting after sowing. The condition of the pakcoy that I planted, I can say, is not very good. Because during this week, I observed the color of the pakcoy leaves turning yellow like a vegetable that lacks nutrients. Indeed, my hydroponic fertilizer manufacturer notified me if he made any changes to the hydroponic nutrient feedstock. Because, one of the mixed mineral components is not available in the Indonesian market. The mineral component of the fertilizer turned out to be imported from Ukraine. Hearing that, I thought, if the war between Russia and Ukraine, which is far from Indonesia, had a direct impact and was felt by hydroponic farmers in Indonesia, like me. The problem is, only pakcoy experience problems like this. Other vegetables like mint and kale that I planted still look okay and normal.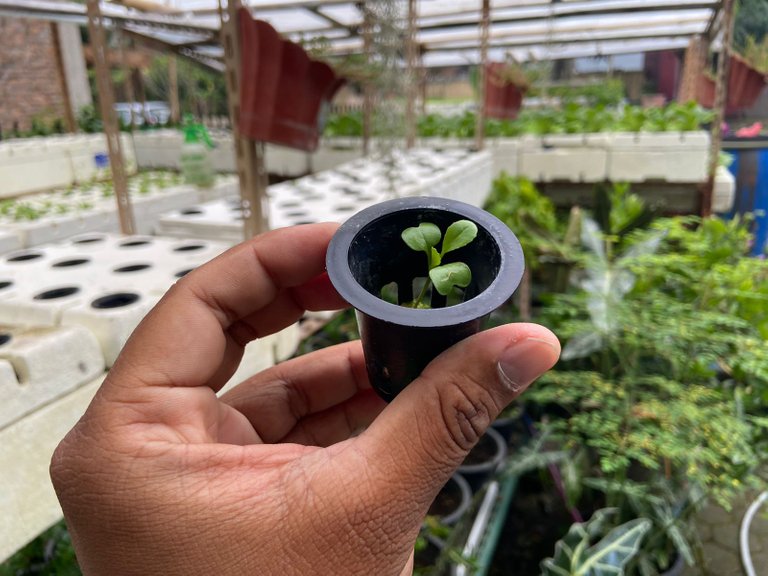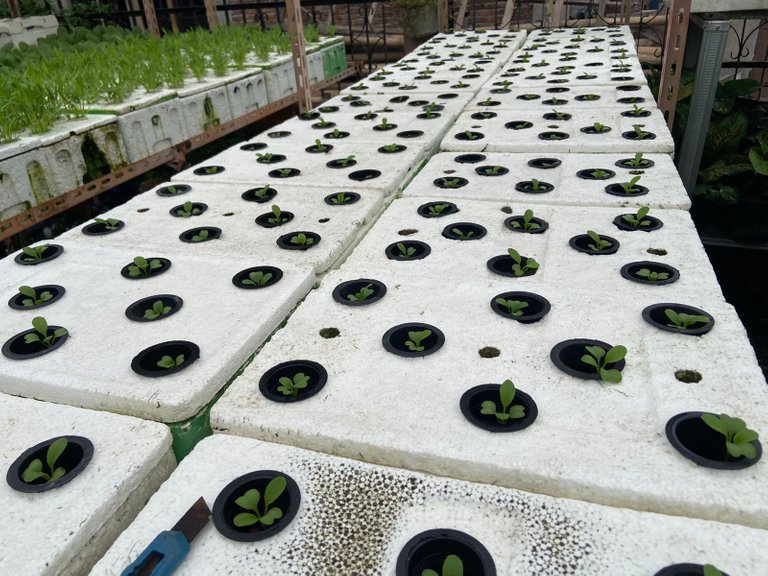 Besides the 200 pakcoy pots aged 21 days after the seedlings, I also have about 400 pakcoy pots which I just transferred to the hydroponic medium. Initially, the solution in the hydroponic media that I planted pakcoy had a ppm level of around 1300-1400 ppm. After two days, the ppm concentration changed and increased to around 1600-1700 ppm. I don't know the reason, and the effect that will occur because it's only been a few days of experiencing such a condition.
---
---
Condition of Kangkong in My Hydroponic Garden
Next, I invite you to see the condition of the kangkong that I plant in my hydroponic garden. For information, kale is one of the popular water vegetables and is liked by many Asian people in this world. Kangkong is very easy to grow, has good vitality, tastes delicious and is easy to process. Unfortunately, the kangkong that is sold in the market is the kangkong grown in swamps or soil. Often, insects such as centipedes or worms hide in the hollow stems of the kangkong.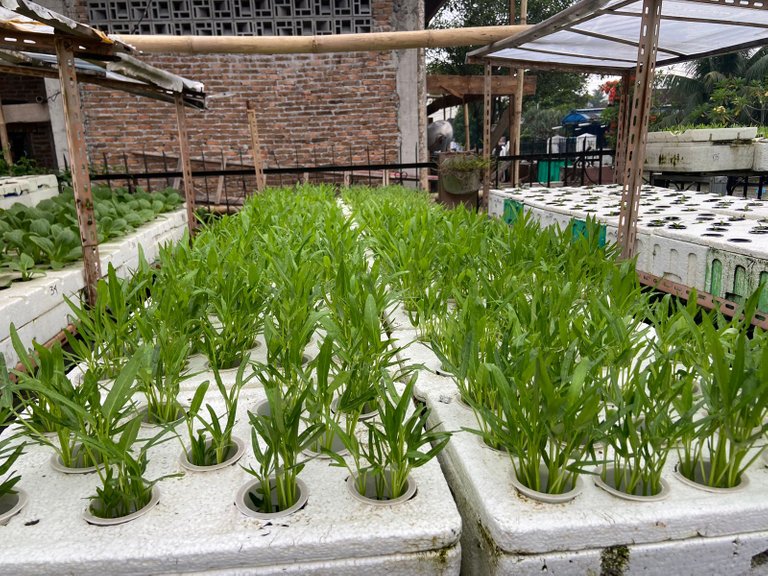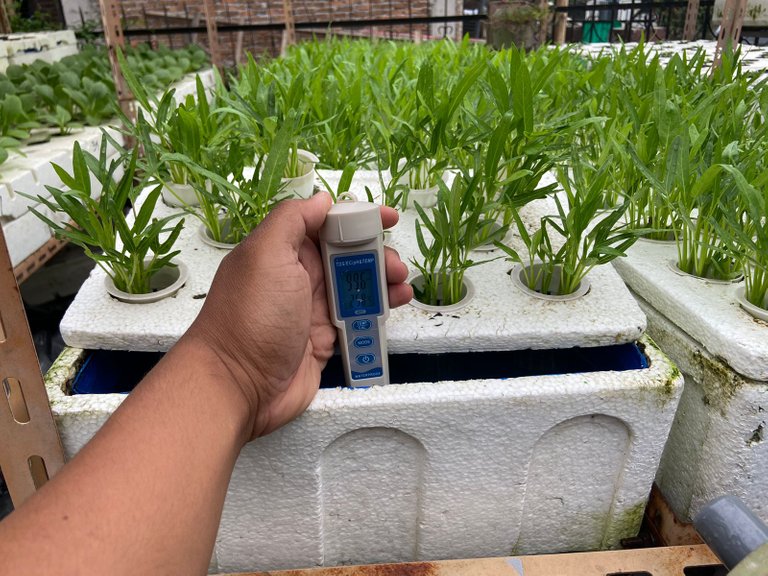 Conditions like that make kale planted with a hydroponic system popular with many people and sought after by connoisseurs of vegetables. The condition of kangkong planted in water prevents insects that live in swamps or soil from being found here. In my hydroponic garden, I regularly plant kangkong. In this planting period alone, I have around 400 pots of kangkong which I just moved last Friday. The conditions for this kangkong grow very well and optimally.
The concentration of ppm in the kangkong growing media ranges from 1000-1100 ppm and that is still in accordance with the standards of kangkong. When I made this post, the kangkong that I planted was about 10 days after sowing.
---
---
Condition of Mint Leaves in Hydroponic PVC Pipe Installation
Finally, we will look at the condition of the mint leaves in my hydroponic garden. I have 130 pots of mint which I have grown in two hydroponic installations in my hydroponic garden. Mint leaves thrive very well, and are one of the most sought-after vegetable products in my hydroponic garden. As long as I focus on planting and growing mint leaves this year, I have sold more than 1000 packs of mint leaves or around 20-30 kilograms of mint leaves.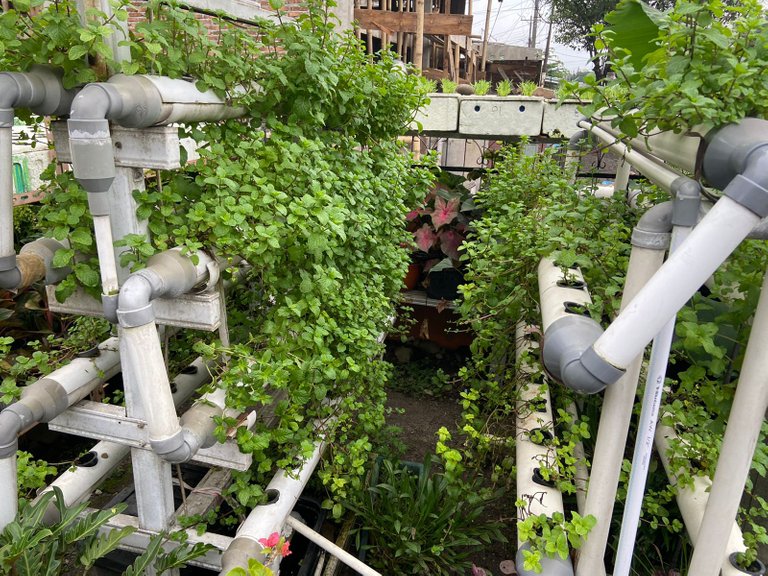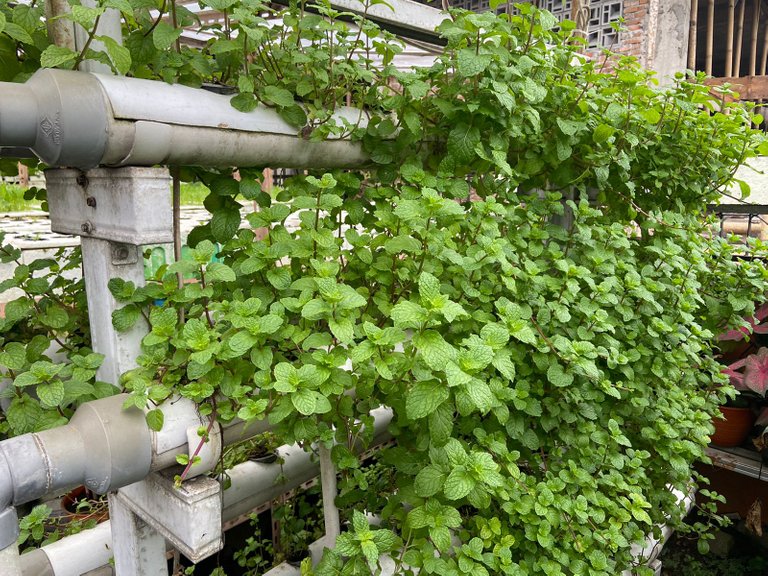 During this planting period, my mint leaves are still very dense. Some of my mint leaf pots already look like they need to be harvested. We can see some of my leaves being eaten by caterpillars and insects, this indicates the leaves are ready to be harvested. Mint leaves are a unique plant, because we age the leaves are ripe, mint leaves will emit a fragrant smell and then invite insects and caterpillars to eat these leaves. Looks like I have to sell and harvest these mint leaves so that the caterpillars don't eat my mint leaves anymore.
Okay, that's all my gardening story this time. See you next week. Happy Gardening.
---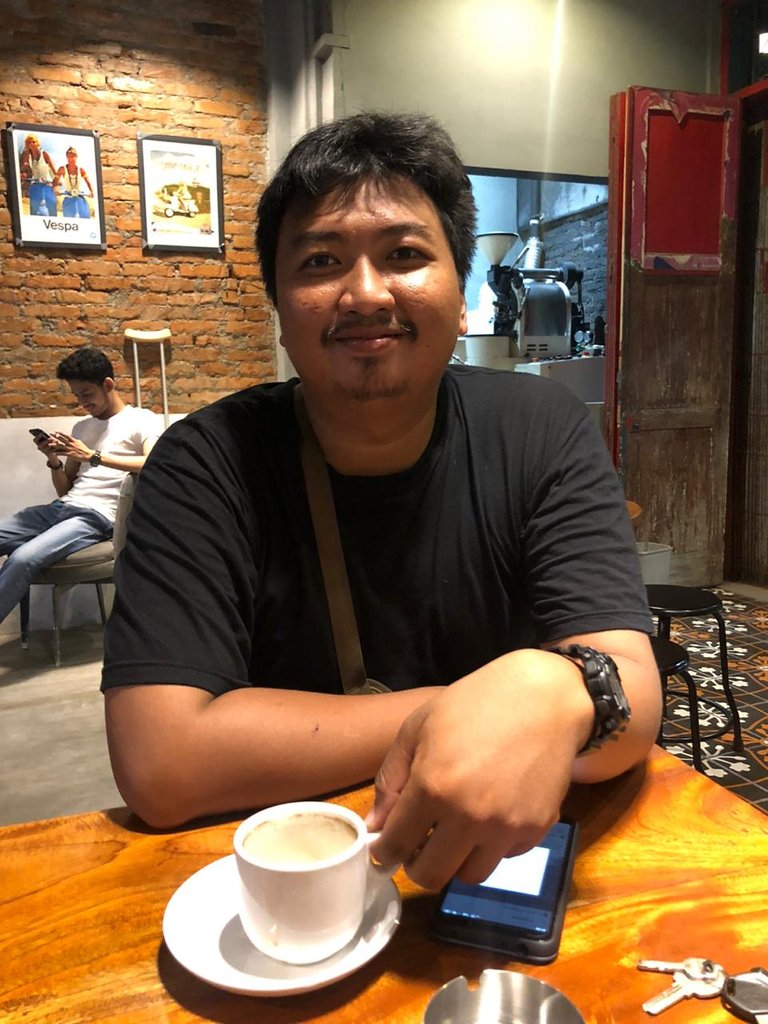 About Author

Call me Isdarmady, because I have a full name that is very long, namely Isdarmady Syahputra Ritonga. I am a head of the family who work as Farmers Vegetables Hydroponic and Consultant Hydroponics, sometimes I also sell coffee from various regions in Indonesia.
I have expertise dispensing coffee with a variety of techniques and tools brewing, because I have the desire to make a coffee shop with hydroponics as centerpieces. Help me realize that dream.
Thanks for read, vote, re-blog and support me in Hive. Maybe god will reward the kindness, let's success together.

---
---