Spaghetti Aglio Olio - Super Delicious Dish from HS Dining Resto, Simple and High Taste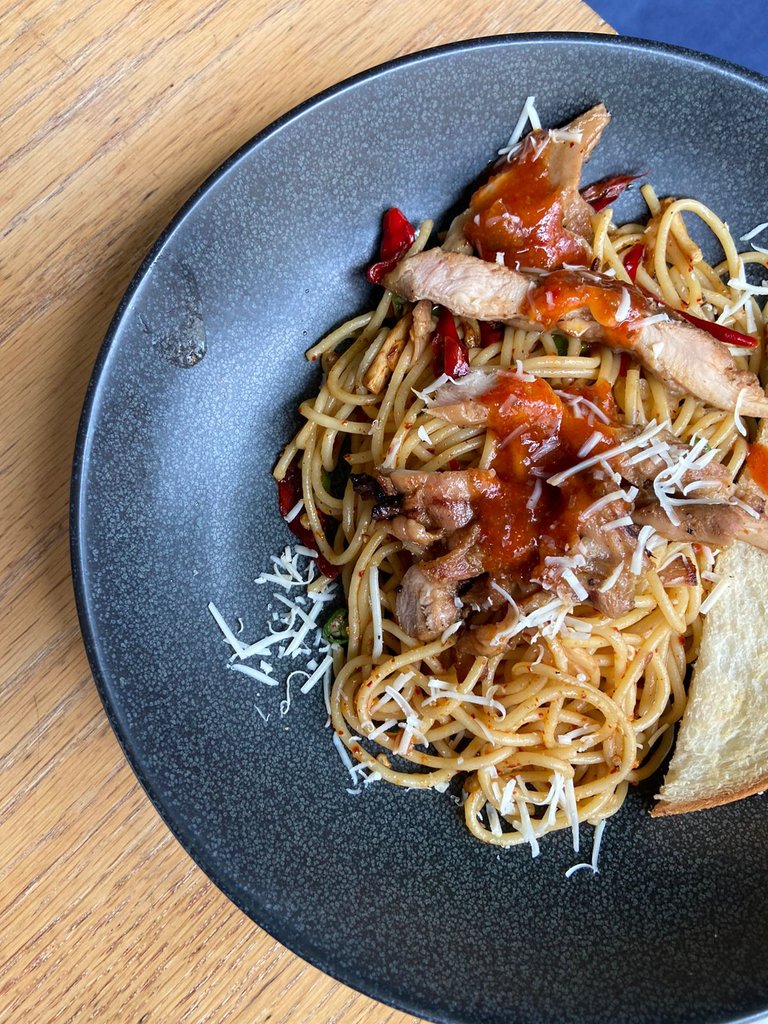 ---
---
Hello everyone
How are you today ? I hope and pray that you will always be given health, patience and happiness. Yup, those three things make us related to each other. If our body is healthy, and we are always patient or grateful for whatever happens in our lives, it will make it easier for us to achieve happiness.
One thing I am sure of, all members of Foodies Bee Hive Community are always in a state of enthusiasm and a lot of inspiration. Why can I say like that? every day, the members in this community always contribute to providing the best content about food recipes, delicious food at restaurants, or inspiring and entertaining culinary experiences. Therefore, I also want to share content with friends in this community, hopefully it will be happiness for all of us.
---
---
Some time ago, I saw some food content from my friend's instagram. He posted photos of the food that made me drool, and I immediately wanted to try it. My friend shared a photo of spaghetti carbonara which is very aesthetic, beautiful and tasteful. As a fan of Italian cuisine, I can't help but look for a restaurant that serves delicious spaghetti. Through my friend earlier, I finally found a discount promo for lunch at Higher Step Dining Resto.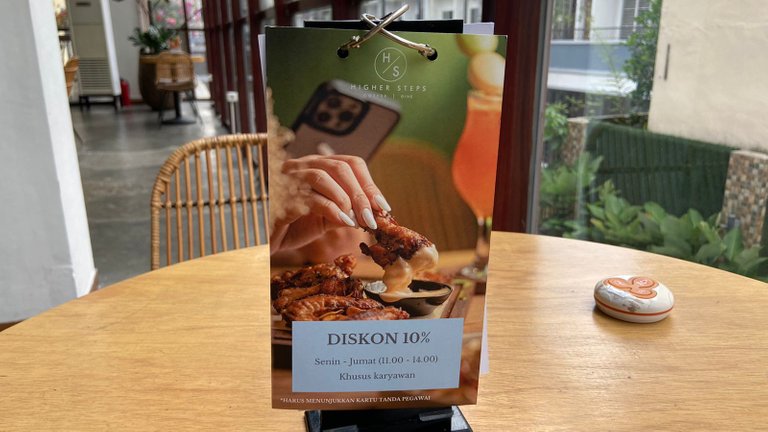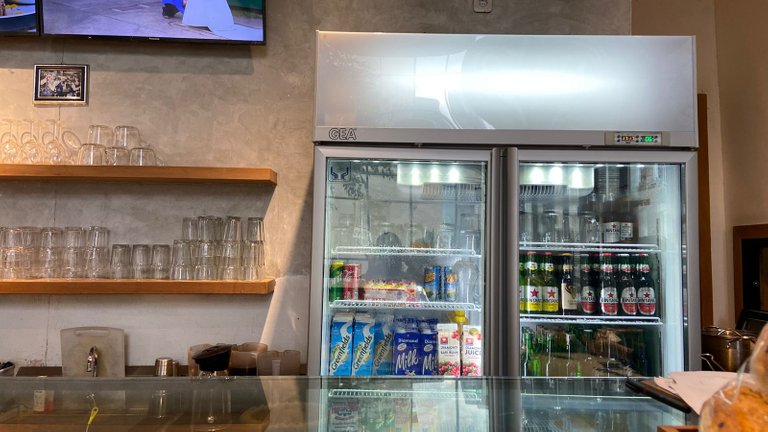 Higher Step Dining Resto (or HS Dining Resto) is located not far from my parents house. That's why I can immediately come there when I've finished buying a promo voucher from this restaurant. I immediately bought and went straight to HS Dining Resto that afternoon. HS Dining Resto provides a variety of very diverse menus of course with price variations according to the menu. We can find a variety of foods such as western food, chinese food, Indonesian food or various coffee and drink menus. Oh, yes this restaurant also provides cold beer if you want to relax and chill.
I was a little lucky because I got to buy a promo voucher for the main course. Because, after just looking at the pasta menu and Italian cuisine, the prices are quite pricey for my wallet.
I exchanged my voucher and chose the pasta I would eat. For the choice of food, I chose Spaghetti Aglio Olio and the drink I just wanted to drink a cup of water.
---
---
Spaghetti Aglio Olio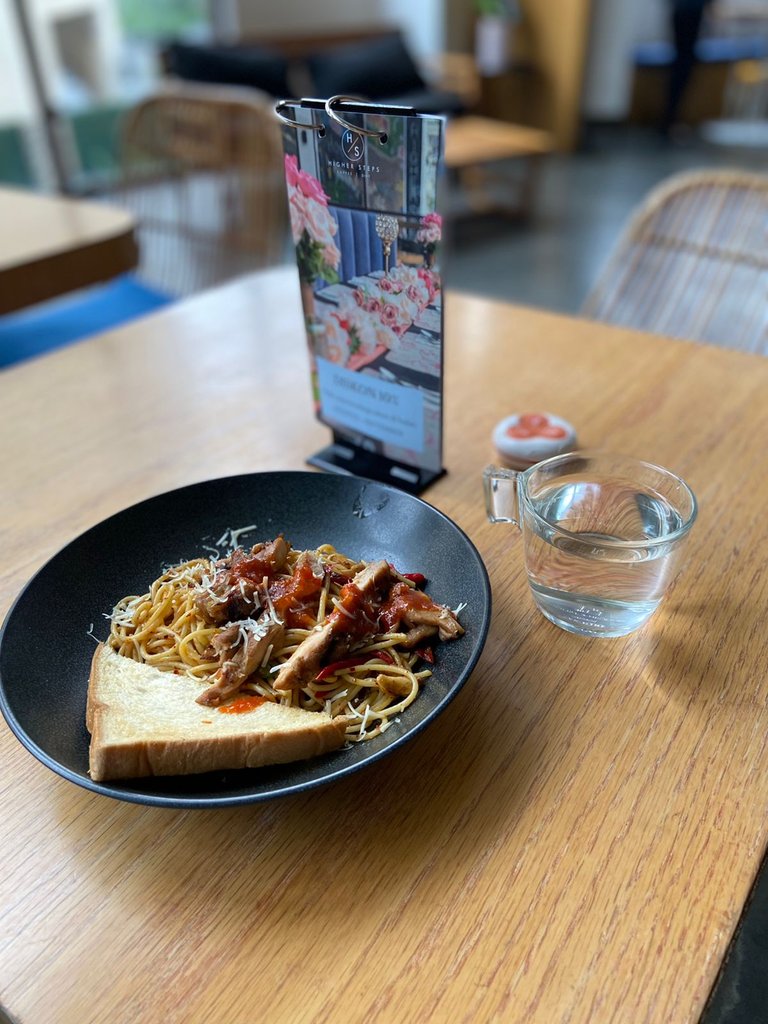 The atmosphere of the restaurant was not too long in the afternoon, my food order came about 8-12 minutes after I placed my order. The Spaghetti Aglio Olio that came was very beautiful from the plating and looked very delicious too. When I see food that looks so delicious, I can't wait to take pictures and want to make my friends feel, the feeling I feel. Check out the results of some photos of spaghetti aglio olio that I took, are you hungry?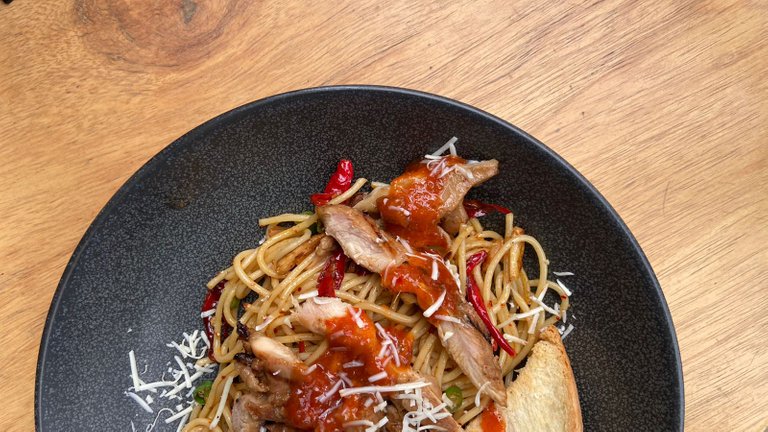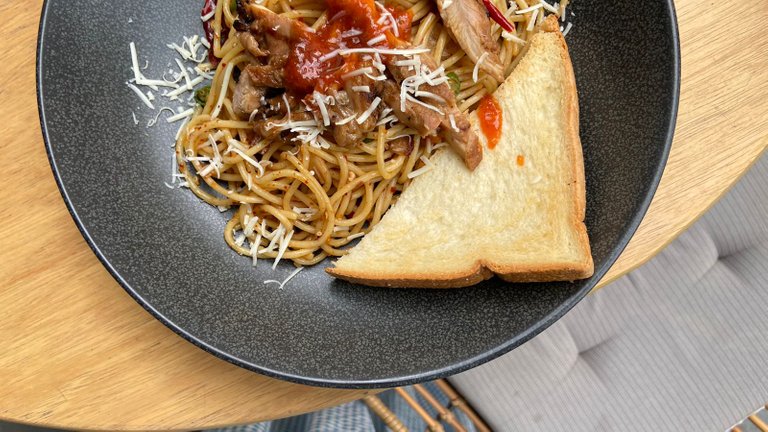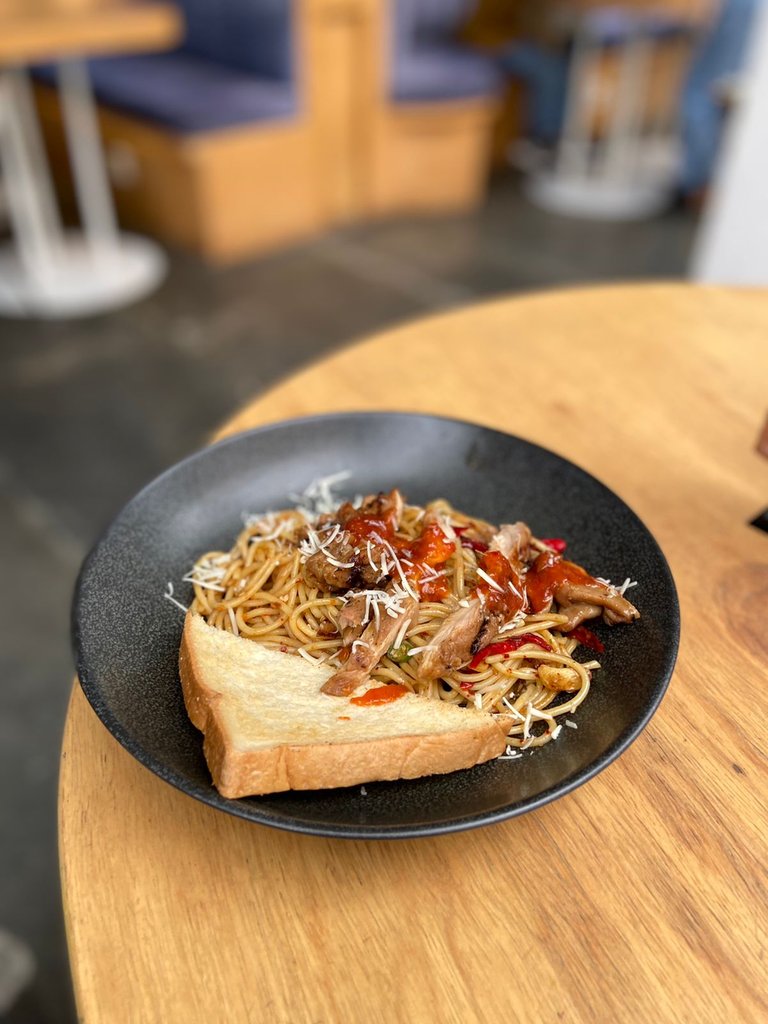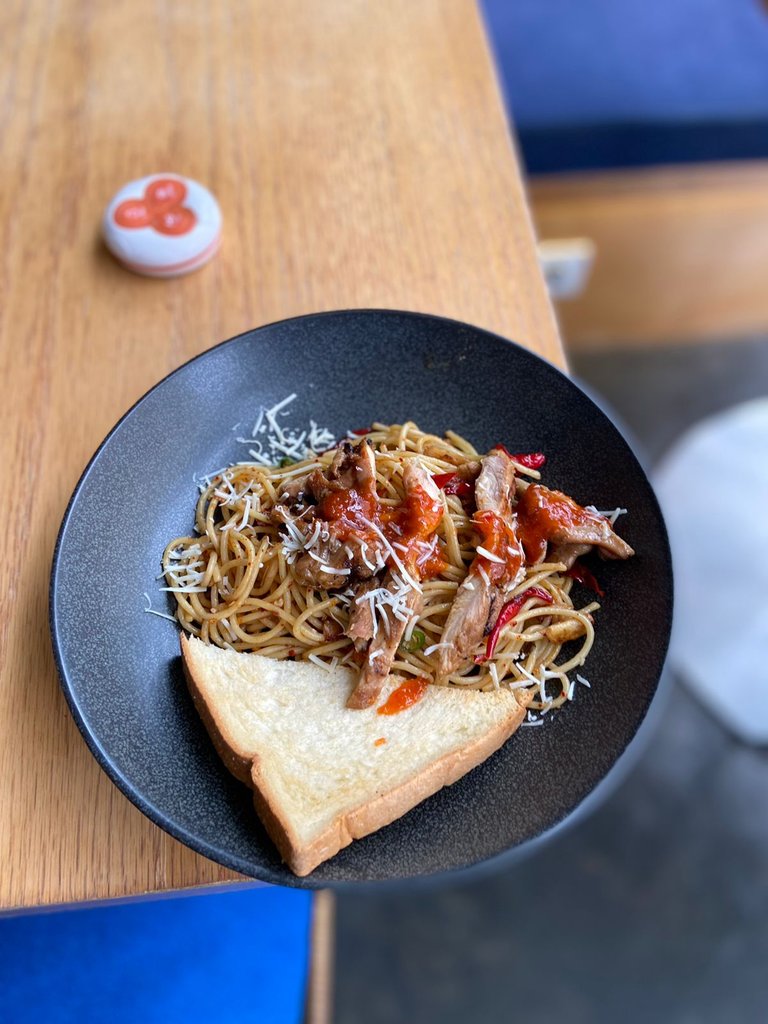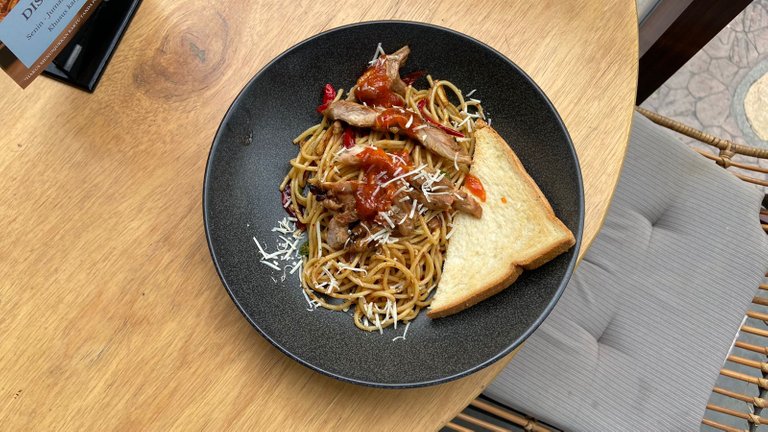 From the menu book that I read (sorry I didn't have time to take a photo), Spaghetti Aglio Olio is a classic spaghetti signature with minimalistic spices. This dish is made simply using spices such as garlic, oil, salt, dried chilies and powder. So, what makes it different from the usual spaghetti?
The simplicity of the ingredients of this dish makes this Spaghettii Aglio Olio have a special taste and I can prove it. The taste of this food is very delicious and spicy. Yup, the spiciness isn't enough to make us drink a lot of water and milk right away, but it's the right level of spiciness that makes the food even more delicious.
Texture-wise, spaghetti aglio olio is oilier than other spaghetti dishes. That's because, the process of making this dish uses olive oil, lots of garlic, and a sprinkling of chili powder. At HS Dining Resto, add pieces of spicy chicken fillet as a topping. I enjoy every moment of eating this dish. Delicious, simple but very classy.
Some spaghetti and pasta dishes that are popular in Indonesia are usually more creamy pasta with carbonara sauce and mozzarella cheese, or spaghetti with Bolognese sauce. I also love both types of dishes but this Spaghetti Aglio Olio really impressed me, because I never thought this simple combination of spices could turn into spaghetti that is so delicious. I felt very happy and happy at that time.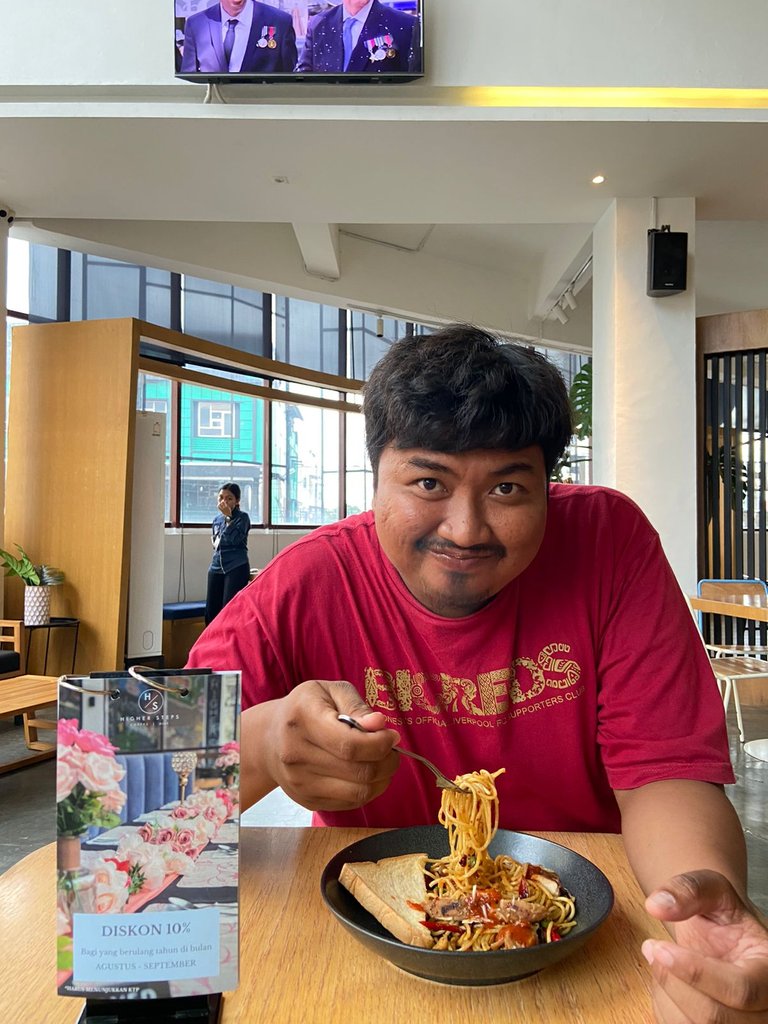 I believe about one popular quote about delicious food. I often hear "delicious food will make you happy", I believe 100% with that quote. I always feel happy when I taste delicious food. Therefore, going to HS Dining Resto and eating a plate of this delicious spaghetti aglio olio makes me full and makes me happy too. Are you guys like me too? Do you feel happy when you eat delicious food?
---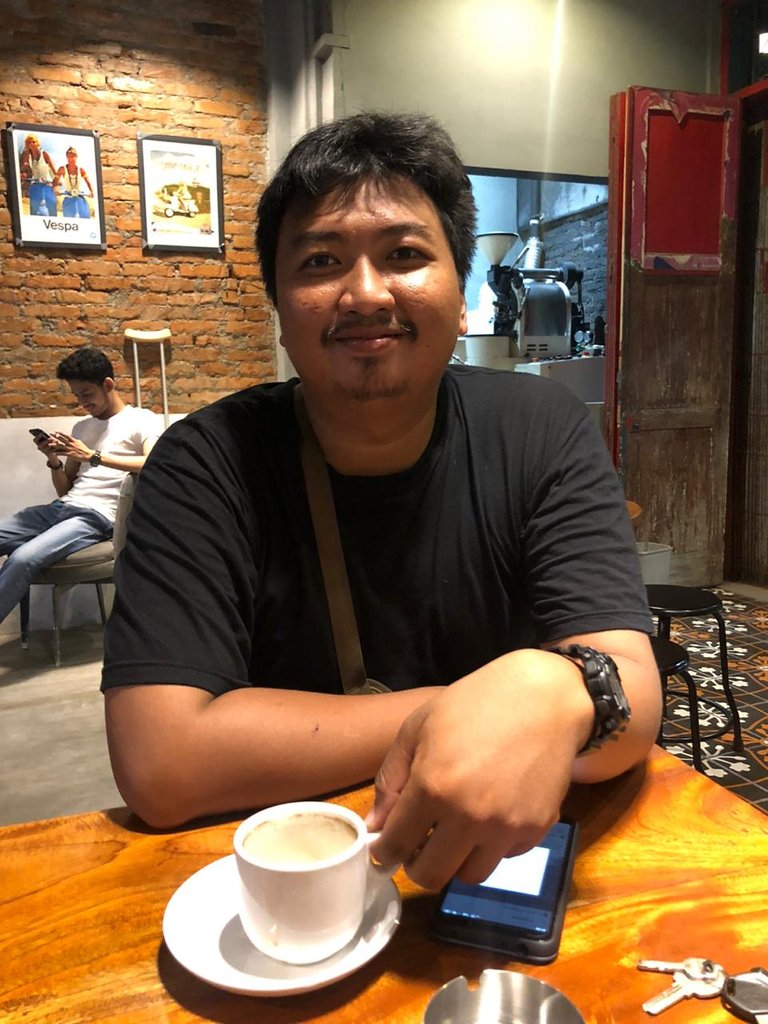 About Author

Call me Isdarmady, because I have a full name that is very long, namely Isdarmady Syahputra Ritonga. I am a head of the family who work as Farmers Vegetables Hydroponic and Consultant Hydroponics, sometimes I also sell coffee from various regions in Indonesia.
I have expertise dispensing coffee with a variety of techniques and tools brewing, because I have the desire to make a coffee shop with hydroponics as centerpieces. Help me realize that dream.
Thanks for read, vote, re-blog and support me in Hive. Maybe god will reward the kindness, let's success together.

---
---