Support Local Food Merchant – Martabak Azru : Delicious Chocolate Peanut Martabak and Putu Bambu
Hello Foodies!!! How are you guys ? I hope all of us are always healthy and happy in life. If we are healthy, of course, we will be able to eat various types of delicious food sold around us, but when we are sick our tongue does not taste or can only taste the bitter taste so that even the most delicious food becomes unpleasant. So, take care of your health!
Every time I come home from work in the afternoon, I have a habit of bringing snacks or food for my wife as a snack to wait for dinner. Indonesia is a street food and culinary paradise. We can easily find food merchants who sell cheap and delicious food, this time I bought Martabak and Putu Bamboo at Martabak Azru to eat together at home.
---
Martabak Azru
Martabak Azru is one of the food merchants located near my house. This food merchant is my favorite food, because the price is cheap and the taste is delicious. Usually, in one week I can buy three or four martabak to take home when I get home from work. So, the owner of this food merchant knows me very well and we often exchange stories. I like to share stories with food merchant owners or street food owners because there are many interesting insights in each of their stories.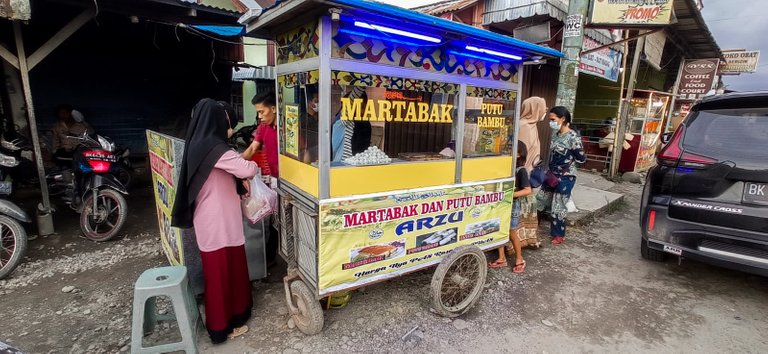 The naming of Martabak Azru comes from his own name Azratul Ikhram, an immigrant from Payakumbuh, West Sumatra. From his story to me, at first he worked as a clothing seller at Tanah Abang Market, Jakarta, but due to lack of development and stagnant sales, he was advised by his relative who has a Martabak business in Medan to set up a food merchant business in Medan, and will be assisted in providing carts. and the location where he sells it and finally he sells martabak in Medan.
---
Martabak
There are two types of food sold at Martabak Azru, the first and the most popular is Martabak. Martabak is a dish or snack that many people like from various age levels from children to the elderly. In Indonesia there are two types of martabak, namely sweet martabak and savory martabak. Martabak Azru is a food merchant that sells sweet martabak.
There are various flavors of martabak, such as martabak pulut, corn martabak, chocolate martabak, peanut martabak, chocolate peanut martabak, and cheese martabak. Because this food merchant sells on the roadside, we can see the process of making the martabak.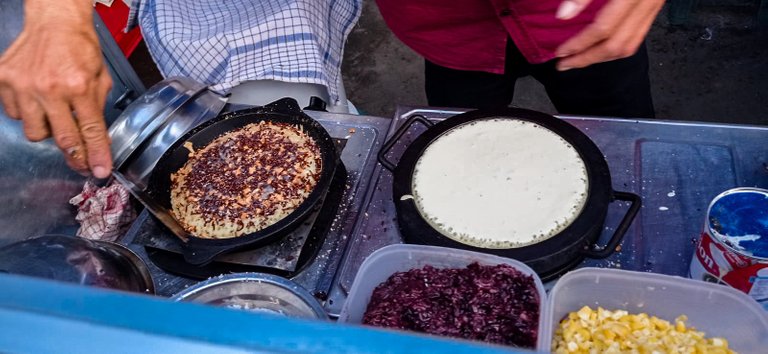 The peanut chocolate martabak is a favorite menu that I always order at Martabak Azru. Peanut chocolate martabak is martabak with chocolate topping (sprinkles) and nuts with sweetened condensed milk. When one piece of martabak enters the mouth, there is a soft, sweet and savory taste of peanuts united in one taste, instantly all the problems that exist in this world can be forgotten when we eat this martabak. In my opinion, the taste of chocolate peanut martabak can provide positive energy for anyone who eats it so that it can also improve my mood in activities.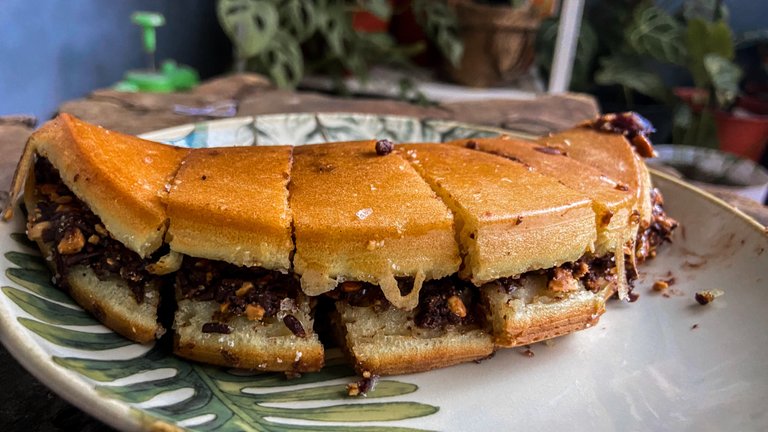 In today's era, martabak is not only sold by the roadside (street food) but there are many food merchants who sell martabak with "premium ingredients" and modern toppings such as toblerone, skippy, or nuttella. I am a liberal person but for my diet, the type of person is moderate and conventional, for me the classic martabak such as the chocolate peanut martabak is the best martabak menu.
---
Putu Bambu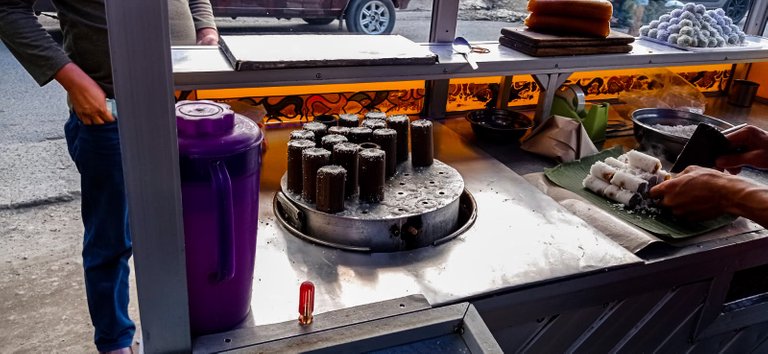 Apart from selling martabak, at Martabak Azru also sells Putu Bambu. Putu Bambu is an Indonesian traditional snack, which is made from coarse rice flour, brown sugar, and coconut. The process of making Putu Bambu uses molds from pieces of bamboo trees measuring about 10 cm. Coarse rice flour is put into the mold and given pieces of brown sugar as the core then steamed until cooked after that it is removed and sprinkled with coconut.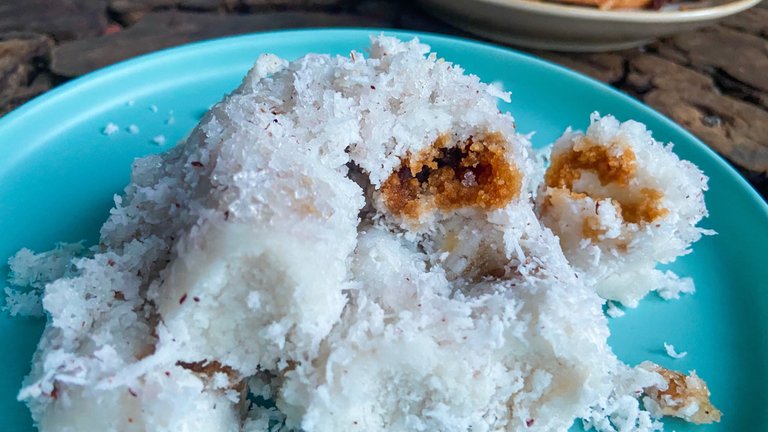 Putu bamboo has a savory and sweet taste. The savory taste comes from rice flour and coconut so there is a little salty taste, and in the middle of the bite there is brown sugar which creates a sweet taste, this combination makes putu bamboo a very delicious snack. When eating one putu bamboo, it's hard not to eat the second or third time.
If you're curious about why this snack is called PUTU, according to Azrul, PUTU is an abbreviation of "Pencari Uang Tenaga Uap" or in English a steam money seeker. This is related to how to cook putu using the steaming process (evaporation).
---
The Price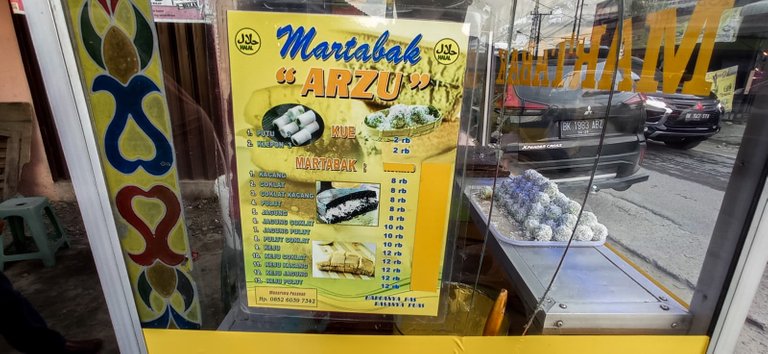 The prices of these two foods are very cheap and affordable for all people. For one serving of peanut chocolate martabak, I only paid IDR 8K and for 3 putu bamboo, it was priced at IDR 2K, pretty cheap right? that's the reason Martabak Azru is always crowded by buyers and always sold out, because it has a delicious taste and low price.
We have many ways to help others, one concrete way is to buy food from food merchants, or SME (Small Medium Enterprises). They are real warriors, every money we spend to buy their products will keep the wheels of the economy turning. Let me give a few examples. When Martabak Azru sold out, of course he had to shop for raw materials such as flour, eggs, nuts, chocolate etc. in the market and a trade transaction took place with the seller. Imagine, if there is a food merchant or SME that goes bankrupt, there is no transaction to buy ingredients, right? So, support local bussnies in your city, right!
---
---
---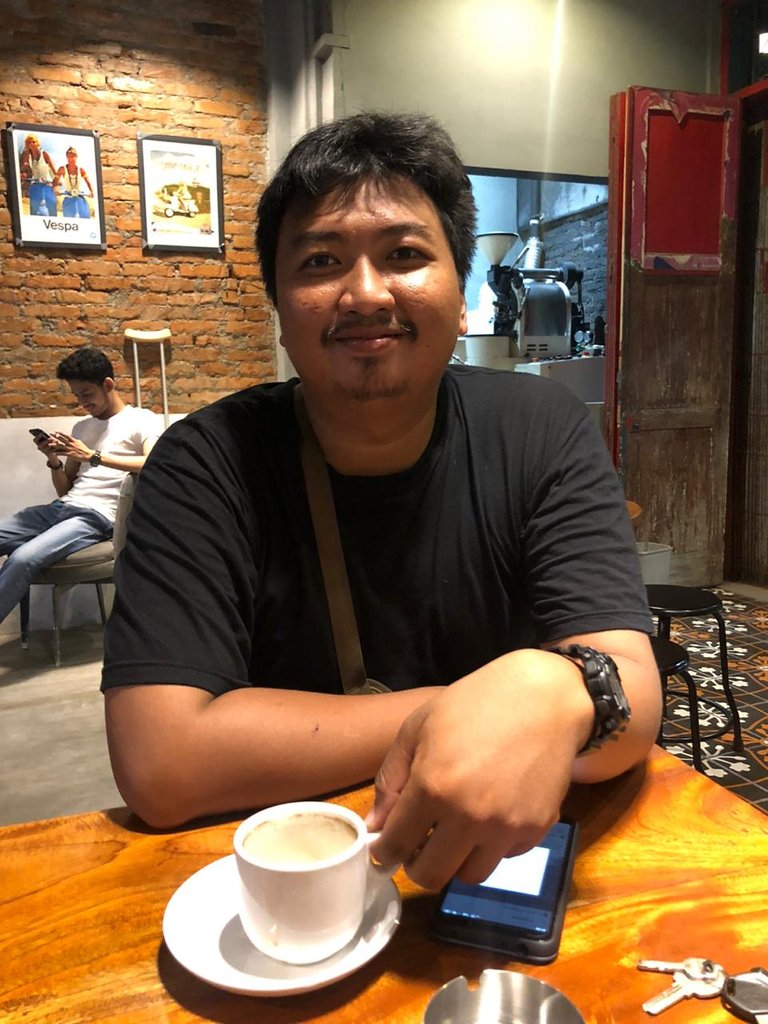 About Author

Call me Isdarmady, because I have a full name that is very long, namely Isdarmady Syahputra Ritonga. I am a head of the family who work as Farmers Vegetables Hydroponic and Consultant Hydroponics, sometimes I also sell coffee from various regions in Indonesia.
I have expertise dispensing coffee with a variety of techniques and tools brewing, because I have the desire to make a coffee shop with hydroponics as centerpieces. Help me realize that dream.
Thanks for read, vote, re-blog and support me in Hive. Maybe god will reward the kindness, let's success together.

---
---