Taste and Aroma Review of Espresso Bold from Awi Coffee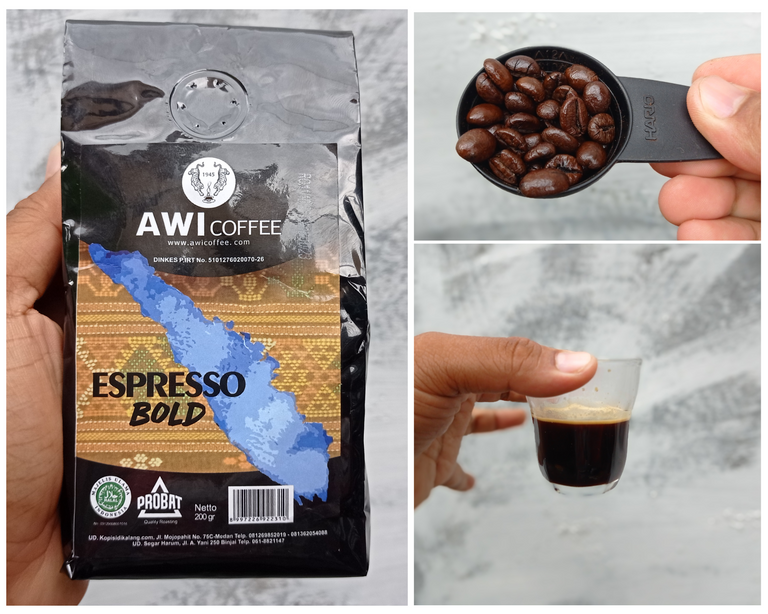 ---
---
What coffee do you usually drink? a cup of americano? black coffee? coffee milk ? cappuccino? palm sugar latte? or one shot espresso? I can enjoy all the variants and signatures of this coffee without having to stick to one variant of the coffee menu. However, lately I really enjoy one shot espresso in the morning. One shot of espresso, one drink brings us new enthusiasm and inspiration to start the day.
I can enjoy serving espresso with Arabica coffee beans. For sure, Arabica coffee is the most suitable coffee for me to enjoy compared to other coffees such as Robusta coffee, Liberica coffee, or Excelca coffee. However, my friend said that to enjoy the best espresso you have to use signature house blend coffee beans. Because, according to him, if you use 100% Arabica coffee beans for espresso, the taste is not strong enough, because according to him, the best espresso is a blend between robusta and arabica. I was curious about that, and immediately looked for the closest and best-selling signature house blend coffee in my city.
---
---
Awi Coffee Roastery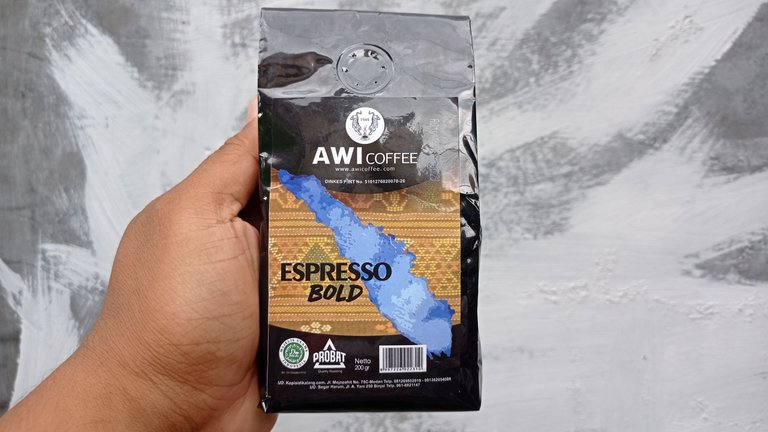 I decided to order Espresso Bold Signature Coffee Beans from Awi Coffee Roastery through the marketplace application. My order was sent via instant courier and it was super fast it only took two hours from the time I ordered this coffee. Awi Coffee is one of Indonesia's roasteries and exporters of coffee which has started its business since the 1940s, even before Indonesia's independence. Initially, Awi Coffee was a traditional Chinese coffee shop, then transformed into a green bean coffee exporter for decades, until in the 2000s it decided to make coffee roasters and sell coffee products from Sumatra such as Gayo coffee, Mandailing coffee, Lintong coffee, Sidikalang coffee or other coffee signatures. .
I got to know Awi Coffee's business and roaster when they gave a chance to talk about opportunities and the coffee business to the farmers I assisted. According to them, the aim of changing or adding to the business model is to sell ground coffee or roasted bean coffee because they want to get a better profit so they can also buy green beans from coffee farmers at a better price. Awi Coffee knows that exporting tens of tons of coffee abroad has great value but very little profit.
---
---
Review Espresso Bold from Awi Coffee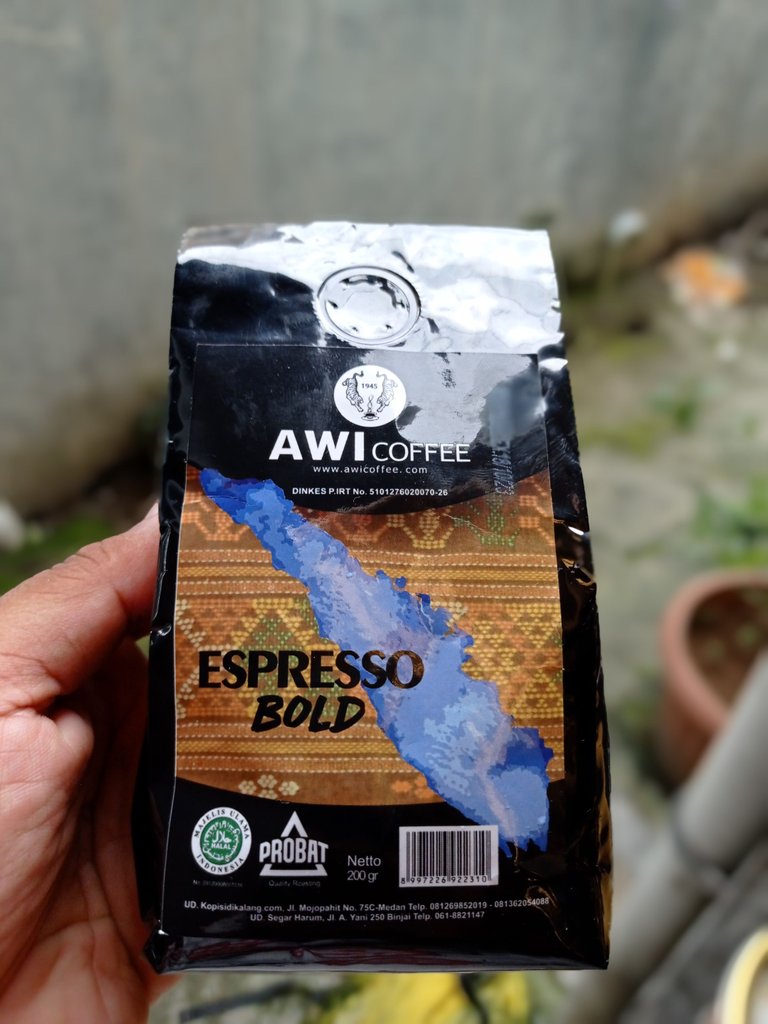 I only ordered the 200 gram pack, because I wasn't sure I would like the taste of this coffee either. This Espresso Bold from Awi Coffee is packaged in a very luxurious and elegant packaging. The packaging used is a very thick flat bottom aluminum pouch, black in color with a very cool designed label. Black color is indeed a favorite for packaging one product because it can show the elegant and cool side of the product. In addition, this coffee packaging is also equipped with a Valve so that we can feel the fragrant aroma of this coffee.
After I opened the package, the smell of coffee got stronger and came out. The aroma of Robusta coffee and Arabica coffee mix and create a bolder and stronger aroma. According to the information on the packaging, this Espresso Bold uses 70% Robusta and 30% Arabica coffee for one pack of 200 grams.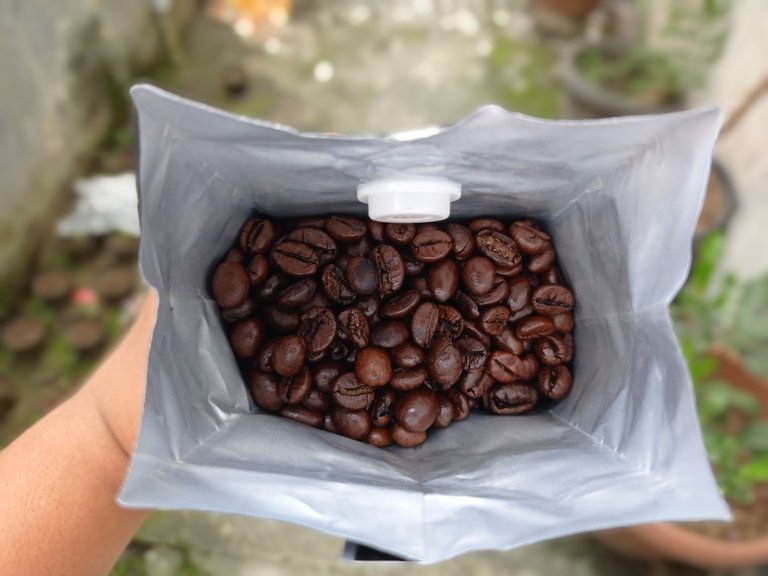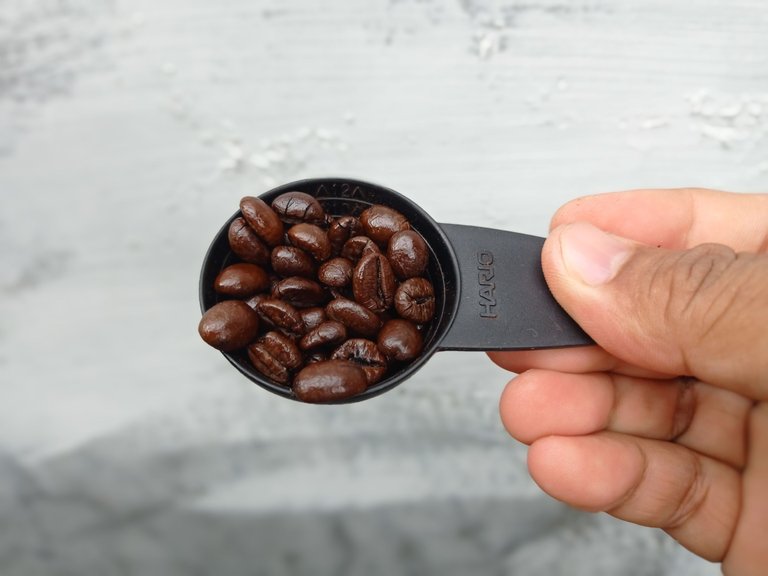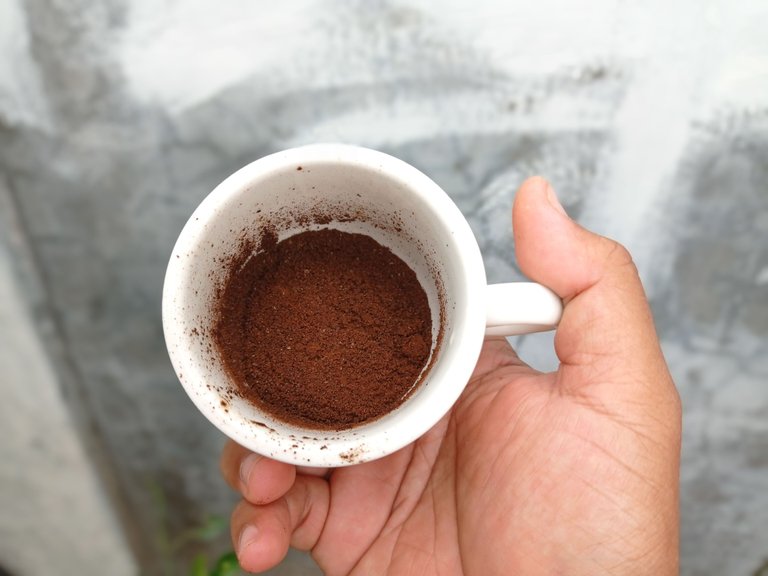 From the appearance of this roasted coffee bean, it seems that Awi Coffee uses a dark roast level for its coffee beans. I notice a more oily texture and build of coffee with a darker tint. Coffee that is roasted at a dark roast level will create a more fragrant coffee aroma but lose some of its fruity aroma.
I immediately brewed this coffee with my manual espresso maker. I have a Flair, a manual brew tool for espresso. This coffee brewer is very easy to use but not practical if brewing lots of cups of coffee, only suitable for personal coffee brewing.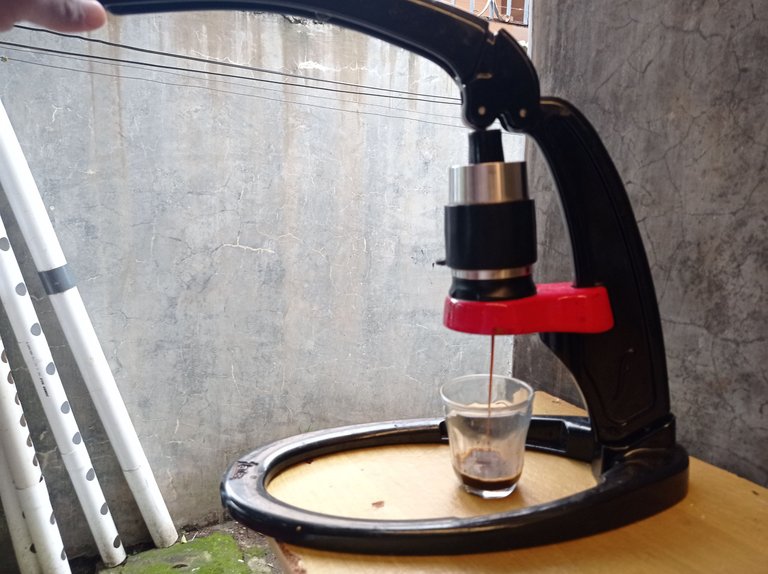 I grind these coffee beans as much as 15 grams of coffee to make a double shot of espresso. The coffee is finely ground with a fine size. The aroma of this ground coffee is more fragrant and fragrant after grinding. I immediately made one cup of espresso with this flair, and finally one cup of espresso is ready to be tasted.
---
---
About Taste
The espresso that I got from Espresso Bold Coffee Awi Coffee looks blacker, thicker and thicker. The crema color also looks prettier, the golden crema is visible even though this photo is a bit faint on this camera. You can see it from some of the photos I show.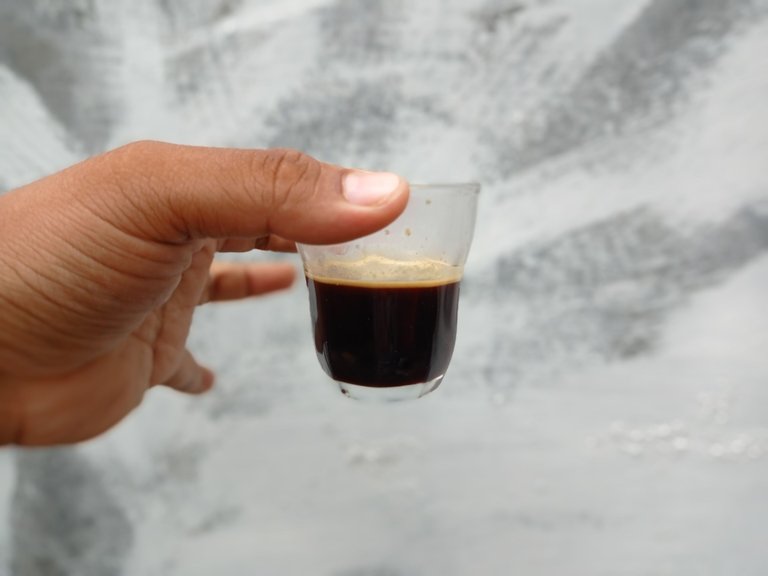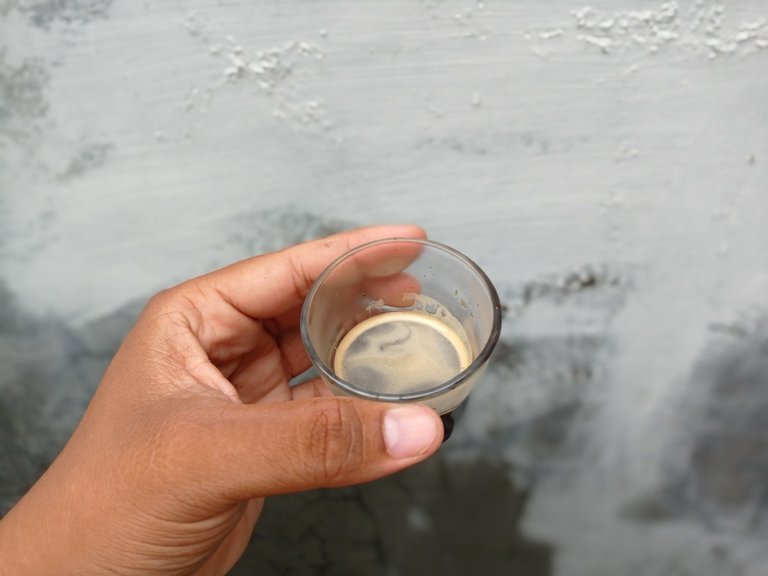 In terms of aroma, I like the aroma produced from this coffee, it looks very bold and strong. I tried to taste this coffee, and I was very surprised and shocked by the taste. This Espresso Bold Awi Coffee has a very strong karate taste, I tried to drink one gulp like I normally drink espresso and the result was that my eyes bulged, then my head was dizzy.
The strong and bold taste of coffee comes from Robusta coffee beans, which have four times the caffeine content of Arabica coffee beans. The taste of espresso is indeed bitter, more bitter than the Arabica coffee beans that I usually drink. I can still tolerate the bitter taste on my tongue, but it's the effects and reactions after I drink this coffee that I can't tolerate.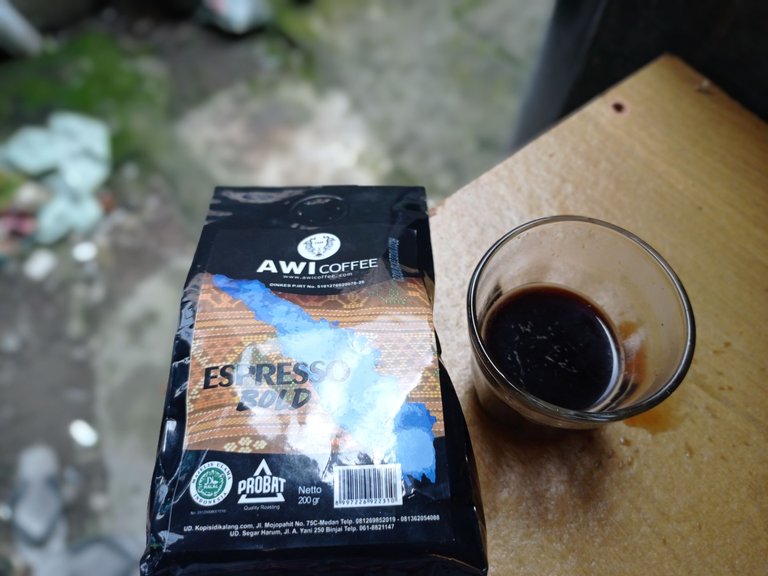 After drinking this coffee, I also feel anxious and my heart beats faster when I finish drinking this coffee. It seems, I have one conclusion Espresso Bold is indeed not for me. That's all for my stories and reviews about Espresso Bold Coffee from Awi Coffee, I hope friends get inspiration and information from my posts.
---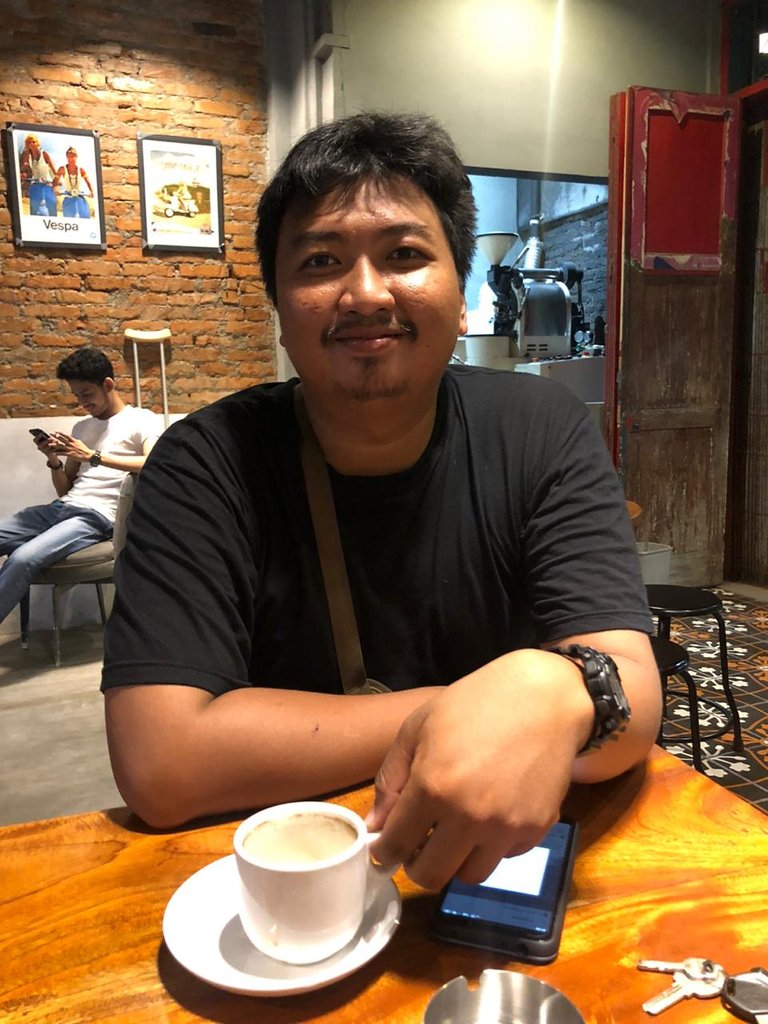 About Author

Call me Isdarmady, because I have a full name that is very long, namely Isdarmady Syahputra Ritonga. I am a head of the family who work as Farmers Vegetables Hydroponic and Consultant Hydroponics, sometimes I also sell coffee from various regions in Indonesia.
I have expertise dispensing coffee with a variety of techniques and tools brewing, because I have the desire to make a coffee shop with hydroponics as centerpieces. Help me realize that dream.
Thanks for read, vote, re-blog and support me in Hive. Maybe god will reward the kindness, let's success together.

---
---