Taste and Aroma Review of Papua Wamena Arabica Coffee from Worcas Coffee Artisan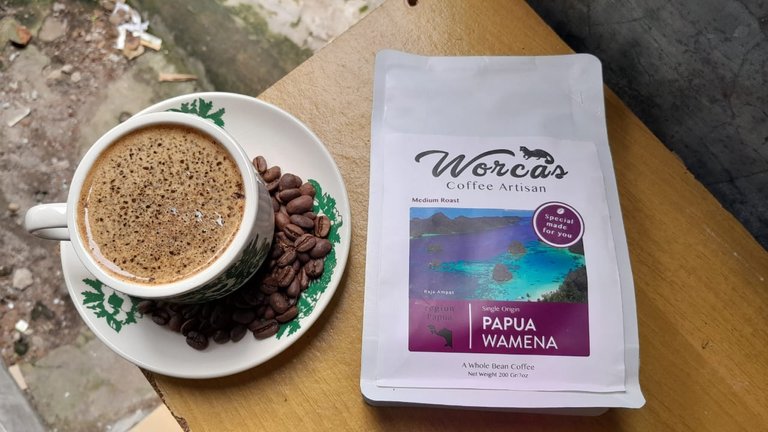 ---
---
I believe a cup of coffee always comes with passion. I am very lucky to live in Indonesia, a tropical country surrounded by mountains and hills where quality Arabica coffee grows. Almost every highland area in Indonesia is planted with coffee and produces high quality Arabica coffee. Such as, Arabica Gayo, Arabica Mandailing, Arabica Sidikalang, Arabica Lintong, Arabica Kerinci, Arabica Solok, Arabica Gunung Puntang, and Arabica Papua Wamena.
The potential of Arabica coffee in Indonesia creates many business opportunities for coffee roasters and coffee shops. In Indonesia, we find a lot of MSMEs selling artisan coffee products that are sold in various Indonesian marketplaces. These coffee roasters sell various coffees from various regions in Indonesia. Discussing about artisan coffee from various coffee roasteries is very interesting. I want to start with arabica coffee beans that I bought some time ago from Tokopedia (the largest Indonesian Marketplace).
---
---
Single Origin Papua Wamena from Worcas Coffee
Some time ago, I ordered Arabica coffee beans from Worcas Coffee, one of the largest coffee roasters that sells various coffees from various regions in Indonesia. Worcas Coffee has outlets or showrooms in Jakarta, but we can buy coffee products from various marketplaces. I'm interested in trying Arabica coffee from Papua Wamena.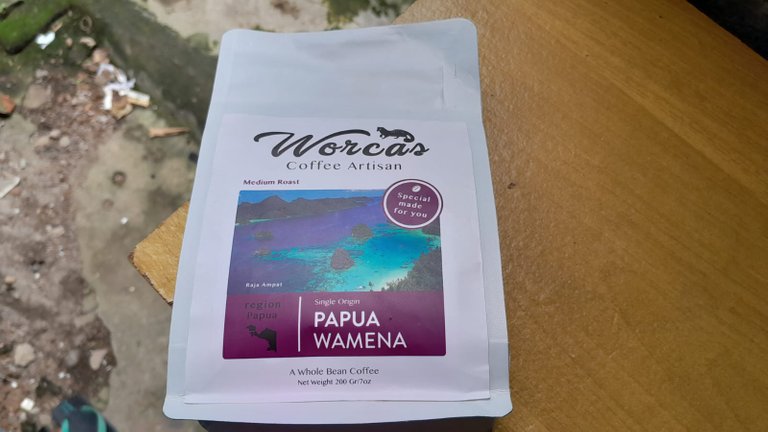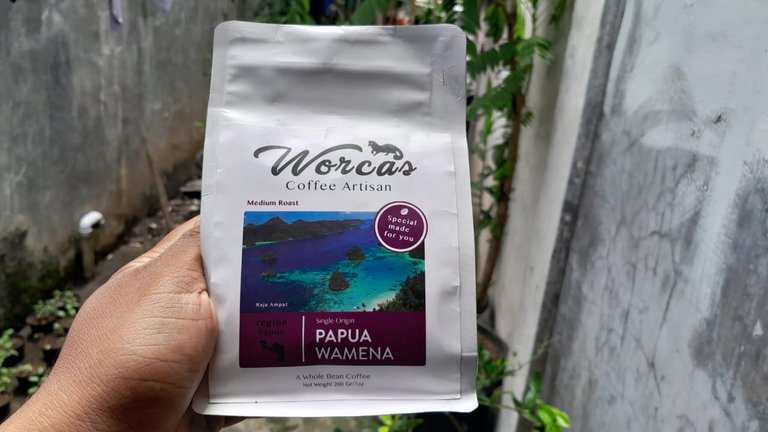 Why am I curious and interested in Papua Wamena Arabica Coffee? I want to try it because the islands of Sumatra and Papua are the two regions with the furthest distance. I wanted to try something different and wanted to compare the taste of these coffees on the island of Sumatra. The coffee I ordered arrived about three days after ordering and it's time we discussed it.
I want to review the packaging of this coffee. Worcas Coffee is packaged in an elegant and luxurious white flat bottom pouch. The flat bottom pouch is also very thick and suitable for storing quality coffee. I also like the sticker they use for the packaging of Papua Wamena Coffee, Worcas Coffee displays a picture of the scenery of Raja Ampat, one of the premium tourist attractions popular in Indonesia and the world.
Coffee packaging is very important. Coffee packaging not only serves as a place to store products so that they are not polluted and damaged, they are also a strong branding and promotion media. On product packaging, we can put a brand, slogan or something that is identical to the company or product. Not infrequently, large companies are willing to pay a lot to get a good packaging product design and have a strong impression.
---
---
About Coffee Bean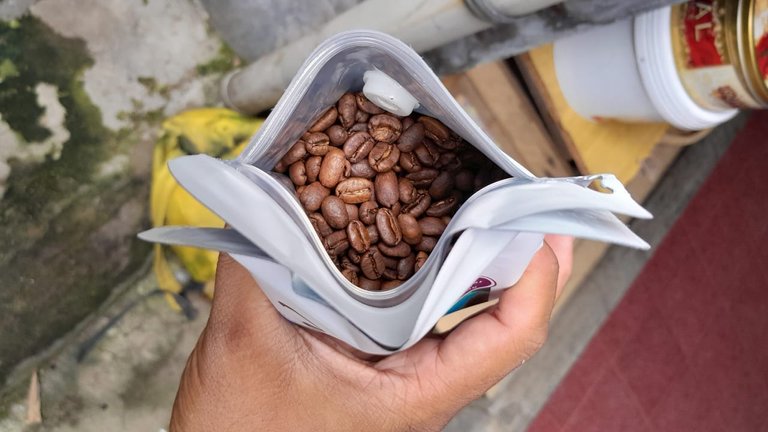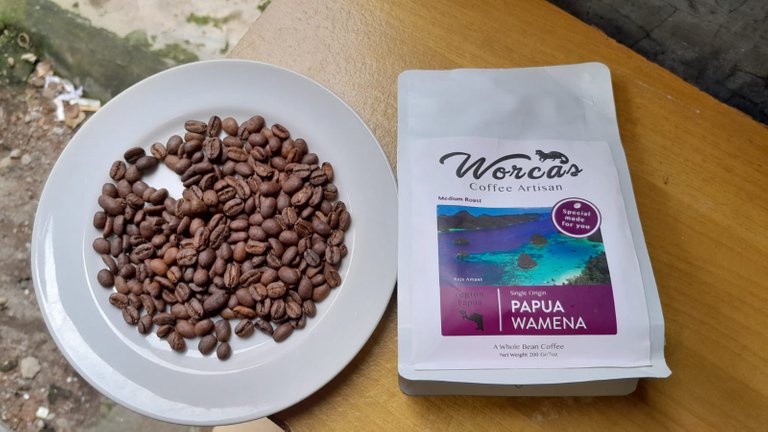 After we discuss about the packaging of this coffee product. Next, I will try to review the appearance of the beans, the taste and aroma of this coffee before drinking. I opened the packaging of this coffee, felt the aroma coming out of the packaging. I try to describe, I think the floral aroma is very pronounced and every now and then I smell the chocolate aroma from this coffee bean. Perhaps, the term exotic is more suitable to describe the aroma of this coffee.
Papua Wamena Arabica Coffee is roasted with a medium roast level. We can see this from the information on the packaging. In addition, the brownish condition of the coffee beans can also explain the roasting level. Unfortunately, Worcas Coffee does not provide a roast date for this coffee. One way to find out, we have to brew it with the brew method.
---
---
Taste from Papua Wamena Arabica Coffee – Worcas Coffee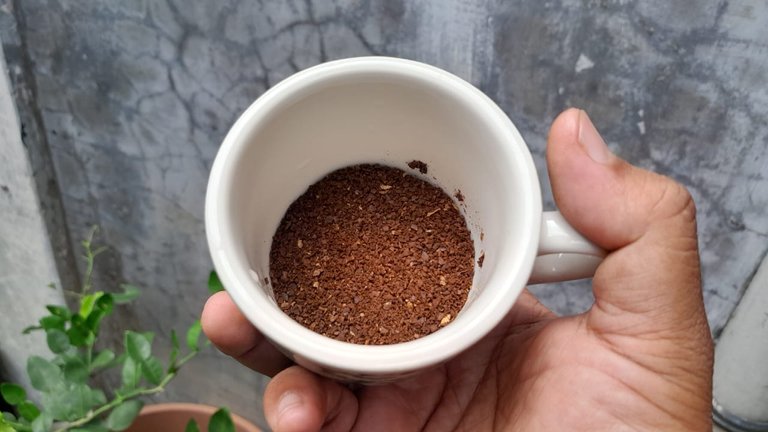 I want to try to review the taste of this coffee. I will brew it with the tubruk method, one of the local brewing methods from Indonesia. The Tubruk method is very similar to the process when we are cupping coffee, because it is very suitable to know the overall taste of this coffee.
I try to grind this coffee on a medium level, not too coarse and not too fine. When these coffee beans enter the coffee grinder, the floral aroma becomes more pronounced and very different from the Gayo Coffee or Lintong Coffee that I often drink. I brew this coffee in my new ceramic cup.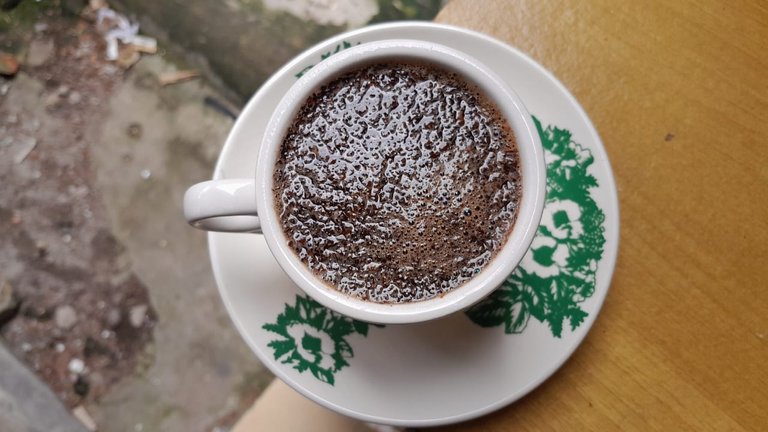 We can see the freshness of coffee from the brewing method. When hot water is poured into the coffee, the coffee grounds will rise to the top and create a white bloom and crema. Fresh or fresh roasted coffee will be seen here. If the coffee has just been roasted for about 3-7 days, the blooming and crema coffee process will be clearly visible. In this coffee that I brew, the blooming process does not occur but the crema coffee is still visible, I assume this coffee has been roasted more than two weeks ago.
I can't wait to sip this coffee. One first sip I drank slowly, I let this coffee around the corners of my mouth, I also tried to taste it with all the taste sensors on my tongue. For me, the term "bright" might be the right word to describe the taste of this coffee. Papua Wamena Arabica Coffee has a mild taste but in some senses the taste is very sharp and stands out. The after taste is also very clean, which indicates that the post-harvest coffee process is going very well.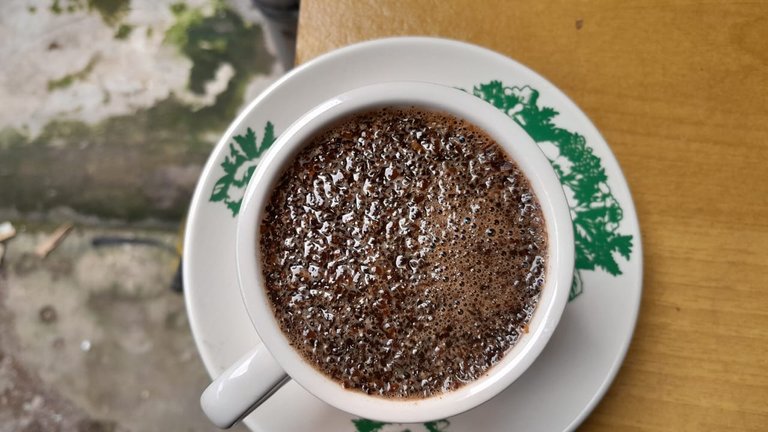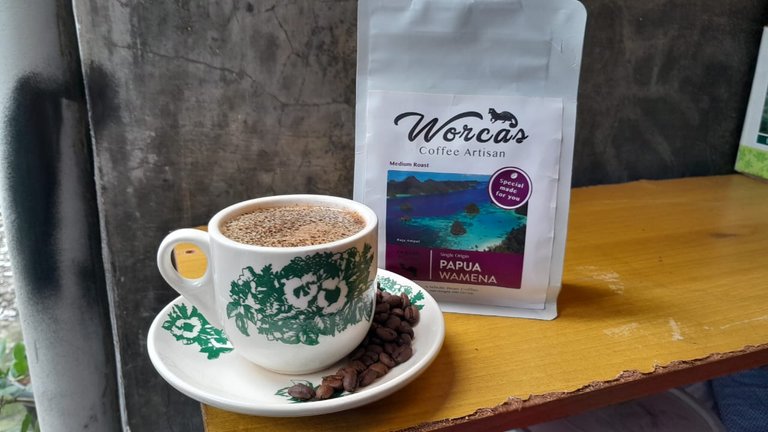 This coffee has a medium body taste, so coffee drinkers who like the character of body coffee with a strong level are not suitable for drinking this coffee. For the acidity level, for me, the low acidity character is suitable to describe the acidity level. This coffee, suitable for friends who are starting to drink and enjoy coffee without sugar and milk. Moreover, if this coffee is brewed using the V60 manual brew method, I'm sure the taste will be smoother and the floral taste more pronounced.
That's all my review writing about Papua Wamena Arabica Coffee from Worcas Coffee Artisan, see you in my next coffee review. Specialty Coffee for Specialty People.
---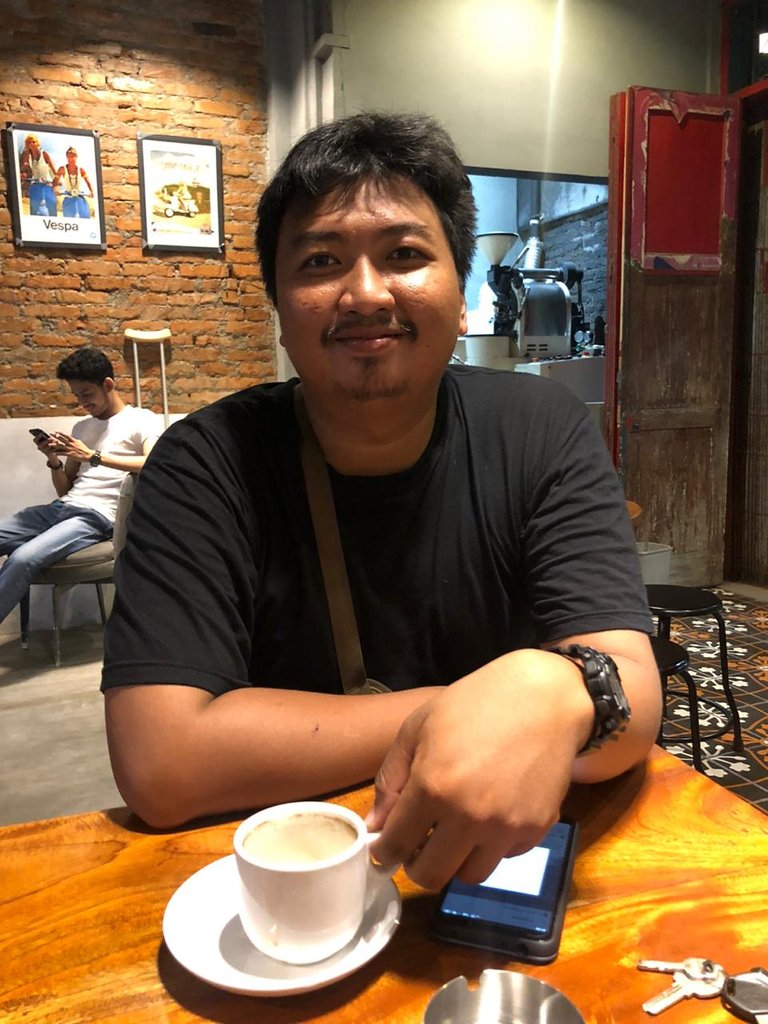 About Author

Call me Isdarmady, because I have a full name that is very long, namely Isdarmady Syahputra Ritonga. I am a head of the family who work as Farmers Vegetables Hydroponic and Consultant Hydroponics, sometimes I also sell coffee from various regions in Indonesia.
I have expertise dispensing coffee with a variety of techniques and tools brewing, because I have the desire to make a coffee shop with hydroponics as centerpieces. Help me realize that dream.
Thanks for read, vote, re-blog and support me in Hive. Maybe god will reward the kindness, let's success together.

---
---