Try The Delicacy of Shoyu Ramen and Gyoza at Jozu Eats Japanese Restaurant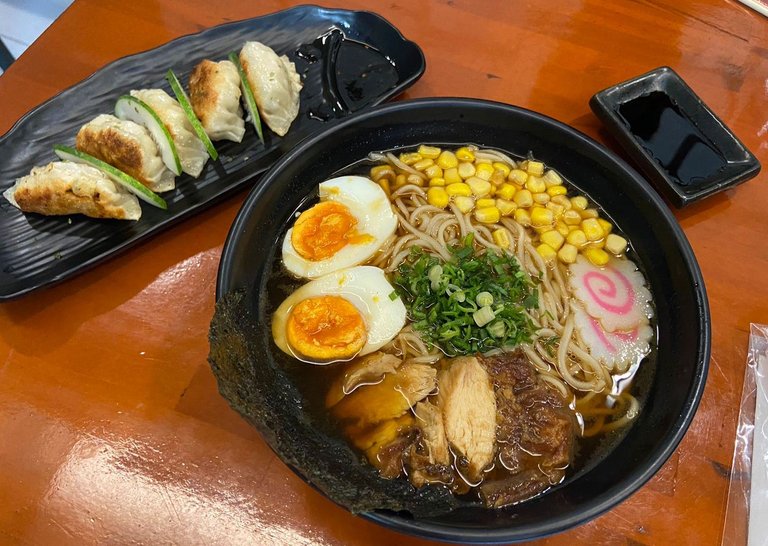 ---
---
Many Japanese cuisines are popular and liked by many people in Indonesia. Call it, sushi, takoyaki, katsu, udon or ramen. All Japanese food and cuisine in my city have one thing in common, namely the price is more expensive than Indian food or Indonesian food. One of the most popular and easy-to-find Japanese dishes today is ramen.
Ramen is one of the Japanese food preparations consisting of noodles, vegetables, pieces of meat (chicken, beef or pork) and eggs. Then given a special sauce. Naming ramen based on the type of broth that is poured in a bowl of ramen. A few days ago, I went to taste ramen at one of the new Japanese restaurants in my city.
---
---
Jozu Eats Japanese Restaurant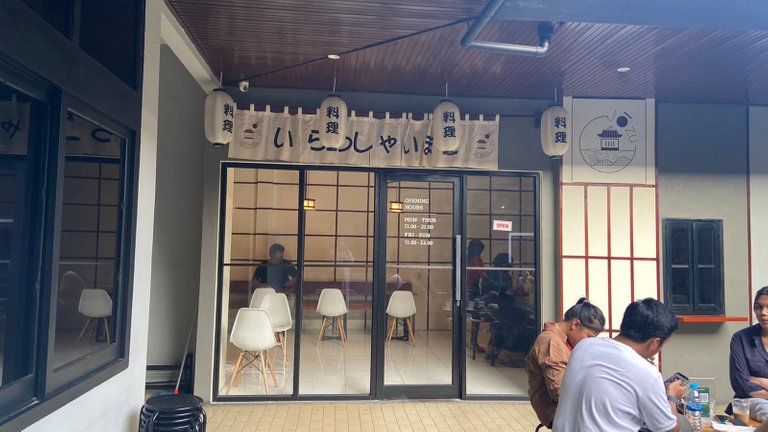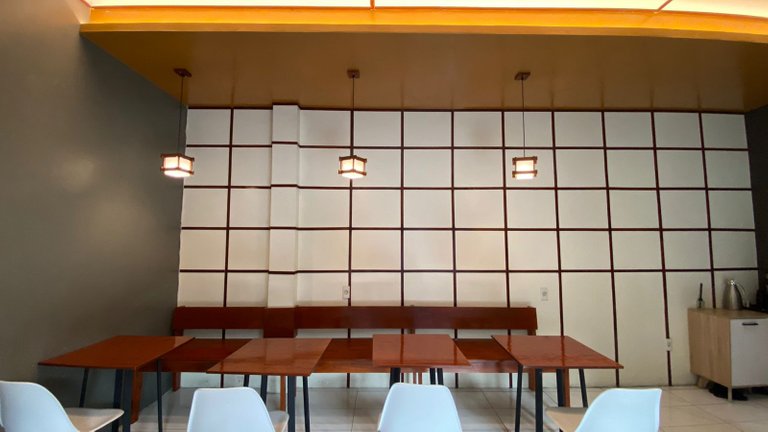 Jozu Eat's address is at Bima Sakti Street no. 16 Medan City and the location of this restaurant is very strategic because it is in the middle of the city and the center of the crowd from Medan City. Jozu Eats Japanese Restaurant is in one large building called Komma Ground. At Komma Ground there are several other food outlets such as HVY Coffee Shop, Heavy Lecturer and also a barbershop.
The rooms and buildings of Jozu Eats are not too big but still comfortable. Here we can feel the experience of eating ramen with vibes like in a Japanese ramen restaurant. The arrangement of the benches and the checkered background that we often see in anime or Japanese movies. In addition, the typical Japanese lanterns and sliding doors make the Japanese vibes even more pronounced in the restaurant. One of the unique parts of the restaurant is that in the corner of the room there is a collection of photos, posters, and stickers about Japanese pop-culture such as anime, manga and Japanese Rocks.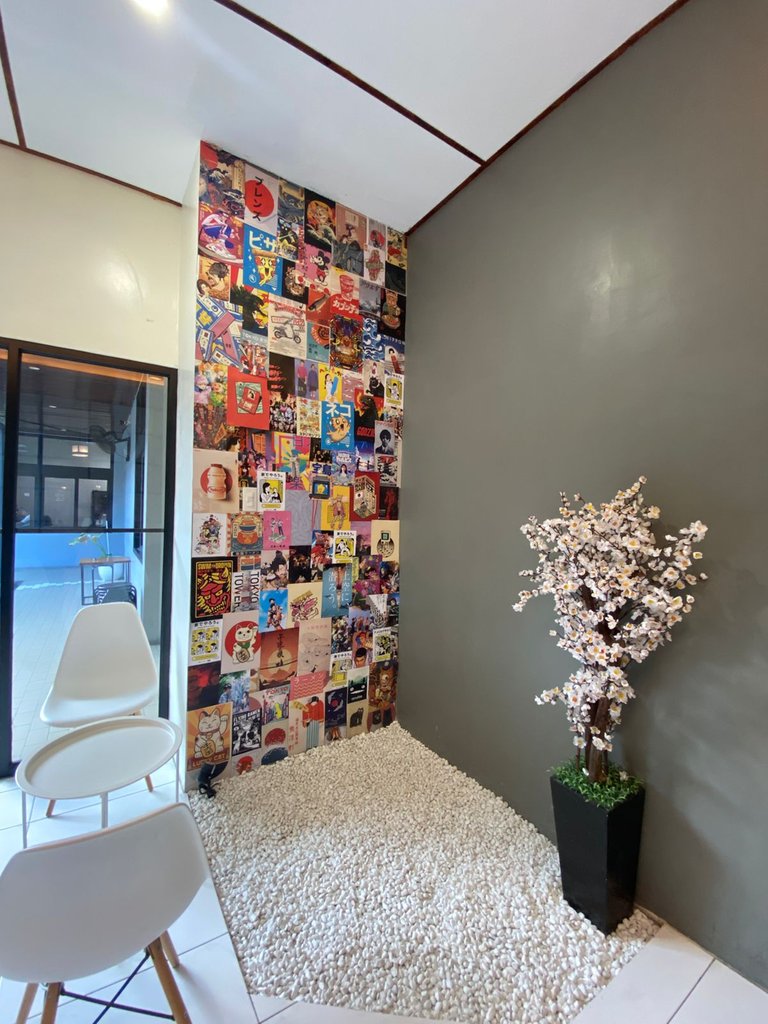 There are many food menus that we can choose from at this Japanese restaurant. Ramen is the most ordered and enjoyed dish here, besides sushi, chicken katsu, mentai, okonomiyaki or gyoza. For drinks there are only mineral water options and cold or warm ocha. I chose a bowl of Shoyu Ramen and Gyoza for me to eat this time.
---
---
Shoyu Ramen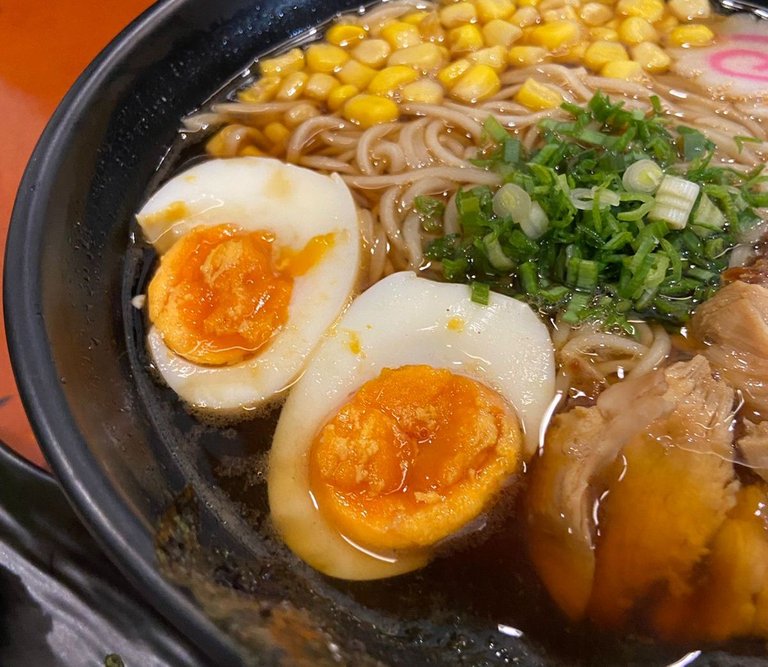 The name of the ramen and the difference between each ramen is based on the broth used. There are five types of ramen broth, namely shio sauce, miso sauce, curry sauce, shoyu sauce, and tonkutsu sauce. Shoyu broth is made from a mixture of meat and vegetable broth with Japanese soy sauce. This ramen soup has a clear character with a very fresh aroma to sip.
The noodles used for this ramen are thin and yellow in color. The texture of the noodles is chewy and doesn't break easily, the sensation of the noodles from this ramen is different from the texture of local Indonesian noodles. I couldn't wait and immediately took the chopsticks to eat this ramen. This bowl of shoyu ramen is also topped with boiled eggs, chicken meat, fresh scallions, nori, and naruto.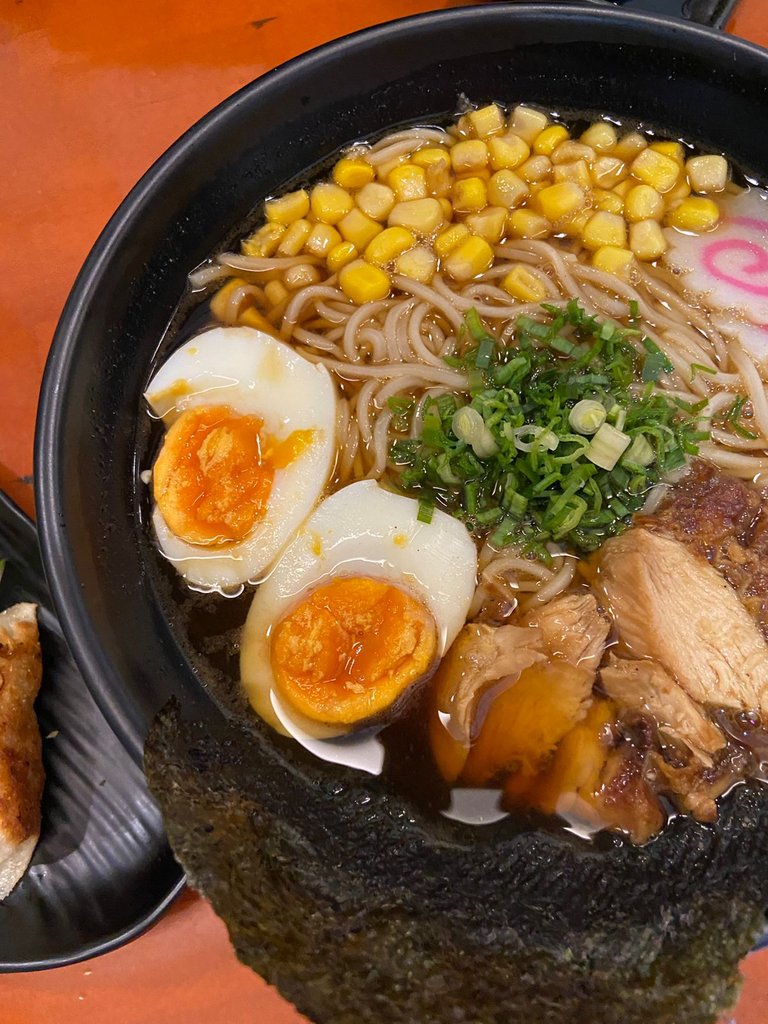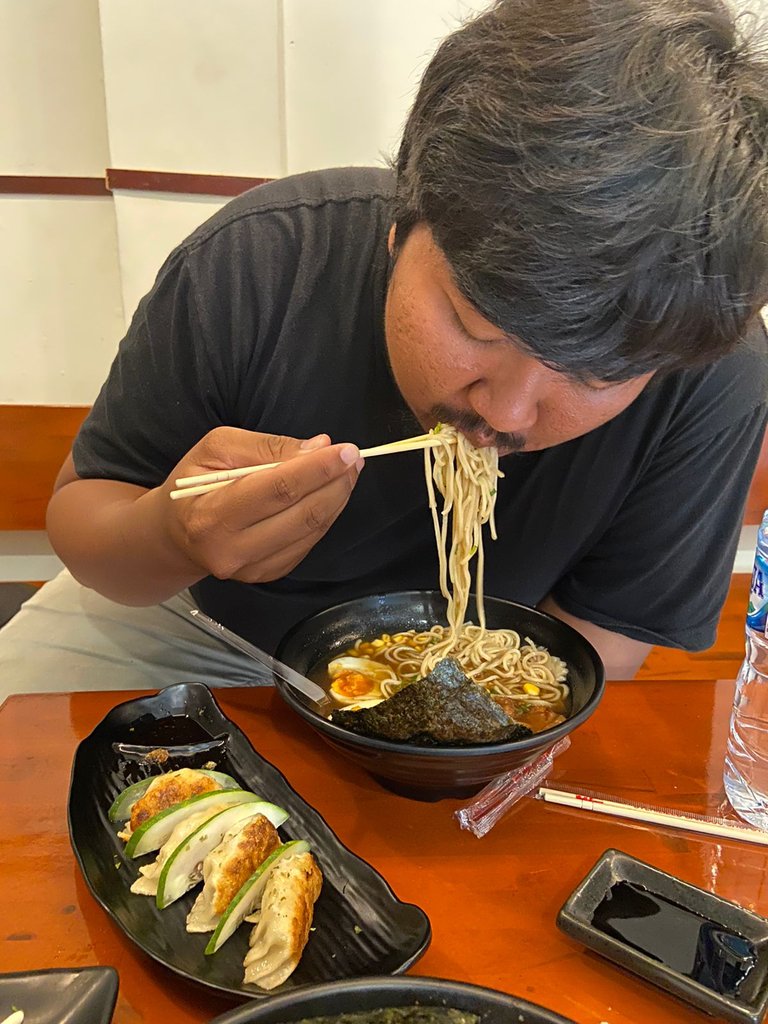 This Shoyu Ramen has a very delicious taste, especially the broth. This shoyu sauce has a mild but very distinctive and savory taste. It's different from my first thought when I saw the clear broth. I thought it was only the broth made with msg. I had time to ask the chef what is the secret of this shoyu ramen broth so delicious and special. According to the chef, to make a delicious shoyu broth, you have to boil water with chicken and vegetables for a long time and for hours. After that, the broth is added with soy sauce to complement it.
---
---
Gyoza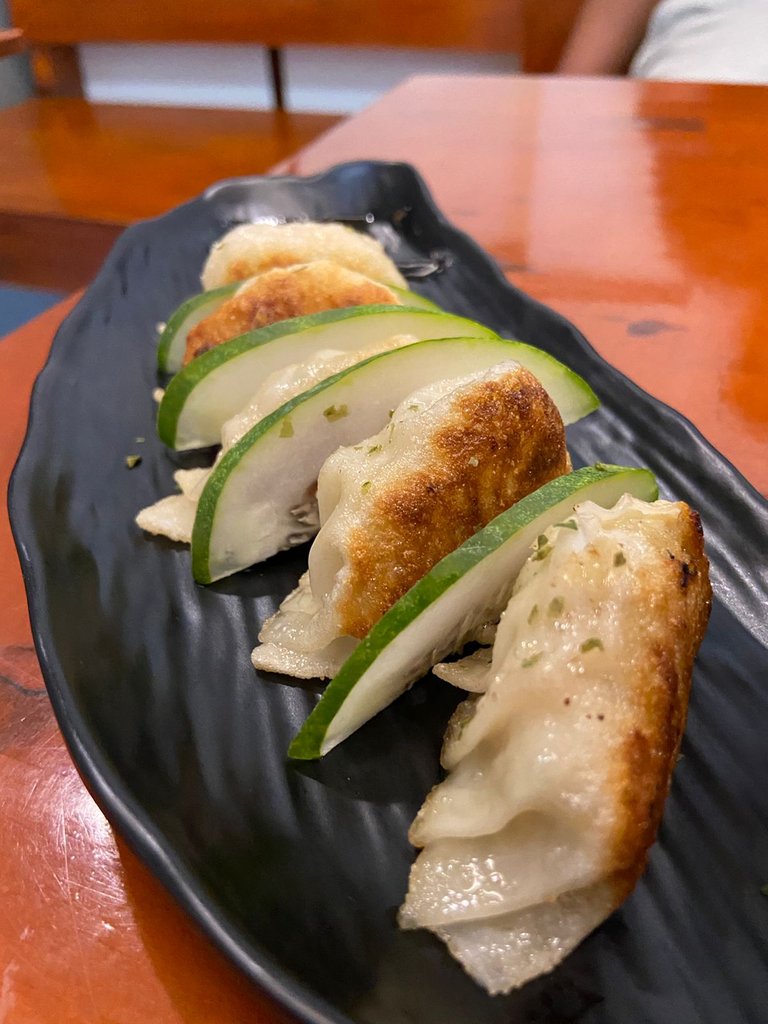 Gyoza is a kind of Japanese-style dumpling that we always find in Japanese restaurants. Gyoza is always a complement to ramen and is one of the side dishes that many people choose. Even though it originated in Japan, gyoza is an extension of Chinese food like ramen.
Gyoza is made from chopped vegetables such as cabbage or mustard greens then mixed with minced chicken and then wrapped in a dumpling skin. The gyoza has two different sides, the bottom is slightly charred and the top is soft like dumplings. The best way to eat gyoza like Japanese people is to use chopsticks then dip it with soy sauce, that's the best.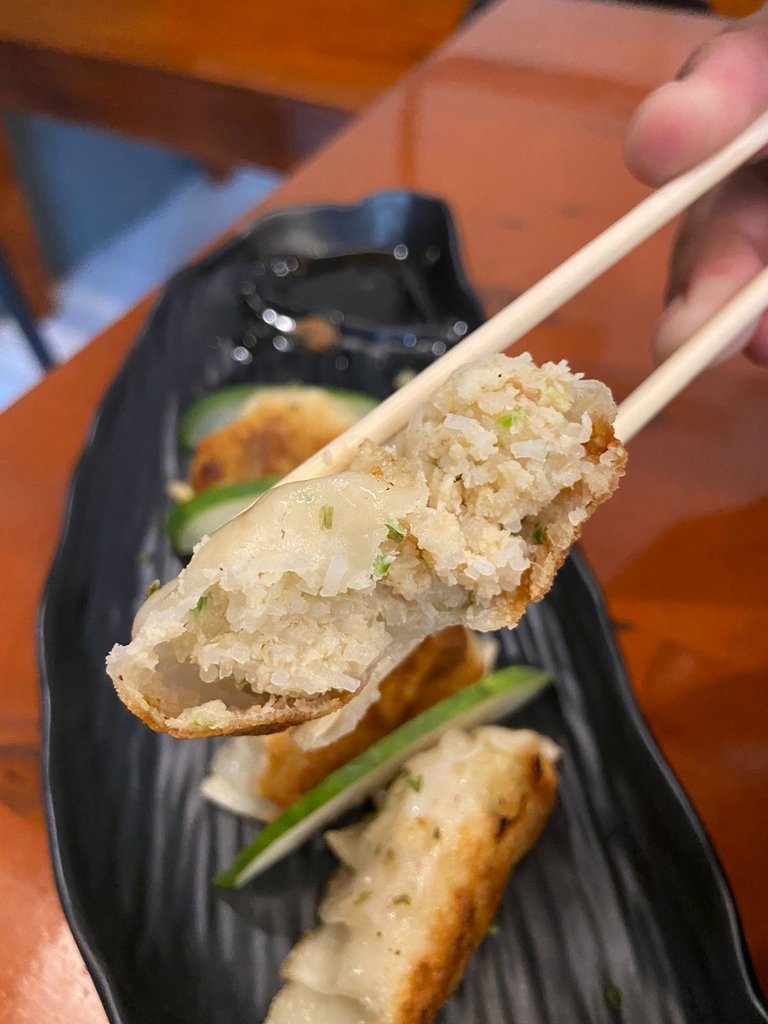 Gyoza has a savory and salty taste. If you want to make it spicier, you can add chili sauce when you want to eat this snack. The taste of this gyoza may not be authentic anymore, and is adapted to Indonesian tastes but that doesn't matter, this gyoza is still delicious for us to eat.
Okay, this is my culinary story this time. Hopefully it doesn't make friends even hungrier by looking at the photos.
---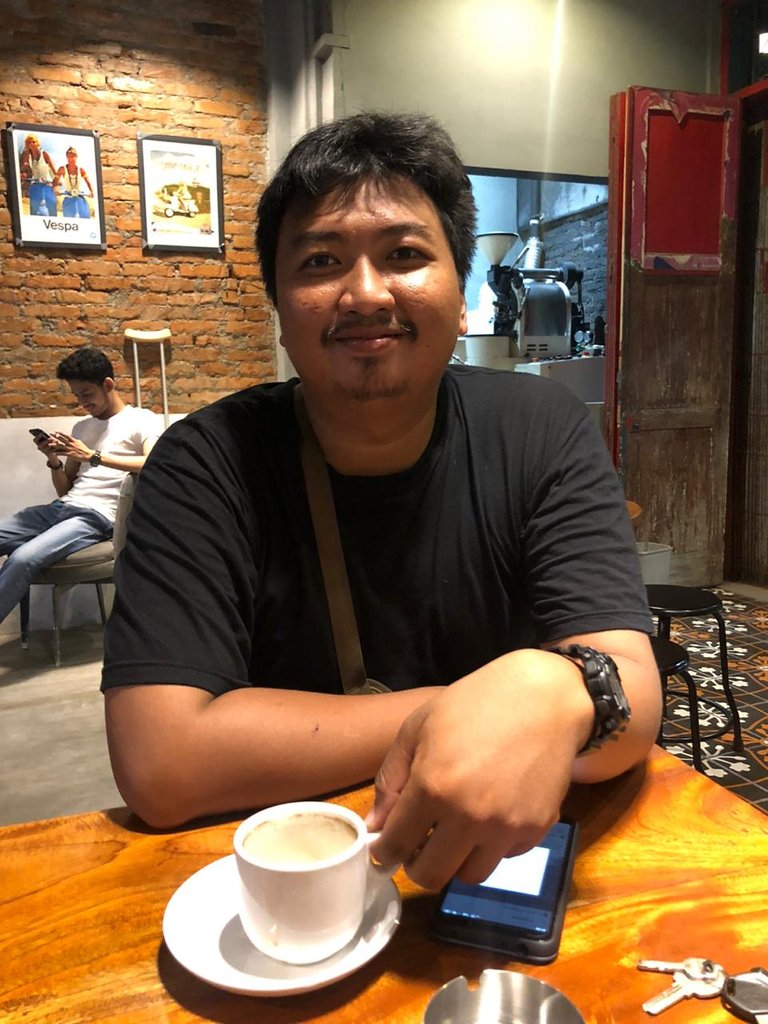 About Author

Call me Isdarmady, because I have a full name that is very long, namely Isdarmady Syahputra Ritonga. I am a head of the family who work as Farmers Vegetables Hydroponic and Consultant Hydroponics, sometimes I also sell coffee from various regions in Indonesia.
I have expertise dispensing coffee with a variety of techniques and tools brewing, because I have the desire to make a coffee shop with hydroponics as centerpieces. Help me realize that dream.
Thanks for read, vote, re-blog and support me in Hive. Maybe god will reward the kindness, let's success together.

---
---