A mother is a precious stone
We watched our mother weep in prayers every night. Even though we pretended to be fast asleep, we could hear the persistent sobs accompanied by loud blowing noises into the edge of her wrapper.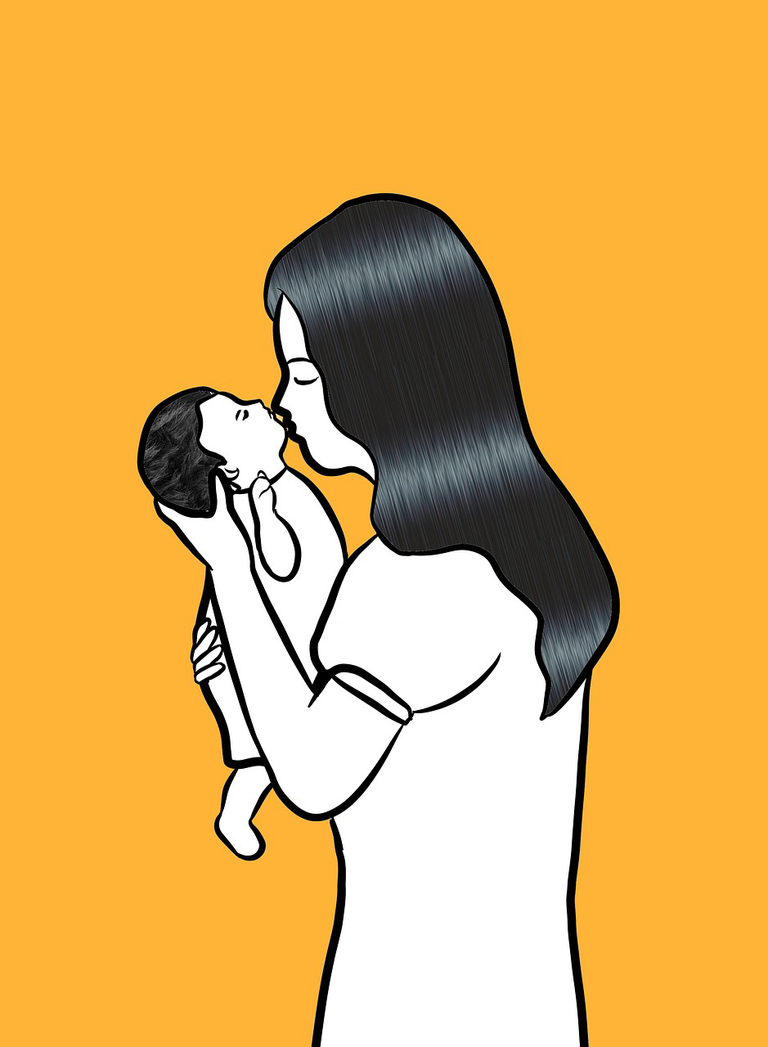 Source
Shortly afterward, we would feel the moistness of olive oil running down our foreheads. Sometimes, into our shut eyes bringing with it a stinging sensation. Other times, it down the bridges of our nose causing a tickly feeling.
Either way, we couldn't get caught eavesdropping on her communion-with-God time so we endured the feeling and succumbed to sleep eventually.
We watched our mother rise very early every morning, preparing hot bean cakes that she would hawk throughout the streets of Akwa Ibom in the morning and returning to sell provisions in the afternoon just so she could bring back some money to pay the bills and make good food for us.
We watched our mother go through the agony of returning to our uncles to beg for assistance from the inheritance my father had left us and watched her time and again being humiliated, tossed out sometimes on the account that she wanted to reap where she did not sow.
We watched our mother trudge to church every Sunday morning, whether it was raining or not or, whether we were fine or not, she never failed to attend the service ensuring we were brought up in the way of the Lord and with the fear of God.
We watched our mother fight for us whenever the neighbor's bigger children wanted to bully us, she went as far as having heated arguments with their parents while we stood silently behind closed burglaries; the best way she could protect us.
We watched our mother buy things for us; clothes, shoes, toys, birthday and Christmas gifts, but never had anything for ourselves.
Whenever we inquired, she would smile and say, "I've had my fair share of life, it's time to have yours".
We never remembered wanting anything children our age were supposed to have.
We watched our mother become frantic when we fell ill, running helter-skelter to ensure we became healthy, and at all cost. We found out eventually that she had a nurse friend who she used to get drugs from without paying immediately. She remained in the lady's debt for a long time.
We watched our mother be there for us; correcting us strictly with the whip when we needed to be corrected and embracing us in love when we needed to be celebrated.
We watched our mother take on almost all the professions we could think of, whether it was convenient or not; a nurse when our health failed or if we sustained an injury while playing, a lawyer when someone needed to plead our case, a teacher when we needed tutoring, a pastor praying for us day and night.
We watched our mother stay strong for us so that whenever we were weak we could lean on her without falling; whether she was strong or not.
We watched our mother share her failed dreams and attempts at life with us, pointing her mistakes out to us so we do not repeat them in our own lives and equally pointing out the right choices she made so we knew what to do in similar situations.
We watched our mother give up her life for us, depriving herself of all the benefits she could have enjoyed as a woman just so we could have the best life her capacity had to offer.
We watched our mother fight for her life till the last when she came down with arthritis and later a stroke, she never wavered in faith. She would smile at us when she couldn't talk anymore and lie there in bed watching different men of God preach, holding onto her faith till the very end.
Today we are successful, though I'm not a professional writer. Winnie has an academy and is married with a child. We wish our mother could be here to see the legacy she imparted to us and how well we were keeping it too.
We wish she could see to the end how we upheld the tenets she set before us, following it diligently until we arrived at success's door.
However, even if she's not here now, and even if we forget the words she spoke to us, we can never forget the sacrifices she made out of a rare heart. A heart, of gold.
---
---