The Surprising Role Luck Plays in Building and Sustaining Wealth
The euphoria of success sometimes makes us lose our reasoning. History has more people who attained huge financial fortune but came crashing than those who held on longer. Could it be they had no foundation? Maybe, maybe not.
We may not be to define exactly what happens when one gets to the top of their financial dreams but there is something a lot of people fail to see and understand.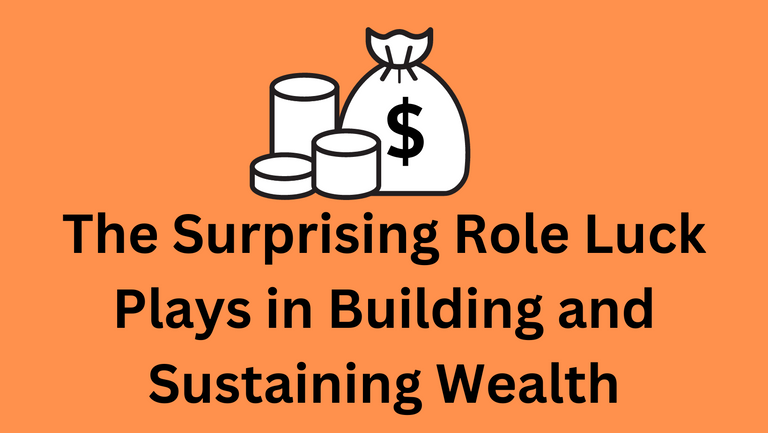 Source
Luck plays a role in our successes.
That might sound odd or gullible but it's the truth. Yes, we have the skills to place good trading orders and execute them precisely into making tons of profits. Yes, we have the financial literacy to make money, keep money and invest money and do so excellently.
But the presence of luck and circumstances can not be emphasized. It's often said that when opportunity meets preparation, success is inevitable. These opportunities can be considered luck even though they might have met you prepared.
There is one thing that gets in the way of getting wealthy and then staying wealthy... It's the fact that you tend to ignore the presence of luck and circumstances in your financial achievements. Success blinds you to these factors and most people would always feel they got to the top through their efforts and charm. They forget that being at the right place at the right time and doing the right thing had contributed somehow.
What this overconfidence does to these folks is make them feel they can do it over and over again. It makes them feel the same strategy will always work. After all, it worked in the past.
What we get are people who make tons of money today and squander everything because they feel there will always be more where those came from.
When it comes to money, we all need to be paranoid. This is because it could get wiped off as quickly as it came. So before we push our luck we shouldn't forget to make sure we are not dealing with overconfidence. We should always remember how much luck plays in the game of power and wealth.
Do not undo your victory by making aggressive moves. Most traders for instance do not know when to stop. The moment they execute winning trades instead of leaving, they stake more hoping that they will make more. What often happens here is how the market takes back all the gains they gathered.
We have learned various financial skills and seek to imbibe them all. But the hardest financial skill is knowing when to stop. It's very dangerous if you go past the mark you aimed for. Especially when it's as a result of not being satisfied with what you have.
Having a sense of enough will help get wealthy and stay wealthy. Learn to not go past the mark you aimed for.
---
More from iska
LPUD: It's that time of the month again!
How the Spoon Theory can Change Your Money Mindset
Fear-setting: The Surprising Connection Between Fear and Wealth
Use pain to master money and prepare for financial crises
The Key to Thriving in Financial Turmoil and Uncertainty: Having a Solid Plan
The Surprising Power of Planning for a Healthy Account Balance Today
Don't Wait for Tomorrow: Start Making Money Today and Secure Your Financial Future!
How the community can help LeoGlossary Authority with Manual Backlink Auditing
Did you know LeoGlossary helps you Optimize Anchor Texts?
How using Leothreads to share posts with LeoGlossary as backlinks helps with ranking
Building High-Quality Backlinks with Leoglossay
Goldman Sachs taught me why prioritizing long-term goals over short-term profits leads to greater success
Posted Using LeoFinance Beta
---
---