10 mistakes you could be making when it comes to saving for retirement
How you save and invest in the decades before you leave your nine-to-five job impacts how you'll spend your post-work years. Investopedia
In particular, if you start saving at a young age (say, when you're just starting out with a first job), you have a much better chance of retiring wealthy than if you wait until later to get started.
But many people don't think about this important early decision — or they make decisions that hurt their long-term finances.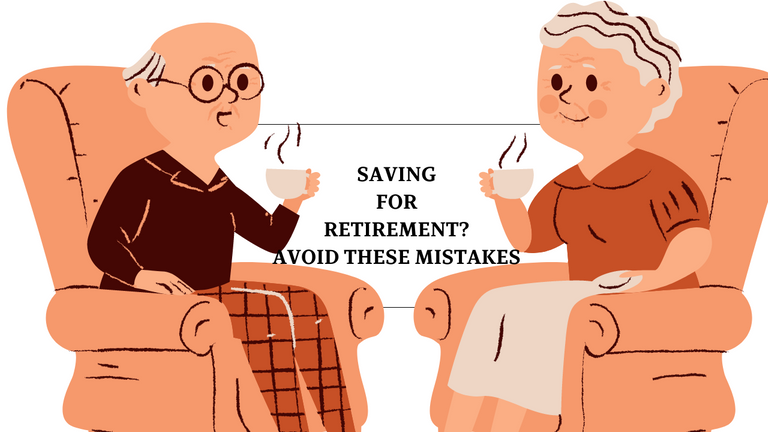 Source
Here are some mistakes people often make when it comes to saving for retirement:
They use 401(k)s like Roth IRAs.
Most 401(k) plans allow workers to contribute pretax money to their accounts. This means that you'll pay fewer taxes on your earnings right now, but you'll eventually have to pay those same taxes if you withdraw the money from the account.
If you choose to put more money into tax-deferred savings than you would otherwise be able to afford, you might end up paying thousands of dollars in additional federal income taxes down the line. That's why you should always keep your contributions below the annual limit for a 401(k): $18,500 as of 2018.
If you can't meet that threshold, consider contributing to an IRA instead. You can contribute up to $5,500 to a traditional IRA annually without incurring any penalties; however, funds withdrawn from an IRA before age 59½ may incur a 10 percent penalty.
They only fund their 401(k)s.
If you're automatically enrolled in your employer's 401(k) plan, you might not realize that you can also contribute to other types of retirement accounts, such as a traditional IRA or a Roth IRA.
These types of accounts won't offer you the same tax advantages as your company's 401(k); rather, they allow you to save more money for retirement — which is especially useful if you're trying to max out your 401(k) contributions.
They neglect other forms of debt repayment.
While it's true that you can deduct all interest paid on your student loans from your taxes, you shouldn't ignore other types of debt, including credit card balances.
If you've got credit cards that carry high-interest rates, you'd be wise to prioritize paying them off so you can avoid paying extra money in the form of interest over time.
They opt for target date funds.
Target-date funds are low-maintenance investment options for 401(k) accounts: Just pick one and stick with it. Unfortunately, these funds aren't necessarily the best choice for everyone.
For example, if you want to invest in a wide variety of stocks with different risk levels, you might do better by picking individual mutual funds.
Also, if you're close to retirement, you might find that a target-date fund with a more conservative asset allocation makes sense for you.
They pay unnecessary fees
You can avoid excessive fees by choosing index funds in your 401(k). Index funds track market indexes and tend to have lower management costs than actively managed funds.
Make sure you understand the fees associated with the investments you own, though, because you could still wind up paying unnecessary charges even if you invest in index funds.
They neglect to manage their portfolios after leaving the workforce.
Once you stop working, you'll need to take steps to ensure that you don't run out of money during retirement.
That means having a solid plan for managing your portfolio and reevaluating your financial situation every year to make changes as necessary.
They don't create a comprehensive budget.
Even if you're planning to retire soon, it's smart to develop a detailed budget for your post-work life. After all, you might end up needing to support yourself for several more decades, and you can't know what your expenses will be down the road unless you take the time to carefully assess your current spending habits.
They fail to plan for healthcare expenses.
Healthcare costs are rising at a rate higher than inflation, and that trend isn't expected to reverse anytime soon. As a result, you'll likely need to prepare for a significant increase in medical expenses during retirement.
To reduce the impact of these costs, you might want to work with an insurance agent to purchase a Medicare supplement plan or a supplemental policy that provides coverage outside of the scope of Medicare.
They don't work with a professional adviser
Everyone needs help when it comes to building wealth. Even if you manage to achieve millionaire status, you can probably benefit from the guidance of a financial planner who can help you figure out ways to grow your assets.
They don't think about estate planning.
Estate planning has a lot to do with your estate, which is the sum of everything you own. The most common goal of estate planning is to transfer your assets to your beneficiaries without causing unnecessary taxes or legal headaches for your heirs.
Many people create wills to accomplish this task, but you'll also want to consider other tools, such as trusts, to make sure your assets are distributed according to your wishes.
Conclusion
A few simple mistakes can cost you tens of thousands of dollars during your lifetime, so it pays to avoid them. It's worth taking the time to learn the basics of personal finance, so you can set yourself up for long-term success.
Posted Using LeoFinance Beta
---
---