Tocando " Freak on a Leash": un tema que marcó un antes y un después (ES/EN)
---
Hola amigos de Hive , en esta oportunidad quiero compartir con ustedes el cover de guitarra de Freak on a Leash, de Korn, un tema cuyo video musical fue lanzado en el mismo año en que pusieron Tv cable en mi casa y fue uno de los primeros videos de música rock que vi. Podrán imaginar cuantos recuerdos me trae esta canción.
Hello friends of Hive, this time I want to share with you the guitar cover of Freak on a Leash, by Korn, a song whose music video was released in the same year that they put cable TV in my house and was one of the first rock music videos I saw. You can imagine how many memories this song brings back.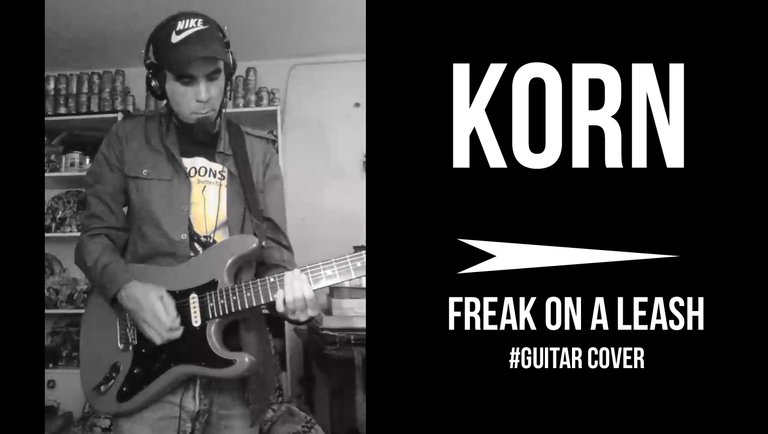 El video musical muestra el recorrido de una bala que es disparada desde un mundo animado en donde se desarrolla una escena trágica, la bala traspasa al mundo físico y atraviesa distintos escenarios provocando el caos por donde pasa, definitivamente el video musical de esta canción es único y sumamente interesante de ver.
The music video shows the path of a bullet that is shot from an animated world where a tragic scene unfolds, the bullet crosses the physical world and goes through different scenarios causing chaos wherever it passes, definitely the music video of this song is unique and extremely interesting to watch.
Esta canción según su vocalista es una crítica a la industria musical, habla acerca de cómo Davis se siente explotado, o como el mismo dijo una prostituta siendo controlado por un proxeneta que es la industria musical.
This song according to its vocalist is a critique of the music industry, it talks about how Davis feels exploited, or as he himself said a prostitute being controlled by a pimp which is the music industry.
Acerca de la ejecución de este cover, debo decir que para poder tocarlo tuve que subir un tono a la primera cuerda de mi guitarra 6 cuerdas, puesto que para tocar la melodía principal de esta canción es indispensable tener una guitarra 7 cuerdas, ya que tiene sonidos bastante agudos.
About the execution of this cover, I must say that in order to play it I had to raise the first string of my 6-string guitar by one tone, since in order to play the main melody of this song it is indispensable to have a 7-string guitar, since it has quite high-pitched sounds.
Espero compartir pronto otro cover de Korn, ya que como sabrán quienes me siguen, me estoy aprendiendo más canciones para mi banda de tributo a Korn.
I hope to share another Korn cover soon, since as those of you who follow me know, I'm learning more songs for my Korn tribute band.
Banda: Korn
Tema: Freak on a Leash
Album: Follow the Leader
Compositores: Jonathan Davis James Shaffer Reginald Arvizu Brian Welch David Silveria
Derechos de autor: SME (en nombre de Epic); ASCAP, UNIAO BRASILEIRA DE EDITORAS DE MUSICA - UBEM, LatinAutor - UMPG, LatinAutor - Warner Chappell, LatinAutorPerf, CMRRA, Warner Chappell, PEDL y 11 sociedades de derechos musicales
Muchas gracias por su atención
Thank you very much for your attention
---
▶️ 3Speak
---
---