Tocando "it's my life" de Bon Jovi: una canción que me lleva a mi infancia (ES/EN)
---
Hola amigos de Hive, hoy les traigo un nuevo cover de guitarra, en esta ocasión se trata It's my Life de Bon Jovi, una canción que es muy especial para mí, y me complace tocarla después de 22 años, pues nunca lo había hecho.
Hello friends of Hive, today I bring you a new guitar cover, this time it's It's my Life by Bon Jovi, a song that is very special to me, and I am pleased to play it after 22 years, because I had never done it before.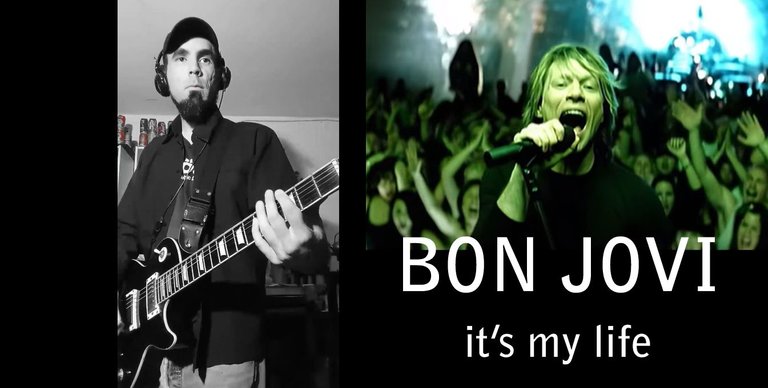 Fuente
Esta canción es muy significativa para mí, representa mis inicios como amante de la música rock. Cuando esta canción fue lanzada yo era un niño de 11 o 12 años, cuyo cerebro explotaba con muchas de las canciones que oía, wow era simplemente adictivo, aún lo es para mí, pero en aquella época era algo completamente nuevo.
This song is very meaningful to me, it represents my beginnings as a rock music lover. When this song was released I was an 11 or 12 year old kid, whose brain exploded with many of the songs I heard, wow it was just addictive, it still is for me, but at that time it was something completely new.
It's my life fue lanzado como parte del Album "Crush" en el año 2000 y en Mtv habia sido lanzado el videoclip, que me a mi definitivamente me encantaba. Para aquel momento no tenía guitarra y empezaba a nacer mi interés por el instrumento, me atrevo a decir que esta canción fue una gran influencia para yo tomar la decisión de ser guitarrista, que para aquel momento era como un sueño.
It's my life was released as part of the album "Crush" in 2000 and Mtv had released the music video, which I definitely loved. At that time I didn't have a guitar and my interest in the instrument was beginning to be born, I dare to say that this song was a great influence for me to make the decision to become a guitarist, which at that time was like a dream.
Según entiendo esta canción nos invita a sumir la vida con la mejor cara, a vivir el momento, a no dejar las cosas para después y a sobre todo a no rendirse. Es una letra que me parece bastante inspiradora.
As I understand it, this song invites us to face life with the best face, to live in the moment, not to leave things for later and above all not to give up. I find the lyrics quite inspiring.
La ejecución de esta canción en la guitarra es bastante sencilla, pero debe tocarse con atención pues su rítmica puede no salir al primer intento, además tiene algunos efectos de Wah Wah muy interesantes, que he logrado imitar utilizando un efecto de Flanger y conseguido un sonido parecido. El solo de guitarra es corto pero muy impactante y bien elaborado. Creo que es una canción que si bien no tiene muchas variaciones, es bastante disfrutable al tocar, creo la majestuosidad de esta canción está en la composición completa y no tanto en la guitarra como podría serlo en otras canciones de la banda.
The execution of this song on guitar is quite simple, but it must be played with attention because its rhythmic may not come out at the first attempt, it also has some very interesting Wah Wah effects, which I have managed to imitate using a Flanger effect and got a similar sound. The guitar solo is short but very impressive and well elaborated. I think it is a song that although it doesn't have many variations, it is quite enjoyable to play, I think the majesty of this song is in the whole composition and not so much in the guitar as it could be in other songs of the band.
Que más les puedo decir, he disfrutado mucho tocar esta canción espero a ustedes también les guste, seguramente que los hará sentir un poco de nostalgia si vivieron esta época.
What else can I say, I really enjoyed playing this song, I hope you like it too, it will surely make you feel a little nostalgic if you lived this era.
Banda: Bon Jovi
Tema: It's my Life
Album: Crush
Compositores: Jon Bon Jovi, Richie Sambora, Max Martin
Copyright: TuneCore, UMG (en nombre de Island Records); ASCAP, UMPI, Sony Music Publishing, LatinAutor, SOLAR Music Rights Management, CMRRA, LatinAutor - UMPG, LatinAutorPerf, Adrev Publishing, Kobalt Music Publishing, LatinAutor - SonyATV, Global Music Rights LLC, Polaris Hub AB, UNIAO BRASILEIRA DE EDITORAS DE MUSICA - UBEM, UMPG Publishing y 15 sociedades de derechos musicales
Muchas gracias por su atención
Thank you very much for your attention
---
▶️ 3Speak
---
---